Preview of Marvel's Doctor Aphra by Alyssa Wong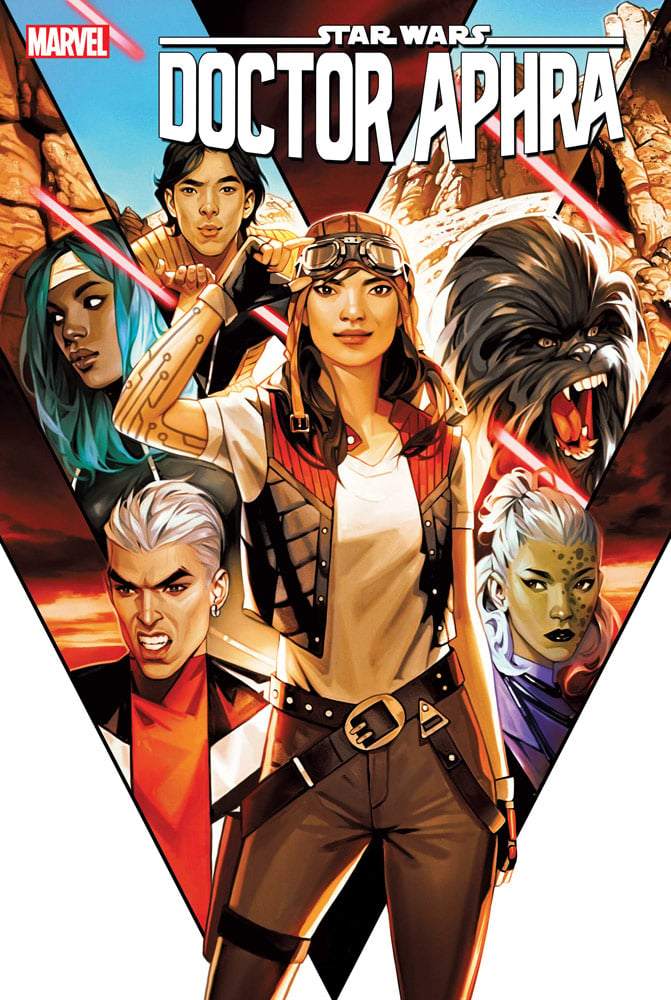 The good news keeps coming for comic fans! Marvel's Doctor Aphra returns this April. Writer Alyssa Wong takes over the series and shared some of what she's been working on with StarWars.com. Sounds like there are some very exciting stories and characters awaiting our favorite archaeologist in a galaxy far, far away.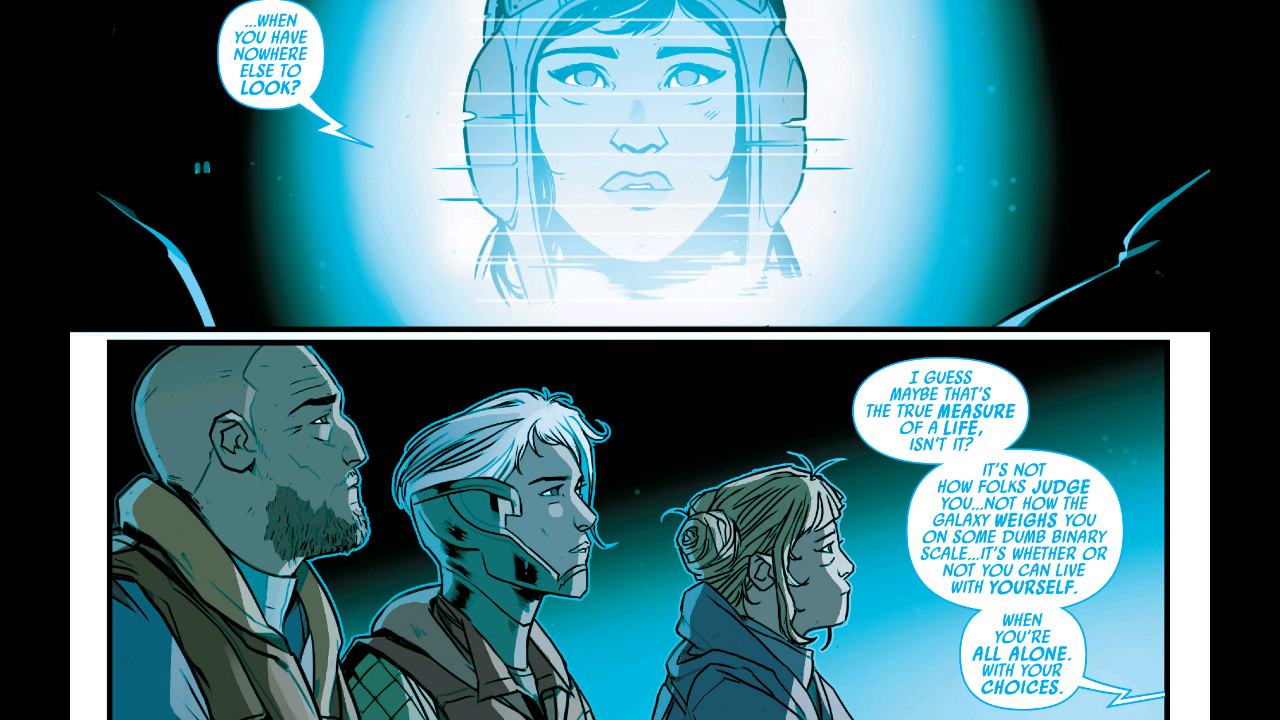 When we last met Aphra, she'd set off into the darkness of space, her future unknown. She'd risked everything not only to save herself, but also protect those she loved. Her lover Magna Tolvan, father Korin Aphra, and her young ward Vulaada Klam all found themselves on Hoth, under the protection of the Rebel Alliance. With both sets of stories hanging in the air, Alyssa Wong essentially has a clean slate to work with. This new Aphra series is set to take place just after the beginning of The Empire Strikes Back.
Wong acknowledges the variations of moral circumstance each writer brought to the character before she was handed the reigns. Writer and Aphra creator Kieron Gillen gave us the darker and cunning doctor while Simon Spurrier gave us a character with a bit more room for introspection when she saw how her actions affected those she loves. Wong sounds excited to jump into the character and promises us we'll get a bit of everything we love and undoubtedly more.
Wong, speaking to StarWars.com:
"She's got a ton of personality and brings chaos to every situation she steps into. You want to follow her, because you never know what's going to happen. Sometimes, she's a hero. Sometimes, she's a villain. She's clever and hyper-competent, impulsive and arrogant, and her personal life is a flaming wreck. What's not to love?"
Teaming up with Wong will be artists Marika Cresta and Rachelle Rosenberg. Not only do we have a new creative team on the Doctor Aphra book, the doctor herself will be getting a new team. StarWars.com treated us to some character sketches by Cresta and brief descriptions by Wong. We all know Black Krrsantan, but the rest are new faces.
"Just Lucky is a handsome smuggler and assassin. Laid-back and dangerous, he's in it for the money, not the glory. Lucky and Aphra have worked together, as well as against each other, on different jobs before, but neither of them ever takes it personally."
"Detta Yao is a graduate student studying archaeology at the Shadow University. Cheerful, sweet, and bubbly, she hires Aphra to help her find the Rings of Vaale so she can write her thesis. Detta reminds Aphra of her younger self."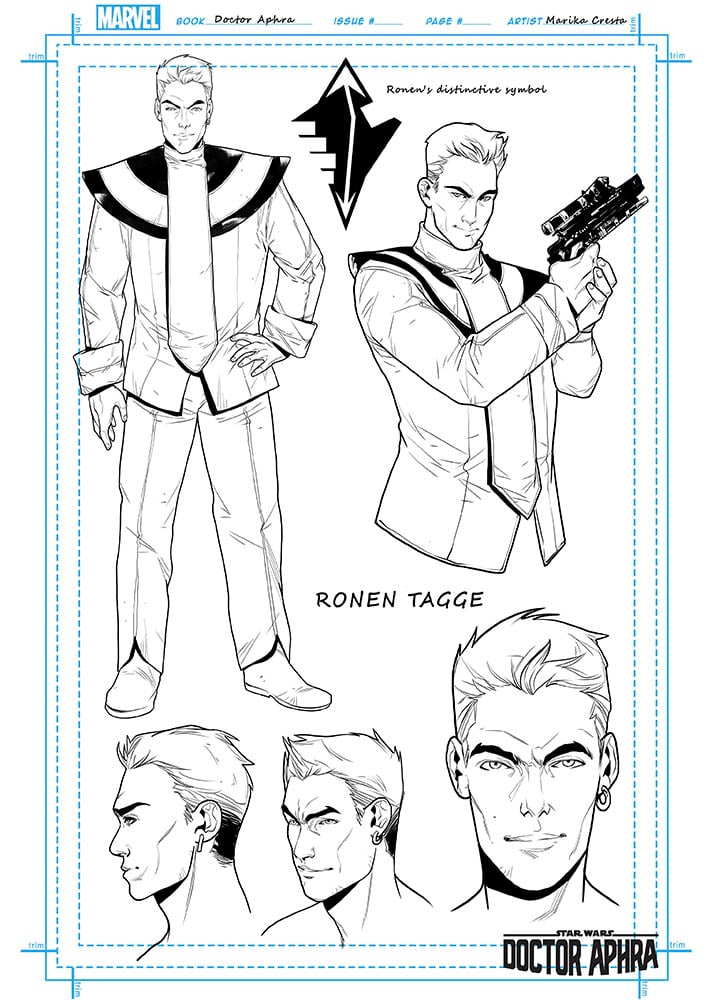 "…there's another party interested in the artifacts: Ronen Tagge, a spoiled scion of the powerful, illustrious Tagge family. He collects rare, beautiful objects for the sole purpose of destroying them. And now he has his eye on the Rings of Vaale."
"Doctor Eustacia Okka is a disgraced professor, and unfortunate events cast doubt on the veracity of her research. Curt, cold, and obsessed, she believes that finding the Rings of Vaale will vindicate her. Eustacia and Aphra were classmates, but their relationship has long since soured."
And what kind of adventures might this crew be getting themselves into? Well, Wong also gives us a brief overview of the story and the artifact which it revolves around.
From StarWars.com:
"After a streak of bad luck, Doctor Chelli Aphra is back, hunting for a score big enough to change her fortunes for good," the writer says. "So when she hears rumors of an incredibly valuable ancient artifact, she can practically hear the credits pouring into her lap. Crafted by an ancient group of artisans called The Architects of Vaale, the Rings of Vaale are the last relic of a long-forgotten secret society. They're a priceless piece of history. They'll make Aphra rich." She assembles a team of unlikely treasure hunters — including an old flame or two — to help track down the artifacts. "There are only two problems," Wong says. "First, legend has it that the Rings are cursed. Located on a planet covered in ash, it's said that they hold an entire ancient city in their thrall. Few explorers have returned alive, and none of them sane. Second, there's another party interested in the artifacts: Ronen Tagge, a spoiled scion of the powerful, illustrious Tagge family. He collects rare, beautiful objects for the sole purpose of destroying them. And now he has his eye on the Rings of Vaale." This sets Aphra and her motley crew on a collision course with Ronen's goons, and off on a race to recover the artifact first.
Wow, so a lot to unpack here from the character descriptions and this story. I'm very intrigued to see the dynamic between Aphra and Tagge, since Aphra was around during the events which ultimately cost Cassio Tagge (who I assume is either father or close relative to Ronen) his life. Wonder if he's loyal to the Empire or if he resents them, as many who see the human cost of Imperial efficiency paid for by their family members. It seems Tagge would make the most likely foil for Aphra, but the rest of the team might not be what they appear, as Wong suggests. Some of them have history with Aphra, too, and we all know she doesn't have a great track record for ending relationships very well. I'm also very curious what the Rings of Vaale will unearth, as Aphra continues to help us explore the vast history of this galaxy we love.
Make sure to head over to StarWars.com and check out the whole article! Marvel's Doctor Aphra #1 debuts this April! And I can't wait!
SOURCE: StarWars.com 
Kyle Larson lives in Portland, Oregon. When he's not running trails, he's reading and writing.