Chris Terrio Explains How 'Star Wars: The Rise of Skywalker' Brought Princess Leia Back One Last Time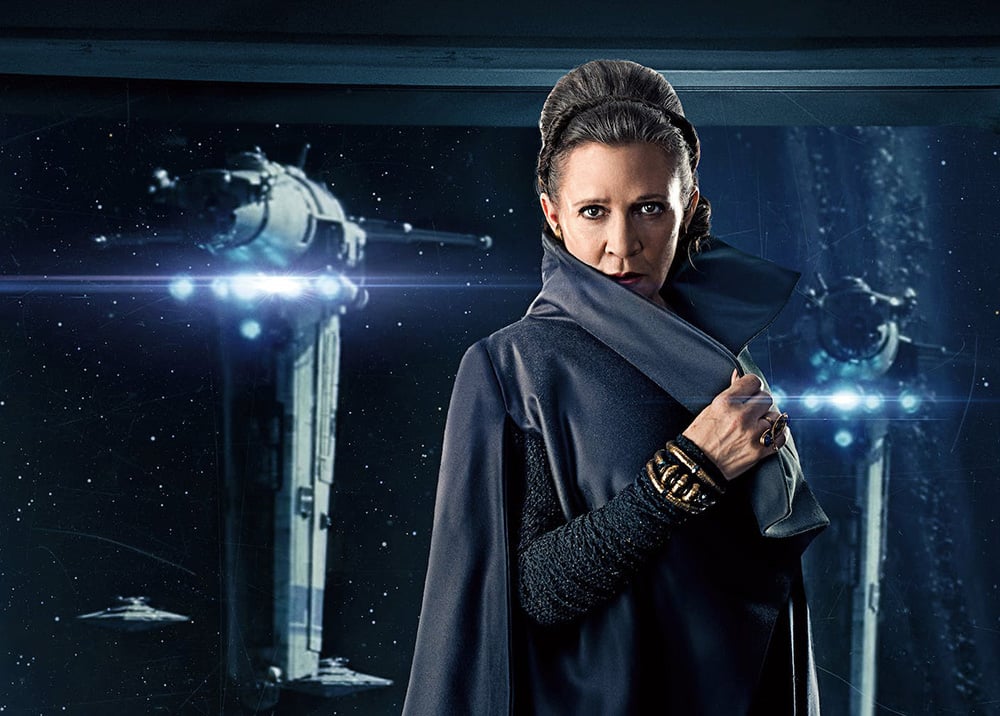 Star Wars: The Rise of Skywalker co-writer Chris Terrio goes into detail about the process behind giving Princess Leia's story a proper ending by means of the footage and audio of Carrie Fisher that was available.
Prior to the release of Star Wars: The Last Jedi, there was no confirmation that Leia would be in the final film in the Skywalker Saga, as Lucasfilm themselves wanted to emphasize that The Last Jedi would be Fisher's last full Star Wars performance. As such, it was a pleasant surprise to a number of fans when Lucasfilm confirmed that they would make use of unused footage of Leia to give the character an ending befitting of the other Skywalker twin in The Rise of Skywalker. Fans initially expected a handful of scenes at most; however, it's quite surprising just how much footage was utilized in The Rise of Skywalker. Although Leia never leaves the Resistance base, the character gets a considerable amount of screentime in the story – and it's all based on real footage and audio of Carrie Fisher.
In a conversation with The Wrap, Terrio explained that one of the first things that he and J. J. Abrams did when they agreed to work on the final installment of the Skywalker Saga was to figure out what they could do with Princess Leia after looking through the unused footage that Abrams filmed for Star Wars: The Force Awakens. (We have also been able to confirm, thanks to a conversation with ABC's Clayton Sandell, that unused footage from Star Wars: The Last Jedi was also examined, edited, and integrated into the movie.) Even more interesting is that there's still a lot of content that they could have integrated into the movie, but ultimately didn't. On top of that, none of the lines were dubbed in. Terrio tells all below:
"That was the very beginning of the process, sitting with Carrie's dailies, figuring out what could be used, what couldn't be used, where will the eyelines work, how do we re-contextualize this footage to make it work with this new story. There is stuff out there. It may be on deleted scenes or something, but there are things that didn't quite make it in, in fact one or two scenes I really liked that didn't make it in… Every time you see her speaking, that's really Carrie speaking. We didn't use any on-camera lines that she didn't say. It was important to us that every time Leia says a line, it was really a line that Carrie said and that the way we created the scene around her, her acting intention was relatively intact."
It appears as though there may be changes to things like Leia's hair (befitting of her line in The Last Jedi) and attire, but what you're seeing in the film is an authentic Carrie Fisher performance. There are places where on-set body doubles were clearly used, but as it stands, they didn't "cheat" to bring closure to Leia's story.
In addition, there's another key detail worth noting that's nowhere to be found in The Wrap's piece, concerning one particular sequence that comes pretty late into the film. (We're approaching spoiler territory here, so those of you who still haven't seen the movie should proceed at your own discretion.) Abrams made it clear from day one that he would not be using CGI to create new scenes with Leia, but there's a scene which appears to violate this rule: the flashback to when Luke trained Leia in the ways of the Jedi, which appears to be set a few years after the events of Return of the Jedi at the absolute most.
However, this, too, is accomplished by making use of old footage… Much older footage, as it turns out. The brief shot of Leia as she appeared after the end of the war actually comes from the cutting room floor of the original trilogy. The approach utilized can be compared to the approach that was taken to bring unused archive footage of Red Leader and Gold Leader from A New Hope into the climactic battle over Scarif in Rogue One: A Star Wars Story, rather than the de-aging effect that they used for Leia in the penultimate shot of that movie. Here's what Abrams had to say:
JJ clarifies that the flashback Leia scene was not CGI and that it was built using previous footage from the original trilogy that they touched up #TheRiseOfSkywalker pic.twitter.com/W10rIAipRl

— Selene ✨ SW advice & assist (@bimboselene) December 23, 2019
There were also rumors that the flashback sequence was originally longer and may have made more use of Leia, but it seems unlikely that they would have been able to write a full, organic conversation with her and Luke around the extra footage that they had stored in a vault somewhere at Lucasfilm. (Said rumors also indicate that Mark Hamill utilized motion-capture for his flashback, which is why the visual effect on Luke looks better than the one on Leia.) In any case, The Rise of Skywalker was able to provide a poignant send-off to Leia's character while also using the end of her story to propel our protagonists forward.
Star Wars: The Rise of Skywalker is now playing in theaters.
Grant has been a fan of Star Wars for as long as he can remember, having seen every movie on the big screen. When he's not hard at work with his college studies, he keeps himself busy by reporting on all kinds of Star Wars news for SWNN and general movie news on the sister site, Movie News Net. He served as a frequent commentator on SWNN's The Resistance Broadcast.