Review: An Era of Storytelling Ends and Another Begins in Marvel's 'Star Wars: Empire Ascendant #1'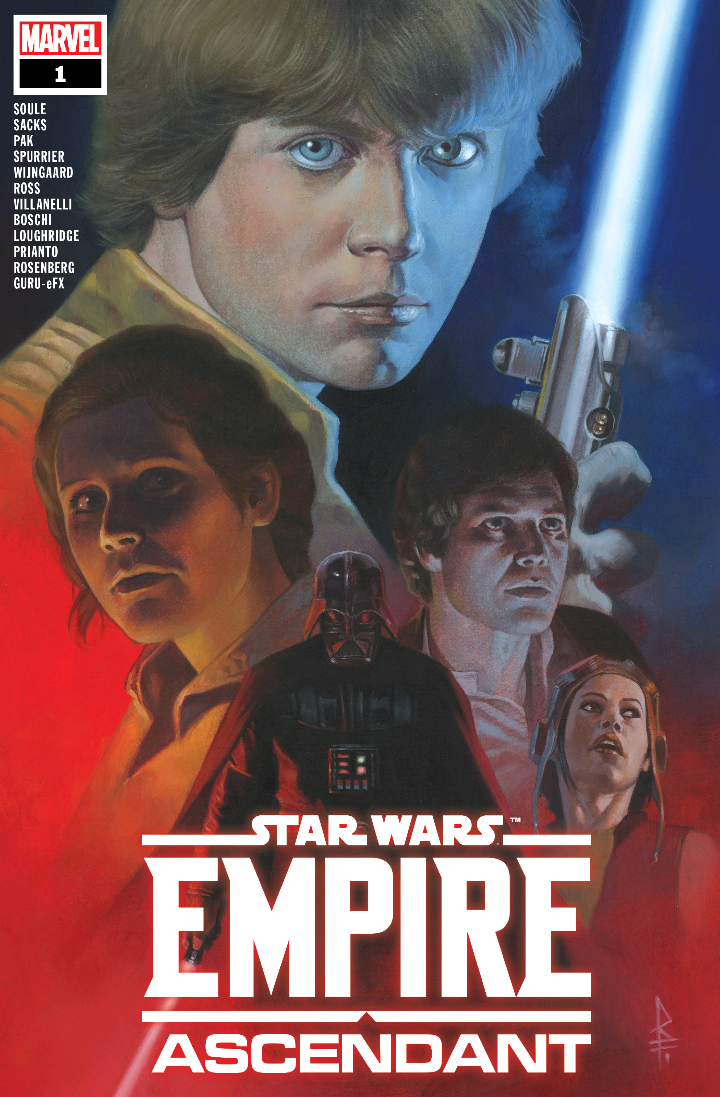 The world of Star Wars comics at Marvel is getting ready for a big change in the status quo in 2020. All of the major ongoing stories have now wrapped up, and the continuing Star Wars series are gearing up for all new #1 issues next year to kick off a new era of storytelling. Star Wars #1 (Soule and Saiz) begins in January, followed by Darth Vader #1 (Pak and Ienco) in February, as the two main series jump ahead on the timeline to post-The Empire Strikes Back. Then, in the spring, a couple more series are joining those two on the comic book racks with Bounty Hunters #1 (Sacks and Villanelli) in March and Doctor Aphra #1 (Wong and Cresta) in April.
This month's one-shot comic, Empire Ascendant #1, is not exactly what I thought it would be. I imagined it as one continuous story that would give us one final crossover to wrap up the current comic era, but what we get instead is actually a collection of four separate stories that serve as both an epilogue to the recently concluded series and a preview for what's in store next year. That's not a bad thing by any means; it's just not what I was expecting. Read on for the full review. Spoilers ahead…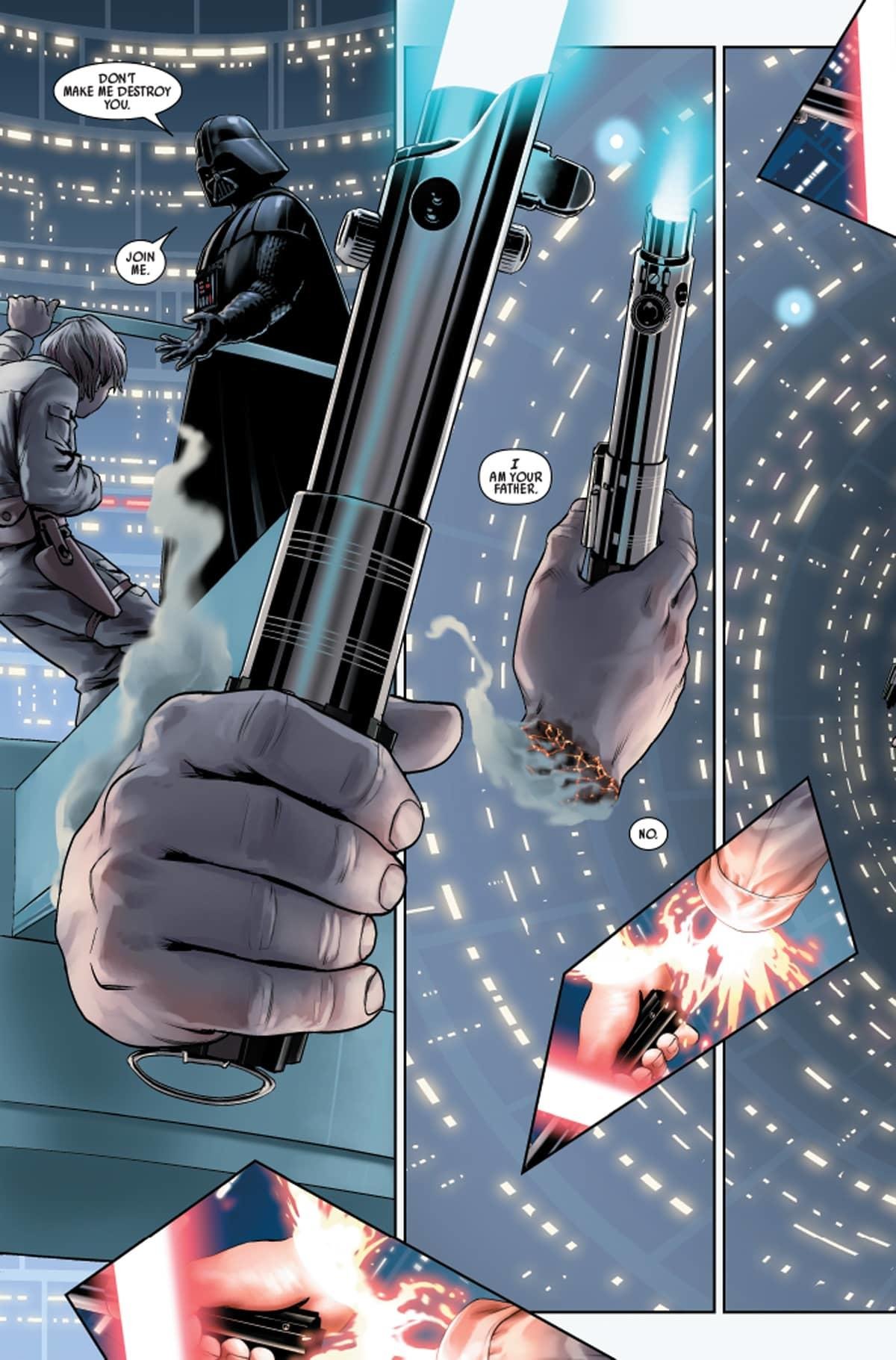 The comic I am most looking forward to next year is Charles Soule's upcoming run on the titular Star Wars series. Soule has given readers some of the best Star Wars comics to date with his runs on Poe Dameron and Darth Vader, as well as the Lando mini-series. These are all great comics, but Darth Vader especially shines above the others, so it is fitting in my opinion for Soule to begin his run on Star Wars immediately after Vader's "I am your father" reveal to Luke in Empire. But before we get into the meaty stuff in January, Soule takes a time out to give us a nice little prologue to The Empire Strikes Back.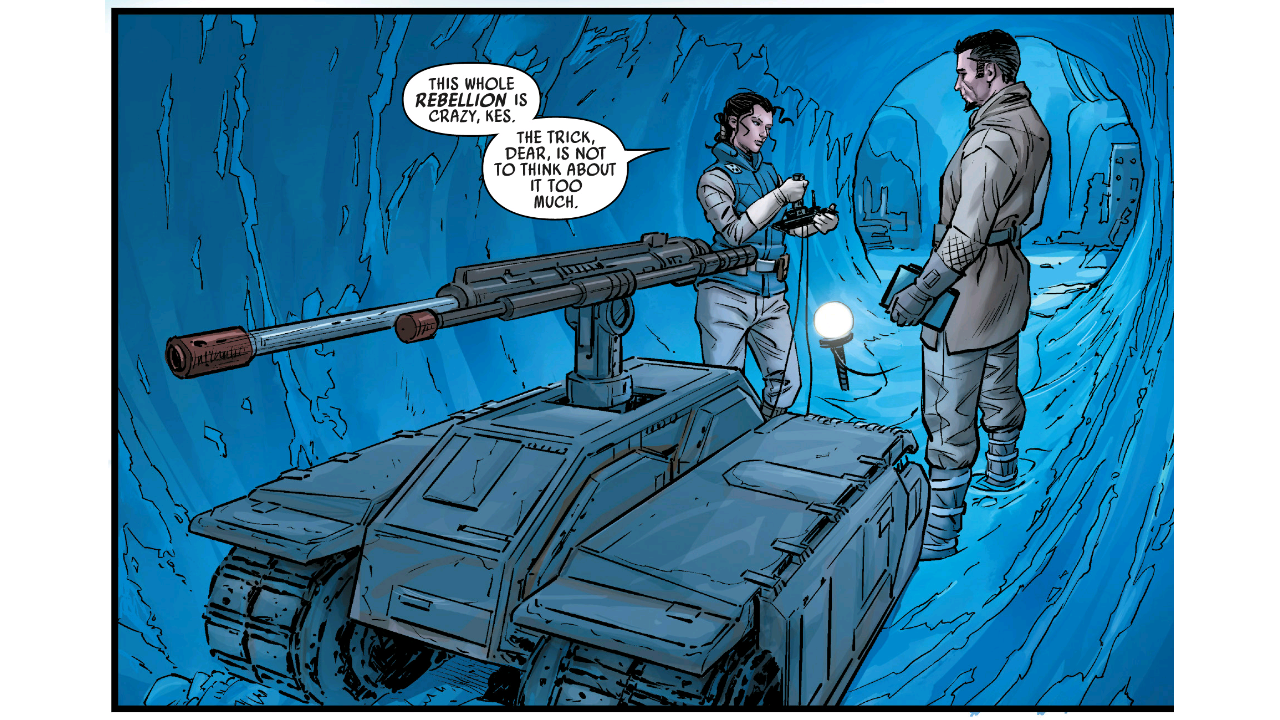 Soule's story in the comic focuses on Poe Dameron's parents, Kes and Shara, as they work to help build Echo Base on Hoth. Relying on Kes' limited knowledge of architecture, Shara uses an A-Wing's cannon to tunnel through the ice, opening up new pathways for the rebel forces to expand their base of operations. But as they continue to melt through the ice, they compromise the structural integrity of the tunnel and a collapse traps the couple inside.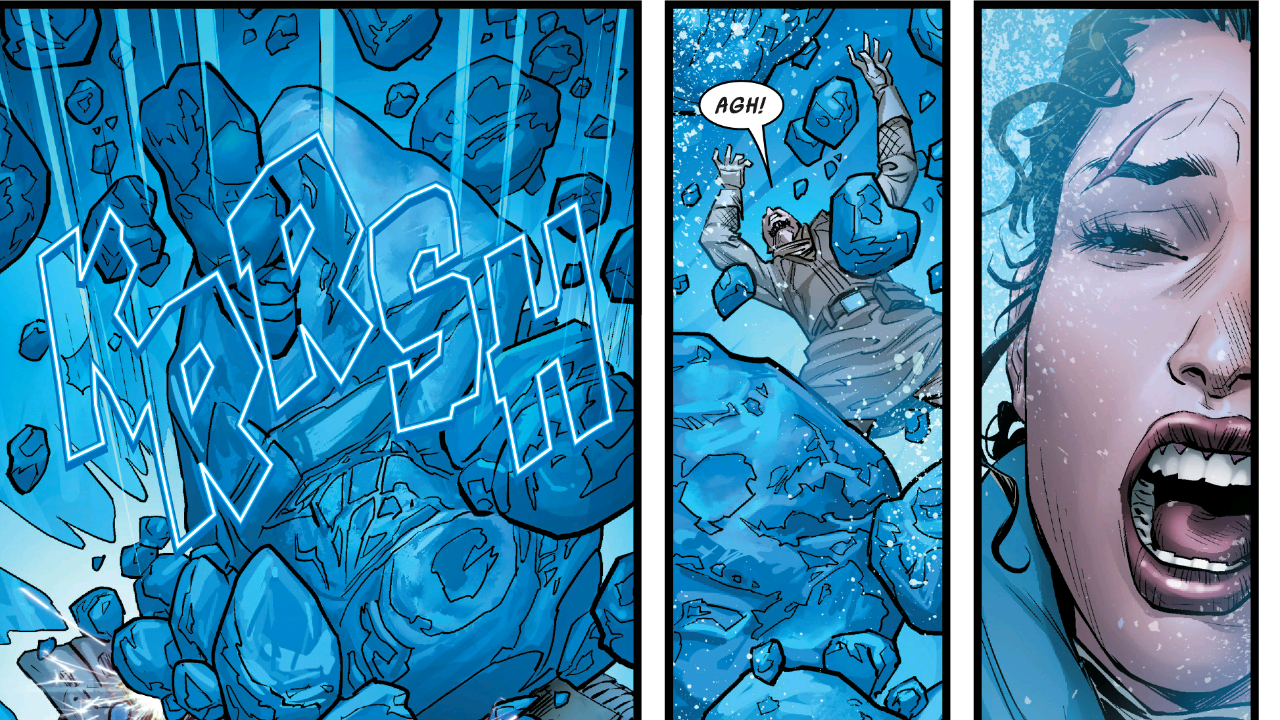 Doubtful that the rebels would waste valuable resources to find the two of them, they come to terms with their fate and decide to leave behind a heartfelt message to their toddler son Poe. But while recording the message, Kes begins to lose hope and admits that the world they wanted to make for their son would never be a reality. As this realization hits him, a lightsaber blade opens up a hole in the tunnel wall, and Luke Skywalker arrives to rescue them. Kes is amazed that the rebels would wasted much needed resources just to find two of their own, and it is in that moment that he becomes confident once again in the cause of the Rebellion.
I have no idea where Soule is taking readers post-Empire, but if I had to guess, I'd say that both Shara and Kes will be a big part of the story moving forward. Soule's run on the series will be the canonical replacement for the multimedia crossover event Shadows of the Empire from 1996, so I'm excited to see where the story goes from here, especially in the hands of such a capable storyteller.
The next short story is from Greg Pak, who will be picking up on the Darth Vader series in February. Basically, Soule and Pak are swapping stories here as Pak just recently ended his run on Star Wars and Soule is starting his first ongoing run on a Star Wars comic since Darth Vader ended a year ago. That being said, Pak's story is more of a follow up to the first Vader run by writer Kieron Gillen as Soule's comic was set much earlier on the galactic timeline. Though I'm always down for more Vader, I would be lying if I said that this was one of my most anticipated Star Wars comics next year.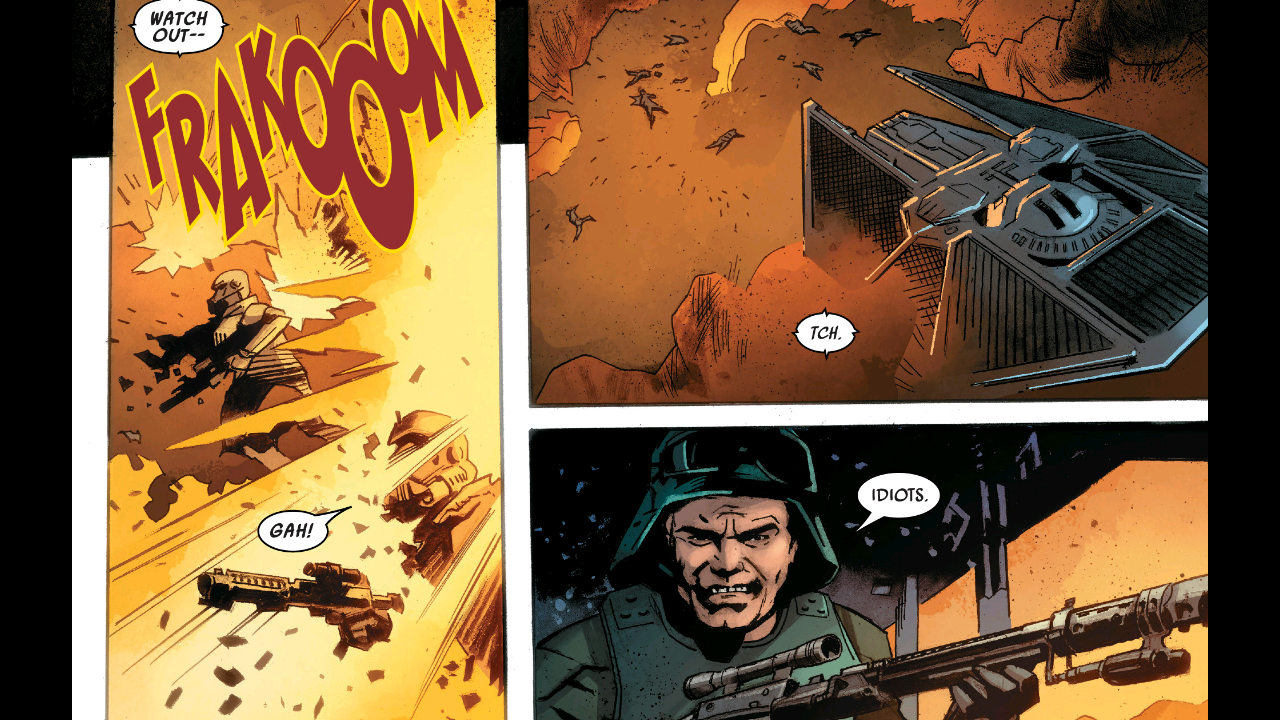 Don't get me wrong, Pak is a good writer and I enjoy a lot of his comics, but I was pretty disappointed with his recent lackluster conclusion to the Star Wars series. However, a fresh start may be just what the medical droid ordered moving forward, so I remain hopeful that Pak will have a good run on the upcoming series. For now, let's take a quick look at Pak's short story in this issue.
The story follows an imperial officer named Cordo as he leads a strike team of newly minted death troopers to stop a group of rebels from stealing an experimental cannon (which looks a lot like the ion cannon the rebels eventually build on Hoth). Cordo is a dedicated imperial who values nothing else above ultimate victory. Sacrifice is useless without it. And just when he thinks his new squad completely missed out on the implications of his teachings, he realizes just how much they bought in to his own philosophy when they sacrifice him and severely injure themselves to destroy the cannon, keeping it out of rebel hands.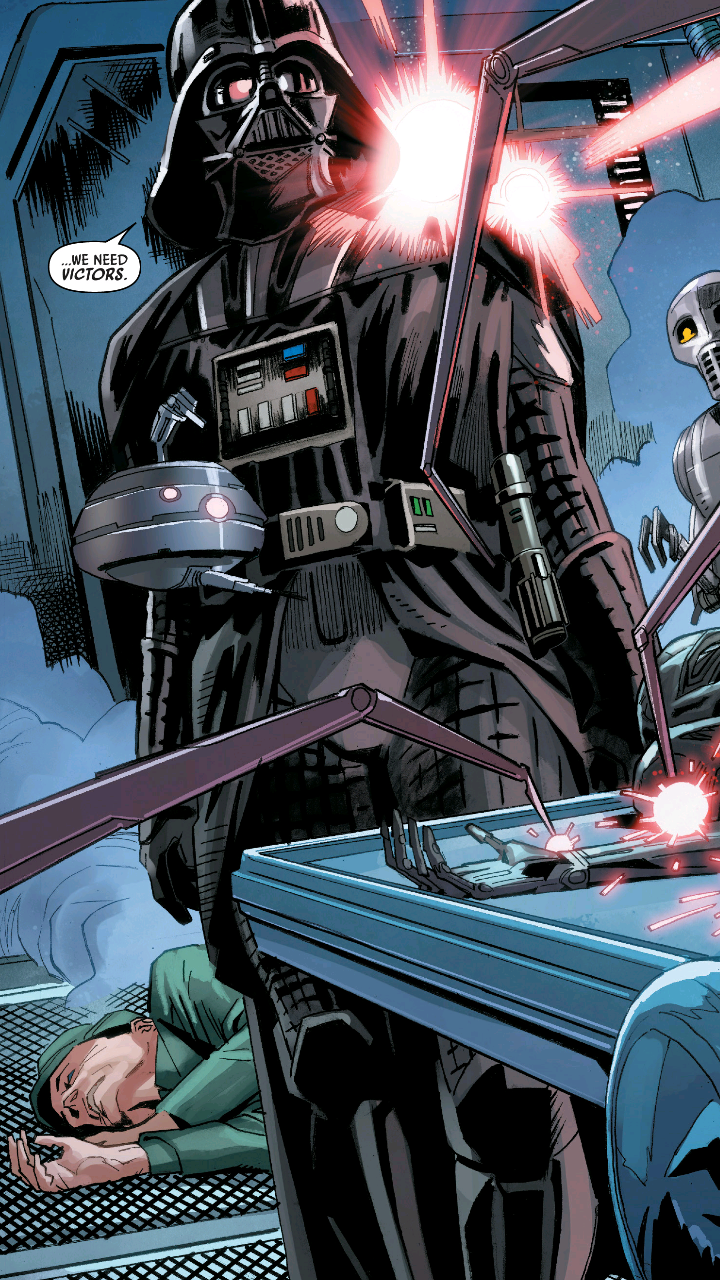 The setup for the new Vader run comes in the end of this issue when the Sith Lord himself arrives to recruit the heroic death troopers. Victors would be needed in the fight ahead, and these troopers would be a valuable asset to him. Like the titular series, this one will take place post-Empire so I look forward to seeing what happens with Vader during this time. Will Prince Xizor finally make his canon appearance or will Pak go a completely different route? Time will tell. But death troopers are always cool, so there's that.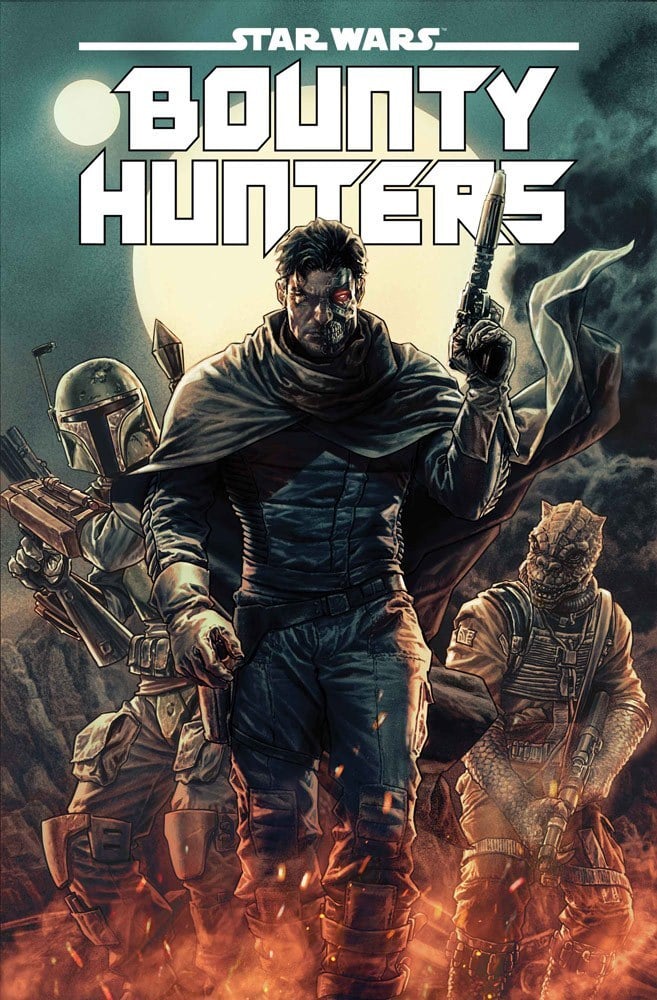 As I mentioned above, March will be bringing us a brand new series called Star Wars: Bounty Hunters to join the others. I love mercenary stories, and I am definitely looking forward to seeing Boba Fett and Bossk back together (as promised by the cover of the series' first issue above). Beilert Valance, the ex-imperial cyborg bounty hunter that once trained at the Carida flight academy with Han Solo, is a fun character as well, so it has a lot of things going for it. I am a little nervous about the writer, however. So far I can't say that I've really liked any of the Star Wars comics I've read from Sacks, but the story possibilities are enough to at least keep me hopeful.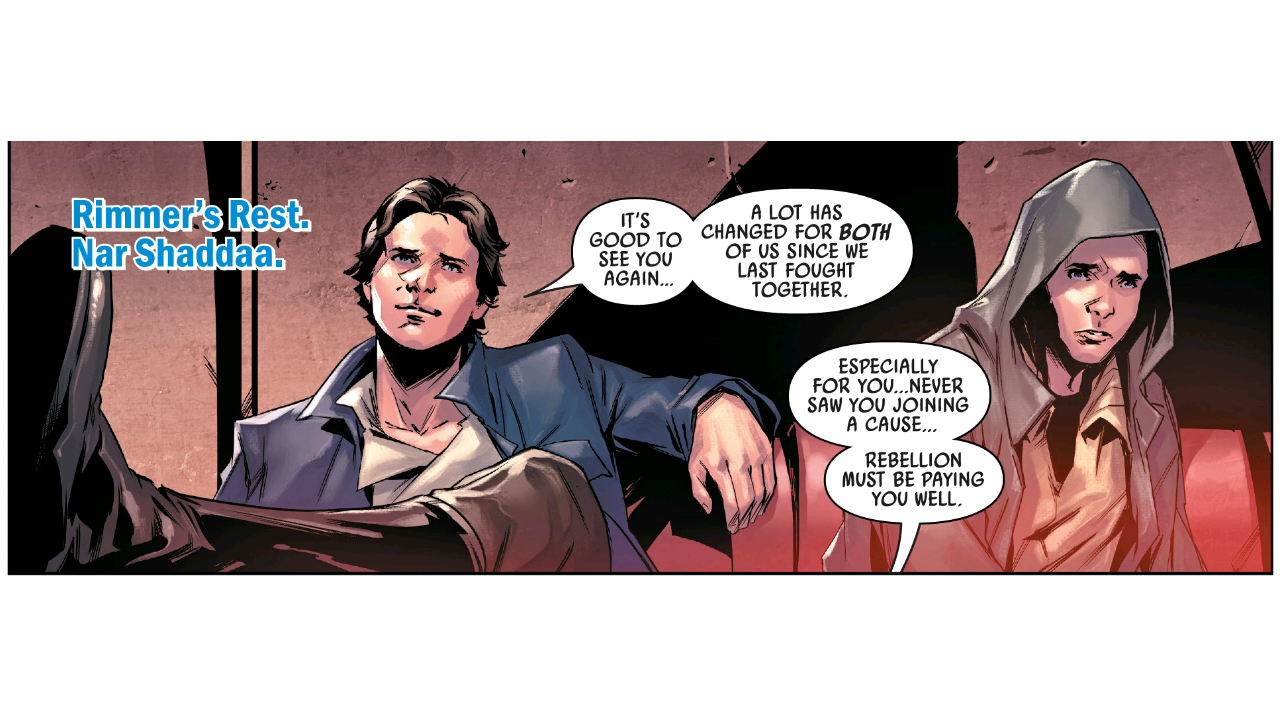 In keeping with the Hoth tie-ins, this issue follows Valance as he escorts an engineer to the rebel base on Hoth, a mission he was hired for personally by Han Solo. Han tells Valance that he would have done the job himself, but with the Empire and Jabba's bounty hunters so hot on his tale, it was too risky. The engineer had come up with a new design for a shield generator that would prove vital in protecting the rebels when they would inevitably be forced to evacuate from Hoth.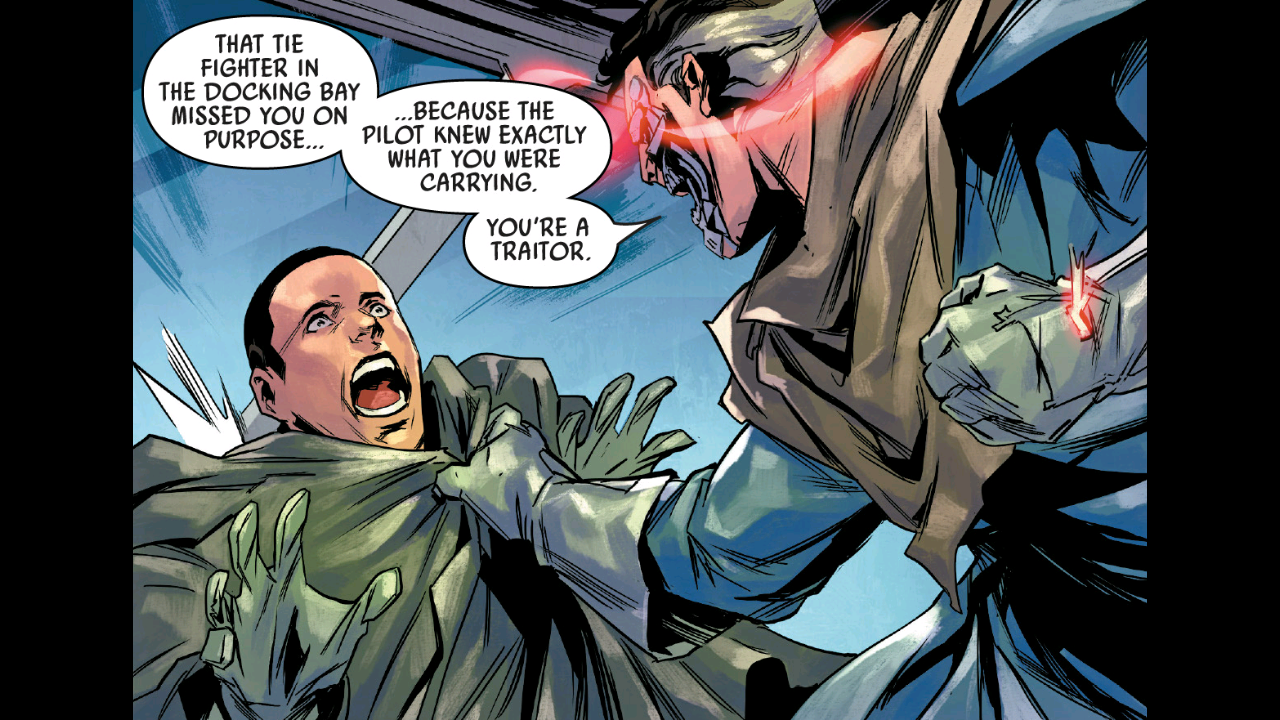 However, when the imperials catch up with Valance and the engineer, the bounty hunter realizes that the only explanation for their close brush with the Empire was that the young man had given the imperials a heads up. Valance learns that the engineer had actually been planning to betray the rebels all along, but when he learns that the young man was acting out of motivation to secure freedom for his family who were enslaved by the Empire, Valance has a modicum of sympathy for him. Granted, he still kills him on the spot (don't take any chances, right?), but upon delivering the shield generator plans personally to the rebels, Valance asks that half of his payment be sent to ransom the engineer's family.
Though the first three stories serve as more of a preview for the issues ahead, the final story in the issue is more of an epilogue to Simon Spurrier's run on Doctor Aphra. We'll have to wait until April to get a taste of Alyssa Wong's take on the character, but for now, we get to see Spurrier put a nice little bow on the series that he took over from Kieron Gillen earlier this year.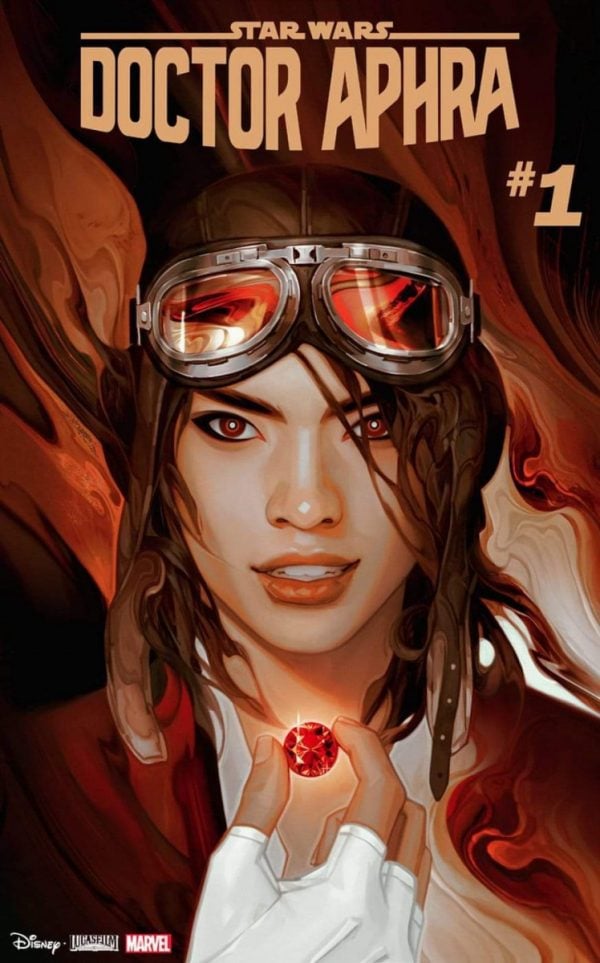 In the final issue of Doctor Aphra, troublemaker Chelli Aphra proved she could still do good things in spite of her inherent flaws. Removing all evidence of Echo Base from imperial databases, her actions had bought the rebels enough time to prepare for the eventual imperial assault on their stronghold. Having done this, Aphra set off on her own with droids Beetee and Triple Zero, while sending her final goodbyes to her father, lover, and protégé via a hologram message.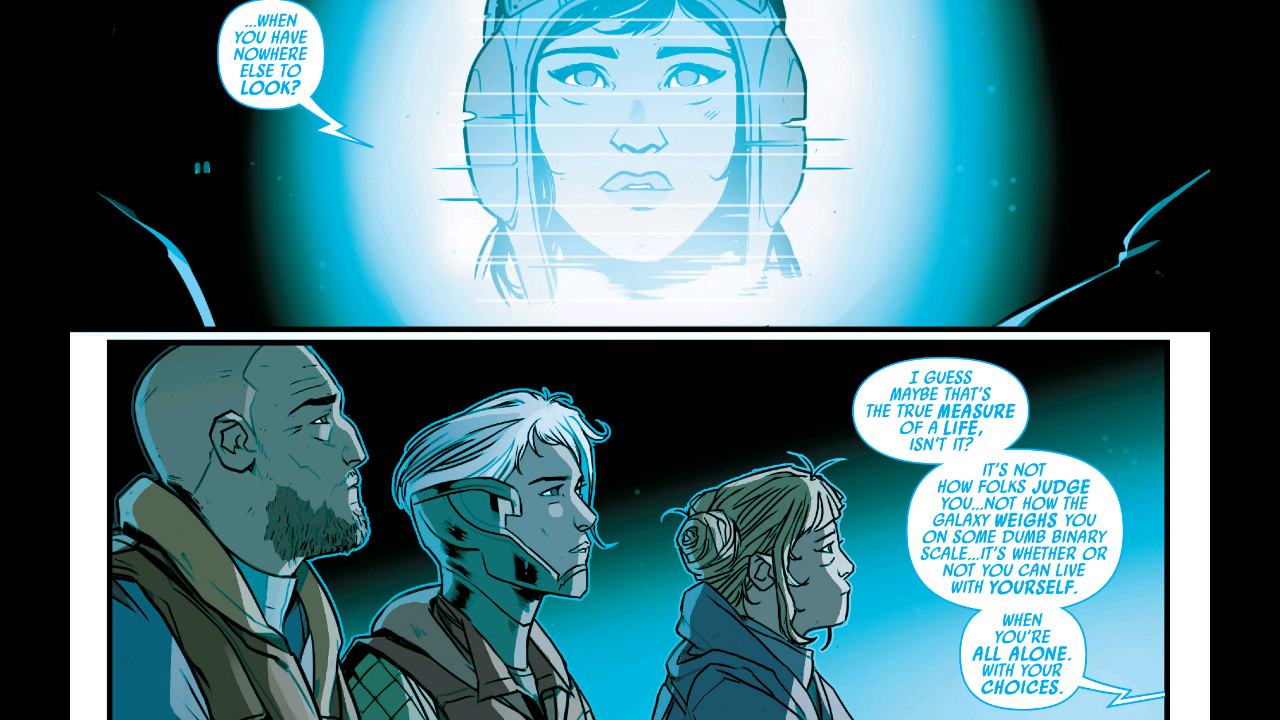 This story shows us the same message from the perspective of Aphra's dad, Tolvan, and Vulaada. Watching the message together, they go through a range of emotions, especially Tolvan, who is, as always, in a perpetual love/hate relationship with the doctor. But in the end, Luke Skywalker shows up and reveals that Aphra was responsible for buying them more time. They come to terms with their feelings and disappointment and look out on the Hoth landscape with hope for the future.
This story was a great little bookend to what was mostly a fantastic comic series, and next to Soule's Star Wars, the continuation of Doctor Aphra is what I'm looking forward to the most next year in the world of Star Wars comics. Empire Ascendant #1 is not a must read, but it's a satisfying epilogue to the recently concluded Star Wars comics and a hopeful preview of what's to come that should definitely be picked up by anyone who has been following Star Wars comics over the last five years.
Score: 7/10
Star Wars: Empire Ascendant #1 is available now in a comic shop near you or online at Comixology. Happy reading Star Wars comic fans!
Jordan Pate is Co-Lead Editor and Senior Writer for Star Wars News Net, of which he is also a member of the book and comic review team. He loves all things Star Wars, but when he's not spending time in the galaxy far far away, he might be found in our own galaxy hanging out in Gotham City or at 1407 Graymalkin Lane, Salem Center, NY.