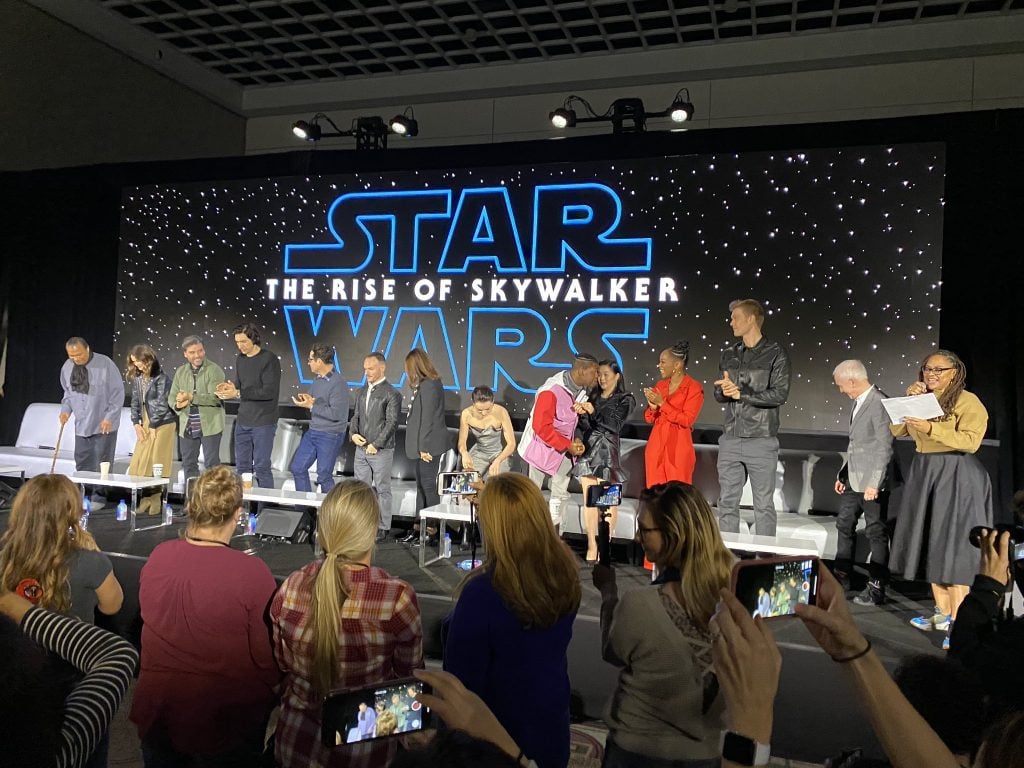 The Global Press Conference for Star Wars: The Rise of Skywalker took place today in California, and we were honored to attend and cover the event. We will have more coverage from the entirety of the day's events, but to start, here is our coverage of the press conference itself!
James Baney of our podcast The Resistance Broadcast represented us at the event.
We will have more coverage of the event later, including more articles, videos, and details on the Chris Terrio roundtable discussion.
Hey everyone @Mirahtrunks here. Just got to the Global Press Conference and I am checking out the costumes! pic.twitter.com/j1GXfVnfib

— SWNN (@StarWarsNewsNet) December 4, 2019
Conference will begin soon! pic.twitter.com/AmUKvJ7nsL

— SWNN (@StarWarsNewsNet) December 4, 2019
Same as before but with me now! #TheRiseOfSkywalker #MakeSolo2Happen pic.twitter.com/NEQw2CBhBL

— SWNN (@StarWarsNewsNet) December 4, 2019
It has begun! We are here with,
J.J. Abrams
Kathleen Kennedy
Daisy Ridley
Oscar Isaac
John Boyega
Adam Driver
Keri Russell
Kelly Marie Tran
Naomi Ackie
Joonas Suotamo
Anthony Daniels
Richard E. Grant
Billy Dee Williams
Chris Terrio!!!!
With Ava DuVernay hosting! pic.twitter.com/LwxhgHg717

— SWNN (@StarWarsNewsNet) December 4, 2019
J.J. on his first day:
Shifting from not knowing the chemistry of the cast would work to just making a good film. pic.twitter.com/QiuD8Hed5K

— SWNN (@StarWarsNewsNet) December 4, 2019
TIL: Kathleen Kennedy worked cameras for the NFL. pic.twitter.com/o0K2EgzUV7

— SWNN (@StarWarsNewsNet) December 4, 2019
Kathleen says, still today she will fix disorganized or crimped cables she sees on set.

— SWNN (@StarWarsNewsNet) December 4, 2019
Kathleen on "Why JJ"?

You need gravitas and humor when making these types of movies and J.J. embodies both. He was my first choice.

— SWNN (@StarWarsNewsNet) December 4, 2019
Chris Terrio missed J.J.s call cause he didn't have his number in his phone. But heard the message and started freaking out in a good way. He had to land "the biggest star destroyer on the head of a needle." #TheRiseOfSkywalker #StarWars

— SWNN (@StarWarsNewsNet) December 4, 2019
Keri Russel didn't take her helmet off between takes or anything for 3 days straight! She loved being the character! pic.twitter.com/S1T8NaJEqN

— SWNN (@StarWarsNewsNet) December 4, 2019
Naomi Ackie was excited to train for the character because her personality is her physical strength. #TheRiseOfSkywalker #StarWars pic.twitter.com/bm3GvV0lOH

— SWNN (@StarWarsNewsNet) December 4, 2019
The best part was the bonding with old and new cast members say Kelly Marie Tran.

— SWNN (@StarWarsNewsNet) December 4, 2019
Some new images of characters pic.twitter.com/gA4h4SEr9U

— SWNN (@StarWarsNewsNet) December 4, 2019
We are getting a crash course in how to say Joonas Suotamo's name!

"In Finland we don't have silent letters. You pronounce EVERY letter!" Haha#StarWars #TheRiseOfSkywalker pic.twitter.com/ktL1KEyVYH

— SWNN (@StarWarsNewsNet) December 4, 2019
How to summarize the experience of being in every Star Wars film?

The real experience is seeing it from the "fan's standpoint". He has a unique perspective but it's entertaining to see everyone else's experience.

— SWNN (@StarWarsNewsNet) December 4, 2019
Richard E. Grant says he was afraid Disney would be mad tweeting his reaction "early". Ha #StarWars #TheRiseOfSkywalker pic.twitter.com/MaD1IK3Lmx

— SWNN (@StarWarsNewsNet) December 4, 2019
Billy Dee Williams says he has huge admiration for J.J. and was happy to work with him.

And it's been a great pleasure for him coming back to play Lando. He thought he was done and it would never happen again but when he got the call he just sat and chuckled. He is very happy.

— SWNN (@StarWarsNewsNet) December 4, 2019
Oscar Isaac says Poe is a wild card type of energy. But this movie he says they have dirtied up the squeaky clean persona of his character. But mostly he is excited to be there for his friends and push them along. #StarWars #TheRiseOfSkywalker pic.twitter.com/0y5sVdUokW

— SWNN (@StarWarsNewsNet) December 4, 2019
Is "FinnPoe" contrived or is it real?

From day one we have had a good vibe and had good chemistry. Just being best buds on the set. #StarWars #TheRiseOfSkywalker

— SWNN (@StarWarsNewsNet) December 4, 2019
Is Kylo Ren "Ben Solo"?

*Adam hands the mic to JJ jokingly

"He is both."#StarWars #TheRiseOfSkywalker pic.twitter.com/OjU55i4637

— SWNN (@StarWarsNewsNet) December 4, 2019
Ava says she hopes the spectical of the film doesn't cover up Daisy Ridly's performance. #StarWars #TheRiseOfSkywalker

— SWNN (@StarWarsNewsNet) December 4, 2019
It was important to George these films need to mean something. What does this film mean?

JJ: Theres the movie you present and the thing you are doing for yourself. In today's world, this movie celebrates friends & family as well as Hope and Unity. #TheRiseOfSkywalker #StarWars

— SWNN (@StarWarsNewsNet) December 4, 2019
Kathleen, Chris, and JJ had trouble writing the 3rd act until someone pointed out the reason there was trouble was because they didn't want #StarWars to end. "They were right. So we went back and wrote it." #TheRiseOfSkywalker

— SWNN (@StarWarsNewsNet) December 4, 2019
JJ thinks what they did with Leia is something Carrie Fisher would have been proud of. #StarWars #TheRiseOfSkywalker

— SWNN (@StarWarsNewsNet) December 4, 2019
This experience is life changing for John Boyega but he is so close with Daisy that he can share his experience of global fame with her. #StarWars #TheRiseOfSkywalker pic.twitter.com/rlcPYotRKT

— SWNN (@StarWarsNewsNet) December 4, 2019
John Hoey is the Co-Lead Editor and Senior Writer for Star Wars News Net and the host of The Resistance Broadcast podcast
"For my ally is the Force, and a powerful ally it is."
Click HERE to check out and comment on this topic in our forum The Cantina