'The Rise of Skywalker' – Entertainment Weekly Debuts New Images and Details
With The Rise of Skywalker and the conclusion of the saga exactly a month away, Entertainment Weekly have revealed a new gallery of images and talks with director J.J. Abrams and the cast as the trilogy of trilogies comes to an end.

Speaking with Entertainment Weekly, Abrams was candid about the challenge of getting the final installment of the Skywalker Saga across the finish line on time. "We always knew we were going to have three fewer months to postproduction this film," he told EW in late October. Coming on board following the departure of Colin Trevorrow, Abrams had the Herculean task of bringing a story spanning four decades to a satisfying conclusion, without Carrie Fisher's Princess Leia and with a deadline already in place.
But if the pressure was getting to him, Abrams wasn't showing it. Instead telling Entertainment Weekly that he felt "infinitely better" at this stage than he did with The Force Awakens:
"We had more reshoots on Episode VII than this one. We had more story adjustments on VII than this one. We didn't know if these characters would work, if the actors would be able to carry a Star Wars movie. There were a lot of things we didn't know. On this, we knew who and what worked, and everyone is doing the best work I've ever seen anyone do. But the ambition of this movie is far greater than Force Awakens. What we set out to do was far more challenging. Everything is exponentially larger on this"
And despite having an extra trailer this time around, with the D23 Special Look replacing the traditional behind the scenes video, Abrams insists that we haven't seen anything yet. "The [trailers] that have come out are scratching the surface of what the movie is," he told Entertainment Weekly, confirming that there are still major action sequences in the film that we've seen nothing from.
Indeed, John Boyega told the publication that his first reaction to Abrams and Terrio's script was to read it again multiple times because "there was so much information in there." It certainly looks like The Rise of Skywalker will need every minute of it's 155 minute runtime to fit everything in!
Diving into the story, Entertainment Weekly confirms that The Rise of Skywalker picks up a year after the battle of Crait and the events of The Last Jedi. Luke Skywalker's sacrifice saved the Resistance and gave hope back to the galaxy, but allies have been hard to find in the fight against the First Order.
The time jump between films has allowed the characters time to grow. So whilst the film opens with Rey, Finn, and Poe working together for the first time in the sequel trilogy, it's not the first time their characters have done this. "We're not just a ragtag group of people who have been thrown together," Oscar Isaac told EW, "We've actually had time to train. There are some really great sequences with the three of us in infiltrating spaces."
For both Boyega and Isaac, The Rise of Skywalker gave them a chance to really develop their characters. Poe gets the chance to get out of the cockpit and finally work alongside Rey and Finn, whilst Finn gets to prove himself as a capable soldier, with Boyega promising a side of the character we haven't seen before rather than a "comedic goof dude who never gets stuff done."
But what of Rey?
"Rey is driving into her own thing," Ridley revealed, "She's not doing what other people are telling her to do." Whilst the time jump means Rey's Force powers have developed, 'confident' isn't a word Ridley would use; "She's definitely more in control of everything and can do new fun stuff, but she's vulnerable and a little insecure about at all."
And it may not be her Jedi abilities that save the day. The Force moves in mysterious ways, and Rey's time as a scavenger yet prove just as critical before the saga comes to a close according to Abrams:
"The scavenger who is desperate and haggling for portions and trying to survive [in Force Awakens] — those special skills and that special experience ends up being something that is essential to saving the galaxy."
The mystery of Rey's past will also be reopened after The Last Jedi seemed to draw a line in the Jakku sand. "It's not that she doesn't believe it, but she feels there's more to the story." Ridley told EW, "And she needs to figure out what's come before so she can figure out what to do next…"
As Rey seeks to figure out her past, Kylo Ren has already moved beyond his. In The Rise of Skywalker, the former Ben Solo is no longer the "petulant teenager" we met in The Force Awakens and Adam Driver pinpoints the death of former Supreme Leader Snoke as when he grew up. That was "kind of a birth moment for him," he told EW, "He had all of these pseudo father figures that he had to either live up to or literally kill to become his own person for the first time."
Speaking about Kylo's relationship with Rey, Driver refused to pigeon hole it, saying "I don't think it's all one thing. Part of the fun of playing it is the boundaries of it keep changing. At times it's more intimate, sometimes less intimate. Sometimes it's codependent. And then it's, obviously, adversarial." I'd expect it to change again, perhaps more than once, before the battle for the fate of the galaxy is done.
For his part, Abrams views Rey and Kylo as "two sides of the same coin" and says "they know they are each other's unresolved business." And as they face off atop the wreckage of the second Death Star, the director notes that returning to that iconic location was symbolic in many ways:
"It felt like going into the haunted house, the place that you have to go to. This is a story of people having to grapple with the burden the prior generation dumps on those that follow. So literally returning to this wreck of the past and having to fight it out felt like an obvious metaphor, but also felt incredibly cinematic."
Whilst nothing was revealed about Mark Hamill's role in The Rise of Skywalker, Abrams did touch on bringing Leia back for Episode IX, saying that restoring unused scenes of Carrie Fisher from The Force Awakens and The Last Jedi was "like finding this impossible answer to this impossible question."
As for the other classic characters, Billy Dee Williams finally returns as Lando Calrissian, with the veteran actor telling EW "There are all of these things that have happened in Lando's life that he's got to resolve." And Anthony Daniels finally gets his wish as C-3PO is described by Entertainment Weekly as being "essential to a movie's plot for the first time since A New Hope." The actor, the only one who has been part of every Star Wars movie, told EW that "J.J. and Chris came up with this aspect of Threepio we had not seen before that's remarkably clever. They go down deep into ancient Star Wars and came up with something refreshingly new."
The new characters were also teased, with Keri Russell revealing that Zorii Bliss is "involved in some intimate, sketchy stuff," and Naomi Ackie discussing what it was like to ride an Orbak whilst knowing "that every choice you make in a small moment is going to be broadcast to the entire world." No mention was made of Richard E. Grant's Allegiant General Pryde (pictured above in one of EW's exclusive new images), nor of Domhnall Gleason's returning General Hux. Are they just minor parts in this massive narrative, or is their role too secretive to reveal right now?
Whatever happens, The Rise of Skywalker will bring the saga to an end. "The Stakes are all or nothing," Abrams said, there's no plan for Episodes X-XII or loose ends left to set up further adventures. Palpatine's return is a closely guarded secret but his presence ties everything back not just to Return of the Jedi but to the prequel trilogy and the start of the saga. "This has been a very long chess match that's been played between the Jedi and the Sith — all the way back to the very beginning," Oscar Isaac told EW, and now it's coming to an end.
The piece ends with one final tantalizing tease. In The Empire Strikes Back Obi-Wan told Luke that he could not interfere, but in The Last Jedi we see Yoda interact, physically, with the mortal world. So what rules govern those who have become one with the Force? In the teaser we heard Luke say, presumably to Rey, that they had passed on all they know "but this is your fight". But with the stakes being all or nothing, the final fate of the galaxy on the line, and Palpatine having seemingly cheated death, could the Force ghosts do more than just guide and pass on wisdom? "That's probably best answered by not answering it", Abrams teased.
Make sure you check out the full article by James Hibberd and Anthony Breznican. The new issue of Entertainment Weekly hits stands November 28 and features three special covers that span the entire Skywalker Saga.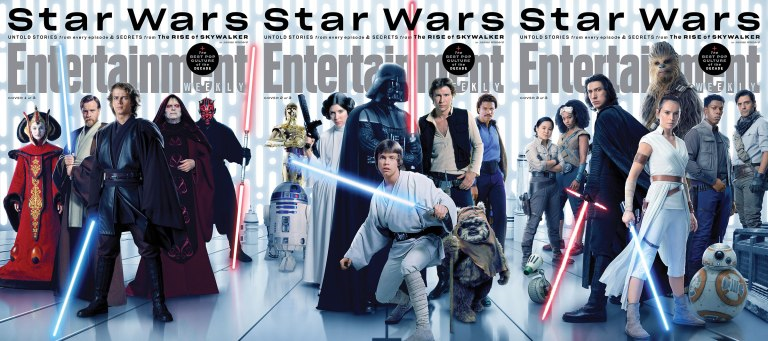 And you can check EW's video with the interviews below: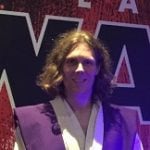 Chris is a lifelong fan of Star Wars, Disney, and super heroes who can't quite believe this golden age of movies and TV we're living in. Having written blogs dedicated to Disney's Aladdin musical and Star Wars Celebration, Chris is excited to be part of the SWNN and MNN teams.