Updated with New Poster! New International Banner for Star Wars: The Rise of Skywalker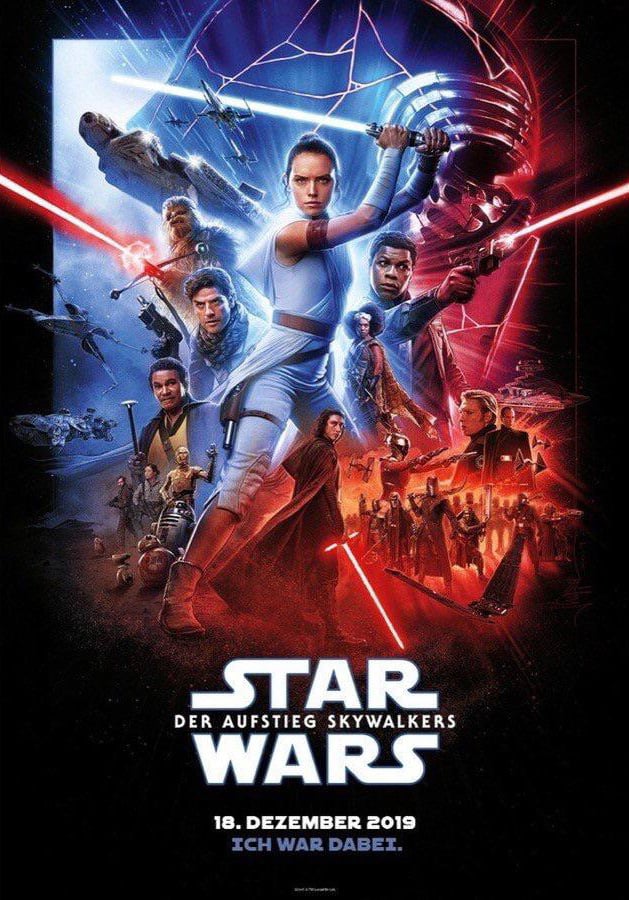 Reddit user Godxon uncovered a new Chinese banner for Star Wars: The Rise of Skywalker, featuring Rey and Kylo Ren in another climactic duel. Also a new German poster was revealed (via @blessmycircuits), featuring the main cast of the movie in a similar fashion, like the final posters for the previous installments. It's interesting to see that on the poster we have Kylo Ren and Ben Solo as well. Also, there is a porg…
And now to the international banner:

It seems like the two are in some kind of a cave with what looks to be an imperial era TIE fighter in the background. That's probably part of their battle on the Death Star rubble that we've seen in the trailer.
Now that international banners are starting to pop up, we can soon expect to see the international trailer for the movie. By this time in 2015 and 2017, we had already seen the international trailers for The Force Awakens  and The Last Jedi.
Usually the international trailers offer quite a few new scenes from the movies as was the case with the previous international trailers for the first two parts of the sequel trilogy. With all the secrecy around this project and knowing that J.J. Abrams is trying really hard to show us as little as possible, we probably shouldn't have our hopes high for any big reveals.
For reference, here are the first international trailers for The Force Awakens (November 6, 2015) and The Last Jedi (October 30, 2017):
It's worth mentioning that The Force Awakens and The Last Jedi had second international trailers as well, which offered a lot of new shots from the movies. As we are already in late November, we can assume that we will get only one international trailer for The Rise of Skywalker and that it will be coming in the next week or two.
The Force Awakens (December 9) and The Last Jedi (December 4) second international trailers :
It's hard to believe that we are less than a month away from the final chapter of the Skywalker Saga! Star Wars: The Rise of Skywalker will be in theaters worldwide December 20th.