Mandalorian Watch: Episode Synopsis and Cast Interviews
With just three days until The Mandalorian makes his mark on the post Return of the Jedi universe, the press tour is in full swing with cast interviews and our first glimpse at the synopsis for Episodes 1-3 of the highly anticipated series.
The first episode of The Mandalorian will premiere with the launch of Disney+ on Tuesday with the second episode arriving three days later on Friday November 15th. Each of the subsequent 6 episodes will then drop on Fridays with the series finale set for December 27th. The episode loglines for the first three episodes have also been revealed and while they leave much to the imagination, they'll make spoiler-phobes very happy. (via CBR)
THE MANDALORIAN CHAPTER 1: A Mandalorian bounty hunter tracks a target for a well-paying client.
THE MANDALORIAN CHAPTER 2: Target in-hand, the Mandalorian must now contend with scavengers.
THE MANDALORIAN CHAPTER 3: The battered Mandalorian returns to his client for reward.
Also StarWars.com posted a quick snippet of Pedro Pascal, Gina Carano and Carl Weathers answering questions about the series and their characters to their Twitter yesterday. Pascal, the titular Mandalorian, emphasizes how the post-Empire world of the show is filled with "unpredictability and danger" and how the lines that were once so clearly defined in the world of Star Wars are now a "lot blurrier". Weathers and Carano, who appear to be having a lot of fun being paired up together, also offer a few little soundbites about their characters as well.
The cast of #TheMandalorian answers our questions about the coming series. Start streaming Nov 12, on #DisneyPlus. @themandalorian @disneyplus pic.twitter.com/NKs3TJ92IN

— Star Wars (@starwars) November 8, 2019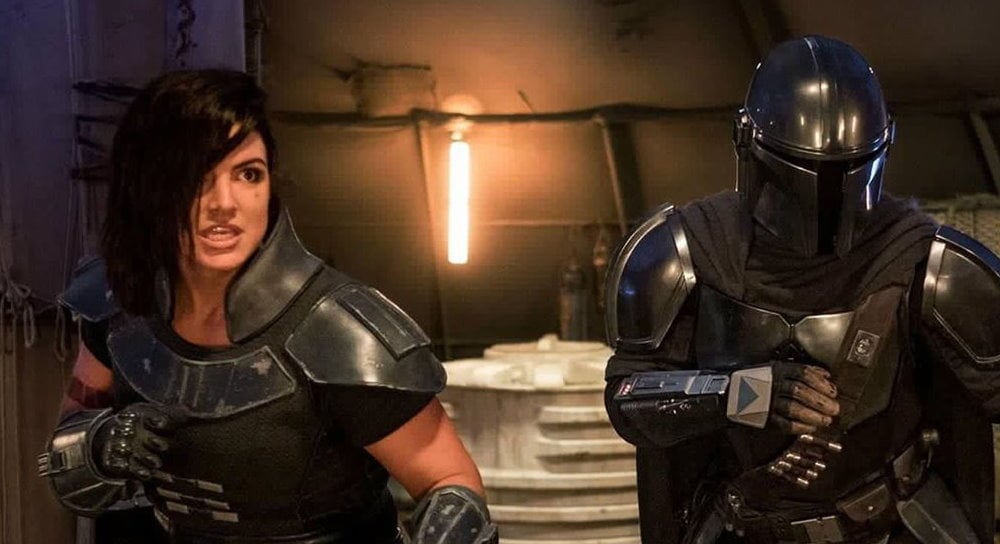 Last but not least, ESPN sat down one on one with Gina Carano to discuss how she put down her MMA trained fists ten years ago but is raising them once again. The difference? This time those hands are attached to blasters. In the mini feature, Carano seemingly reveals the full name of her character for the first time: Cara Cynthia Dune. She describes her as "a bit of a loner, a badass, traveling from planet to planet to survive". That "badass" is credited by stunt coordinator, Ryan Watson, for her "good hands and really heavy kicks". While the mini-doc focuses more on her MMA career and the legacy she left behind, a few behind the scenes shots of her roughing up armed attackers in a cantina should suffice until the series officially launches this Tuesday on Disney+.
ESPN region locked this video, so not everyone will be able to view it, but there is nothing we can do about it.