Kathleen Kennedy on 'The Rise of Skywalker' and the Future of Star Wars, Including Her Own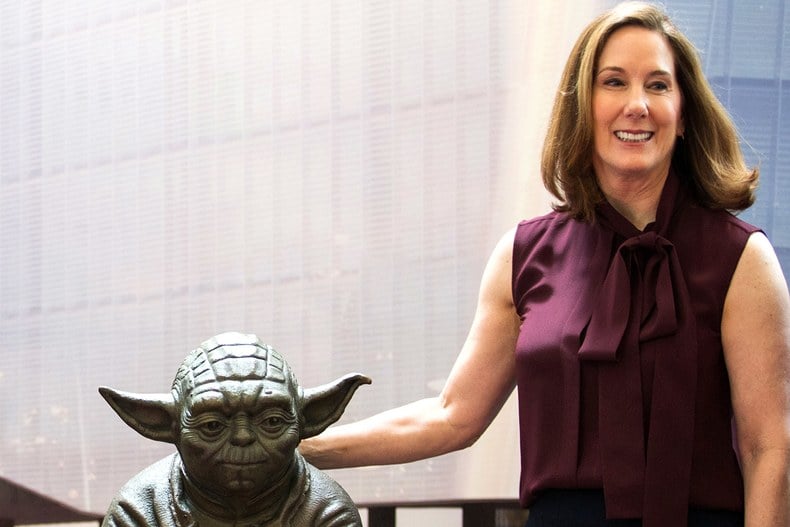 Kathleen Kennedy has been producing movies since Ronald Reagan's first term. After four decades as one of the most successful producers in movie history, the Lucasfilm President is about to deliver the conclusion to the Skywalker saga, which in turn opens up many questions about the future beyond the most dramatic family in the galaxy. In an interview with Rolling Stone, Kennedy opens up about Episode IX, George Lucas, and the future of Star Wars, including her own.
Star Wars: The Rise of Skywalker is not just the end of the new trilogy, but a bookend to George Lucas's ever-evolving saga that revolved around the Skywalker family. That isn't to say we are saying goodbye forever to Rey, Finn, Poe, and our evergreen supporting characters, but we are saying goodbye to the Skywalkers, and Kathleen Kennedy understands that responsibility. The most interesting part of this interview to me is Kathleen Kennedy's candidness, with the strictly business side of her personality dominating the early part of the conversation. The reason she has been so successful is because she has zero hesitation to make difficult decisions, and has no problem wearing the weight of those decisions on her back. If you're going to conclude a 40-plus year saga, you better get the right people involved.
"Every one of these movies is a particularly hard nut to crack. There's no source material. We don't have comic books. We don't have 800-page novels. We don't have anything other than passionate storytellers who get together and talk about what's the next iteration might be. We go through a really normal development process that everybody else does. You start by talking to filmmakers who you think exhibit the sensibilities that you're looking for. And I would argue that the list is very small — people who really do have the sensibilities about these kind of movies, and then the experience and the ability to handle how enormous a job these movies are. So we try to be as thoughtful as we possibly can about making those choices."
Throughout the creative process of Star Wars films since 2012, Kennedy has had to make shrewd decisions, some of which coming as late in the game as mid-production, like the firing of Lord and Miller from Solo: A Star Wars Story. Lord and Miller are great at what they do, but they weren't a fit for Star Wars, and Kennedy had no problems making the tough decision before things got any worse. In addition to Solo, Rogue One had to bring in Tony Gilroy to gut and re-work a lot of the movie, and Colin Trevorrow (Jurassic World, Book of Henry) was removed from writing and directing Episode IX when an agreement on creative direction couldn't be reached. Kennedy does not mince words about these situations, which are never easy decisions, but ones she makes using instincts harnessed from over 40 years of producing some of the biggest movies of all time.
"I would also argue that sometimes people get involved in the normal development process, and then they realize, "Oh, my God, this is so much more than I ever imagined." So it's pretty common that when you're working on movies, you're not making choices and decisions that necessarily work out exactly the way you want from the get-go. It's been an evolving process with lots of people and lots of opinions, and then you try to shape something into what it eventually becomes. So I feel really fortunate that I've worked with so many great people that have been absolutely committed, J.J. being one of them."
J.J. Abrams offers a strong level of stability to a franchise that needed it to create and produce what some may consider the most important movie in the franchise since the "original ending" Return of the Jedi. Kennedy couldn't gush over Abrams enough, and that doesn't come as a surprise considering Abrams co-wrote and directed The Force Awakens, the biggest movie in North American history, that brought Star Wars films back to life after a decade-long slumber. But Abrams knew he wanted someone with him to properly write the conclusion to this story. Enter Chris Terrio, and it sounds like Kennedy put full trust in Abrams' choice to co-write the end of the Skywalker saga.
"Chris is a very, very thoughtful, intelligent guy that J.J. chose and we all got to know. And again, it went through much of what we often go through, which is endless discussion, lots of artwork. Luckily, J.J. had already been into a pretty deep dive before he was doing Force Awakens and during the process of that movie — it's almost like an education of getting acquainted with all aspects of Star Wars. Not only just looking at the movies but talking to the number of people that are still around that worked with George for years, understanding the mythology that he created. One of the things we talk about all the time is the fact that it was very important to George that these stories really meant something, that they have something to say, and that they have a real emotional core. So we spend a lot of time talking about that and trying to find the spine of a story that feels satisfying."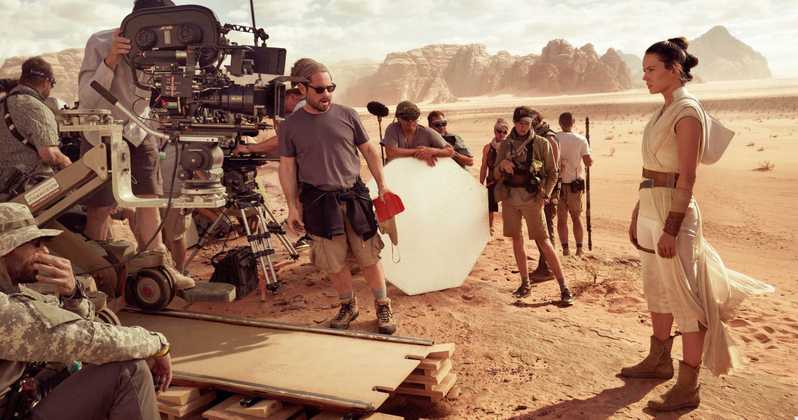 The Rise of Skywalker is not in the can yet, and despite massive amounts of landfill trash clickbait "articles" and YouTube selfie videos spouting made up stories about the production, the reality of the situation is the movie is completed but Abrams and team are running a fine-tooth comb through it to get things exactly right. That may sound rogue or unstable to some, but it is actually very reminiscent of the production environment of a few movies you may have heard of: Star Wars, The Empire Strikes Back, and Return of the Jedi.
"It's a constantly evolving process. I mean, there's still little things that we're trying to get exactly right, right now. You never stop the storytelling iterations that go on in making these movies. But we know what these previous eight movies are. We know what that story is. So in this movie, we're taking all of what's come before, and we're trying to find a satisfying conclusion. And I think we have."
Kennedy spoke a bit about The Last Jedi, and appreciating and loving the risks Rian Johnson took with the film, acknowledging making the same movie over and over again doesn't serve the saga well. I agree with this. I know many people who did not like Episode VIII, but I believe the film will age well and stand on its own as an entry in the saga just as any other episode. We need to remember that The Empire Strikes Back wasn't always considered the gold-standard Star Wars movie. It's also possible The Last Jedi remains a controversial film forever, time will tell. One thing I do know is that Disney has always kept their ear to the ground and listened to their fans, and that filters down to Lucasfilm too.
"I love that we have these amazingly passionate fans who care so much. And I know sometimes they may think we don't listen, but we do, and I thought it was fantastic that people got that engaged. It just showed me and everybody else how much they care. And that's important for all of us that are doing this. We really look at them as the custodians of this story as much as [we are]. We look at it as kind of a partnership."
#MakeSolo2Happen anyone? Sorry, I had to, you knew it was coming. Okay back to it.
What is Star Wars Beyond the Skywalkers? Difficult to see, the future is. It is a fair question, which Jon Favreau is attempting to answer with The Mandalorian through episodic "TV" storytelling. But the question remains, can Star Wars films tell new stories that have absolutely no connection to the core saga? That is the biggest question Kathleen Kennedy and Lucasfilm face as they look to the future, to the horizon.
"It's an incredible challenge, and it is something that we're in the middle of, and I can't even begin to tell you where this may end up, because I think you are absolutely right. I think whatever this next movie is, and how it begins to define a new way forward, it's something we want to take plenty of time and plenty of conversation and careful thought before deciding exactly what we're going to do."
For what it's worth, I heard rumblings that Kathleen Kennedy recently held a sort of "mission statement" gathering, getting together with her entire team to try and figure out how to move the franchise forward, looking for ideas that sound right. There is without question uncertainty on what Star Wars is beyond the core saga, which is understandable. All Star Wars storytelling over the last five decades have been tied to it. This is arguably the biggest challenge the franchise has had to face and Kennedy is candid in saying they are still exploring this without any concrete plan at the moment. Disney Plus came at the right time, as Star Wars fans will be well fed on that platform while Lucasfilm figures out where to take the future of the franchise theatrically. It probably didn't hurt when Kevin Feige called her up and asked if he could make a Star Wars movie.
"We've got various things things we're looking at and various ways in which we can begin or not. As you can imagine. You know, do you go back? Do you go forward? All those questions are being asked. Do we stay in this galaxy? Do we go to another? The universe is never-ending. [Laughs.] The good news and the bad news. They have endless possibilities. It's liberating, it's exciting, and it creates a lot of pressure and anxiety as well."
Kennedy's future with the company is uncertain, even to her. She is signed through 2021 which should take us through the first seasons of Cassian Andor and the Kenobi series, and will be a year before the next Star Wars film hits theaters. She is thinking about her future, but appears more focused on embracing what they have achieved in the present. I am not a speech-decoder, but it sounds like it's possible Kennedy sees an end in sight. I sense a sort of "my watch has ended" feeling, that she fulfilled what her plan was, to continue and complete the story of the Skywalkers. It definitely does not sound like the "we're looking at the next ten years of Star Wars films" quote we heard a couple of years ago. So we'll see how the next two years shake out.
"I've really enjoyed this, I have to say. It's been incredibly exciting. And just the fact that George asked me to do this, I felt a tremendous responsibility with stepping in and taking care of the franchise, and, if there were going to be new movies, to really pull a team around this that cared as much as he did. What happens in the future, and how long and how much longer I do this? I don't know yet. I'm looking at all of that. It's been incredibly satisfying to reach this point where we've completed the saga, and, I think, made a really wonderful movie. It's going to feel very satisfying to the audience. So that's what I'm focused on right at the moment — and what the future holds, who knows."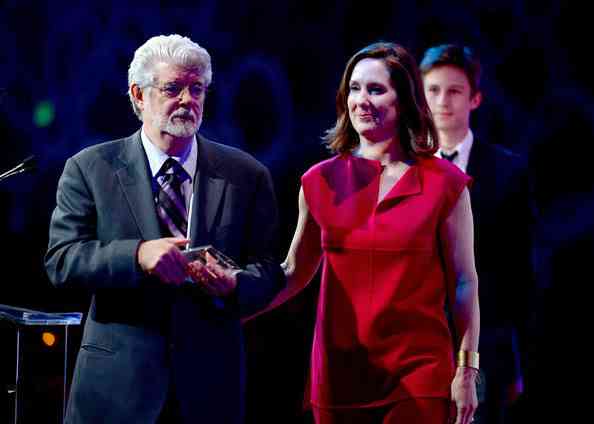 Kathleen Kennedy, and anyone running Star Wars will have detractors. Many would argue, myself included, that the reason George Lucas sold the company in the first place was because he was sensitive and tired of the backlash he received from fans over the prequels and The Clone Wars movie. But however you feel about Kennedy, for good or bad, she helped shepherd Star Wars into a new era, for a new generation of fans to embrace. If she decides to hang it up after 2021, she will have pulled off an incredible run carrying the Star Wars torch for a decade. We don't know what the future holds for the Star Wars franchise. Always in motion is the future, but there is a future, and we can take joy in that fact.
Kathleen Kennedy quotes via Rolling Stone
John Hoey is the Lead Editor and Senior Writer for Star Wars News Net and the host of The Resistance Broadcast podcast
"For my ally is the Force, and a powerful ally it is."