Details on Our Coverage of 'The Mandalorian': Written Reviews and The Mando Fan Show on YouTube, and Giveaways!
The Mandalorian is upon us and we wanted to give you the details on how we plan on covering the show here on the site and on the SWNN YouTube channel! We will be doing written reviews of every episode, each including its own giveaway contest. We will also have The Mando Fan Show on YouTube, put together by The Resistance Broadcast crew which will have guests and some fun giveaways as well!
Written Reviews
Each episode will be reviewed here on the site with a rating and a non-spoiler review, followed by a separate spoiler section at the end (to respect those who are unable to watch the show yet).
Each review will also launch its own giveaway contest, with details on how to win. Each contest will involve leaving a comment under the review article based on the instructions we provide.
The Mando Fan Show
On the night each episode of The Mandalorian premieres, we will have a show on our YouTube channel called The Mando Fan Show, where we will rate each episode zero to ten Pedro Pascal faces (yes you read that right), discuss the episode, point out Easter eggs and references we saw/heard, and speculate on the following week's episode, feature your tweets, and sprinkle in a few giveaways throughout the weeks. Here is an introduction to what the show will be all about!
We will also have guests on every episode after the first one. Here are our guests through the first half of the season!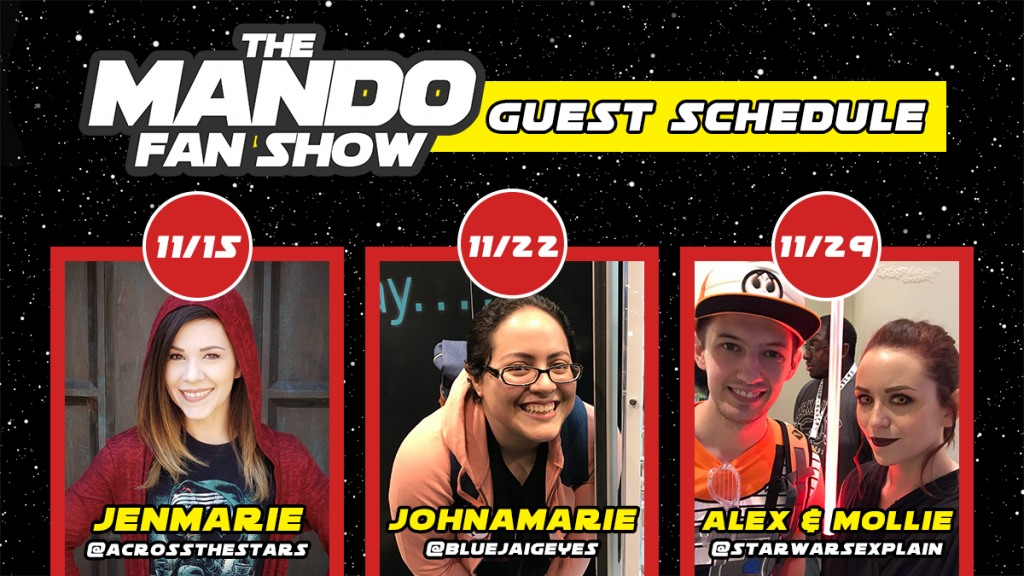 We are very excited about The Mandalorian and hope you enjoy our multiple platforms of coverage for the show, and good luck to all who enter the giveaways! Thanks for helping us maintain SWNN as a positive community, and for allowing us to be your force for Star Wars news and content!
John Hoey is the Lead Editor and Senior Writer for Star Wars News Net and the host of The Resistance Broadcast podcast
"For my ally is the Force, and a powerful ally it is."