Palpatine's Face Featured on 'The Rise of Skywalker' Collector Glasses by Alamo Drafthouse

The Rise of Skywalker's new trailer did a fantastic job at teasing the Emperor's return without revealing his face. But now, we may have our first look at Palpatine thanks to Alamo Drafthouse's exclusive glasses.

For every film of the sequel trilogy, Alamo Drafthouse has offered limited edition pint glasses to those purchasing tickets for the latest installments of the "Skywalker Saga", and this year is no exception. With tickets now on sale, Alamo has revealed their exclusive The Rise of Skywalker pint glasses designed by Cesar Moreno.
Alamo customers are able to choose between Light Side and Dark Side glasses. The Light Side glass features the heroes of the Resistance, including Rey, Finn, Poe, Leia, Chewbacca, Zorii Bliss, BB-8, and D-O. But it's the Dark Side glass that's more intriguing. Featuring the villainous First Order, the glass has new artwork of Kylo Ren, General Hux, the Knights of Ren, and one of the glasses also features Emperor Palpatine.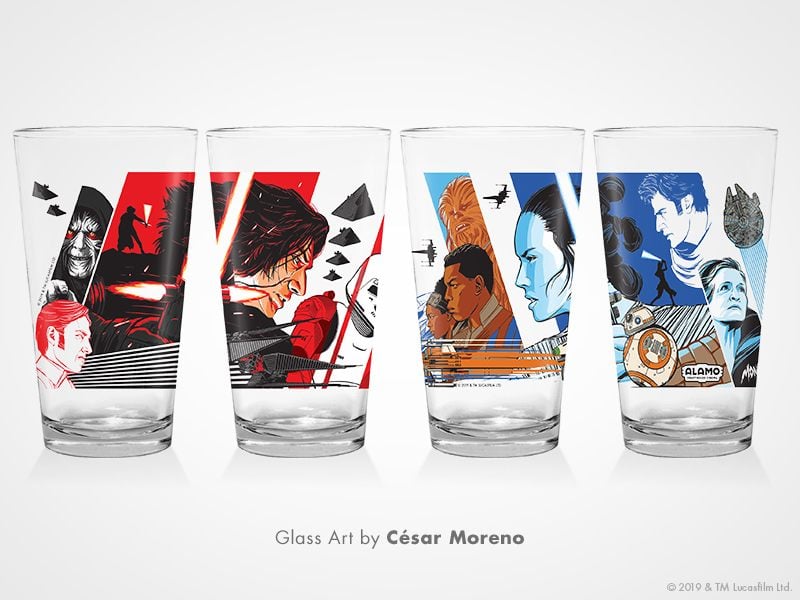 With sunken eyes and deep lines in his wrinkled face, the Sith Lord looks very close to his last chronological appearance in Return of the Jedi. You can almost hear his evil cackle just looking at the image.
However, it is important to note that this may not be Palpatine's look in the movie and could just be artistic license by Cesar Moreno and Alamo Drafthouse. The exclusive pint glass for The Last Jedi featured Luke Skywalker in his white Jedi Master robes wielding the Skywalker lightsaber and his Crait look was not revealed to any licensees ahead of the film's release. The same could very well be the case with Palpatine's appearance in The Rise of Skywalker.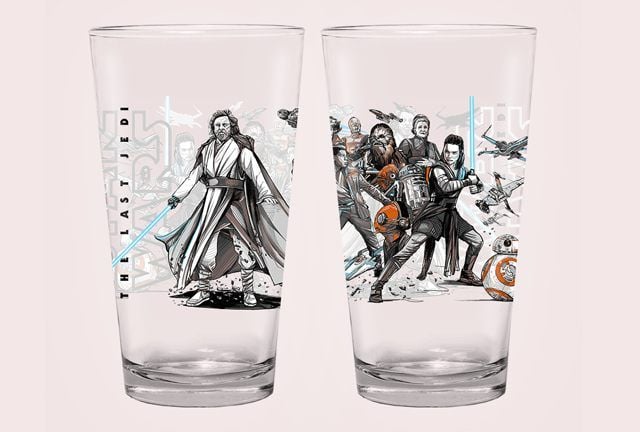 If you want to grab one, or both, of these glasses for yourself, you can purchase them with your movie tickets at Alamo's website. If you've already booked your tickets with Alamo but didn't want to purchase the glasses before the art was revealed, Alamo have said they will be contacting customers with a link to update their orders if they want to add the glasses.
So what do you think of Palpatine's possible look in The Rise of Skywalker? Do you think this is his final look, or do you think we've yet to see what he will really look like?
UPDATE
Well, it appears that the Dark Side really does cloud everything, including how Palpatine will look in The Rise of Skywalker. It appears that Cesar Moreno used the Sith Lord's Battlefront II appearance as his inspiration for the Alamo pint glass;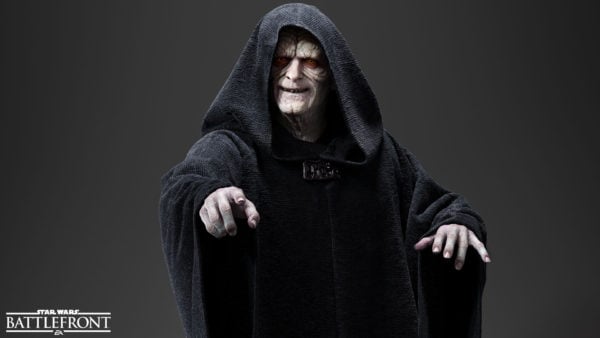 As you can see the images are a perfect match for each other. I guess Palpatine's true look is a secret Disney and Lucasfilm are saving for the film itself.
Thanks to Igor on Twitter for finding this.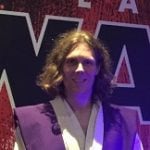 Chris is a lifelong fan of Star Wars, Disney, and super heroes who can't quite believe this golden age of movies and TV we're living in. Having written blogs dedicated to Disney's Aladdin musical and Star Wars Celebration, Chris is excited to be part of the SWNN and MNN teams.