David Benioff and D.B. Weiss Will Not Go to a Galaxy Far, Far Away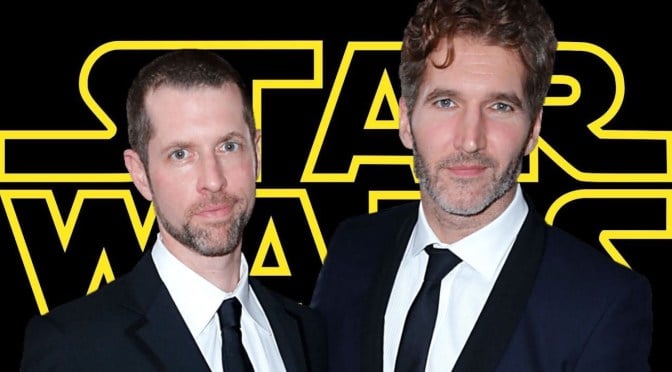 Your fan favorites can breathe a little easier: it appears as if David Benioff and D.B. Weiss' watch has ended. The Game of Thrones duo, expected to usher in a new trilogy of Star Wars films, have officially exited their initial deal with Disney's Lucasfilm.
Tasked with ushering in a new set of films in a post-Skywalker landscape, Benioff and Weiss were set to launch their spin on the galaxy far, far away as early as 2022. While December sees the release of The Rise of Skywalker and The Mandalorian debuts on Disney+ in two weeks, the duo's new trilogy would have been the first feature film not to follow the story George Lucas began in 1977.
As we reported back in August, Benioff and Weiss' involvement in the new trilogy was already beginning to wane. After signing a massive overall film and television deal with Netflix for the tune of $200 million, it was purported that they would only be writing a treatment for the trilogy with a commitment to script at least one of the films themselves. While Netflix was aware of the deal, it's entirely possible that the streaming giant didn't feel like waiting another few years to see returns on their shiny new investment.
In the exclusive released by Deadline, it is indeed the aforementioned deal with Netflix cited as cause for the breakup. In a joint statement, Weiss and Benioff announced that they were "regrettably stepping away" as "there are only so many hours in the day, and we felt we could not do justice to both Star Wars and our Netflix projects."
There appears to be no bad blood with Lucasfilm president Kathleen Kennedy although it remains uncertain how this setback will affect release plans going forward. In a statement, Kennedy said of the duo: "David Benioff and Dan Weiss are incredible storytellers. We hope to include them in the journey forward when they are able to step away from their busy schedule to focus on Star Wars." 
With a much maligned final season of the HBO juggernaut Game of Thrones leaving a bad taste in the mouths of a vocal fandom, this news may come as a relief to some. Whether Lucasfilm will continue with their story treatment while searching for new directors or scrap the entire project is unclear but one thing is for certain: this setback almost certainly means we may never get to see a Mother of Krayt Dragons.
Under the twin suns of Los Angeles, Chris continues to mourn the loss of Admiral Ackbar while championing the rights of Ewoks everywhere. Follow him on Twitter and Instagram @Chri5Manning for all your pun needs.