SWNN Interview: Comic Book Writer Charles Soule Talks About His 'Go Big or Go Home' Approach to Writing Star Wars and Shares His Earliest Memories of the Saga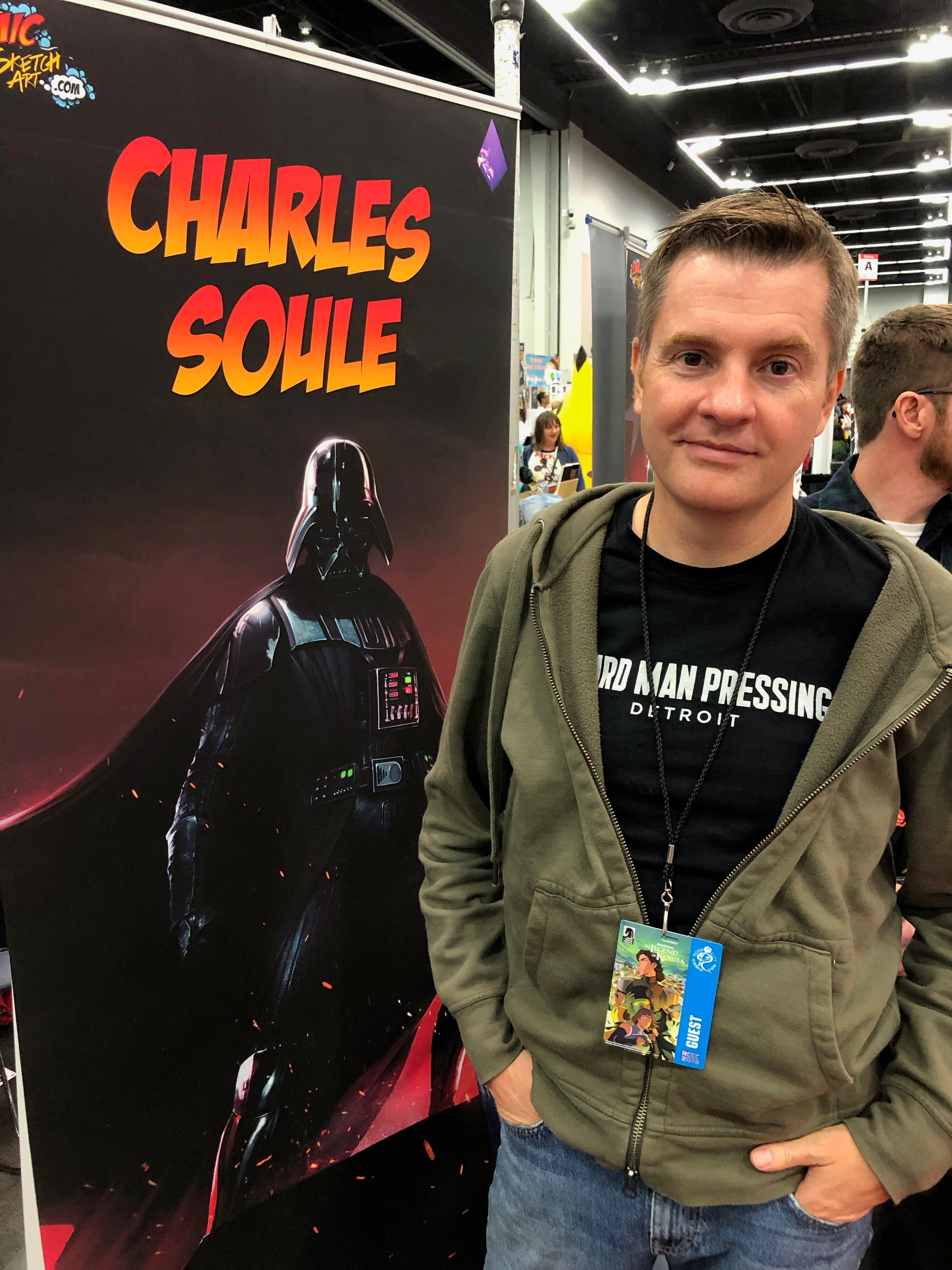 This weekend, at Portland's Rose City Comic Con, I had the privilege to sit down and speak with one of the best writers working in Star Wars at the moment – Charles Soule. Charles is responsible for some of my favorite Marvel Star Wars titles. Lando, Obi-Wan and Anakin, Poe Dameron, and the second-run of Darth Vader. He's currently at work on The Rise of Kylo Ren, which he promises will tell the story of the complex character in the style of "From Ben to Ren"; and also collaborating with other celebrated Star Wars authors on the mysterious Project Luminous. In this interview, we discuss some of his early memories of the original trilogy, his approach to writing these iconic characters (he's written almost all the big names), working with the Story Group, and what characters he hopes to write (or expand on) someday. Charles was in high demand this weekend at Rose City Comic Con, so it was very kind of him to sit down and speak with me. I hope you enjoy our conversation.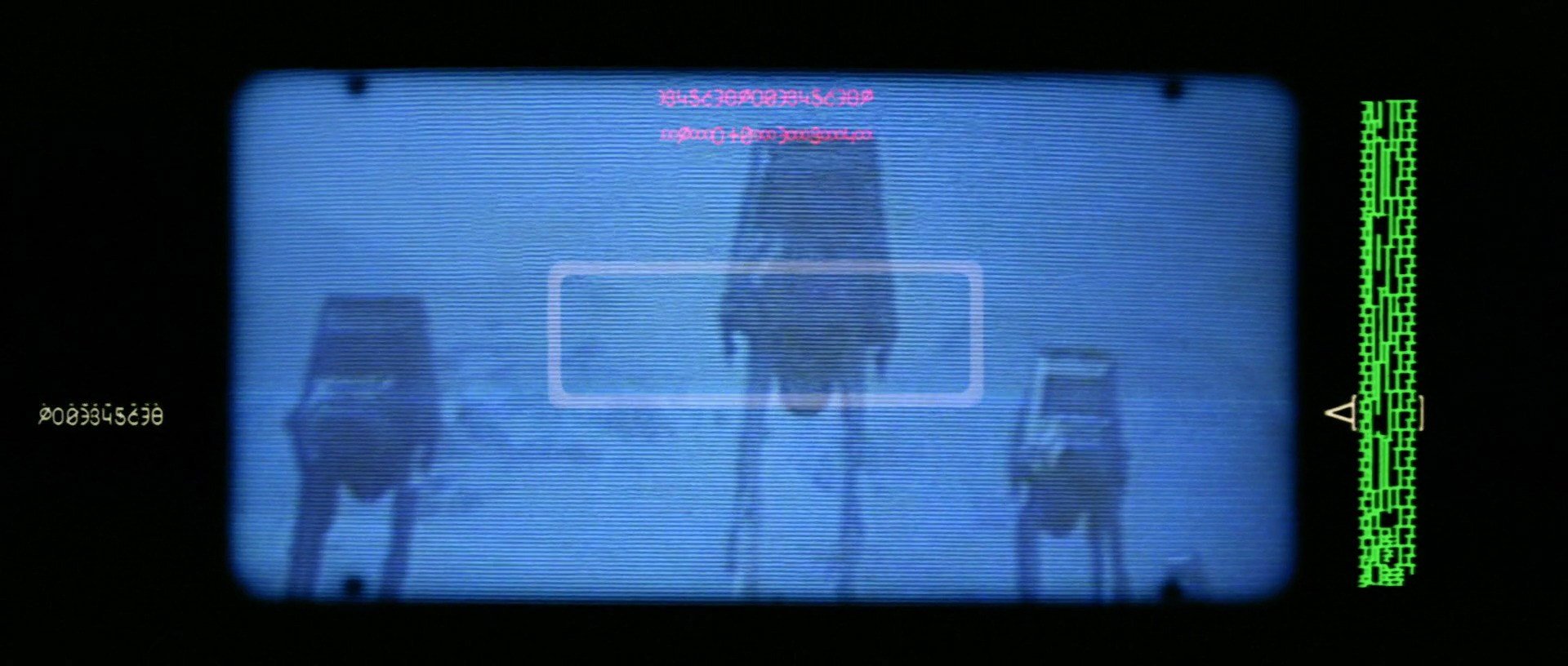 Kyle:
What's your earliest memory of becoming a Star Wars fan?
Charles:
The earliest Star Wars memory I have, that I vividly remember; it was being in the theater and seeing the AT-ATs coming out of the snow on Hoth. Like, when that first sort-of monocular shot comes up and you can see them kind of looming forward, you're like: "Whoa, what's going on?" So, I know I saw Empire in the theater. I believe I saw A New Hope in the theater, I must have, but it came out when I was super young. But, it was re-released several times, so, my guess…I've tried to reconstruct it backward, and I'm pretty sure I saw it in a re-release, just before Empire came out, like in 1979. So, I think that's probably when I saw it for the first time. And I remember the trash compactor scene very vividly, too, because I kind of had nightmarish.  That seemed like a real bad situation to be in. With the walls closing in, the dianoga – I didn't know it was called a dianoga back then.
And then it was really about being super into the action figures and convincing my parents to go to Toys-R-Us all the time to find a Vader figure or Luke figure, or whatever it was I was really into. My brothers, one of whom is actually sitting next to me right now, my brother Sam, and my sister, were all very into it too. So, we would play with the toys and tell each other stories and it was really, really fun.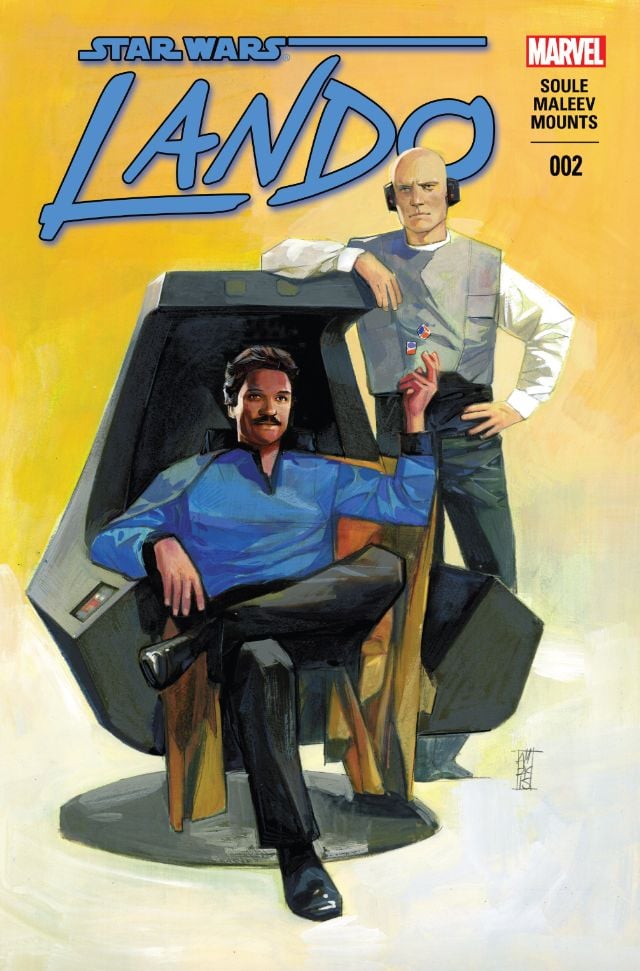 Kyle:
What was it like coming in to Star Wars comics? I know Lando was your first series, did you know, or have an idea that you were going to be doing more than that? Or was it just kind of a one-by-one?
Charles:
No, I treat every Star Wars gig I get as, in theory, my last Star Wars gig, and so I really want to do something that really knocks it out of the park as much as I can. And I have a little more confidence now that I'll hopefully work in Star Wars for some time. But, when I did the Lando book, I was like well this might be my only opportunity to work in the Star Wars Universe. So, my goal for myself was to try to write it in such a way that it felt like an essential story. In a way that, because, I remember the EU (Extended Universe) and how stories weren't always as essential as other stories. And because so many of them started to be put out, you kind of get diminishing returns. So I felt like, there's always great stories. The stories that feel like, "Oh, this is a really essential part of the mythology", started to become a little bit hard hitter on the ground.
I felt fortunate with the Lando book, because no one had done a Lando book, there was no Lando story. Those three novels, they didn't exist anymore. So, I could tell a story that hopefully felt fresh, and new, and reinvented him. Lobot was kind of the angle I took to get there. Darth Vader is the book I hear the most about, as far as work I've done in Star Wars, but Lando is a pretty close second to it. So it really worked and I feel like I achieved my goals for it. And then, after Lando came out, they asked me to do the Obi-Wan and Anakin mini. While I was working on that, they asked me to start the long running Poe Dameron ongoing. So, it felt like a real endorsement of my Star Wars voice which really felt good.
Kyle:
I remember getting Lando and that felt like a huge change and shift. I really like that story, how it's contained but it could have bigger implications with Momin and everything.
Charles:
Lo and behold, it did.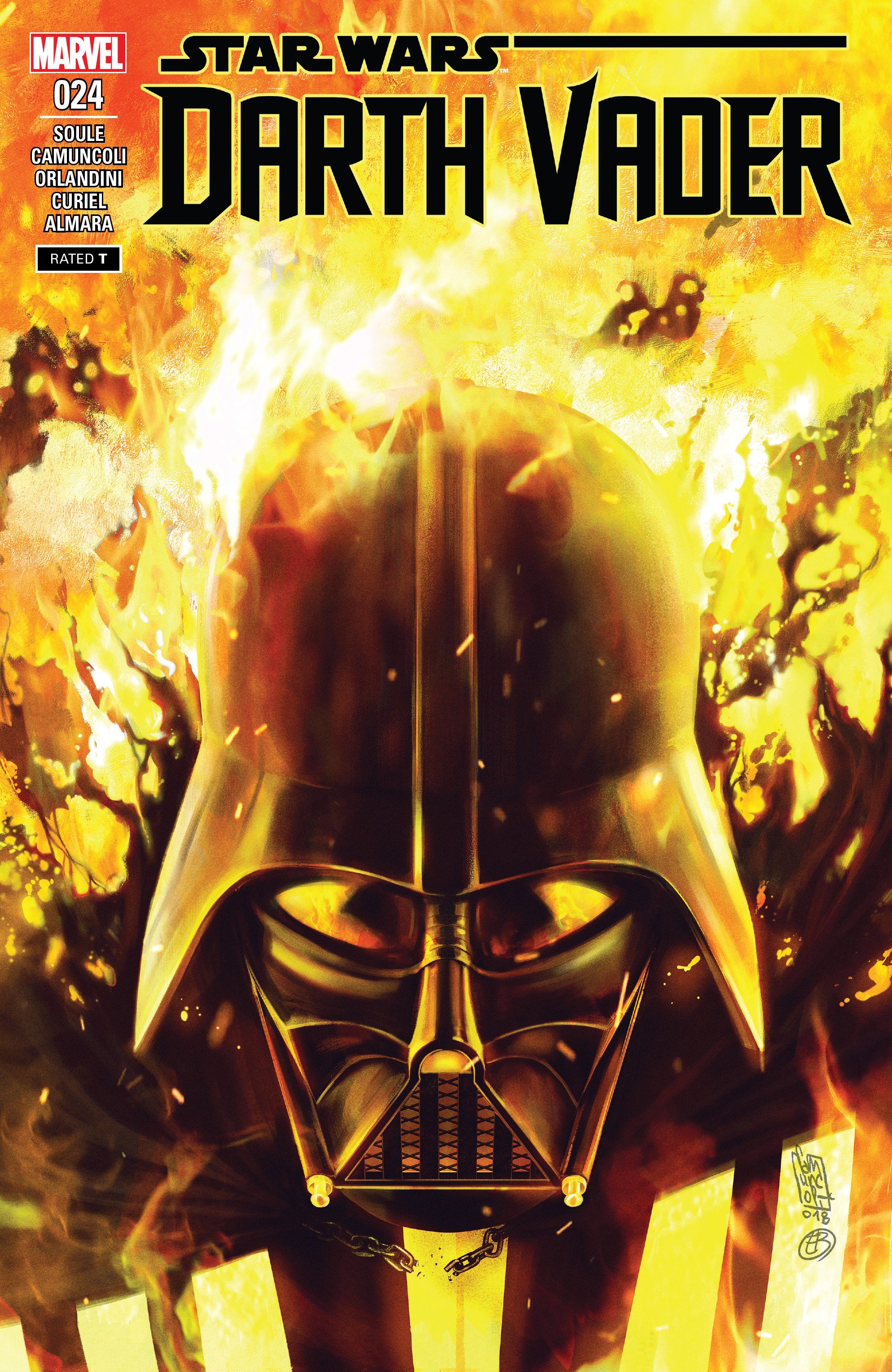 Kyle:
That was kind of where I was going to go, Vader is the one that gets talked about the most; I love them all, though, like Poe Dameron and Obi-Wan [and Anakin] as well. But, how did you approach this iconic character? We meet him in this and he's very vulnerable, he's very shaken by what just happened – it's right after Revenge of the Sith. What was your approach to taking on a character that iconic?
Charles:
Well, you're nervous, right. Especially coming off Kieron Gillen and Salvador Larroca who he worked with a lot, but his many incredible collaborators on that book. That was one of the most acclaimed things out of the entire Star Wars line, was Kieron's run. It covered so much really significant ground for theater. And you're like: "Well, how am I possibly going to tell a story about Vader that's interesting and cool that hasn't already been told?"
When they came to me it was like we're going to set it after Revenge of the Sith, and I said "Okay". I let my mind go for a minute and I'm like, "Okay, can I set it right after Revenge of the Sith?" I wanted it to start where it starts with that 'No!' moment because I knew that if there's a moment of the most intense character emotion for this guy, maybe the most he feels until he finds out he's got a son, is that moment. And so you start with this moment of incredibly high emotion, and then you have to takeover a character who's at that point and sort of grind him down to a point where he doesn't have to feel anything anymore.
Which is a very interesting reverse character arc, because normally you take a character who's at a stable place and put them to a high emotional place and change them. This was the exact opposite. All the emotions had to be ground away. Their humanity needs to be burned away, whatever you want to say. And so, that was the arc I was trying to get to. I often say when I talk about this book, the very first word in the book is no and the very last word is yes. So it's going from no to yes and it's Vader saying, "No, I refuse to accept this new reality; I refuse to accept that any of this has happened to me…", to him saying "Yes, I will do what you need me to do my master". I will be a soulless, dead enforcer until such time as I die. Then, obviously that changes when we get to Empire and Jedi, but it's a long road.
Kyle:
Yeah, that's one of the things I really loved about yours, is your showing at the end of hope and then Kieron Gillan's series was finished showing the beginning, when he finds out about Luke, and that's a huge moment for me. I was really excited you brought Jocasta Nu back, and that was actually great to see her and that she represented the intellect of the Jedi and the knowledge. That arc ends with Luke finding her cache. Is that something you hope to expand upon with him showing up there and finding that? It seemed like a pretty big cliffhanger…
Charles:
Sure.
Kyle:
To a lot of people.
Charles:
It would be great to expand upon that at some point.
Kyle:
I was going through all your work again this morning, you've basically written every major character in Star Wars. Is there one that maybe you got a chance to touch on but you'd like to do more with in the future? Or is there somebody you're like "I really would love to get this character and do more with this with him or her"?
Charles:
That's a great question. Well, obviously Kylo Ren is not out yet, but I'm going to get a chance to work on the Kylo Ren book. Within that book, I'm going to be able to hit characters that I have not, like my wishlist is going to be pretty full. The one character that I haven't really gotten a chance to play with is Han Solo. Everyone is sort of around him that I've gotten to do stuff with, but Han I haven't. He's such a cool voice and such a unique voice, who knows maybe someday. I'm thinking beyond that, I've written so much Palpatine, who's my favorite to write. I guess, even within the new trilogy, I've written Rey and Finn a little bit, and even given them some really cool beats too. Like Rey looking at the Jedi texts on the Millennium Falcon. There's been some really cool moments. For me right now, it's not so much about the checklist of characters, it's about really trying do something like that Lobot thing that we talked about before. It feels substantial and important to the mythologies other than just here's another fun adventure with these people. Which is not always easy to do, but you do your best.
Kyle:
Poe Dameron is another series of yours I loved, and going into this era of the sequel trilogy there really isn't a lot of content there, aside from a few books – your series is one of the biggest contributions. Did you find it difficult navigating that series? Did you have to reach out to the Story Group to have them flesh a lot of stuff out for you? Or did you just go with it?
Charles:
Well, the Poe Dameron series ran from just after seven came out, to eight coming out, and then a decent chunk of time after that, like six-months after or something like that. So, basically, the largest chunk of story was set before episode seven and while there are things I did to elude to… the biggest hurdle for that series was actually Lor San Tekka, because at that point it was unclear whether Lor San Tekka was going to be used in some other way. What might happen with him, and so on. So, the struggle was always how to use Lor San Tekka. But everything else was pretty much approved and all that.
Then once VIII came out, we talked about going further, like going past issue thirty-six, which is where it ended, and we did that last arc which was set after Episode VIII. So, I still think, I don't know if any of the rogue Episode IX stuff is out yet, but I think that last arc of Poe Dameron is still the only material stuff between episode eight and episode nine that we've seen. Which is kind of an incredible privilege, that all this time, the only thing that's there is what I did. So, getting them to approve it that quickly after eight was amazing. I pitched "This is what I want to do; I'm going to do it in this way that's going to be as tight in time to the first movie as possible, to VIII as possible, it's not going to interfere with IX," and they let me do it. People talk to me a lot about that arc and who's in it. There's a conversation between R2-D2 and BB-8 that is a fun issue and there's a lot of moments I'm really proud of there.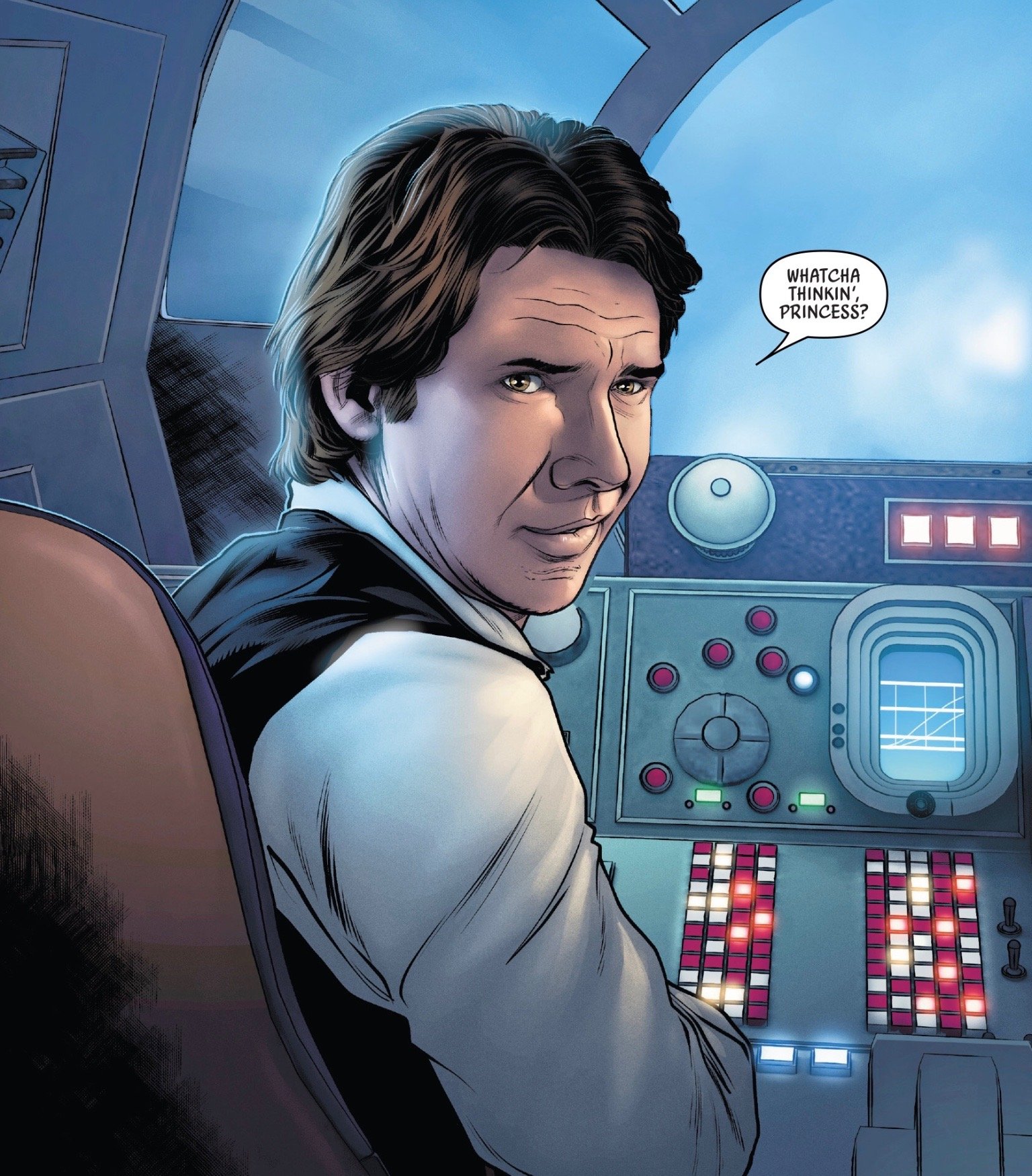 Kyle:
That moment when Leia comes on in the cockpit, I think it opens one of the issues, and she's remembering Han being there, is… I love it. I was also very surprised that showed up in the books too. I'm really glad they let you do that.
Charles:
Story Group wants you to swing for the fences; they always do. But they want you to swing for a very particular fence, which is the fence that is somehow going to not knock down any other fences which can be really challenging. So when I pitch stuff, I tend to go as earth shattering as I possibly can, and it doesn't always work, but sometimes it does work as we saw – Vader's a great example, the stuff I got to do in that book is invent a new Sith Lord, say how the castle is built, the lightsaber stuff.  Like, huge swings and they let me do all of it. Go big is what I tell myself with Star Wars stuff all the time. Kylo Ren's going to be no exception.
Kyle:
I was going to ask what it's like as a writer working with the Story Group? Is there's a pitch process involved? I know there are a lot of misconceptions about them out there.
Charles:
They're a bunch of really smart people who love Star Wars, who really love telling great Star Wars stories, and their job is not to step on stories. Their job is just to make sure that what you're doing doesn't interfere with other story lines. Particularly, high level stuff that might be in the works or things like that. The way they, compartmentalize is a word with no good connotations, but they're sort of a… security has always been a big deal about the stories and all that stuff. There's different levels of information they'll let you know about and so their job is to be the people who know all of it, and a super NDA and whatever so they can be the gatekeepers without everybody below having to know. That's a lot of their function.
But they're also Star Wars experts so you can go to them and be like, "Well, I need a character like this or I need to fill out this squadron this way", and they'll be like "Well, you could use Ponda Baba…" Well, probably not Ponda Baba, but whatever. So, I really like them a lot. Yes, there's sometimes you get an idea and you're like that would be so cool and they're like no. I remember one in particular for Poe Dameron; the main villain for that story is named Terex, Agent Terex, of the First Order Security Bureau (FOSB). I wanted to give that character… I wanted him dressed in white, I thought it would look really cool, like David Niven, and I just thought it would be really neat to give him a white uniform. They said no. I was like why, and they're like well there's another character in play that is going that direction. So, you know it's fine. When I saw it I'm like oh that's what it is, but it was still… that would've been awesome because as far as I knew, I was the first person to go there. But I wasn't by a little bit.
Kyle:
Momin was introduced in the Lando series, and obviously had a much bigger expansion in the Vader series, was that something that you had that story in your head for that character?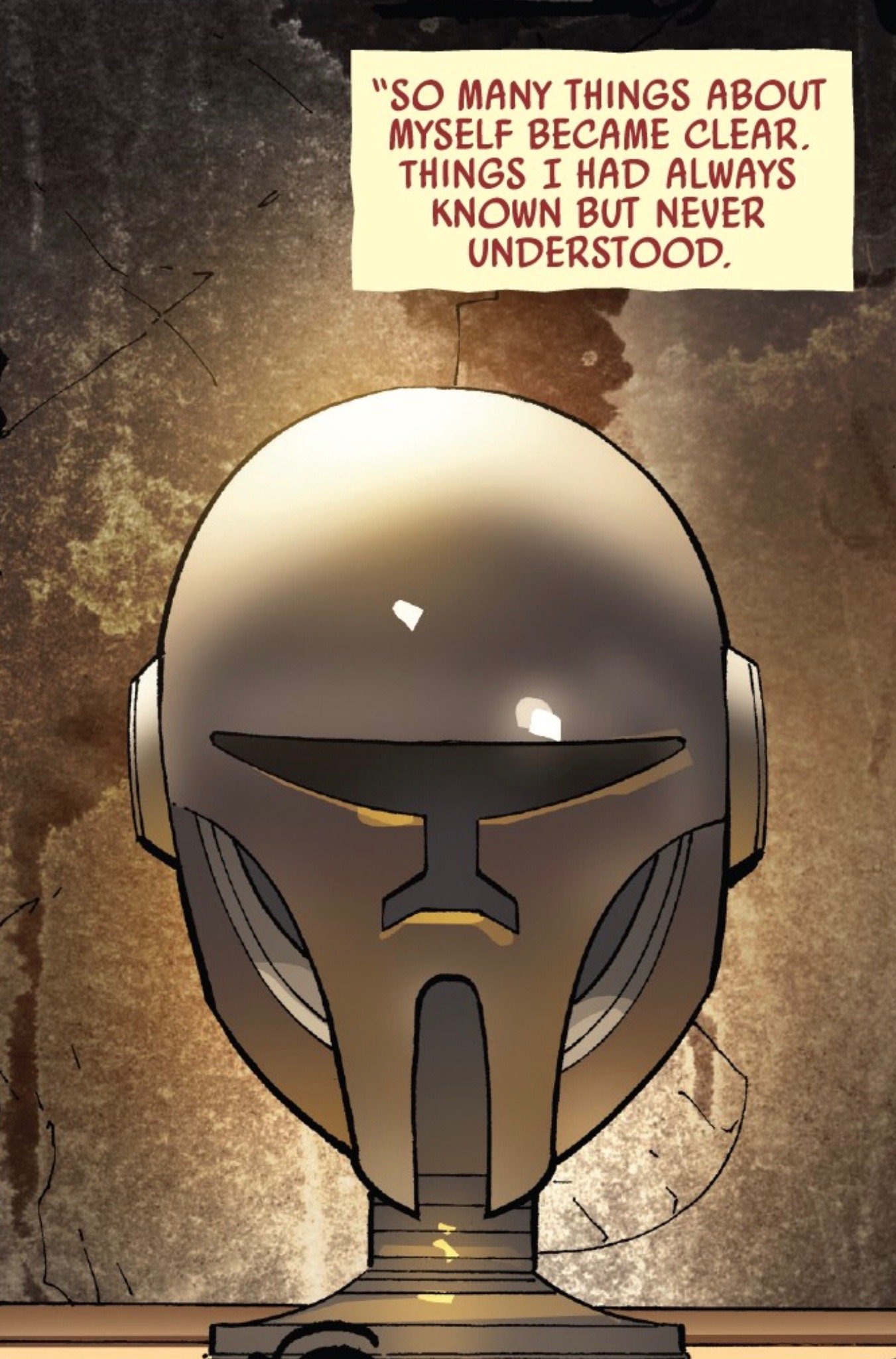 Charles:
I didn't know the whole thing. But basically, I knew that the idea of telling the story, like a sculptor or Sith artist, would be cool, unique, different, and no one would've seen that before. So, I was just like where do I drop that in, where do I make that work, and so I had it in my back pocket for a long time and then it seemed like when I knew that Vader was going to go building his castle, the fortress on Mustafar, I thought, well, this is the perfect place to use this character. So it was always in the picture in the beginning, I don't know if it was always Momin, but I think it was. Actually if I look back to what I wrote, I was always like this is what I want to do, this is the guy I want to use, it's super cool, it's been seeded for a long time, and it landed like gangbusters. I've seen cosplay and masks; his mask is supposedly at Galaxy's Edge.
Kyle:
It was a huge deal in fandom and had a lot of impact. I see and hear it discussed often.
Charles:
That's great; that's really good.
Kyle:
So, you've got Kylo Ren kind of communing with this Darth Vader mask in The Force Awakens, and we've seen it kind of pop up in images in Rise of Skywalker too. You probably weren't too surprised by that. Is that Sith embodiment of an artifact something you wondered would be the route they take with Palpatine in The Rise of Skywalker? Or is that something you can even discuss?
Charles:
You know what, the crazy thing is I heard that laugh and that's about all I can say. We all heard the same laugh and so I guess we'll see.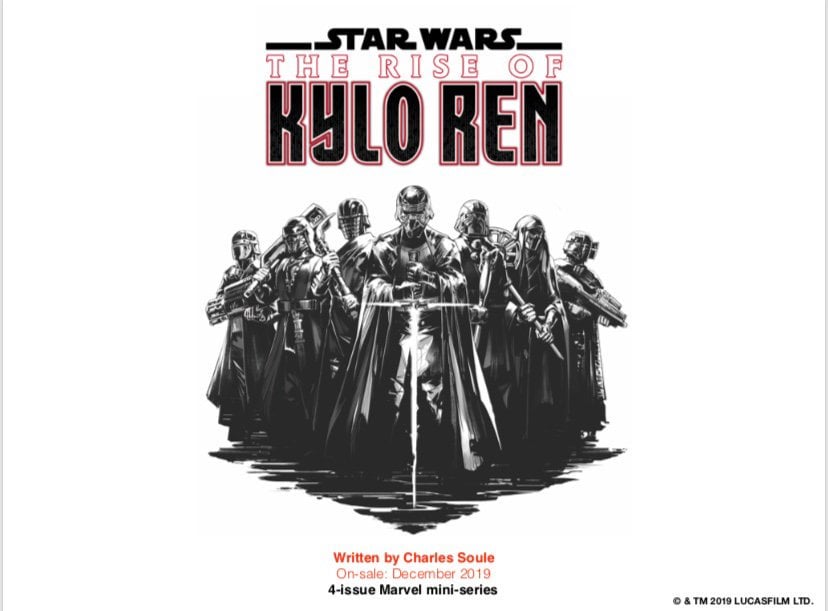 Kyle:
Awesome. I think that that's really interesting. So what's your favorite character to write and what's just your favorite character overall?
Charles:
Oh man. Palpatine is an awesome character. I just like this utterly evil, completely irredeemable, brilliant manipulator character with all these crazy wizard powers too. I just, I'm a huge fan of him and I'm a lawyer by training so some of that resonates with me. I also, there's so many.. there's such a rich background. I really liked writing Obi-Wan, I would write more Obi-Wan in a minute if the opportunity ever arose.
Kyle:
Please, we would love that.
Charles:
Yeah, me too. I think it'd be fun. I'm excited about that show they announced; I don't know what that's going to be, but that's going to be the best. Right? So that's cool, I would do more Obi-Wan. There's more I can say, but it's going to run into… like I'm writing obviously The Rise of Kylo Ren, which is out in December which I talk about that book as being from Ben to Ren; so it's how Ben Solo becomes Kylo Ren. So you think about where Ben Solo is and stuff we saw in Episode VIII, so you can guess at least where some of that story is going to take place. Which is very exciting for me to be able to write about Ben Solo at that time in his life and talk about the Knights of Ren and all the other cool characters that we don't know very much about yet.
It's a huge pro to be doing that and then there's also Project Luminous. Which I'm not going to talk about other than to remind you that it exists, but that's a huge project that I'm working on with four other authors that I have come to really love working with and respect immensely. We're building something huge and cool there and I feel like I'm in a really, really good… I've got some really good pieces of Star Wars Universe to play with right now. I'm really lucky.
Kyle:
Fantastic, that's awesome. That's great to hear. On to some fun questions. What's your favorite Star Wars film?
Charles:
Yeah, I mean, I go back and forth a lot. I've done a fair amount of re-watching recently just sort of for different research for different things, and I think Rogue One is a really, really strong picture. I really like Last Jedi and I really like Empire. I think if I were to list three, I would probably list those three. But there's a lot to love in every Star Wars film, the prequels, all of them, Solo, you name it. Even the stuff that people are a little iffy on for whatever reason, there's a lot to love in every Star Wars movie.
Kyle:
I agree
Charles:
The vast majority of Star Wars universe material too, it's all… I think it's just a beautifully curated fictional universe. The idea that they have made this thing that has really lasted through the generations to this level just makes me really happy to be a part of it and contribute to things that people… you know, have my work received really well because I love it and if I had screwed it up, well who knows, maybe I did screw it up, but like if I had tried to work in Star Wars and it had gone really poorly, I'd feel really bad. But that it seems to be going really well, it's a part of my career I'm extremely proud of.
Kyle:
My colleagues and I review all the Marvel titles and books released. You're definitely batting a thousand.
Charles:
That's really nice, thank you.
Kyle:
I was going to ask, did you get a chance to check out the Age of Resistance: Snoke issue that came out this week?
Charles:
Yes, I read it in an advance, because I'm working on Kylo… so it doesn't, there's not really any significant overlap, but I… or any really, it's just a different time.
Kyle:
Totally different time, yeah.
Charles:
Mine is Ben to Ren and that one is Ren, so…
Kyle:
Yeah, he's fully Ren.
Charles:
He's Kylo Ren. But yeah it was great, that was Tom Taylor I believe, right?
Kyle:
Yeah
Charles:
Tom is a phenomenal writer, like I've never read anything bad from him. He's just got a really strong sense of Star Wars in everything he does.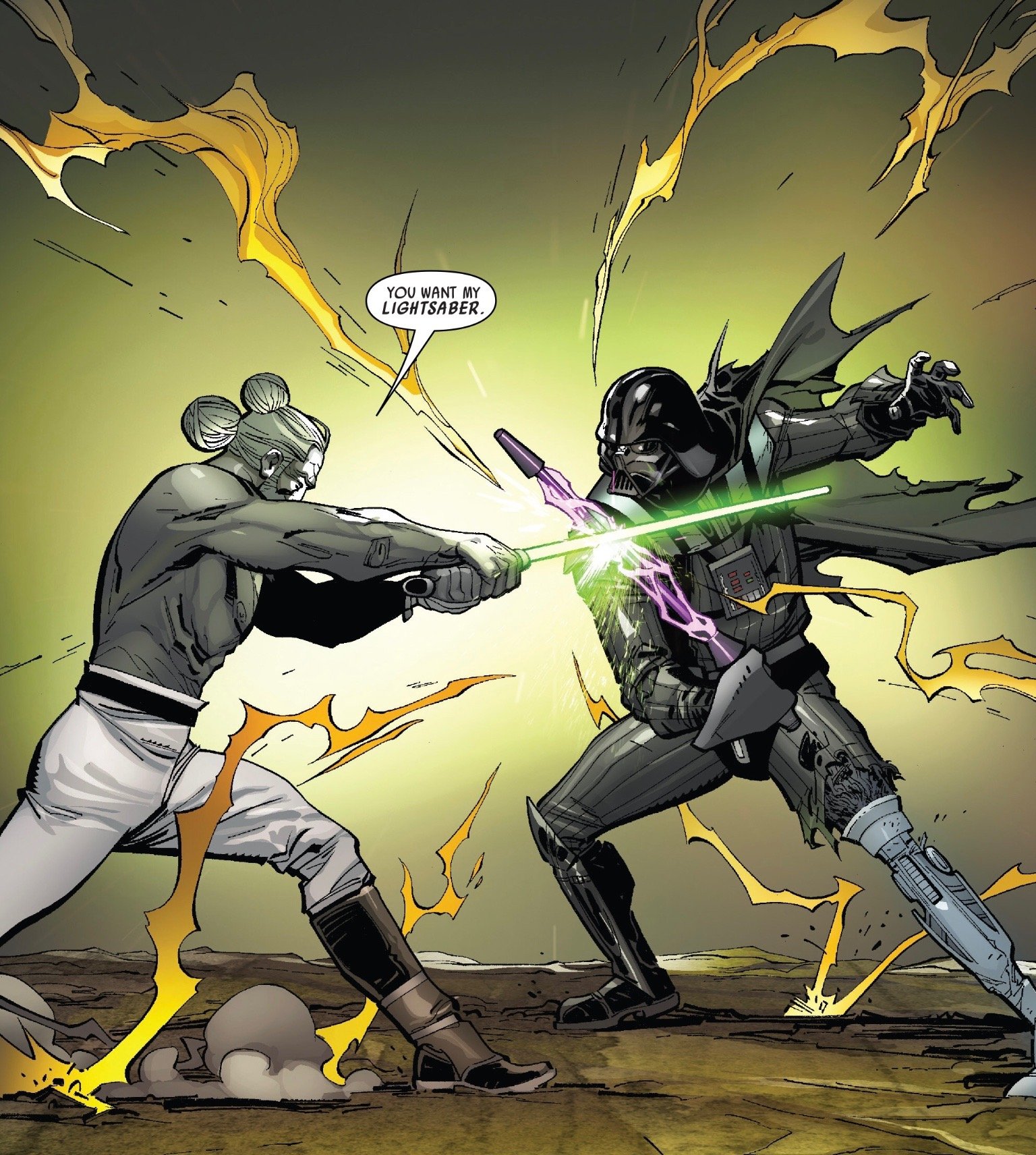 Kyle:
Awesome. One more question, I think, there's one from my colleague who isn't actually here today… it's about Kirak Infil'A. He was wondering is that a character that you kind of had to make up or was there somebody that you maybe wanted to pull from the prequels for a kind of show down with Vader?
Charles:
No, I had a very particular sense of what I wanted that character to be. Like, a big burly kind of, I wanted it to be a physical threat for Darth Vader. Because most of the Jedi we saw, we didn't see a big huge bruiser Jedi. We certainly didn't see a Jedi who was like running around shirtless and being like utterly confident that he was just going to destroy anybody who comes in his path, and he did. I mean, he beat Vader, there's no question. The only reason Vader won is because Vader is Vader and he was willing to go to a place of brutality without even thinking about it, without hesitating. I think that Kirak Infil'A could've probably recovered from that, it's just that it shocked him so much that he didn't have time, and then Vader… did it.
The truth is, that moment is when the whole book clicked for me. I was like, I had an outline, I knew what was going to happen, I was like how is he going to beat this guy? He's like all messed up and he doesn't have a lightsaber really, and I'm like "Oh, well he's going to beat him by being a monster". He's not going to beat him by fighting him, because he can't, he's going to beat him by being a monster so horrifying that's all it's going to take and that's how it worked.
Kyle:
That's awesome. Last question, for sure. Star Wars, because it draws so many people to it, there's so many different themes: there's love, there's friendship, there's loyalty, good versus evil… is there kind of an anchoring theme for you when you just sit down to approach a story or something that you would say draws you to the saga or the story overall?
Charles:
I think if there's one word it would just be "journeys". Right? Like every character, generally speaking, is moving and seeking and going to new places and it's always about kind of discovering what else is out there for yourself and for the galaxy and for people you care about or people you don't care about or people you hate or whatever. It's always about journeying and moving which is a really neat kind of thing to think about. Very few characters, other than maybe the droids, are static. The droids play a certain role; they're supposed to be the same thing throughout the saga. I guess you could argue that Chewbacca is that, to a degree, but even so, I'll let that go – Chewbacca is awesome. But, by and large, they move and they grow and they're seeking things. They want things and they're trying to achieve things which is very human and they're not just action movie pastiche beats, right, they feel extremely real, as does all the Star Wars mythology. It feels like you're seeing history. Just history from somewhere else and it's really cool.
Kyle:
Awesome. Thank you so much for your time.
Charles:
My pleasure.
Kyle Larson lives in Portland, Oregon. When he's not running trails, he's reading and writing.