The Rise of Skywalker: Sith Troopers Allegiance May Have Been Revealed in New Merchandise
The newest trooper variant in Star Wars, the Sith troopers, will make their debut in The Rise of Skywalker. Other than a close look at their armor at SDCC, no official information has been released to this point, so fans are resorting to rumors and theories. Well now it appears someone may have uncovered links to official merchandise which may reveal the troopers' allegiance.
POTENTIAL SPOILERS AHEAD
Reddit user Milnersblog posted a link to a URL that is connected to the official site StarWars.com. Through there, several images can be found of new merchandise, one of which is a Sith trooper T-shirt clarifying who commands them in The Rise of Skywalker. The shirt says:
Sith Trooper – First Order Battalion – Only the finest troopers in the galaxy under the strict command of Kylo and the Knights of Ren
Here is the image of the shirt posted on the thread, and back-linked to the official Star Wars site:
Now it appears this link isn't supposed to be public yet, but it is. With that in mind, it is possible these designs never see the light of day in terms of being made available for purchase, but the link to these items directly links back to the official StarWars.com site, which lead us to believe these are legit.
Here are a few other items connected through the link the redditor posted:
More proof that this is legitimate, as my podcast co-host James Baney pointed out, is that some of the merchandise in these images is posted in an existing StarWars.com article.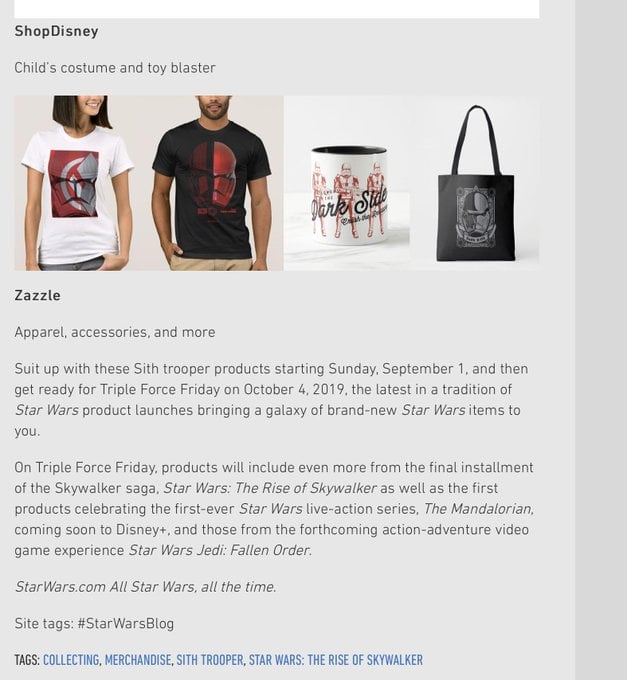 You might remember one other bit of information about the Sith troopers was accidentally posted at San Diego Comic-Con at the trooper exhibit, a placard which said:
"In its ultimate push towards galactic conquest, the First Order readies an army of elite soldiers that draw inspiration and power from a dark and ancient legacy."
Safe to say these troopers are a bit more mysterious than your old school "bump your head" white stormtroopers from A New Hope. We now know they answer to Kylo Ren and the Knights of Ren. The plot thickens! This does make sense, as the troopers helmets match the First Order's style, and we know Kylo Ren has always been a Sith fanboy. We'll keep you updated if more information about this surfaces.
The Rise of Skywalker is a little over four months away, but merch leaks are starting to pop up more and more, and we imagine some official marketing for the film should take off after D23.
John Hoey is the Lead Editor and Senior Writer for Star Wars News Net and the host of The Resistance Broadcast podcast
"For my ally is the Force, and a powerful ally it is."