Another Look at the Rocket Troopers from Star Wars: The Rise of Skywalker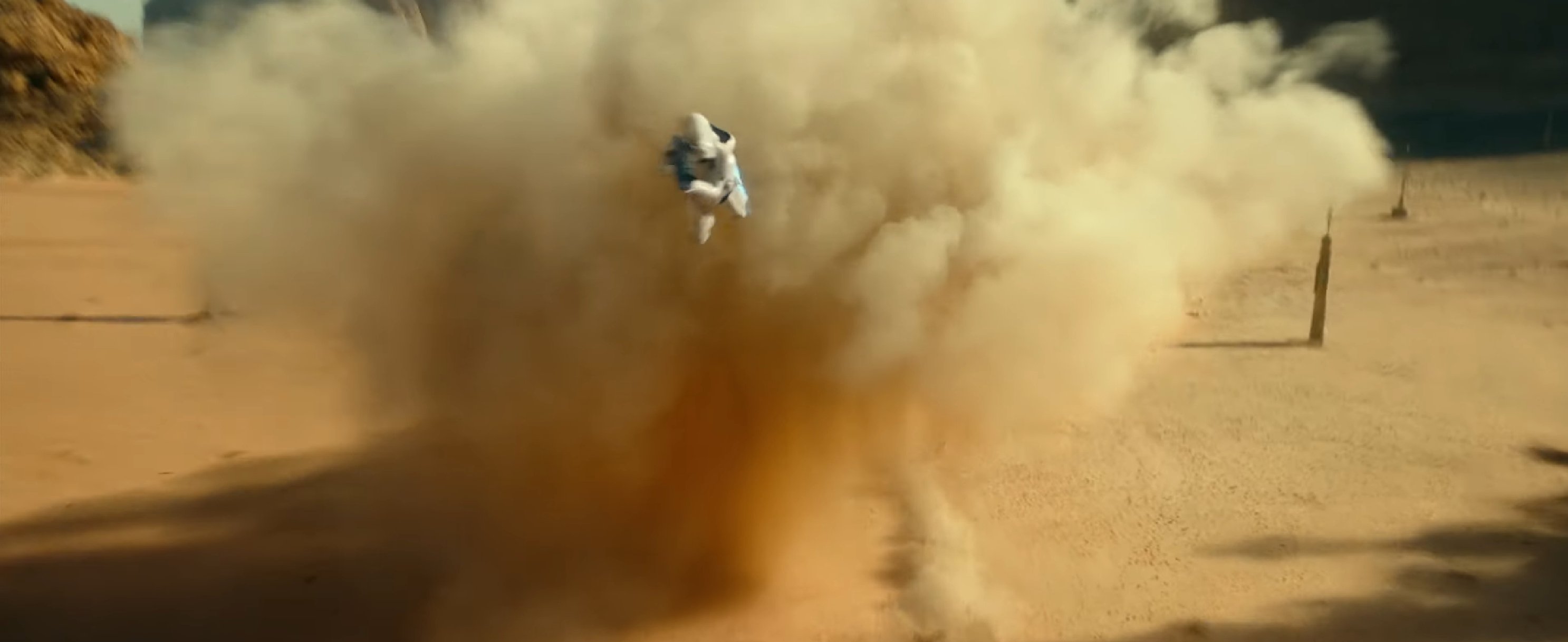 Trooper variants are a long standing Star Wars tradition, and we wouldn't expect any less than the final film of this saga featuring more than one new trooper! But perhaps a better tradition over the last few years are LEGO leaks leading up to the next Star Wars movie!
Thanks to a recent leak, we get another look at those flying troopers from The Rise of Skywalker teaser, which are called rocket troopers. In addition to this, someone has made an artist rendering of the trooper, and we get a look at a couple of LEGO versions of The Knights of Ren. Let's check them out!
Here is the LEGO leak of the rocket trooper that made its way to Reddit (of course it was Reddit). Their chest plate is marked with symbols/insignia of some kind, which makes them easier to identify against similar looking trooper variants. The symbols don't really match up to any known Star Wars letters or symbols that we are aware of, so they're either something new or perhaps just a random accent added by the costume's designers.
You probably remember seeing these troopers in The Rise of Skywalker teaser, as they were seemingly hot on the tail of Poe, Finn, Threepio, and our heroes, as they race along the desert on a small skiff. These jetpacks certainly beat getting around on dewbacks!
Here is the rendering I mentioned in the intro. This is a sketch by Reddit member axeintheface:
I drew the First Order Jumptrooper so we could get an idea of what it looks like on screen from StarWarsLeaks
As you can see the design is similar to the Tank troopers from Rogue One and the Range troopers from Solo.
A similar trooper variant, the "jump trooper", was around during the Empire's reign, and these updated First Order versions, called "rocket troopers", made appearances recently in the Poe Dameron comic:
What would a fun Episode IX leak story be without saying something about the mysterious Knights of Ren, right? Well here are two of the Knights of Ren LEGO figures. Interesting how one reminds me of a trooper variant, and the other looks like a robotic Palpatine:
What would Star Wars be without cool troopers? And now we have them flying through the air on their own like Mandalorians! They have come a long way from slipping and sliding on the corridor floors of the Death Star. It will be cool to see Chewie shoot some of these guys out of the sky with his bowcaster like the old Duck Hunt video game anyway. I certainly look forward to seeing them in action when The Rise of Skywalker opens this December!
John Hoey is the Lead Editor and Senior Writer for Star Wars News Net and the host of The Resistance Broadcast podcast
"For my ally is the Force, and a powerful ally it is."