How Disney and Lucasfilm Brought Star Wars: Galaxy's Edge to Life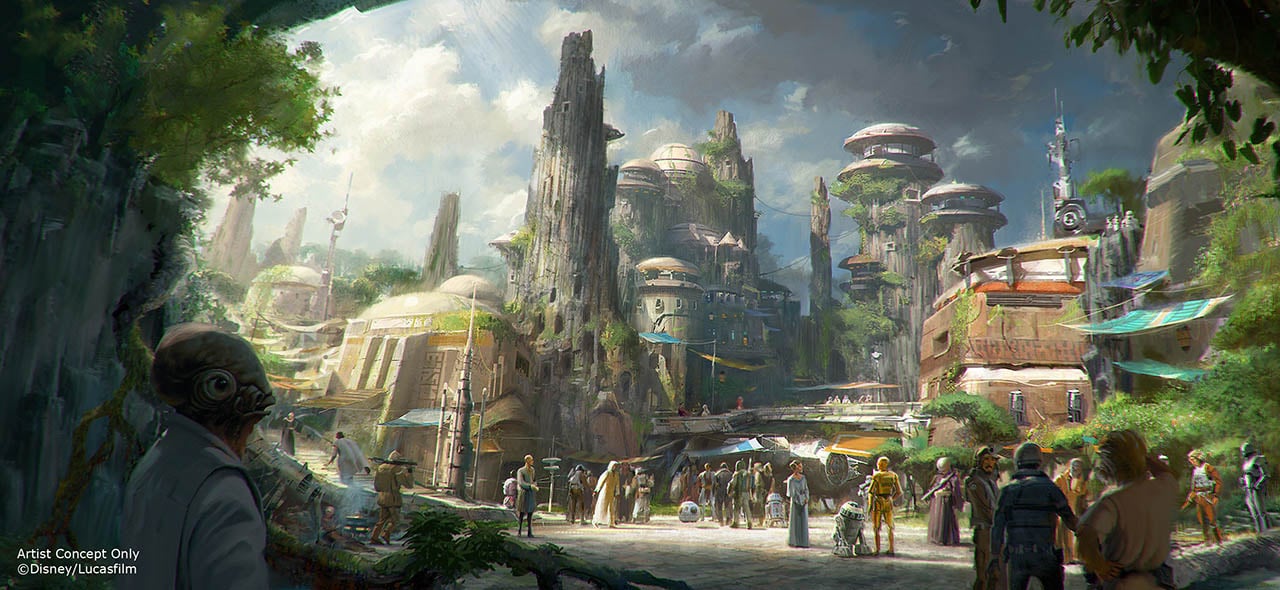 I remember rather vividly when Disney CEO Bob Iger announced Star Wars: Galaxy's Edge at D23 back in August 2015. All I could think to myself then was how incredible of an undertaking this remarkable project would be. The sheer magnitude of something like that had really never been done before. How on Earth would Disney be able to create a living, breathing Star Wars world for fans everywhere to enjoy all while trying to exceed our incredibly lofty expectations? It's taken six years to come full circle from concept to final unveiling, and the scale and authenticity of Star Wars: Galaxy's Edge is a feat unlike anything we've seen before.
The construction of  Star Wars: Galaxy's Edge was a brilliant achievement in both engineering and artistry. It is a passion project for a team of some 4,ooo artisans, engineers, designers, architects, and more, working together to bring Star Wars to the real world. From the beginning of the project, the focus was always to keep everything grounded in both the real world and Star Wars lore. The design team wanted something real, something tangible and relatable for fans. According to Doug Chiang, Lucasfilm's creative director, "It was really critical that we ground it in reality. So we did a lot of research….what is it that really informs the viewer that there's layers and layers of history?" But on top of being tangible and rich in Star Wars lore, the design team wanted the land to be a whole new Star Wars story for each person to experience. As Lucasfilm creative executive Pablo Hidalgo put it:
"It not only had to be a new world but it had to be a world where interesting things happened. It couldn't be so interesting that a visit would be fraught with danger and insurrection and rebellion and battles and all that kind of stuff. It had to be interesting in a sense of visiting an exotic world where you know enough about it, but you don't know necessarily what's around the corner."
Even though fans will find themselves as the main character in a new Star Wars story on Batuu, Black Spire Outpost finds its footing while thriving off of inspiration from our real world. The design team studied real cities in Turkey and Morocco to understand how older walled cities have grown and spent time at Pinewood Studios during the filming of Rogue One, walking the streets of Jedha to draw inspiration. From the namesake carved spires of Black Spire Outpost all the way to the attire of the natives on Batuu, everything feels like you're living in Star Wars, yet grounded and familiar. As Chiang said:
"[On film] we can cheat things by making things out of plywood and foam. For a theme park, we can't. It has to be absolutely real because the guest – when they walk through it they'll be touching it, they'll be smelling it, maybe they'll be tasting food. And so everything about that experience can't break that illusion. Designing for a theme park requires a higher level of fidelity than anything else I've ever experienced."
You can check out the full article on how Star Wars: Galaxy's Edge was brought to life and watch this week's episode of The Star Wars Show for more interview from Disney Imagineering and Lucasfilm.
Star Wars: Galaxy's Edge at Disneyland Resort is now open. Beginning June 24, no reservations are required. Star Wars: Galaxy's Edge will open at Disney's Hollywood Studios in Florida on August 29.
Writer and Star Wars lover located in Florida, USA.
"I don't like sand. It's coarse and rough and irritating and it gets everywhere."
– Anakin Skywalker