Details on How They Are Bringing Leia to Life in Star Wars: The Rise of Skywalker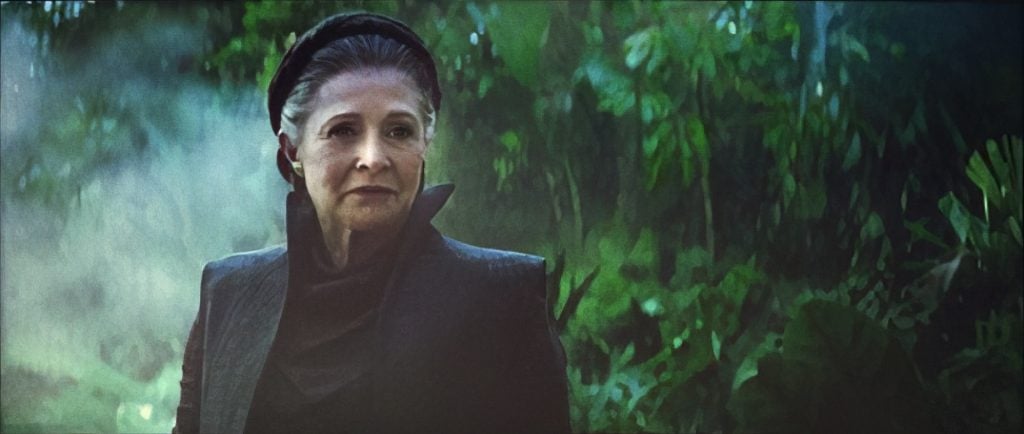 Star Wars: The Rise of Skywalker marks the conclusion to the "Skywalker saga." J.J. Abrams being tasked with concluding this trilogy as well as the overall nine chapter story revolving around the Skywalker family is a difficult challenge in itself. However, his biggest challenge might be his handling of bringing back the late Carrie Fisher's Princess Leia.
We have more details and clarity on how they are bringing Leia back in Episode IX. We already know Abrams is using deleted scenes from The Force Awakens, but we have now learned about some other techniques and practices that will further help bring her 'highnessness' back in The Rise of Skywalker.
A contact of mine (who requested to remain anonymous), delved into how they are bringing Leia to life in The Rise of Skywalker. If you're worried about spoilers, worry not. This does not spoil anything from the movie's plot or story, but provides more clarity and additional details to help us understand how they are bringing Carrie Fisher back. My source said:
"They are combining clips. There will also be no horrible digi-double that was used for Leia in Rogue One. This is all being done in what we call "comp." There will be some digital work done (ageing, hair) so her face and body match, but not the uncanny valley like Tarkin in Rogue One. They will be changing her hair or adding wrinkles as she looked very different between TFA and TLJ."
The Rise of Skywalker will take place around one year after The Last Jedi, so it makes sense for Abrams and company to want to give Leia a unique look compared to her varying changes in appearance between The Force Awakens and The Last Jedi. My contact showed me a more elegant and technically sophisticated mapped out image (which I didn't want to share publicly), so here is my own rag-tag version of what they showed me, with a "legend" (for lack of a better term) of what is what. This may have served as an overall blueprint/formula they used for many of Leia's scenes in The Rise of Skywalker.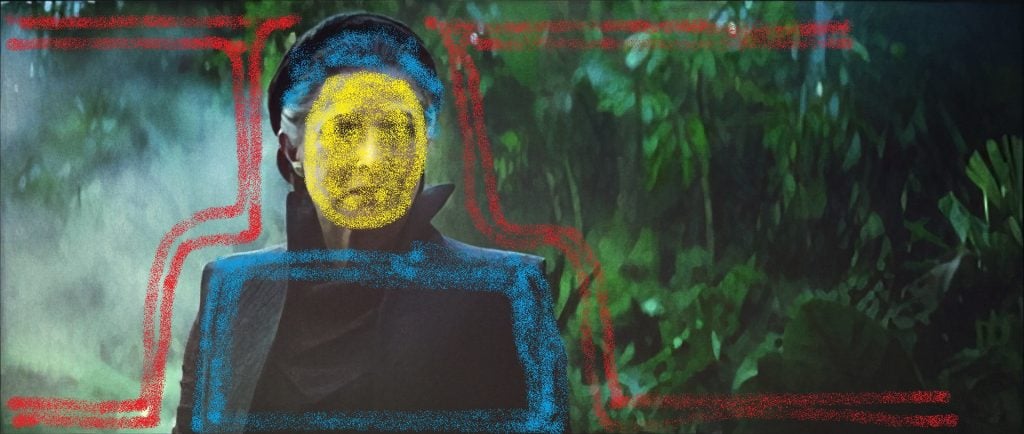 The yellow = Carrie Fisher's The Force Awakens shots/performance.
The blue = a body double/stand-in to establish the physical presence in the environment for The Rise of Skywalker
The red = The new background in The Rise of Skywalker, in this case that jungle planet we have seen in several shots which J.J. Abrams indicated take place at least at the beginning of the movie.
My contact was aware of the quotes from Todd Fisher that they were allegedly also using shots from The Last Jedi, but they didn't have confirmation on that. I also asked if they heard anything about a voice actress being brought in for added dialogue, to which they didn't have information about. I personally still wonder if they considered using a voice-actress to add some new and organic dialogue that specifically fits the final story, but that is purely speculation on my part. That aside, this next part is something I was unaware of, that certainly helps Abrams do more with Fisher than solely using unused footage.
Abrams is Re-Utilizing Existing In-Movie Shots from The Force Awakens
Perhaps one of the most interesting parts to this story is that Abrams will not only be using deleted scenes/shots of Carrie Fisher from the previous films, but they will also be re-utilizing in-movie shots of Fisher from The Force Awakens as well.
Reddit user SirRidley pointed out that the image of Leia in The Rise of Skywalker from the Vanity Fair issue appears to (facially) be directly pulled from one of the final shots of Leia in The Force Awakens. I have stacked both shots on top of one another. This shot may not end up in the final cut of The Rise of Skywalker, but it confirms another variable has been added to the mix, that not only are they using unused footage, but also re-using in-movie existing shots too.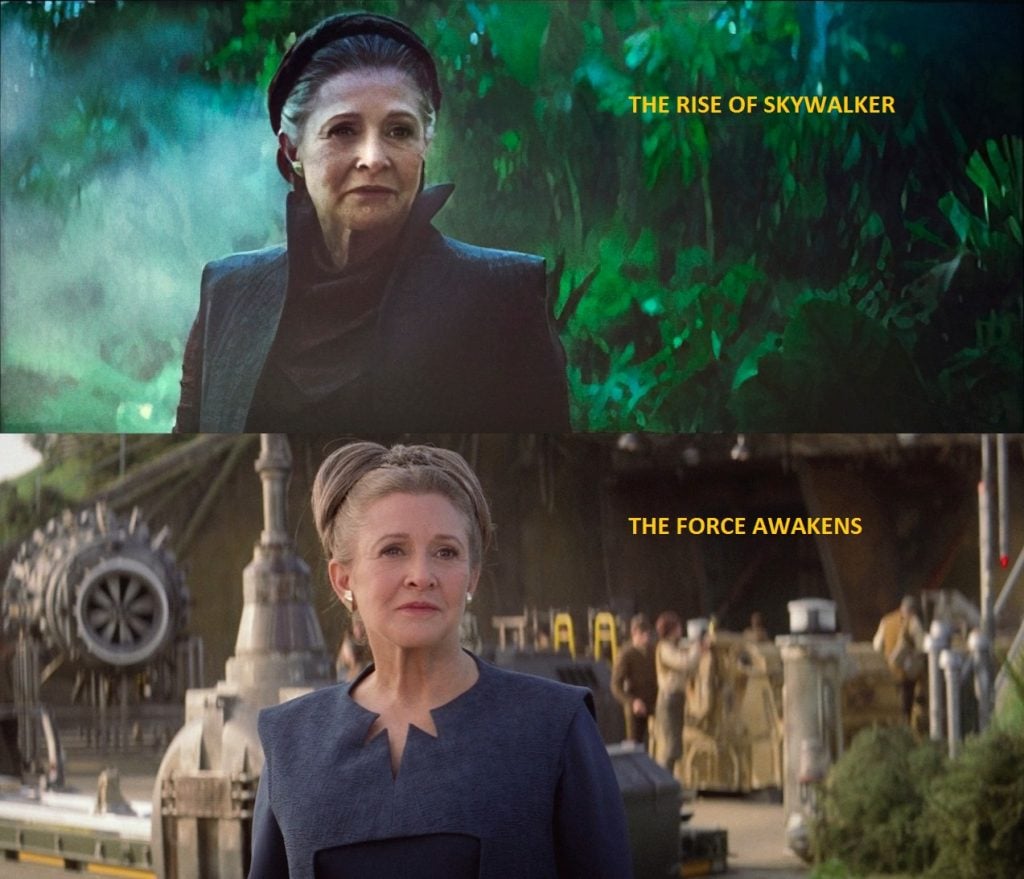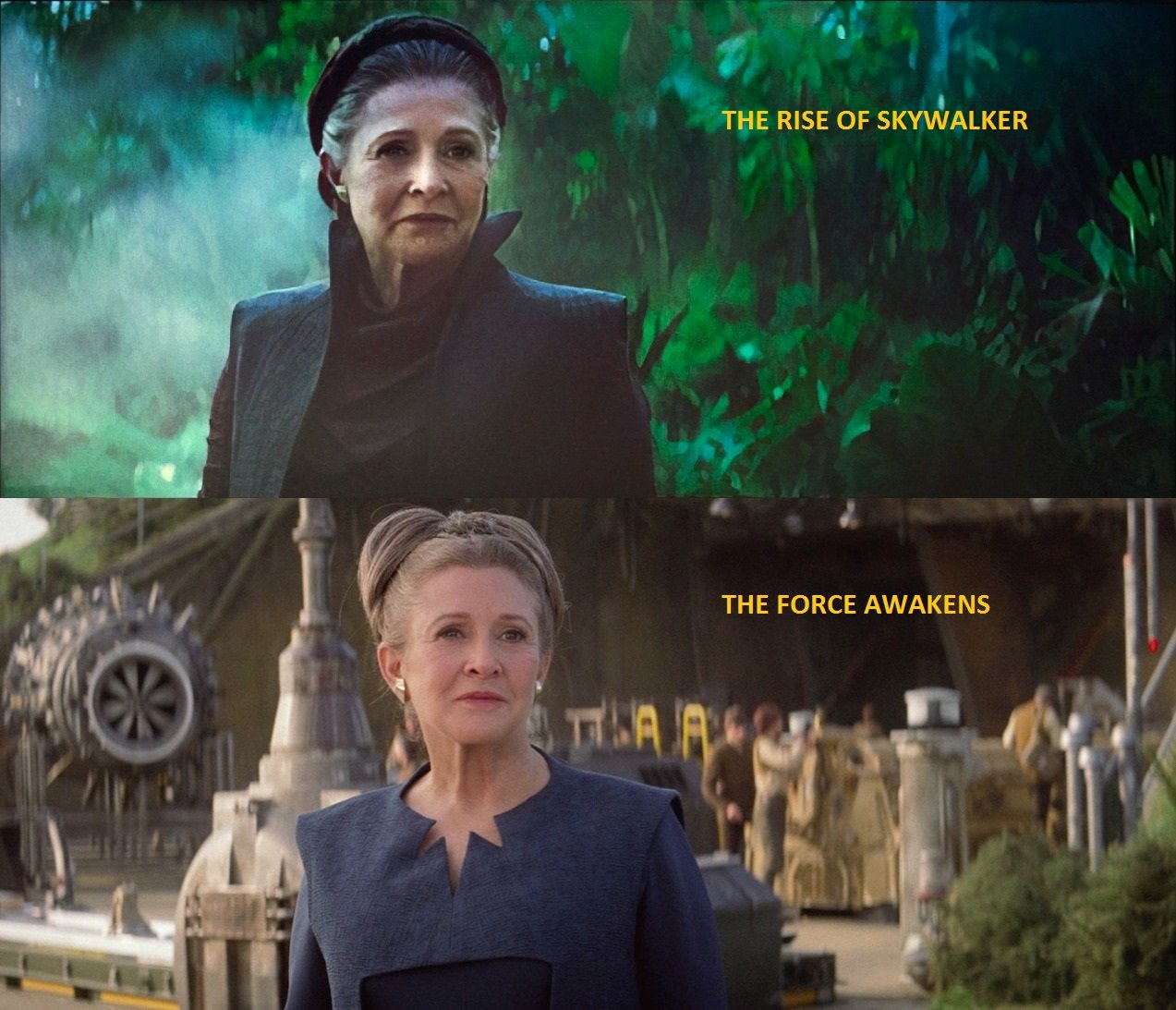 Only using deleted scenes would have limited what Abrams and co-writer Chris Terrio could do with Leia in the movie. Now while they may be re-using existing shots of Fisher from The Force Awakens, they are adding effects to them, including ageing, lighting, and hair changes. This observation falls right in line with what my contact told me about how they are handling varying parts of Fisher as well as the environment (background) they put her in.
We have heard that how they are bringing Carrie Fisher back for The Rise of Skywalker will be "magical." J.J. Abrams, Kathleen Kennedy, and everyone involved with the production fully understand how sensitive this is for her family, Star Wars fans, and even themselves. They know they need to honor Fisher while at the same time serving the final chapter of the story.
I am not sure how I am going to feel seeing Carrie Fisher on screen for the last time in The Rise of Skywalker, but I do know I am happy I will. I can imagine she would make off-color jokes about her special effects resurrection if she could – probably tongue-in-cheek advising Abrams to edit in a middle finger or two.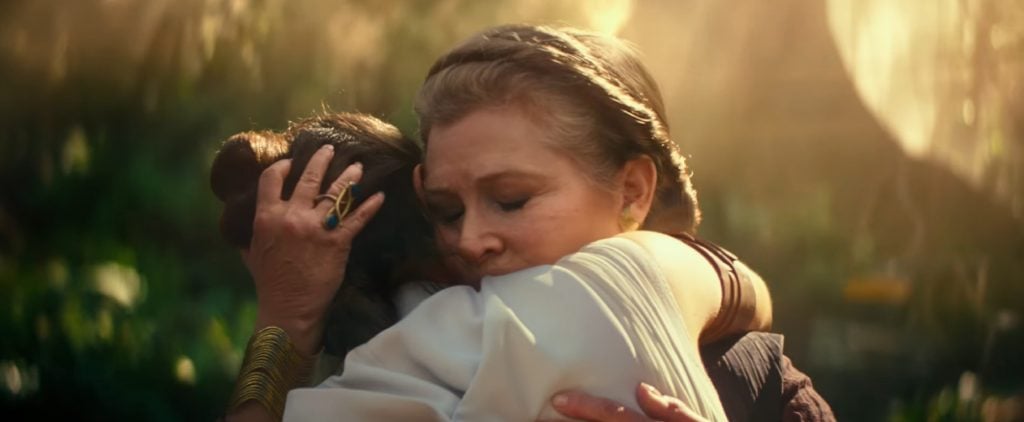 To summarize, we now know they are not just using unused footage of Fisher, but a body double to place Leia on location, and even incorporating retooled existing in-movie shots from the previous films into The Rise of Skywalker. This helps us better understand how Princess/General Leia will be brought back in the movie. Thanks to the magic of ILM, and the power of Star Wars, we can wait a little longer before we finally have to say…"so long princess", and I can't wait to see the final product this December.
John Hoey is the Lead Editor and Senior Writer for Star Wars News Net and the host of The Resistance Broadcast podcast
"For my ally is the Force, and a powerful ally it is."