Star Wars: The Rise of Skywalker – A Look at New Images from the Star Wars Celebration Stage Behind-the-Scenes Clip
Before the Star Wars: Episode IX panel and world debut of the teaser clip for The Rise of Skywalker, those in attendance at the main Celebration Stage in Chicago were shown a video montage encompassing the saga's history from the making of the first Star Wars to now. At the end of the clip, the Wintrust Arena audience saw three shots from The Rise of Skywalker, one of a familiar ship model, one with our heroes, and one of Kylo Ren.
Before you view the images, there is no way of knowing whether these scenes will end up in the final cut of the film, as even officially released images and footage often end up on the cutting room floor. Kylo Ren unmasked in the snow on Starkiller Base comes to mind from promotion of The Force Awakens. I know, enough already, show me the images. Here we go!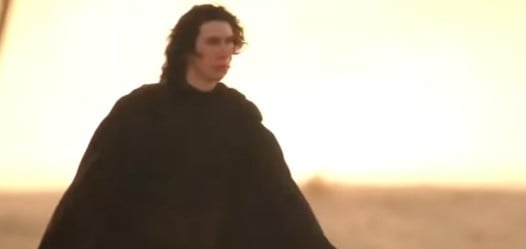 Fans who may be upset Kylo Ren's mask has returned can rest easier knowing the dark side wielding Supreme Leader will once again split time between being masked and unmasked in The Rise of Skywalker.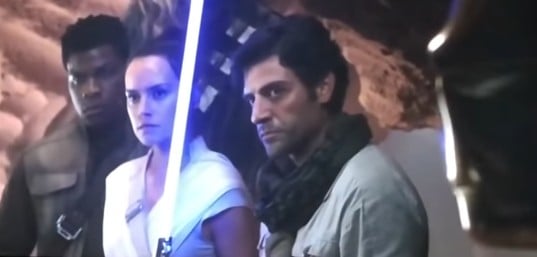 Fans wanted it, and Abrams is delivering. Our main trio of heroes will finally be spending a lot of time together in The Rise of Skywalker. Here we have Finn, Rey, and Poe together, with Chewbacca and Threepio, in what appears to be a desert cave of some sort. Perhaps this is from the Wadi Rum shoot in Jordan.
Look familiar? The first type of vehicle to ever grace the screen in a Star Wars movie was a corvette cruiser, and it's making a return in the saga's conclusion. The ship was seen in footage shown to Disney shareholders as well, with many fans wondering if it is a familiar ship, the Tantive III or IV, or a different one of the same model. 
The Rise of Skywalker already has fans speculating and churning up theories just days removed from our first look at footage from the film. We were dying to see something, and now that we have, December 20th suddenly feels much further away than it did a week ago. But you know what, that is perfectly fine with me, because I want to enjoy the ride for as long as I can, as I think the rest of this year leading up to the film's debut will be one of the most special year's in franchise history, future included.
Here is the video of the entire pre-Celebration Stage montage via 'Star Wars Scenes' on YouTube:
John Hoey is the Lead Editor and Senior Writer for Star Wars News Net and the host of The Resistance Broadcast podcast
"For my ally is the Force, and a powerful ally it is."