Star Wars: Episode IX – The Rise of Skywalker Panel Highlights from Star Wars Celebration Chicago
The panel for Star Wars: Episode IX – The Rise of Skywalker has just wrapped up, and if you're like us here at Star Wars News Net, the room is electric with excitement and you're not quite sure what to feel. Personally, I'm completely floored and bubbling with anticipation. Without further ado, hit the jump to check out the highlights from the panel.
As the panel opens, host and long time Star Wars fan, Stephen Colbert, takes the stage. After doing what he does best in setting the mood and easing the audience into a more relaxed mood, he introduces Lucasfilm President Kathleen Kennedy and the movie's director J.J. Abrams to thunderous applause.
Kathleen takes a moment to talk about what a responsibility it is to work on these movies and praises Abrams for how much he cares about it. Abrams reveals that the movie is currently in the editing phase as the visual effects team is also hard at work.
They keep emphasizing that this movie is not only the end of a trilogy, but the last act in a nine-movie arc. However, Abrams explains that despite that, the movie needed to work as its own movie.
Abrams continues to explain that the movie is all about the new generation and how they inherit both the light and the dark, but he remains hush about the movie's villain which he only refers to as "great evil".
The director goes on to talk about being unable to fill the void that Carrie Fisher left behind. He talks about how it would have been impossible to recast Leia and that they were never going to attempt to digitally recreate her. But at the same time, he knew she couldn't just disappear.
He is grateful that they were able to use so many unused scenes from The Force Awakens and basically film around Carrie's performance in a way that worked. Abrams talks about how it hits him every day that she's not here, but how cool it is that she is still there in the scenes they have created.
Abrams then reveals that the movie doesn't pick up immediately after The Last Jedi. Some time has gone by but he's not explicit on exactly how long. He does say that this film will bring all the heroes together as they embark on an adventure together.
Next, enters Anthony Daniels (C-3PO) and R2-D2. Colbert talks about how Daniels is in every Star Wars film and jokes about him being the physical embodiment of the Force. Daniels shares some thoughts about playing C-3PO and mentions that his book of memoirs will be announced tomorrow.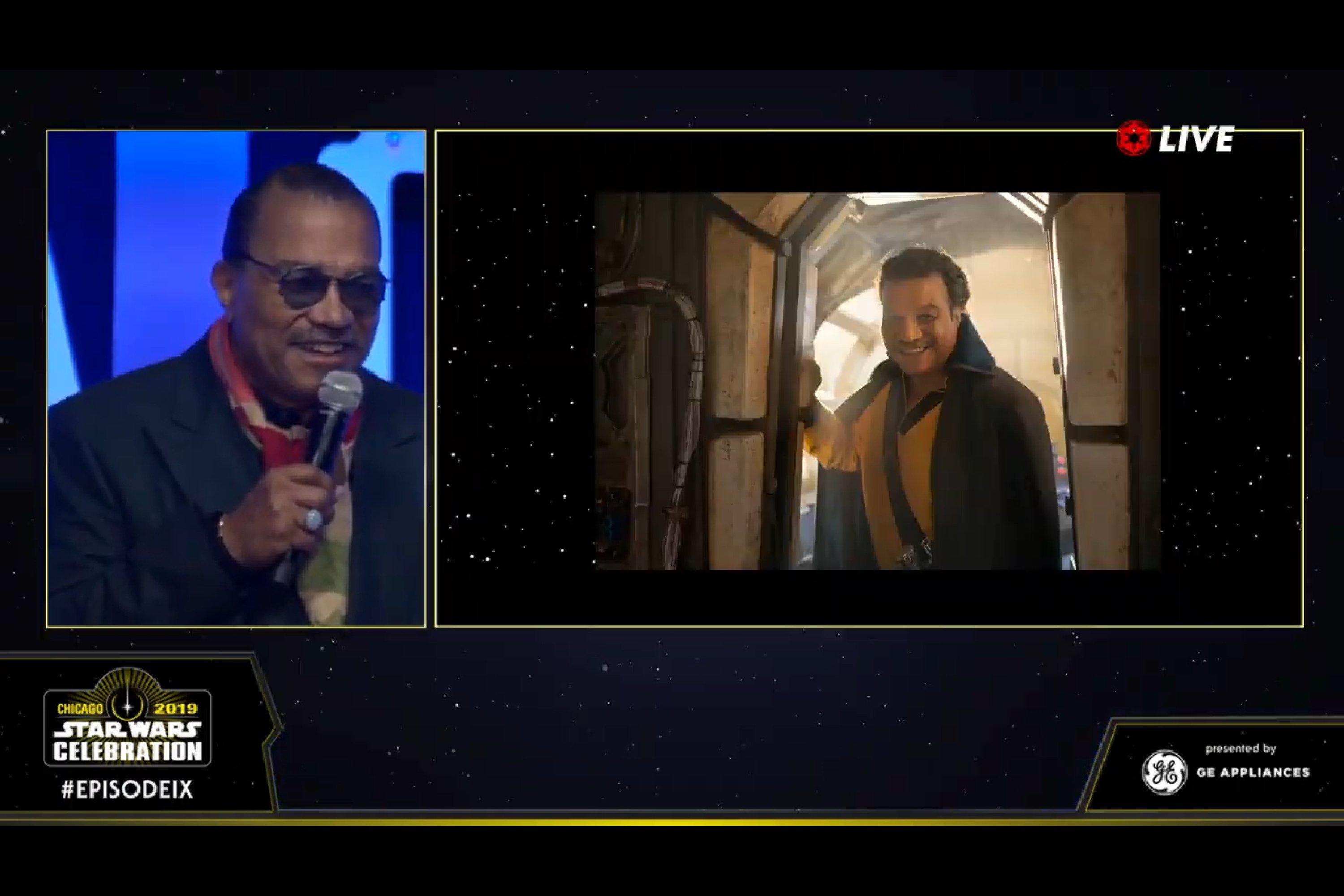 After talking to Daniels, Colbert brings Billy Dee Williams (Lando Calrissian) to the stage. Sporting a cane and having a few years under his belt doesn't seem to damper his swagger whatsoever. When asked about what it was like getting reacquainted with Lando, Williams laughs in the smooth way that only he can and says that Lando never left him. He talks about how lucky he feels to be doing this movie and praises Abrams, calling the experience a true genuine highlight in his life.
Last, but not least, the new generation cast members finally take the stage. Enter Daisy Ridley (Rey), John Boyega (Finn), Oscar Isaac (Poe), Kelly Marie Tran (Rose), and  Joonas Suotamo (Chewbacca) followed by newcomer Naomi Ackie and BB-8.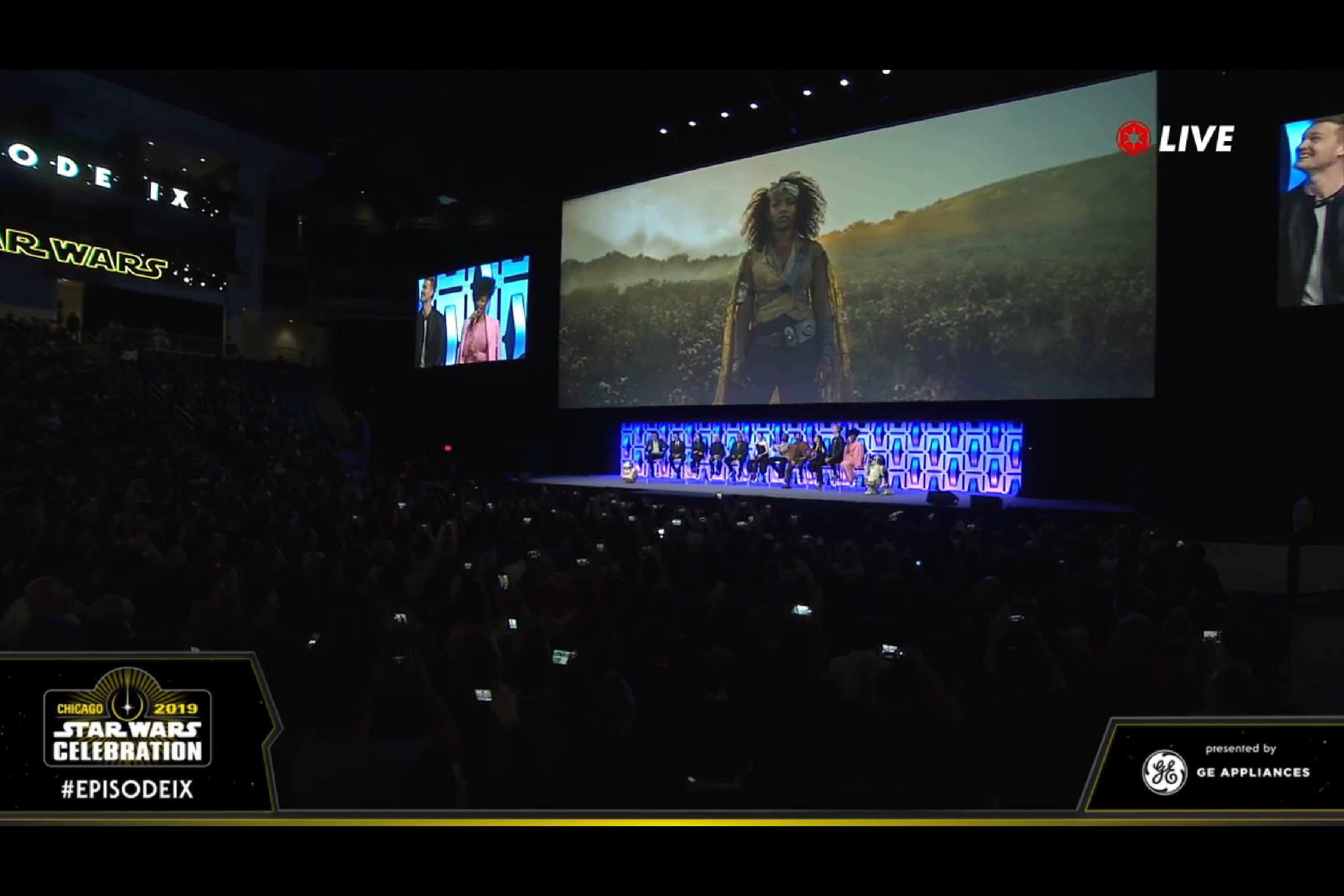 First up is the new girl, Naomi Ackie, who talks about what it was like to get the call about being cast in Star Wars. She talks about being in bed and her dad coming up when he heard her on the phone. Her dad found out when she did, but she had to be quiet and pretend that nothing was up with her friend who was staying downstairs.
Naomi revealed that her character's name is "Janna" (not sure of the spelling yet), and when a picture of her is shown on screen, we see that she is a human character. Colbert then brings up a popular fan theory that she is Lando's daughter and asks her if she can reveal anything. Naomi expertly deflects this question by pointing out that Lando gets around and probably has children all over the universe.
Next, we go to John Boyega, who is as excited as ever to be back. He explains that Finn has finally found his identity in the Resistance in this movie, finally getting some closure on his past. He also jokes about Finn being the galaxy's most eligible bachelor when asked about the Finn, Rey, and Rose love triangle.
After talking to John, Colbert asks Oscar Isaac who is the better pilot, Poe or Han Solo? He responds saying that no one can pilot the Millennium Falcon like Han but that Poe is the better uber driver in that he can fly anything.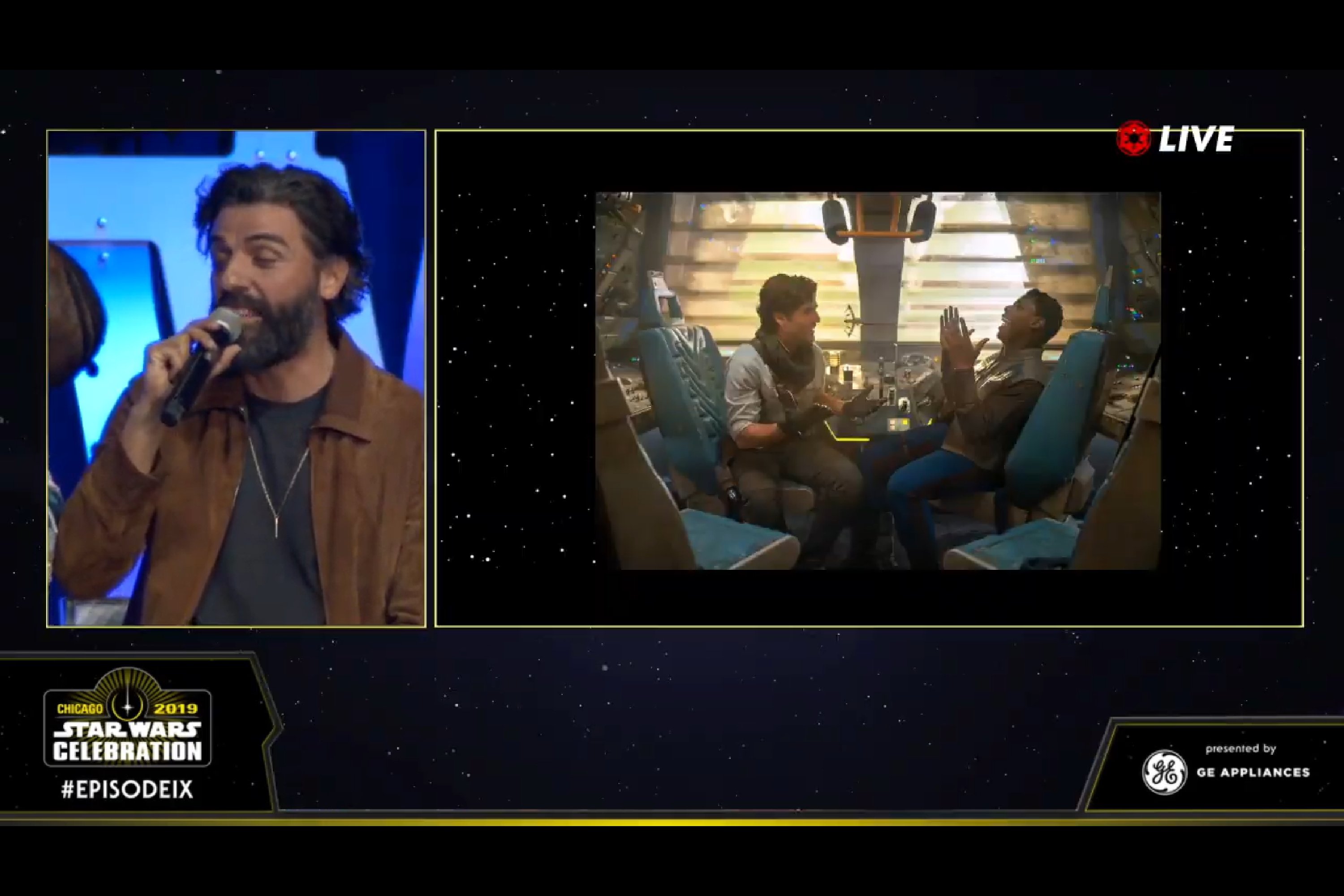 Colbert then asks if everything is a joke to Poe, pointing out how he often responds with humor in sticky situations. Oscar explains that one of the most human things you can do is find the irony and humanity in the darkest moments.
As Colbert turns to Daisy, we learn that it is apparently Daisy's 27th birthday. The crowd then sings "Happy Birthday" to her.
When asked if Rey has had time to read the ancient Jedi texts yet, Daisy says it has been a while, but that the books are also very long, so who knows. But she does say she is getting through them. When asked if Rey repairs the Anakin lightsaber or starts from scratch with one of her own, Daisy reveals that the lightsaber she inherited from Luke lives on in this movie.
She is then asked if Rey has any new Force powers in this movie, and she deflects to J.J. who jokes about how he used to like Daisy before that. He does say there are some extraordinary things that the characters do in this movie and praises the film's stunt coordinator.
Daisy also said we'll have to wait and see concerning the relationships between Rey and Kylo or Rey and Finn. She turns to John to answer about Finn and Rose, and John says that war is a very distracted place to fall in love, hinting that they probably haven't had much time to find romance. Daisy does confirm that there are no semi-naked Kylos this time around and the crew have a bit of fun at Adam Driver's expense in his absence, as Oscar jokes about there being only full nude scenes this time around.
Next, Colbert introduces Kelly Marie Tran who is welcomed by an overwhelming reception from the audience. She talks about narrating the audiobook for Cobalt Squadron and how that informed her character in Episode IX. When asked whether she kisses Finn again in this movie, she only jokes about Finn being an eligible bachelor, as well as John himself, hinting at their rapport as friends outside of their characters on screen. J.J. Abrams then gives a shout out to Rian Johnson and said the greatest thing he did was cast Kelly Marie Tran in The Last Jedi.
Lastly, Chewbacca himself, Joonas Suotamo, says hello to the crowd in Shyriiwook and gives praise to Peter Mayhew as a mentor, highlighting his physicality in portraying the character. When asked what porgs taste like, he answers that they taste best fried.
They close the panel by talking about what it was like shooting in Jordan for three weeks. Abrams mentions the hundreds of people and creatures and the logistics of all that while still getting finished a full day ahead of schedule. Daniels talks about how the location looked like something straight out of a Ralph McQuarrie painting, and Oscar Isaac discusses the difficulty of dealing with the frequent sandstorms.
Abrams reveals a new alien character named "Klad", a character that Chewie himself brought into the Resistance, and in the background, we also get a glimpse of Greg Grunberg's Snap Wexley and several other shots show up on the big screen.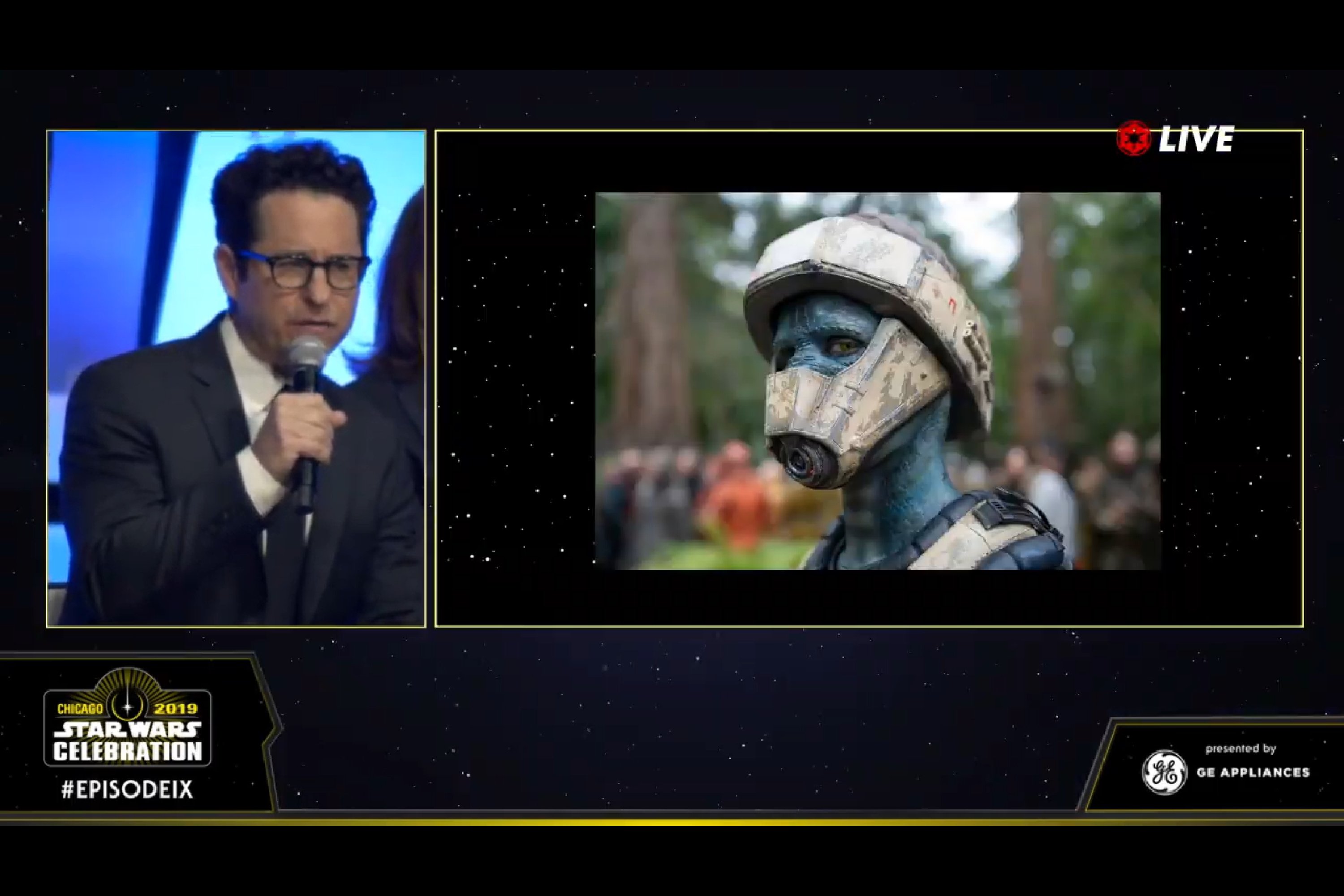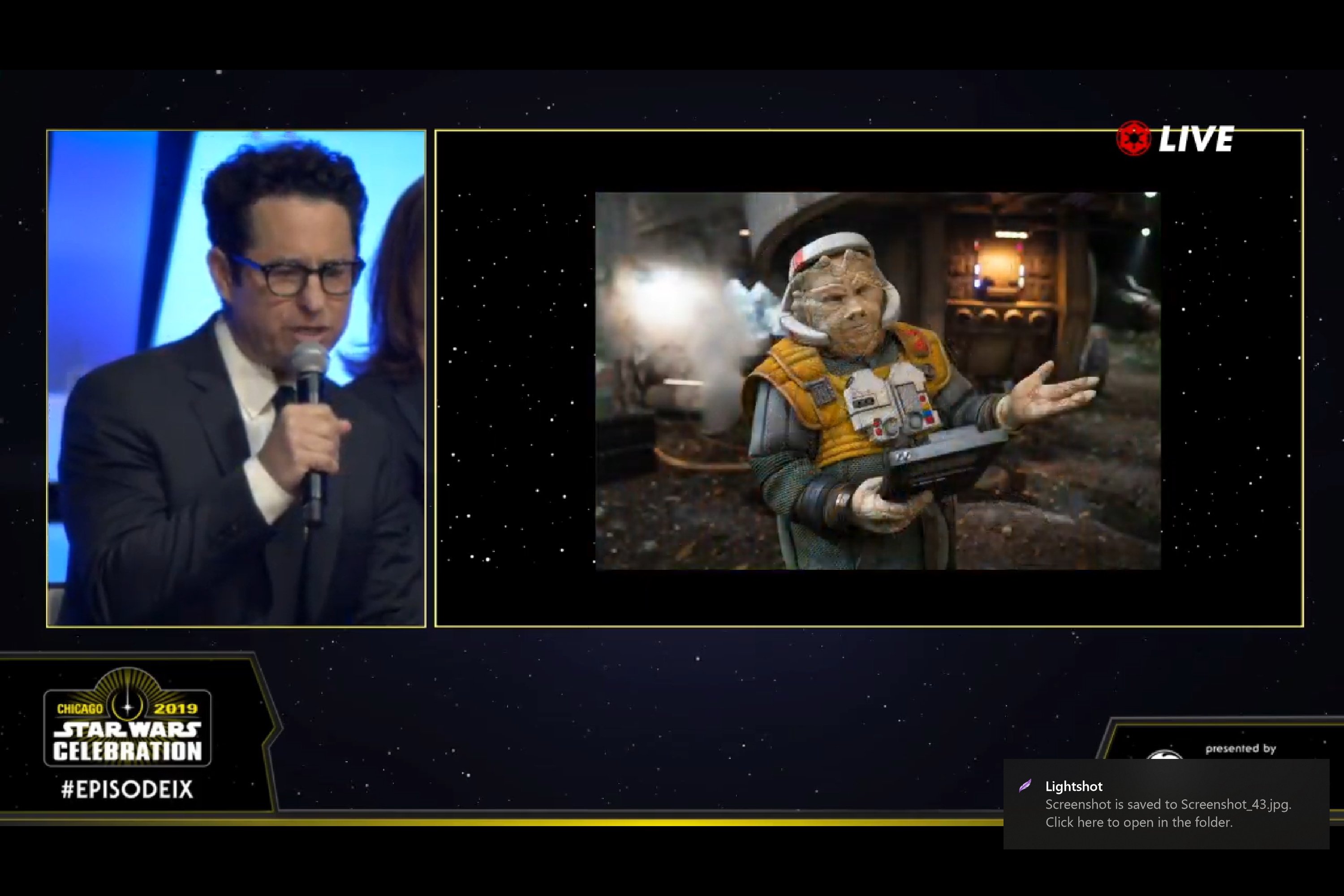 Joonas talks about how great it was to bring his son onto the set and how much his son loved Daisy. Before the moment everyone had been waiting for, Abrams introduces BB-8's new friend "Dio", as the little hair dryer on a unicycle rolls out onto the stage.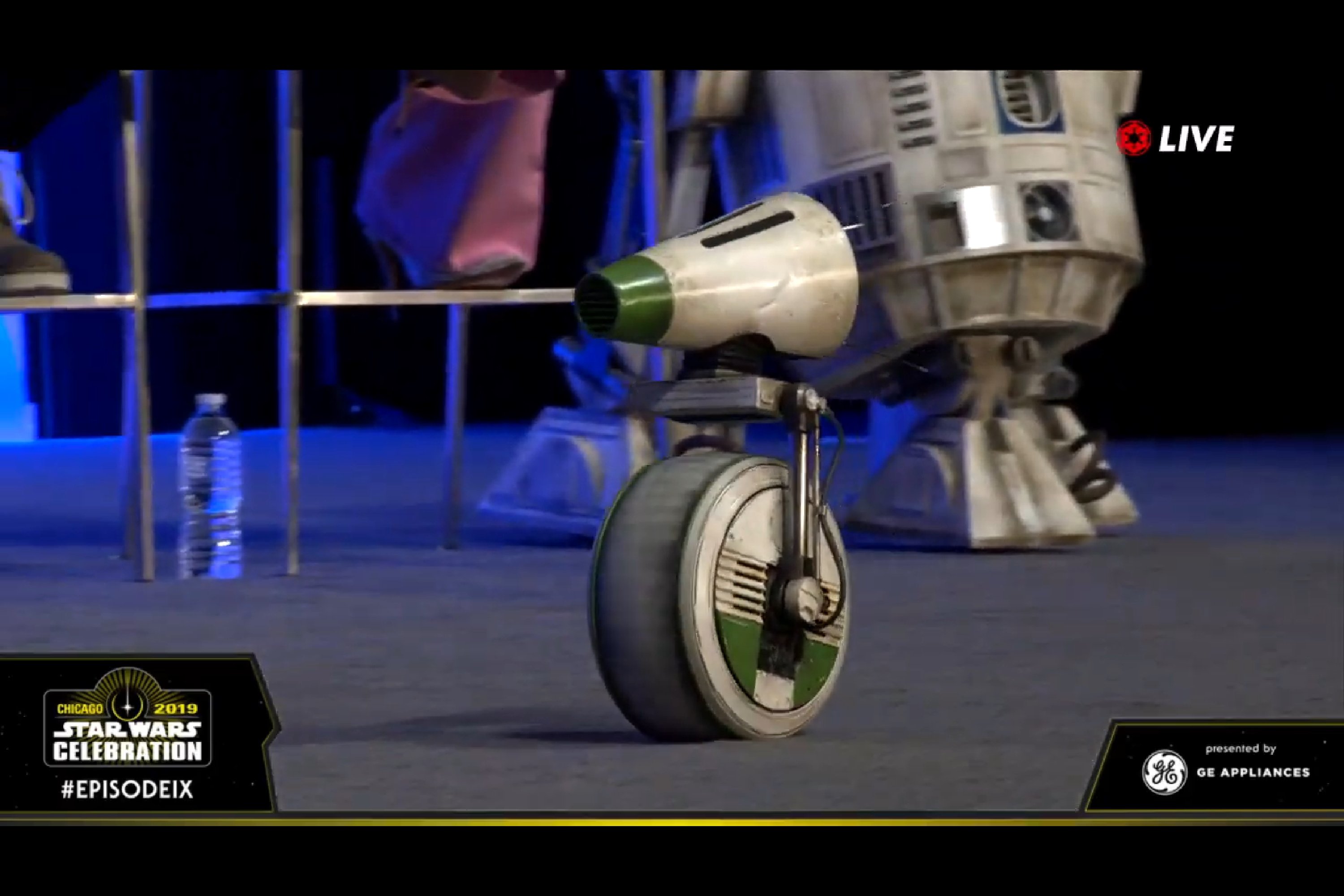 After sharing his experience of seeing Star Wars, Colbert asks J.J. if he had anything else he wanted to share with the audience. After playing the amazing teaser trailer (watch below), Ian McDiarmid (Emperor Palpatine) comes onto the stage as a surprise guest and tells them to roll the trailer again in that evil Palpatine voice we all love and fear.
Not a bad day to be a Star Wars fan, that's for sure. What were your thoughts on the panel? Share your excitement for The Rise of Skywalker in the comments below.
And now you can watch the full panel below:
Jordan Pate is Co-Lead Editor and Senior Writer for Star Wars News Net, of which he is also a member of the book and comic review team. He loves all things Star Wars, but when he's not spending time in the galaxy far far away, he might be found in our own galaxy hanging out in Gotham City or at 1407 Graymalkin Lane, Salem Center, NY.