J. J. Abrams' Meeting With George Lucas Happened Prior to Writing 'The Rise of Skywalker'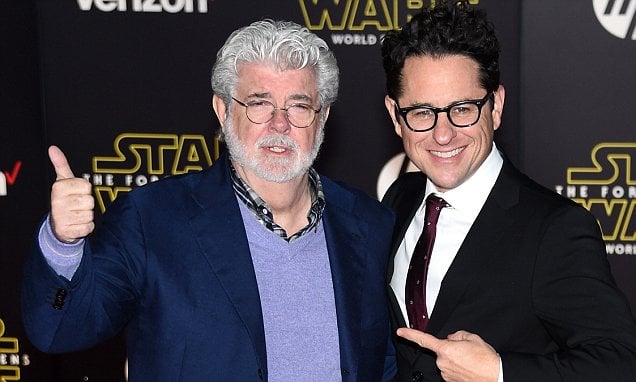 During his series of press interviews at Star Wars Celebration Chicago, J. J. Abrams explained that he talked quite a bit with franchise creator George Lucas about the direction of the final film in the Skywalker saga, and notes that Lucasfilm is still repurposing ideas that Lucas came up with prior to the sale of his company to Disney. Abrams previously stated that he spoke with Lucas, alongside Rian Johnson and Lawrence Kasdan, while developing Star Wars: The Rise of Skywalker.
One ongoing debate within the fandom is about how much (or how little) of the sequel trilogy has been planned thus far. When given an opportunity to speak with Abrams, a reporter for MTV News asked this very question, to which Abrams replied there were definitely clear ideas of how the pieces of the story would fit together in The Rise of Skywalker, and that they're tied to the plans left behind by George Lucas:
"I feel that the story we told, the goal for this movie, the job was to end not just this trilogy – and just to make a stand-alone film, of course it needs to work in that way too – but to end nine films, three trilogies. And so the job was to look at all of them, including [The Last Jedi], and ask ourselves, 'What is the inevitability? Where is this going?' There have been a lot of ideas since the beginning, since George [Lucas] first came up with this, of where things could go [in the last film]. We had a meeting with him before we even wrote the script about [The Rise of Skywalker]."
So it seems to confirm at least what we've personally expected: there was a specific beginning and end to this story planned out in advance, but what came in the middle was a mix of what each director was going to bring to this trilogy and various repurposed concepts from the maker himself. This also heavily suggests that the supposedly-discarded Lucas-made ideas may have had more influence over the story than we were previously led to believe.
The full interview can be seen below:
Star Wars: The Rise of Skywalker will be released on December 20, 2019.
Grant has been a fan of Star Wars for as long as he can remember, having seen every movie on the big screen. When he's not hard at work with his college studies, he keeps himself busy by reporting on all kinds of Star Wars news for SWNN and general movie news on the sister site, Movie News Net. He served as a frequent commentator on SWNN's The Resistance Broadcast.