Review: The Scourge of Shu-Torun Begins in Marvel's Star Wars #62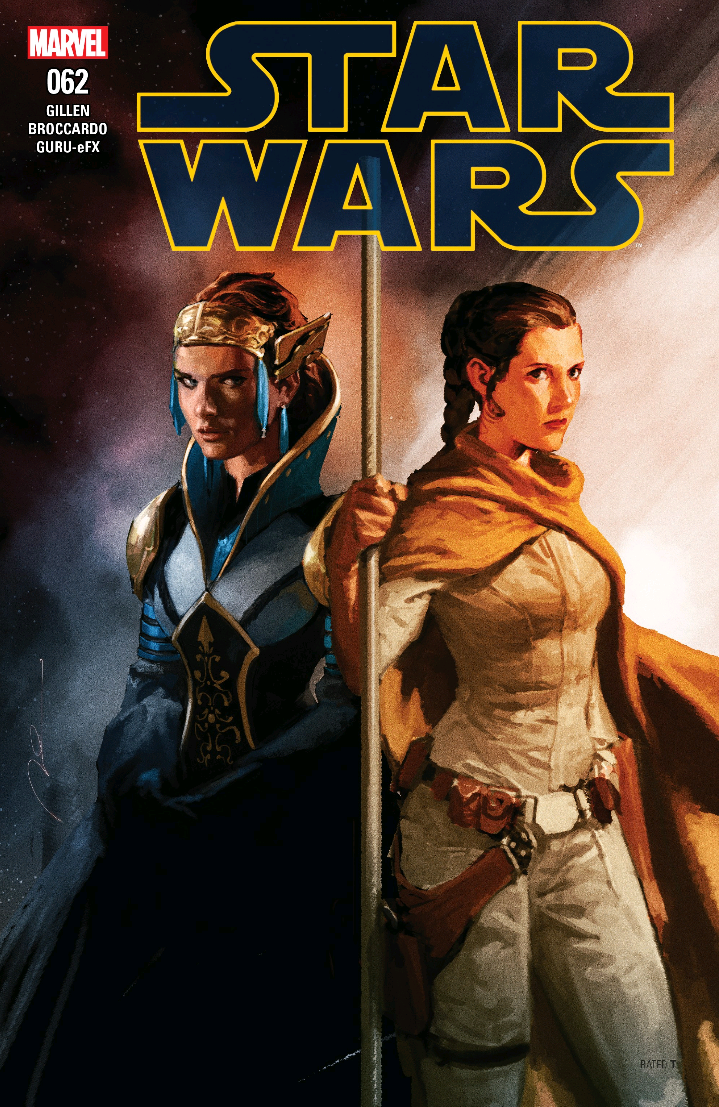 In the days since the Battle of Mon Cala and the Empire's utter destruction of the Rebel fleet at Mako-Ta, Princess Leia Organa has been plotting the Rebellion's revenge on Queen Trios of Shu-Torun, the former ally whose betrayal left the Rebellion scrambling for survival. But Leia isn't given to simple pettiness.
Revenge is only an added bonus in her plan to cripple the planet of Shu-Torun, a decisive strike that will in turn leave the Empire hurting for valuable resources. In Star Wars #62, creators Kieron Gillen and Andrea Broccardo (along with colorist Guru-eFX) begin an all new story arc titled "The Scourging of Shu-Torun". Spoilers ahead…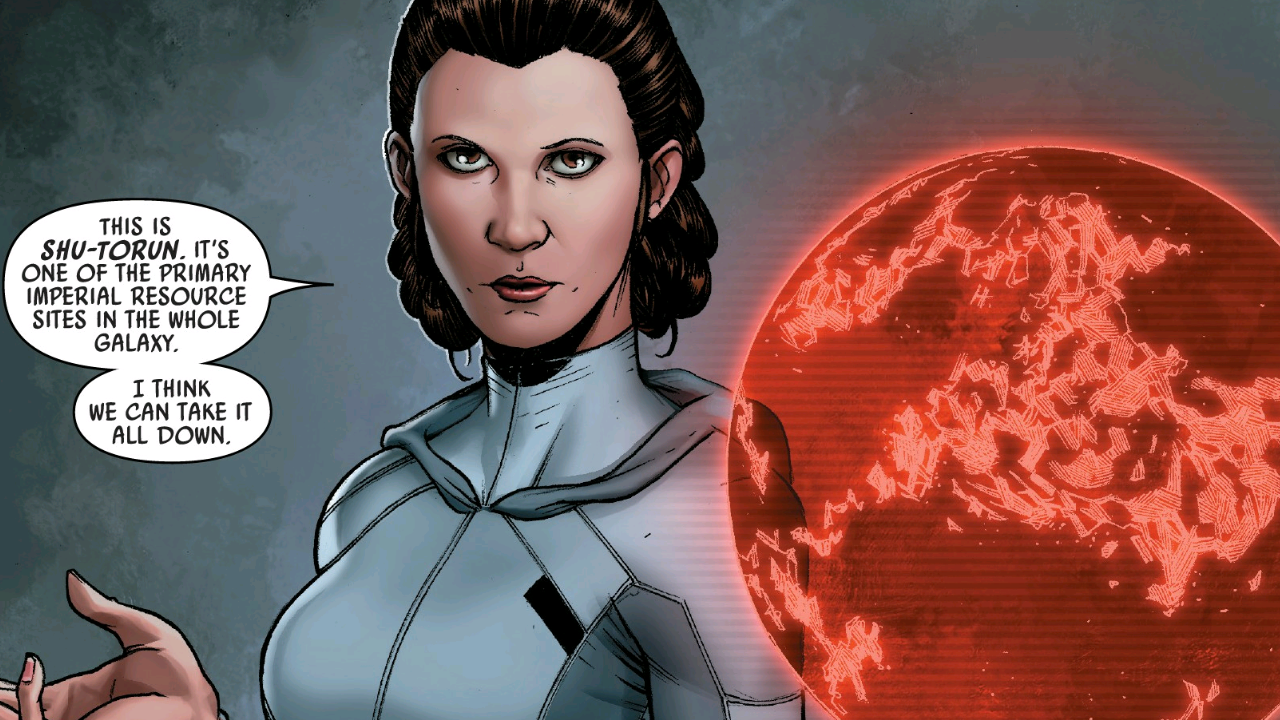 Finally reunited with the rest of the Rebellion, Princess Leia is moving forward with her plan to economically destroy Trios' home planet. The usual team is ready to accompany her, but before the mission gets fully underway, some additional recruiting is necessary.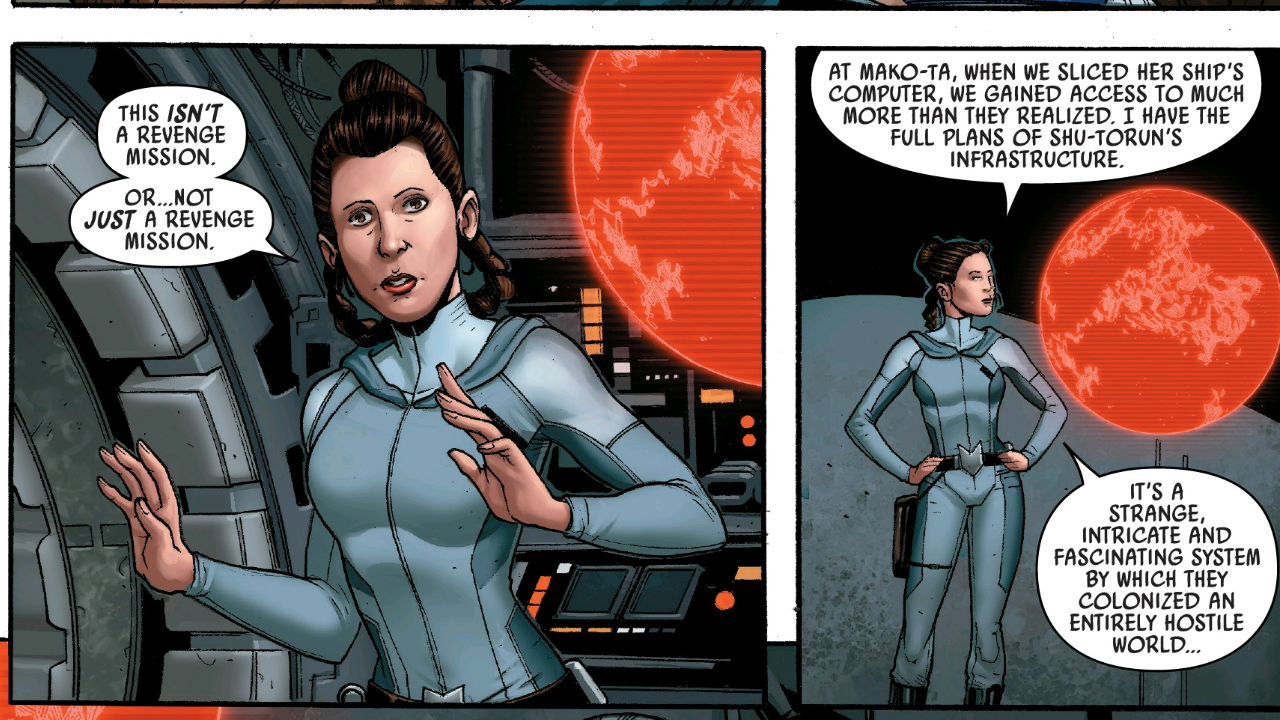 Sometimes, individual issues in a comic series are difficult to review, and while I love gushing about single issues such as Charles Soule's recent Darth Vader #25, not every issue in a comic series is intended to stand on their own. Star Wars #62 is one such issue. It is not a bad issue in any way, but its purpose as an introduction to the new story arc (as first issues often go) lays the groundwork for what lies ahead without giving us much to talk about other than our anticipation for what's to come. But for what it is, it is a successful issue and has me looking forward to the next one.
I hesitate to use the word "filler" as it is a term that is often misused, but this issue will probably feel like that to a lot of readers. That being said, I still feel that it was necessary to the overall story, and I didn't get bored reading it, which is always a plus. Filler or not, the issue is certainly not without merit, and there were a couple of things that I actually really enjoyed about it.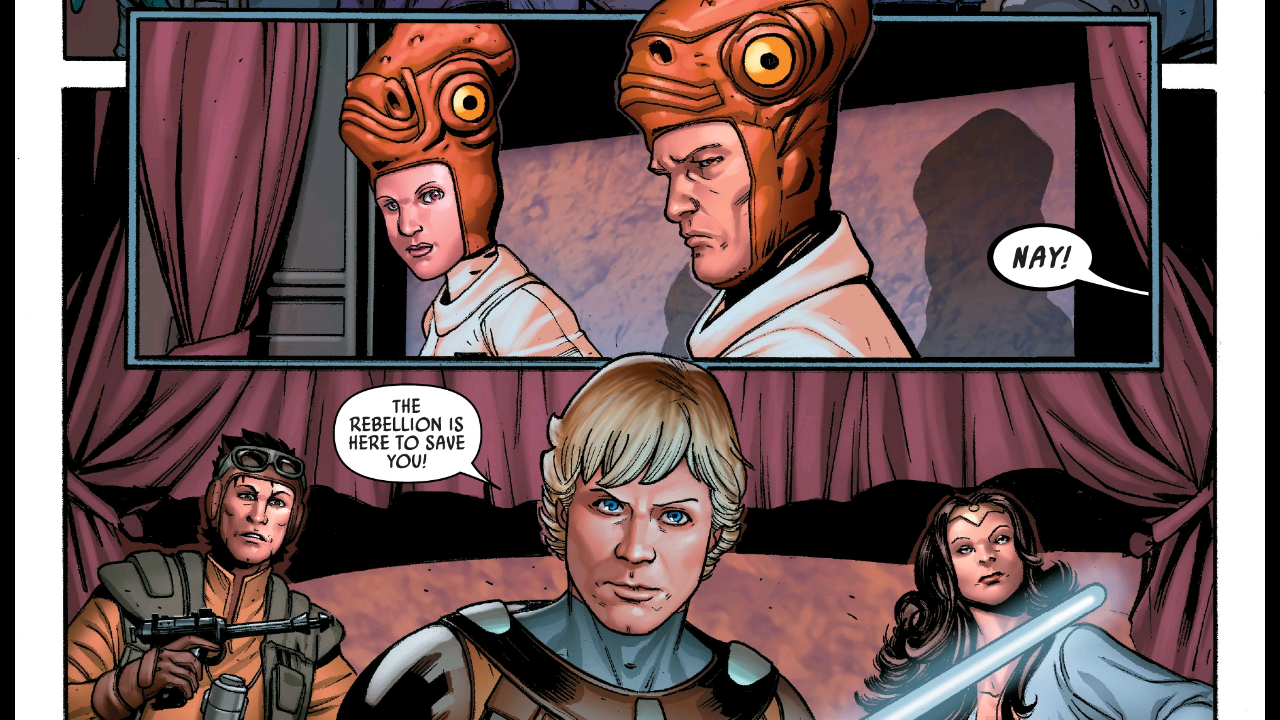 As I mentioned earlier, Leia is recruiting for her mission, and by the conclusion of the issue, our team is fully assembled and ready to go. Needing a shape-shifter on the crew, the Rebels reach out to the stage actor Tunga, a former ally of the Rebels during the Mon Cala story arc. Leia, Luke, and Han find Tunga on a stage in the Outer Rim portraying the heroic events of "Luc Swordswinger" and his friends during the battle of Mon Cala. The real Luke and company arrive just in time to nab Tunga before he is apprehended by the Imperial Stormtroopers who have arrived to shut down his play, having labeled it as propaganda.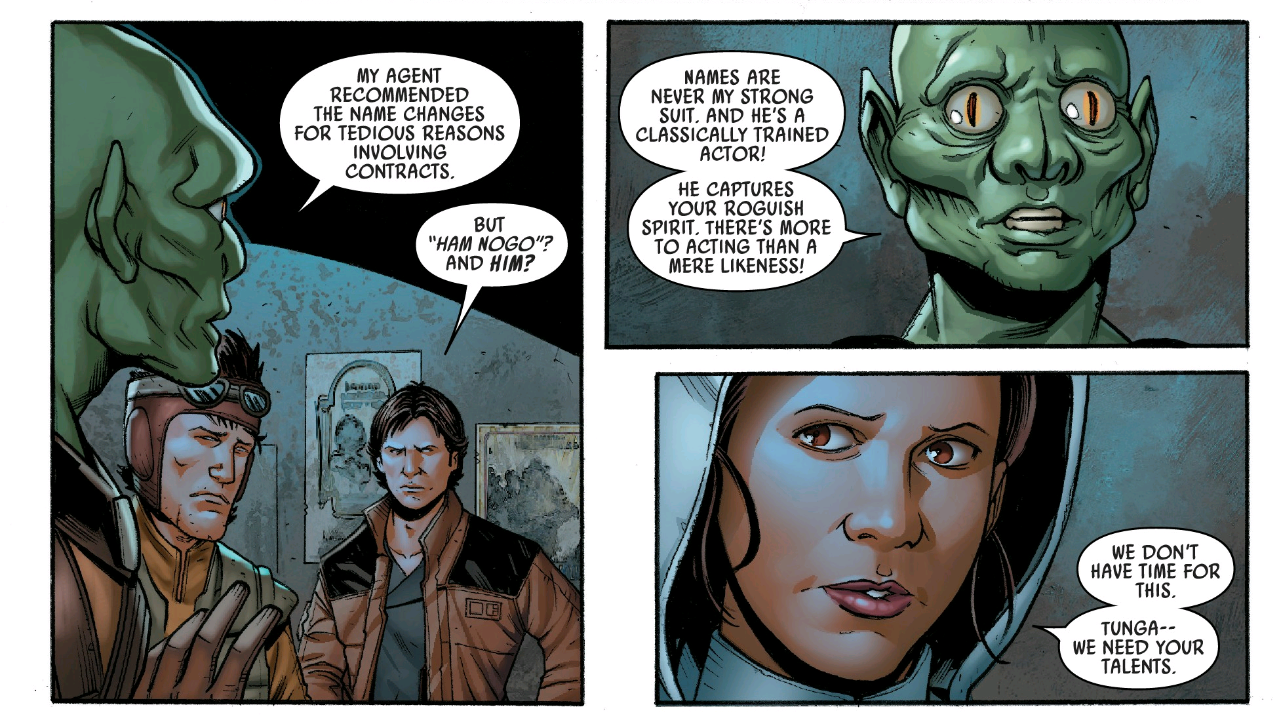 I thought this bit was quite funny, and I really enjoyed the meta commentary about the casting of Han Solo in the play. The real Han is disappointed with his doppelgänger, only to be reminded by Tunga that the actor captures the roguish spirit of Han Solo, and that's what matters. I instantly thought of Alden Ehrenreich in Solo: A Star Wars Story, and I'm pretty sure that was Gillen's intent with this one.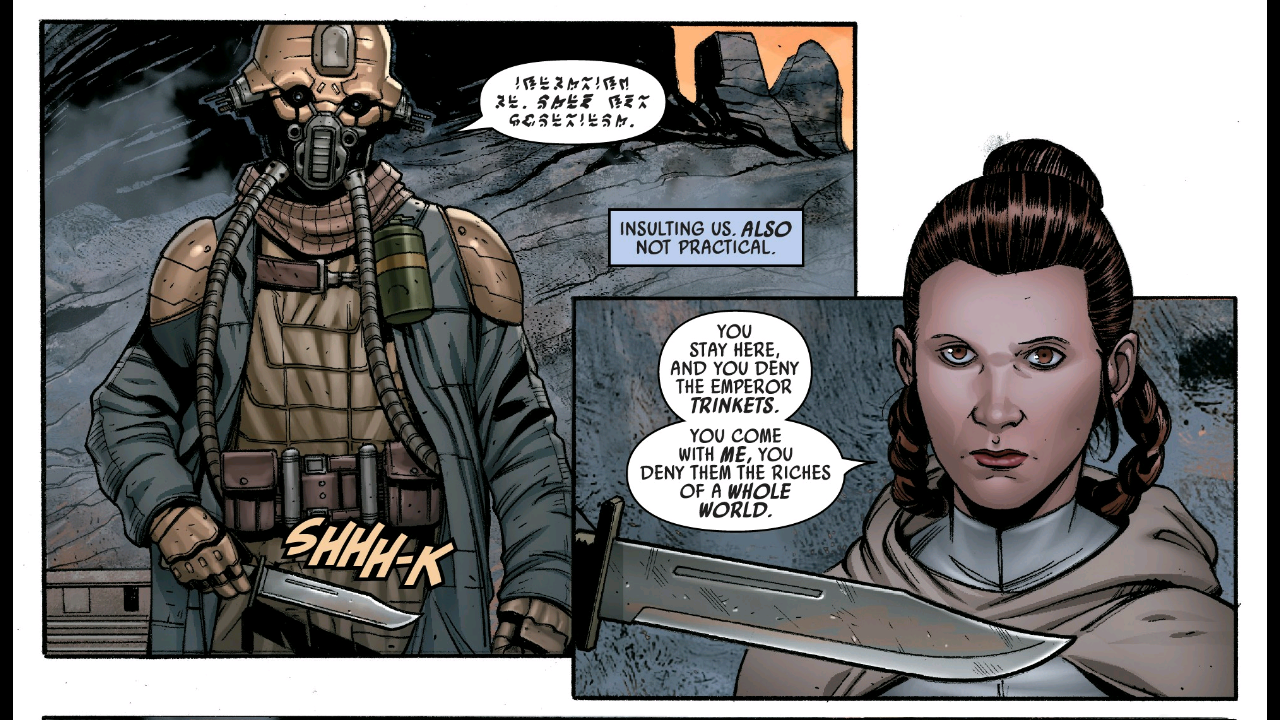 After Tunga gets on board, the rebels head back to the wasteland of Jedha to enlist Benthic and a couple more of Saw Gererra's Partisans who continue to make trouble with the Empire as it robs the world of its resources. Leia convinces Benthic to help her by promising a bigger fight with a more vital impact on the Empire than their small skirmishes on Jedha could ever achieve. Once the mechanic Meorti (who has been working tirelessly on restoring the Millennium Falcon in Han's absence) reveals that she has some skill at slicing (the Star Wars equivalent of computer hacking), the mission is a go.
While the rebels were on Jedha, Luke also made a side trip to the Temple of Central Isopter, a hub for a Force-worshipping death cult, to see if he could learn anything more from the warped devotees about the darker nature of the Force. To his surprise, however, the cult was gone. The last couple of pages of this issue reveal why. The cult has made its way to Shu-Torun, where they anxiously await its destruction. It's about to go down folks. It's about to go down.
Score: 7/10
Star Wars #62 is available now in a comic shop near you or online at Comixology. Until next time, happy reading comic fans!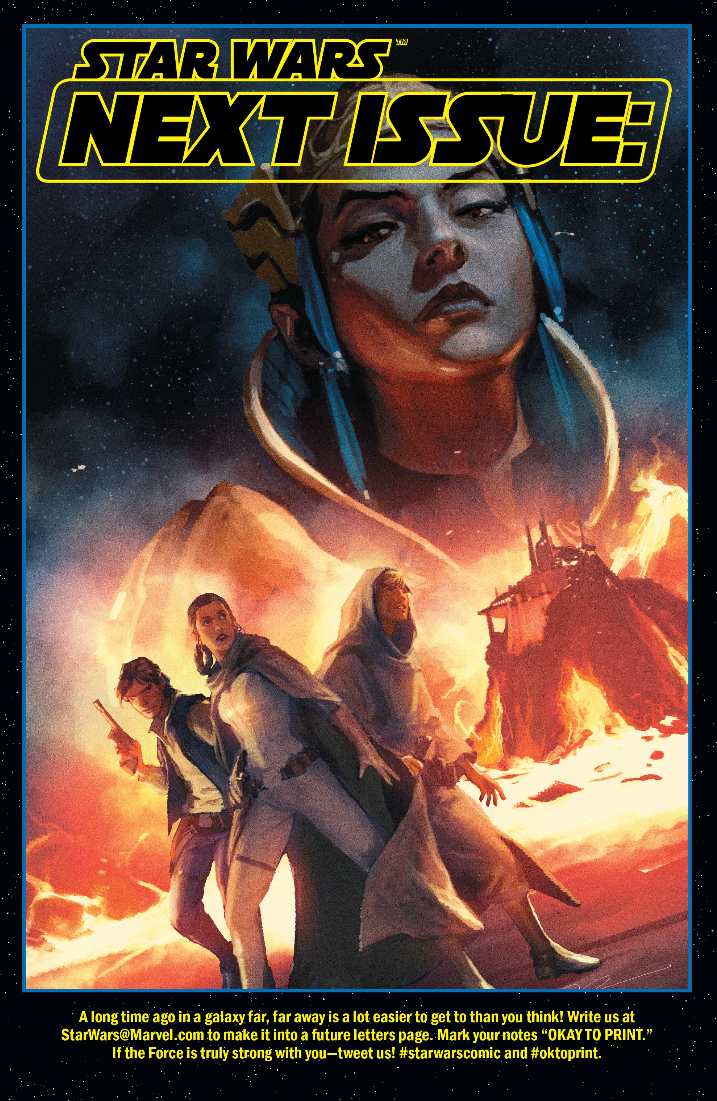 Jordan Pate is Co-Lead Editor and Senior Writer for Star Wars News Net, of which he is also a member of the book and comic review team. He loves all things Star Wars, but when he's not spending time in the galaxy far far away, he might be found in our own galaxy hanging out in Gotham City or at 1407 Graymalkin Lane, Salem Center, NY.