E.K. Johnston's 'Queen's Shadow' Is An Exceptional Story of Strength and Courage In An Uncertain Galaxy (Non-Spoiler Review)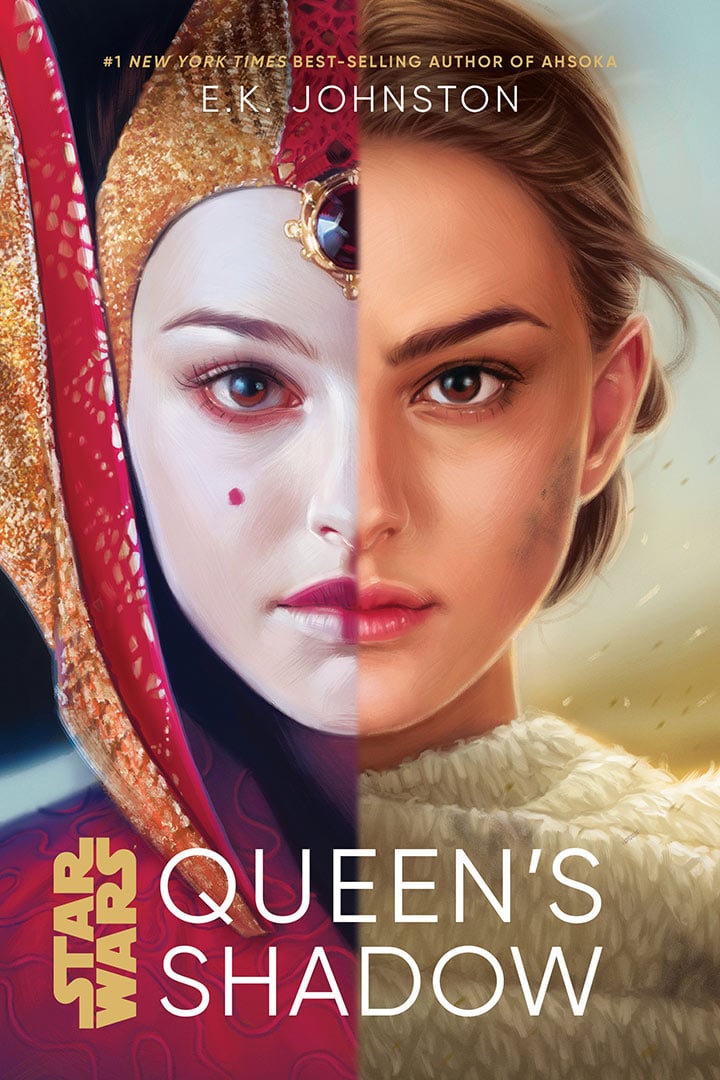 The SWNN review team gets to read a lot of books and we feel lucky. Sometimes it can be overwhelming when you think about how much material has moved into the canon in the last five years. Some of these stories push the timeline forward while others expand upon events, characters, and settings we were convinced we already knew most everything about. Queen's Shadow by E.K. Johnston is a remarkable look at a seemingly peaceful period in the galaxy that fans often romanticize when they hear about ominous things like Death Stars and Starkillers. The people who fought an inevitable war from the beginning were Padmé Amidala and her family of handmaidens – and Queen's Shadow is their incredible story every Star Wars fan will marvel at if they are lucky enough to get this book in their hands.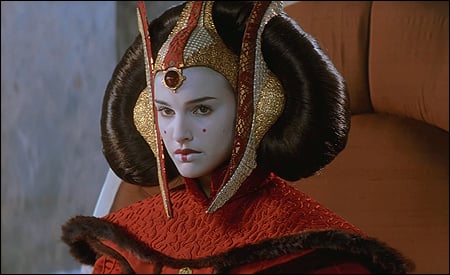 Padmé Amidala Naberrie is an amazing person who, in my opinion, is not mentioned nearly enough as she should be when fans discuss Star Wars. I'm guilty of it myself. It's easy when we're speculating on flashy lightsabers or TIE Fighters to forget that heroes of this saga don't always come swooping in on a Corellian freighter to vanquish the villains. The silent heroes show their fortitude when the status quo presses them to brush aside their morals and conform to the "greater" good. Padmé shares the role of daring rescuer and frontline fighter, taking her strength wherever it needs to be, without the question of reward, but only ever the virtue and the cause. In Thrawn: Alliances, I viewed Padmé as the true hero of that novel, and in Queen's Shadow, we meet several of the people whom she shared her strength with and drew from on the road to becoming that hero. Make no mistake, though, Padmé is a hero when we meet her at the beginning of this novel.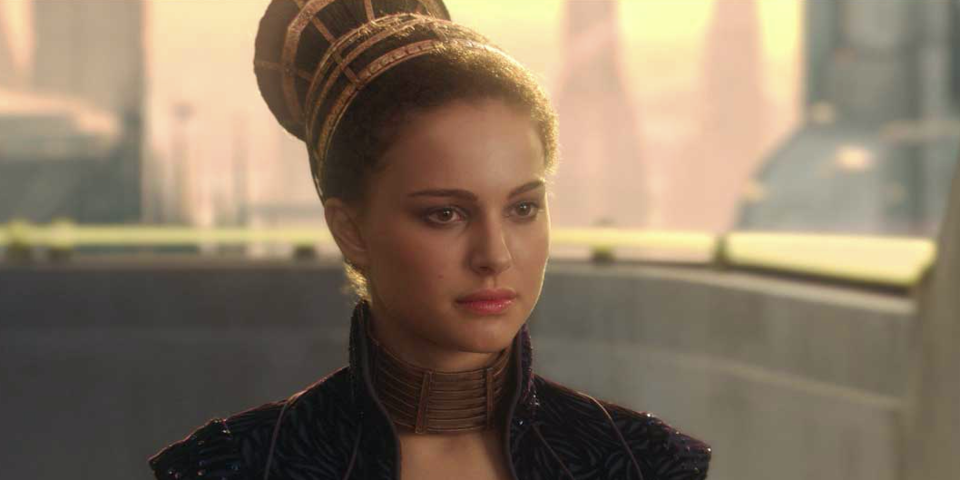 As big as the setting is for Queen's Shadow, not to mention an expansive list of characters (both new and familiar), make no mistake that this is Padmé's story. I don't think I've ever been fair when it comes to my perception of Padmé. Johnston's exhaustive exploration of what defines Padmé Amidala Naberrie opened my eyes to my own shortcomings in failing to recognize the complex person Padmé was. Queen, senator, wife…I always had a positive view of the character, but never looked deeper. Padmé plays her roles but this is a story about the person many of us didn't get a chance to know. If you're already a fan, you'll be thrilled. If you're coming into this story with basic knowledge of events that surrounded Padmé, you'll be grateful for a story that describes the person involved in those.  If I could give the reader one suggestion going into Queen's Shadow: Let go of what you think you know about this character and trust E.K. Johnston. If you don't, I can almost guarantee Johnston will do it for you. Not more than fifty-pages in I realized I needed to forget everything I thought I knew.
Padmé personifies what a beacon of hope is in a galaxy teetering on uncertainty. She questions everything she does when presented with the larger scope of the galaxy. As Padmé becomes more intimately familiar with the Republic she sees that the galaxy is changing. Padmé's experience and perceptions do a lot to take off the rose-colored glasses about the glorious Republic. I don't consider this a spoiler, but anyone reading this book objectively wouldn't walk away feeling good about the state of the galaxy. Padmé shows a calm strength through many adversities. Leia and Luke are truly their mother's children. Their bond through their father's strong connection gave the twins power, but it was their mother's inherent good passed down that gives them strength. You'll see a lot of similarities to Leia in this book. If you liked Claudia Gray's Leia, Princess of Alderaan you'll find similar enjoyment.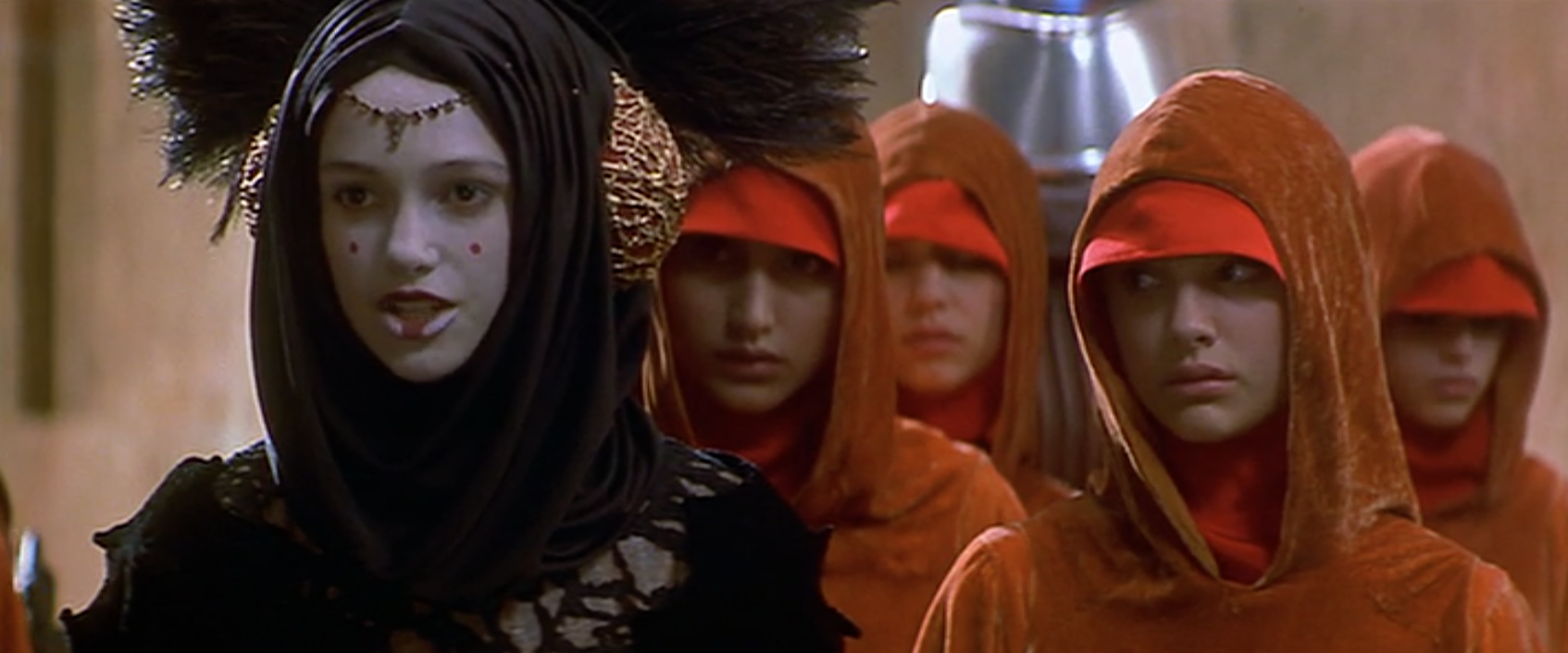 The handmaidens are as much a part of this story as Padmé. Though they are certainly part of the shadow the book's title seems to imply Padme casts, each character definitely has their moment in the light. One can deduce that the title handmaiden is subterfuge so those who would underestimate a young queen would likely undermine her entourage. This is more than an entourage, it's a family born out of necessity, ready to face the threats those who champion freedom and democracy take on. Their courage was demonstrated in The Phantom Menace while facing the invasion and occupation of their homeworld, but we see an entirely new dimension from these people whose devotion to the queen they protect is not so much protection of Naboo's monarchy, but the extraordinary person that is Padmé. To keep this as spoiler-free as possible I'm not going to get into specifics of what it is they do, but Johnston has created such a special bond between them and Padmé, as well as giving each member of this retinue a story that makes them greater than the whole of their parts.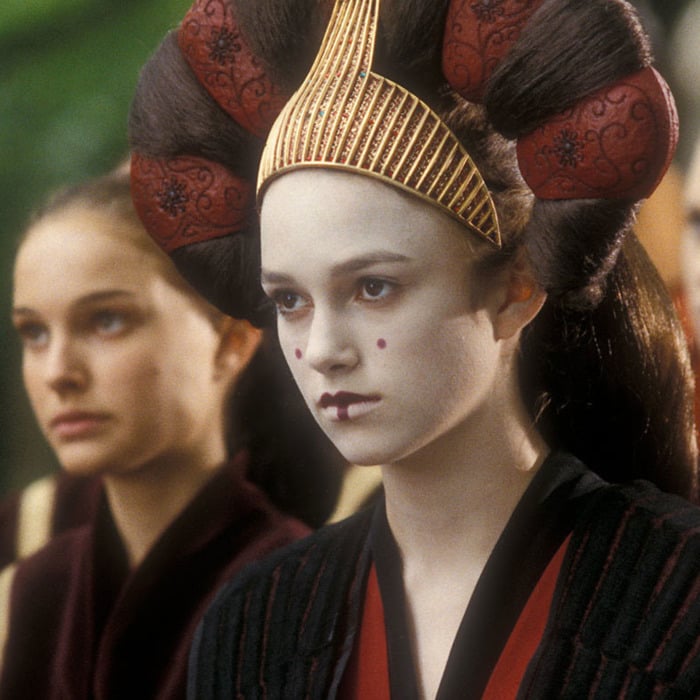 If there's handmaiden that distinguishes themselves from the rest, it's Sabé. Sabé is the handmaiden we're all most likely familiar with because she's been trained to be an almost perfect double for Padmé. We learn that Sabé is not only capable of physically impersonating Padmé, but has meticulously altered the details of her life to mirror Padmé in case she's called upon to be where her queen cannot. It's hard to explain Sabé's role without getting into spoilers and arguably the less you know about her skills the better, so I'm going to hold back. Each of the handmaidens is exceptionally skilled in what they do and that statement is especially true for Sabé. Her story often runs parallel to what's happening in Padmé's life and Johnston uses those parallels so well to push the plot and events that unfold around the handmaidens and their charge. By the time I approached the end of Queen's Shadow I wanted more stories about Sabé. That's not to take away from the other handmaidens but you'll learn why Sabé could fill an entire novel of her own.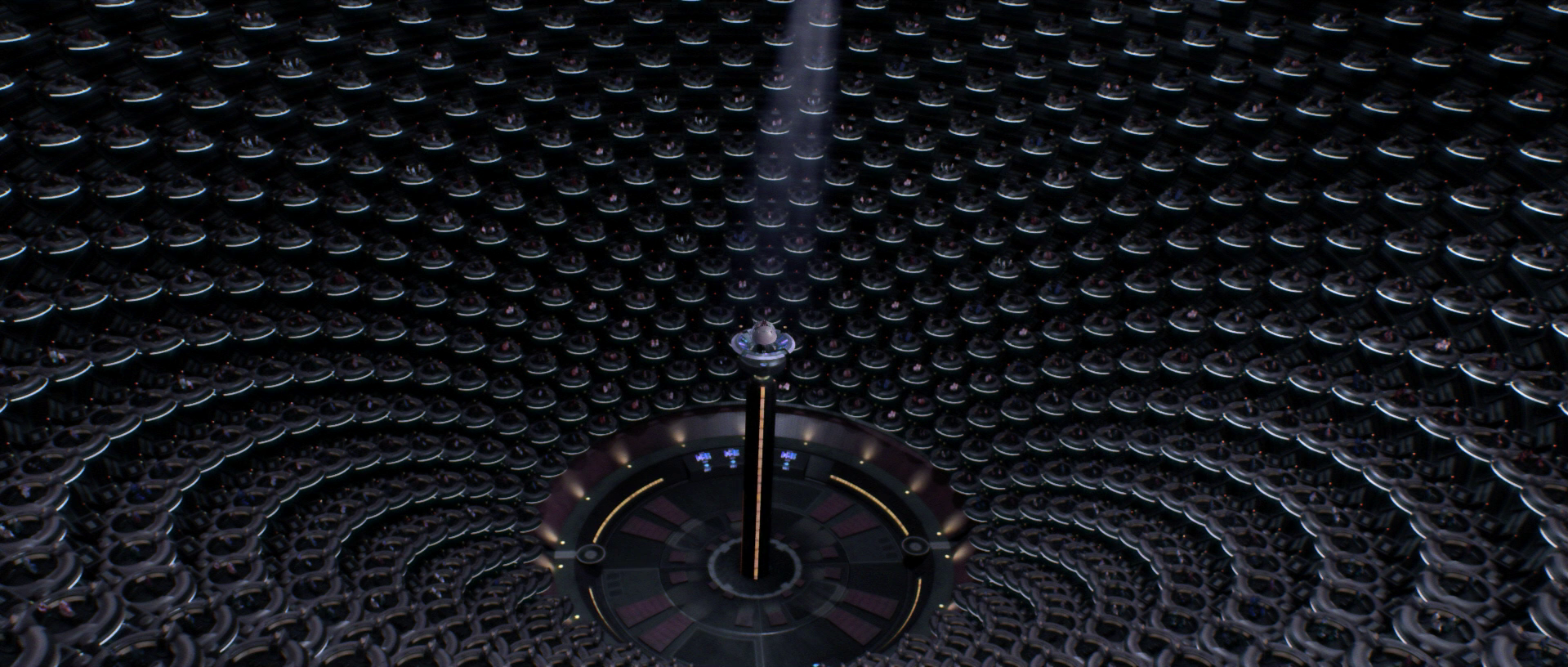 The state of the Republic is very much a focal point of Queen's Shadow. It provides context to each setting and we see the road that led to Jar Jar's tragic moment in Attack of the Clones had been paved for quite some time. There are a lot of cracks in the armor of democracy. Bureaucracy and an aspiring autocrat waiting in the wings don't help matters, but we meet a senate that is in turmoil and doesn't realize it. We saw the squabbling and self-inflicted paralysis of this governing body in The Phantom Menace but here we get a look at the backroom deals and cocktail hours senators must learn to navigate if they are to be effective. It also holds a mirror to how idealism and progressive platforms can be squashed by those who defend the status quo, determined to keep the power and privilege in their hands. While all of the political stage setting and expansive details of procedure have the potential to bog down the story, Johnston repeatedly succeeds in making the reader feel invested in each turn of events. Johnston provides a human context for each decision reached or political game played. I'm almost certain the reader will leave the story with a real sense of how troubled the Republic was and why corrupting it was probably the most effortless thing Palpatine did in his rise.
Naboo is also meticulously fleshed out by Johnston and the world-building she contributes makes the planet especially unique. I imagine it will remain unclear how much the Lucasfilm Story Group contributed to it, but from the rigorous descriptions of social, environmental, and political climates on Naboo, I gather most of this is from Johnston. The story of Queen's Shadow is wonderful, but it's rivaled by Johnston's ability to create the setting. I'm in awe of how gifted Johnston is at immersing the reader in each scene, so much so you'll feel like you have the Nabooian sun glowing down on you. Each time the story takes you back to Naboo you feel the comforts of home and safety Padmé and her handmaidens felt when they returned. There is a pride in Nabooian culture and heritage, but there's no sense of superiority. The people of Naboo regard their world as a pillar of true peace, something that seems to be rapidly slipping through the shaky hands of the galaxy. I felt like I learned a lot about this planet and its people, which is an added bonus to an already great story.
The end of Queen's Shadow is bittersweet because we know where Padmé's story ends. It will underscore the sadness and unfairness of her murder at the hands of one of the few people Padmé opened herself up to. Because Padmé was so selfless with her service, she is described as being especially guarded when it comes to friendships and love. It's as if Padmé knows how giving and kind she is, and that there are those who would abuse that kindness, so she guards herself to make sure the bigger things in the galaxy she pursues don't go unaccomplished. That's not to imply naivety on her part, because Padmé is no one's fool; it's to state how huge of a betrayal it was on Anakin's part and a reminder that just because he was powerful with the Force doesn't mean he was strong. What Anakin did was weak and the underlining boldness of that betrayal is that he attacked Padmé when she was demonstrating true strength. It takes courage to hold a mirror in front of someone you love who may be going down a dark path, which is what Padmé did on Mustafar, not just for herself, but the galaxy. That selflessness and love were returned with cowardice and scorn by the one person she let get closer to her than anyone. If you've not experienced that revelation, be prepared for a gut-punch, because the galaxy lost one of its great protectors that day on Mustafar…and it wasn't Anakin Skywalker.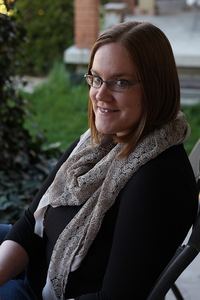 I could gush about Johnston's writing all day after reading this. Queen's Shadow is one of the most effective and wonderful pieces of writing in the Star Wars canon right now. The cadence and pace with which Johnston moves the threads of each story into one narrative around Padmé are exceptional. You'll have no problem burning right through this book and I have little doubt you'll be asking for more when you reach the end. It has everything good that drives Star Wars, especially love. The bond between Padmé and her handmaidens is like nothing we've seen in Star Wars. They are selfless warriors, determined to do what they can individually and as a collective for good on their world, as well as the rest of the galaxy. The love that binds them is what gives them strength. The words Johnston brings to these characters and their story are so eloquently placed it reads like the elegant fabric that composes Padmé's garments. That's not to make this novel sound ornate or delicate, because it as big and bold as any Star Wars story out there, and let's all hope Johnston has many more for us waiting in her mind. Queen's Shadow is a treasure for Star Wars fans.
RATING: 8.5/10
Queen's Shadow by E.K. Johnston is available March 5 at your local bookstore and online retailers. Special thank you to Lucasfilm Press for the advanced copy used in this review.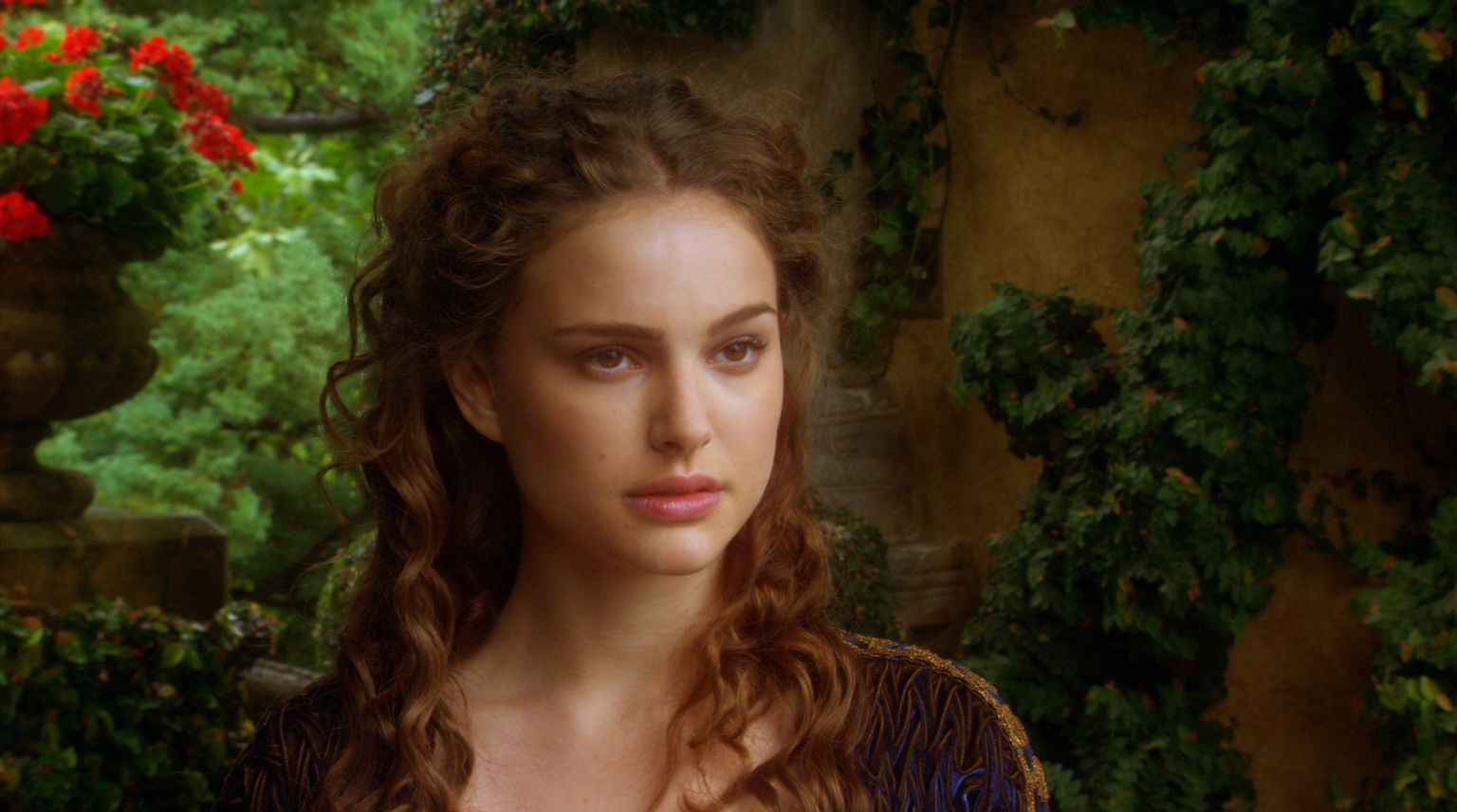 Kyle Larson lives in Portland, Oregon. When he's not running trails, he's reading and writing.