Star Wars Episode IX: Oscar Isaac on How the Movie Concludes Leia and Poe's Story, and C-3PO's Bigger Role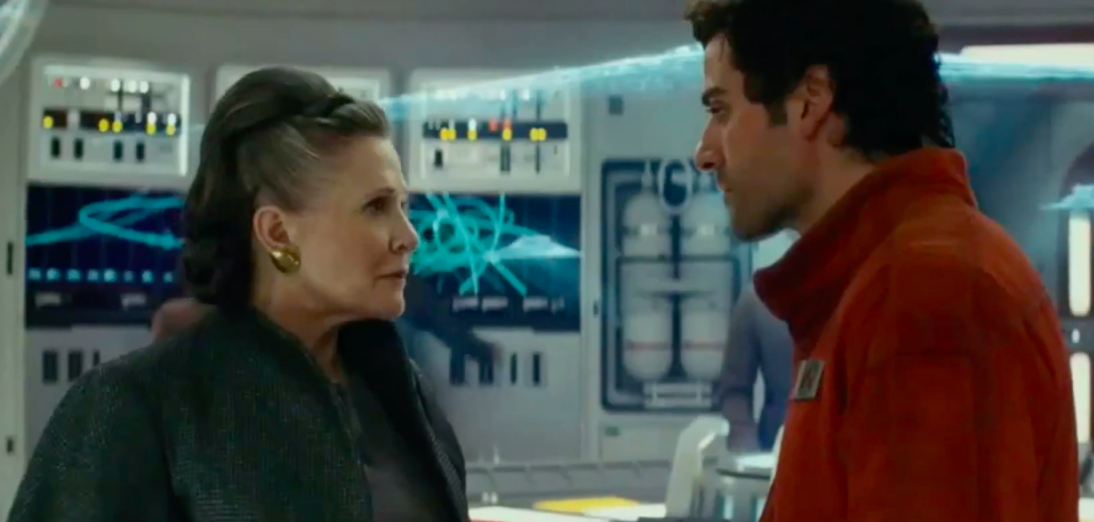 Oscar Isaac confirms that among the unused footage of Carrie Fisher's Leia that will be implemented into Star Wars: Episode IX are scenes he filmed with Fisher that were previously left on the cutting room floor for The Force Awakens and The Last Jedi. It's been known for a while that footage of Fisher would be included in the film, but now we know for certain that it will involve scenes of her acting alongside the major characters of Episode IX.
While speaking with John Fuglsang on a radio show to promote his latest film – Netflix's Triple Frontier – Isaac explained that he felt the decision to fit Leia back into the story of Episode IX after losing Fisher was the right thing to do from a creative standpoint:
"I wasn't surprised because I remember we were doing that, we worked a lot. [Fisher] and I worked together so much. We would talk about the scenes, and we got very tight during the shooting of that. So it was a beautiful thing to see, and it gets carried over into [Star Wars Episode IX] as well… It was definitely an unusual thing, but I also think it was right to engage with her character, and not just let it be something that fades away. [It gives Leia] a proper place of honor."
The full discussion can be viewed below:
https://twitter.com/SXMInsight/status/1105479465822507014
The notoriously-secretive J. J. Abrams has likely informed Isaac which unused scenes between he and Fisher are going to appear in the new movie, as that sort of knowledge would likely be necessary toward figuring out continuity on Star Wars: Episode IX. Of course we as fans, even die-hard fans, don't have the slightest idea what the footage from The Force Awakens and The Last Jedi Abrams is actually going to end up using. That could play to the movie's advantage, as even though the context of these scenes is likely going to be much different, they can be rearranged in a way to serve the story of Episode IX. It's also possible Lucasfilm will make use of auditory and visual technology in order to rearrange Leia's dialogue and positioning during a few scenes, although they've indicated that they want to primarily focus on using Fisher's performance over using a digital body double. It wouldn't shock us either if they used another voice actress to add dialogue for Leia, like Carolyn Hennesy from Star Wars Resistance, who did an uncanny job sounding exactly like Fisher has over the last two films.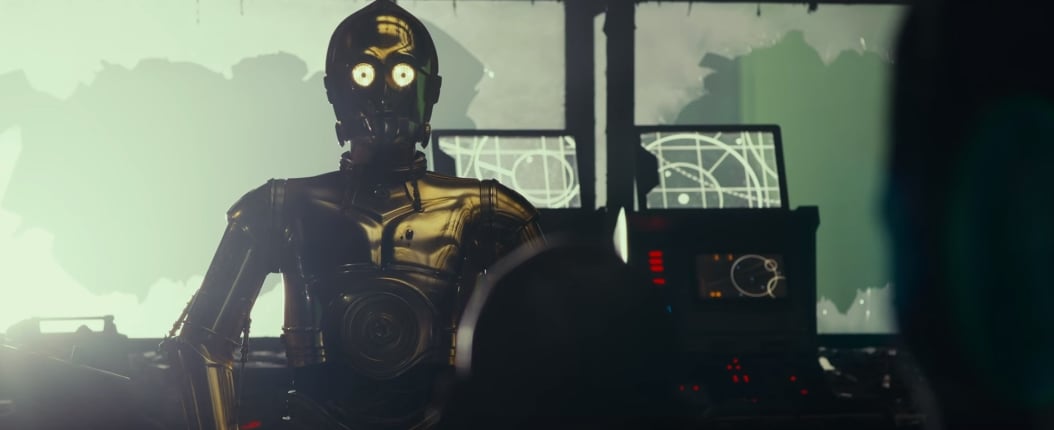 Also Isaac appeared on The Tonight Show and shared with Jimmy Fallon how Anthony Daniels wrapped on the same day as he did for Episode IX, and from his wording we can definitely conclude that C-3PO will have a much bigger role in the movie, compared to the previous two installments. You can watch the interview below:
https://www.youtube.com/watch?v=5-Gi_K7nxA8
Anthony Daniels' role in The Force Awakens and The Last Jedi was really small, so this doesn't come as a surprise. The actor himself took to Twitter several times sharing with the fans the amount of fun he is having on set.
As we know Daniels is the only actor who appeared in all nine movies of the saga. A proper send off is the least JJ Abrams could do for this iconic character.
Star Wars: Episode IX will be released on December 20, 2019.
Grant has been a fan of Star Wars for as long as he can remember, having seen every movie on the big screen. When he's not hard at work with his college studies, he keeps himself busy by reporting on all kinds of Star Wars news for SWNN and general movie news on the sister site, Movie News Net. He served as a frequent commentator on SWNN's The Resistance Broadcast.