Star Wars: TIE Fighter Comic Will Serve as Crossover to Upcoming Novel Trilogy 'Alphabet Squadron'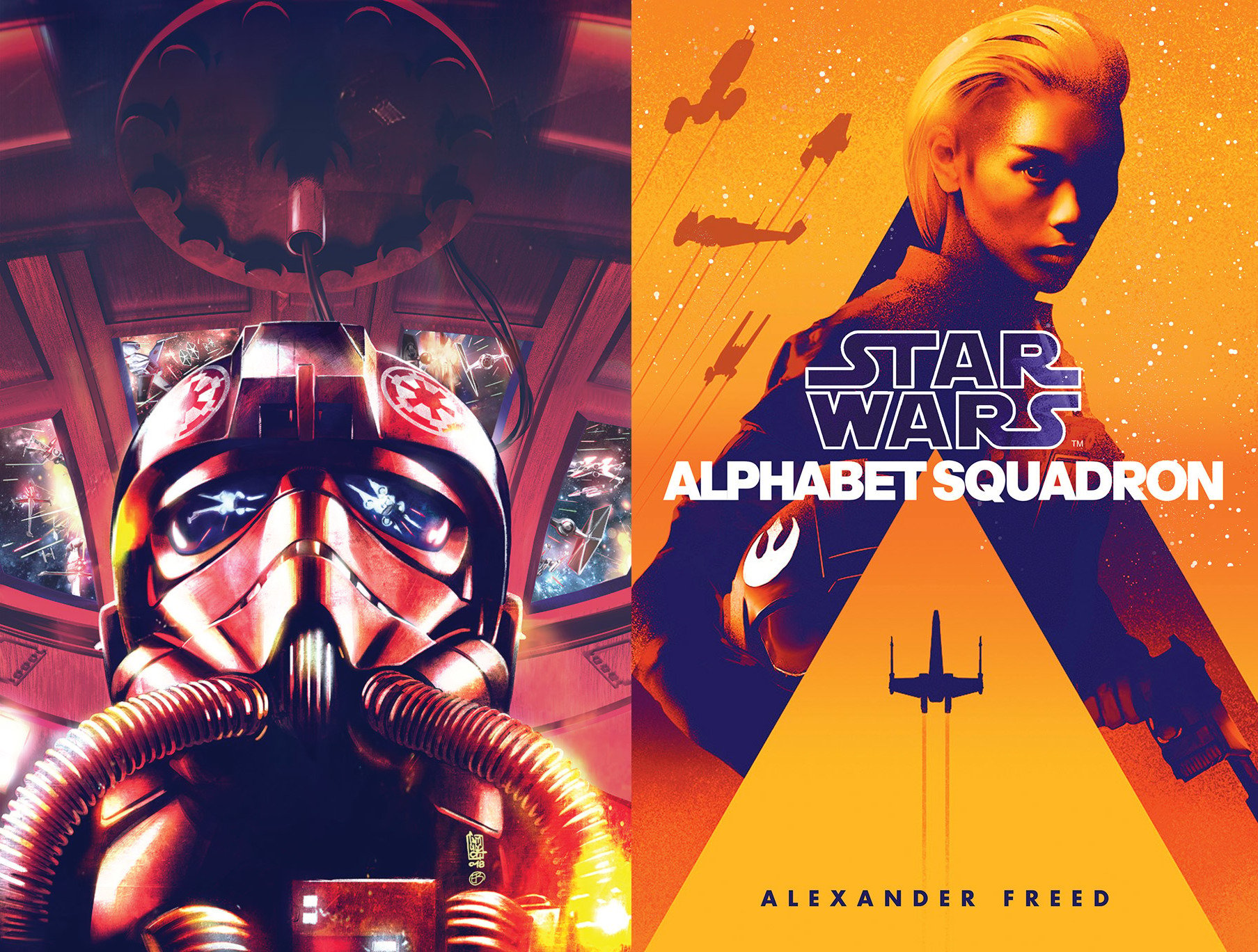 One of the anticipated Star Wars novels of 2018 is Alexander Freed's Alphabet Squadron. The novel, which will be the first in a trilogy, flips the script on the remnants of the Empire post-Return of the Jedi, with X-wing fighters now the hunters.
StarWars.com has announced a Del Rey/Marvel comicbook series TIE Fighter will arrive in April, serving as a crossover, which should enrich the story and give varying perspectives between the Empire and Rebellion during this time.
The featured image above showcases the respective covers of both upcoming publications. On the left is the cover for Star Wars: Tie Fighter issue #1, and on the right, the rather Blade Runner-esque cover for the first book in the Alphabet Squadron trilogy.
In case you're wondering who ordered and authorized the X-wing pilots to engage in these actions, she's not such a bad pilot herself. Del Rey reveals it is General Hera Syndulla!
FYI #AlphabetSquadron:

Cover pilot: Yrica Quell, Imperial defector. She flies an X-wing.

What's Alphabet Squadron doing? Tracking down a mysterious lethal force of TIE fighters.

Who told them they could do that? New Republic General Hera Syndulla. She's kind of a big deal.

— Star Wars Books (@DelReyStarWars) January 18, 2019
From StarWars.com:
The comic series is written by Jody Houser, who penned both Marvel's Star Wars: Thrawn series and the Rogue One: A Star Wars Story comic adaptation, with art by Rogê Antônio and other acclaimed artists, including cover art created by the team behind the recent Darth Vader comic series, Giuseppe Camuncoli and Elia Bonetti.
Star Wars: TIE Fighter will be released in April, two months prior to Alphabet Squadron's first book, which hits shelves (or your electronic devices) on June 11th. It's always interesting to see varying perspectives telling the tales of a galaxy far, far away. TIE fighters and X-wing pilots should enhance our view of these galactic dog-fighters going forward.
The question is, which side are you on?
John Hoey is the Lead Editor and Senior Writer for Star Wars News Net and the host of The Resistance Broadcast podcast
"For my ally is the Force, and a powerful ally it is."