Star Wars: Episode IX Filming Returns to Cardington Air Sheds as the End of Principal Photography Approaches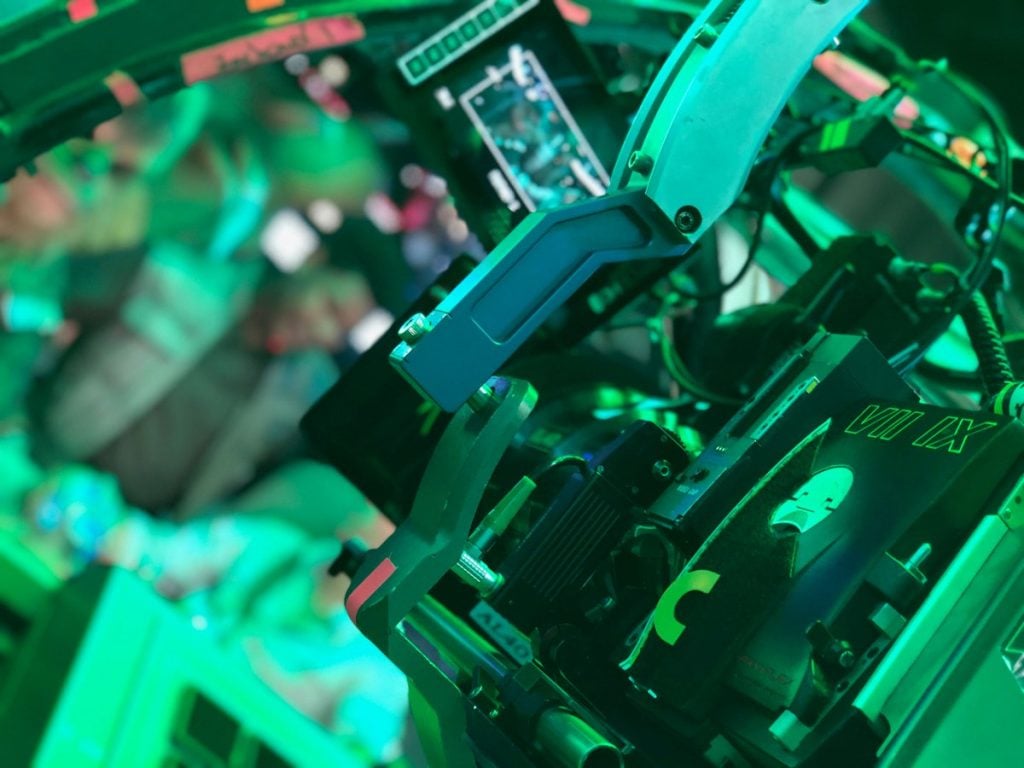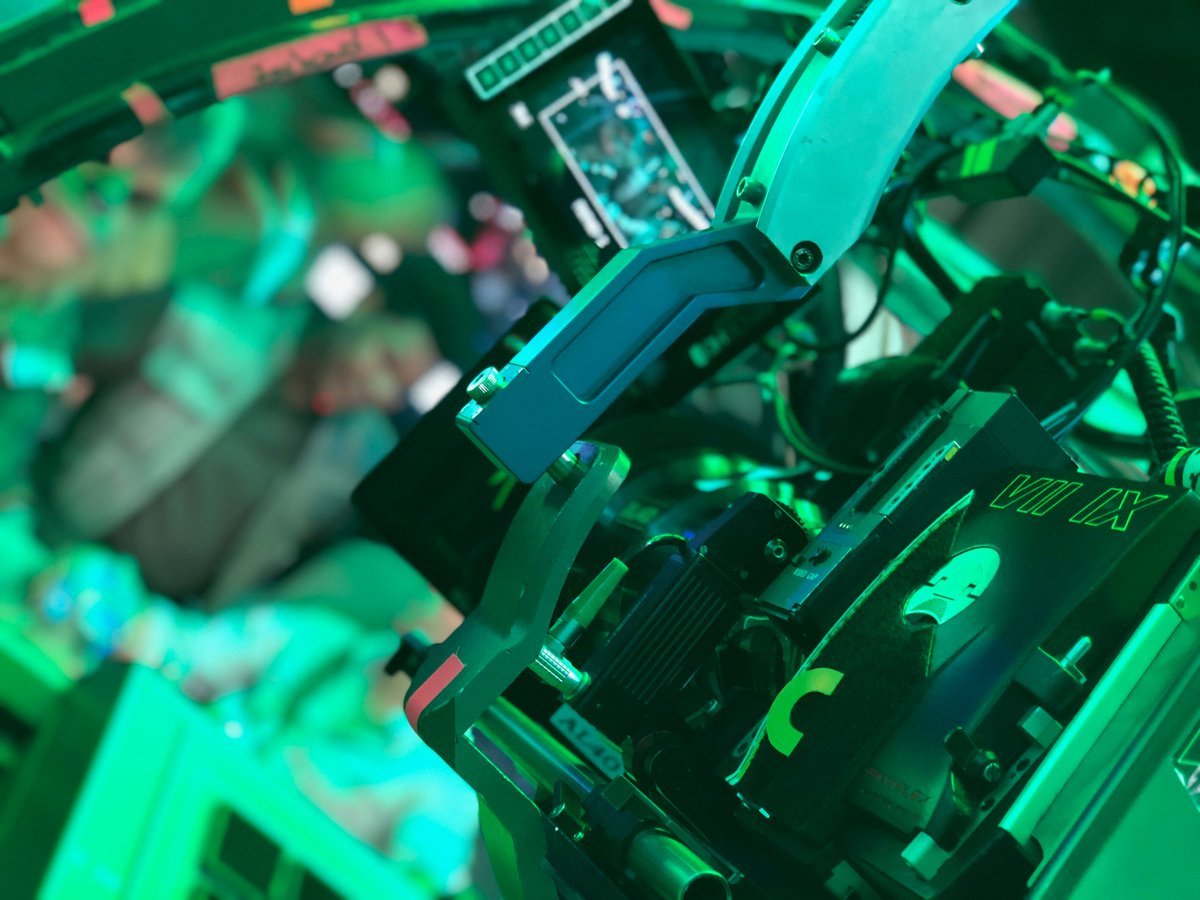 If you have your finger on the pulse of die-hard Star Wars fans, you know the fandom is itching for official information about the movie. Rumors of footage coming around Christmas came and went, and the recent sprinkling of crew gifts from J.J. Abrams circling the internet have fans starved for something, anything!
While we all wait as patiently as we can for official Episode IX announcements, what we have for you is the latest on the film's production, including filming returning to Cardington, Bedfordshire, England. They are back shooting at the air sheds. Here is the latest on the film's production, and our speculation on the title reveal timeline as Episode IX speeds toward the conclusion of principal photography.
FILMING IS BACK AT CARDINGTON AIR SHEDS
Our friend Trevor Monk, who is an expert on the air sheds and lives in the area, has informed us that production for Episode IX is back at the Cardington Air Sheds, filming on location again inside Air Shed 2.
"Someone posted that horses were in stables outside Shed 2 last week and the week before. I just had confirmation Star Wars is in Shed 2 now. Filming what?? I have no idea but there is no external set so I doubt it is Yavin. Time will tell."
He goes on to say that the horses/stables is intriguing in that they match what was seen in the previously leaked photos. He confirms that those previously leaked photos are without a doubt from shooting at Ivinghoe Beacon, Buckinghamshire, about 45 minutes outside of Bedfordshire where the sheds are located.
In addition to furry horses, another furry familiar face may be back at this location for additional filming, as Trevor informed us that Joonas Suotamo, the actor who plays Chewbacca, was spotted in the area.
This brings us back to those images leaked by The Sun last August which pinned Finn, Poe, and Chewie, and other actors/extras at this location (which we now know is Ivinghoe Beacon) with those furry horse-like creatures. The trio are featured in the main image at the top of the article in the cockpit of the Millennium Falcon (the only official image released by J.J. Abrams to this point). So we know Poe is piloting the Falcon and (at the very least) the three of them likely travel to this planet/location in the fastest hunk of junk in the galaxy.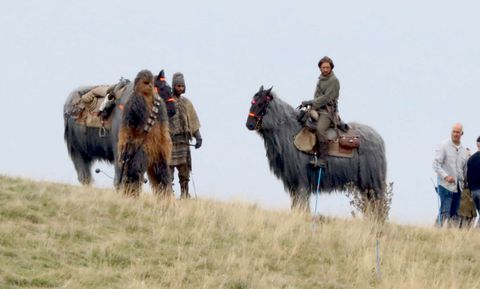 Now this is speculation but I wonder if Air Shed 2 is being used for a unique set for the planet they are on? We know the sheds have been used for city-scapes in other film productions, so anything is possible inside.
The horses are there once again, but there is no filming outside of the sheds as of now. We are in the process of trying to find out if the Millennium Falcon has been constructed inside the shed, but alas we were not able to obtain confirmations of that magnitude to this point. We tried, and are still trying!
You may recall Episode IX Second Unit Director Vic Mahoney tweeting from this area the day filming was officially announced. It is quite possible Mahoney is back on location at Cardington while Abrams completes first unit production back at Pinewood. There has been no evidence of Abrams being on location at Cardington either time, so it's quite likely all scenes from this location/planet in the film will have come from the direction of Vic Mahoney. Just a fun possible tidbit to keep in mind!
All the places in all the world and all the things to do — wouldn't want to be anywhere other than right here, doing anything other than this job, with this team. Xx pic.twitter.com/wU0s0Dx2TY

— Crown Vic (@VictoriaMahoney) July 31, 2018
WHEN WILL PRINCIPAL PHOTOGRAPHY  WRAP?
A separate source had previously told us that filming was continuing into this year, which turned out to be accurate. In addition to this he told us one Pinewood set has been scheduled for an additional two months after principal photography ends, for specific and planned reshoots.
I have checked back in with that source who has said all contractors are contacted when principal production ends, with him believing filming has about a month or so to go, saying:
 "End of February. I know gifts have started to go out. That's usually a sign it's a month away or so…as far as I know (it's end of February for principal photography to wrap). We normally get a thank you and an email to wrap up (obligations) when they shut down the sets."
Thank you @starwars for my winter warmer #maythefleecebewithyou #becurious https://t.co/BoPxJ7CjgW pic.twitter.com/nCTyTKjQLI

— Dominic Monaghan. (@DomsWildThings) January 12, 2019
The next official announcement from Disney/Lucasfilm and Abrams will likely be announcing that principal photography has ended, which if history is any indication, will be accompanied by the reveal of the film's title.
TITLE REVEAL EXPECTATIONS
Disney appears to like patterns for the most part. I was told there have been marketing shake ups between Disney and Lucasfilm, but until shown otherwise, I expect Episode IX to follow the path of The Force Awakens and The Last Jedi.
All Star Wars films under the Disney banner with the exception of Rogue One had their title revealed shortly after principal filming ended. Rogue One was announced before filming began, so we'll rule that out as an outlier. There is no guarantee when the title will be revealed of course, but if they wait until principal photography ends, and the information we have is accurate, we can be looking at an announcement of that kind in the next month.
How will it be announced? The Force Awakens was announced via a tweet by Disney, and The Last Jedi was announced on StarWars.com accompanied by simultaneous posts to their official social media pages like Facebook. So I am guessing they will do something similar to this, unless they change it up and do something a bit more special since this is the "last one."
This is a guess on my part, but I am pinning the title announcement for Episode IX towards the back end of February. Any way you slice it, it's coming soon and then we can all begin our wild speculation of what it tells us about the conclusion to the Skywalker saga. I could not be more excited as this is shaping up to be one of the most exciting year's in Star Wars history.
John Hoey is the Lead Editor and Senior Writer for Star Wars News Net and the host of The Resistance Broadcast podcast
"For my ally is the Force, and a powerful ally it is."