The Resistance Broadcast – Why Did the Jedi's Ability to Use the Force Diminish?
Watch or listen below! On this episode of The Resistance Broadcast we turn our attention to a pivotal moment in Star Wars, when the ability to use the Force diminished within the Jedi! We get into the varying reasons this happened, and what we each ultimately believe caused their downfall.
We also run through five topics in our segment WILL OF THE FORCE like – what did Kylo do with his blue lightsaber and WILL he ever use it again?
As always we end the show with your tweets in #ResistanceTransmissions! The Resistance base is now open, so come on in and join us!
Why Did the Jedi's Ability to Use the Force Diminish?
On this transmission of The Resistance Broadcast:
John Hoey, James Baney, and Lacey Gilleran!
The podcast is now watchable on video (CHECK IT OUT BELOW!), and make sure you are subscribed to our YouTube channel which is FREE!
If the audio version is your preferred method nothing has changed so no worries! You can always find us on Soundcloud, iTunes!, and Spotify! Now on to this episode!
THE WILL OF THE FORCE
We have gone over the rumors that IG-88 and Boskk may appear in The Mandalorian. So with that possibility, let's bring it back, Will Boba Fett return in The Mandalorian?

This one needs a bit of a set up. So the Darth Vader Marvel series has ended, flirting with some wild storytelling dealing with Sith resurrections and even a portal which was depicted as an out of body experience for Vader – which ambiguously showed him that Palpatine may have been the one to cause Anakin's creation. So the question here is: Will

Star Wars

story-tellers ever fully go there, that Palpatine was responsible for the creation of Anakin Skywalker?

Everyone is speculating on WHO Richard E. Grant may play in Episode IX, but nobody is speculating on what. So let's throw this out there, Will Richard E. Grant play a non-human in Episode IX, perhaps an alien or a droid?

****From our patron Ryan Sime and his son!****




"My son wants to know what did Kylo do with his blue lightsaber and WILL he ever use it again?"

Thanks to listener Sarah Sahim for this one, Will we get special editions of both the prequel trilogy and an updated version of the original trilogy to release alongside Episode IX?
DISCUSSION: Why Did The Jedi's Ability to Use the Force Diminish?
Towards the end of Attack of the Clones, Jedi Master Mace Windu suggests to Yoda that it might be time for them to admit their ability to use the force has diminished. What caused this? Was it the Sith? Palpatine alone? The Jedi losing their way? Multiple reasons? Let's talk about this pivotal moment in the franchise, the disconnect between the Jedi and the Force.
RESISTANCE TRANSMISSIONS!
We pitch a question to you, and you fire away! Did yours make it on the show?
Listen and find out, and follow us on Twitter @RBatSWNN!
Let's assume a Kenobi movie is made, and Qui-Gon randomly shows up to Obi-Wan for the first time since his death.

What is the first thing Kenobi says to his former master?

Be clever, be creative, the best ones will be read on the podcast! #StarWars #ResistanceTransmissions pic.twitter.com/7fwnq9hEu4

— The Resistance Broadcast | Star Wars News Net (@RBatSWNN) December 20, 2018
HOW TO SUPPORT THE PODCAST
Our podcast episodes are free as always but if you'd like access to more exclusive content and rewards and support the show and crew you can sign up for our Patreon page!
Starting with tiers as low as just 2 dollars a month, you gain access to all of our additional content, videos, commentaries, giveaways, polls, and a lot of fun daily rewards, perks, and other fun stuff! Simply click HERE and take a look at the options! We appreciate any and all support. Thank you!
BUY YOUR RESISTANCE BROADCAST MERCH!
Pick up some of our awesome designs on a shirt, coffee mug, tank top, sticker, hoodie, pillow, anything! Simply go to our Resistance Broadcast store on TeePublic – check out our 40+ different design and pick what you like, like our brand new aurubesh backed logo below! You can head right to the store by clicking on the image below! Thanks for the support and enjoy the swag!!!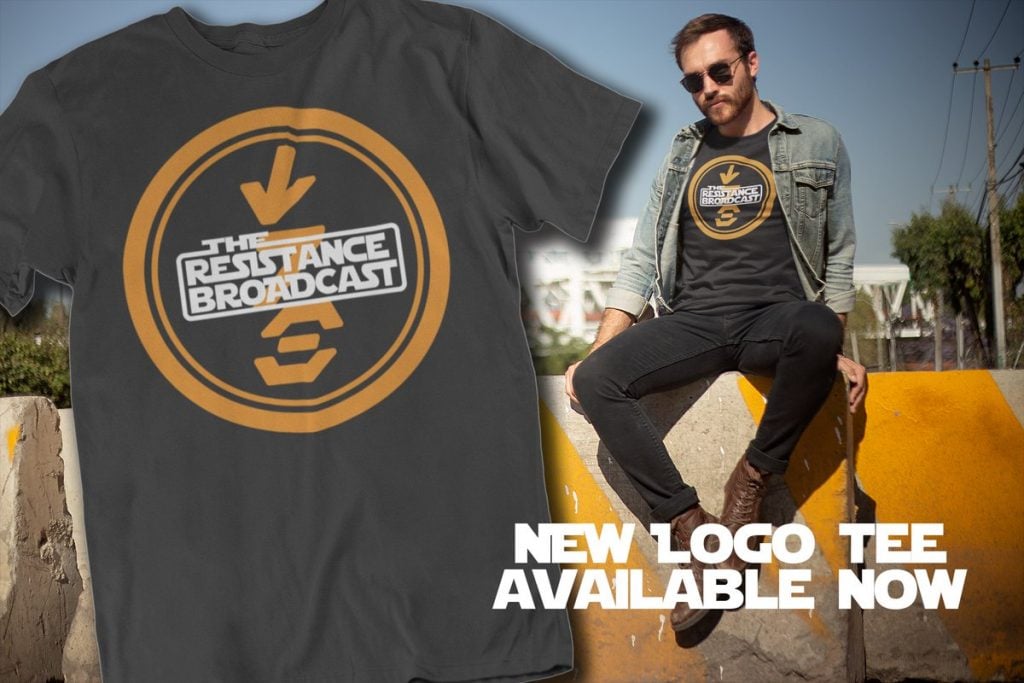 Special thanks to Matt Pasterick for our theme song!
John Hoey is the Lead Editor and Senior Writer for Star Wars News Net and the host of The Resistance Broadcast podcast
"For my ally is the Force, and a powerful ally it is."