The Resistance Broadcast – The 12 Worst Places to Be in Star Wars!
Watch or listen below! On this episode of The Resistance Broadcast we give our list of the 12 worst places to be in the Star Wars galaxy in our latest edition of The Kessel Run! We also run through five topics in our segment WILL OF THE FORCE like – Will Omid Abtahi play Amis in The Mandalorian? As always we end the show with your tweets in #ResistanceTransmissions! The Resistance base is now open, so come on in and join us!
The 12 Worst Places to Be in Star Wars!
On this transmission of The Resistance Broadcast:
John Hoey, James Baney, and Lacey Gilleran!
The podcast is now watchable on video (CHECK IT OUT BELOW!), and make sure you are subscribed to our YouTube channel which is FREE!
If the audio version is your preferred method nothing has changed so no worries! You can always find us on Soundcloud, iTunes!, and Spotify! Now on to this episode!
THE WILL OF THE FORCE
Will the Hutts return in Star Wars: Episode IX?

Among the cast announced for

The Mandalorian

, one of the lesser known names is Omid Abtahi. In writing up our report on this, I discovered Abtahi was actually the voice of Amis in

The Clone Wars

, the Mandalorian cadet who tried to save Satine. This doesn't mean he is definitely playing him in live action, but here we go, will Omid Abtahi play Amis in The Mandalorian?

Will Luke Skywalker have more than five minutes of on screen time in Episode IX?

Will Star Wars Resistance take on a more focused/serious tone as the series progresses?
Will the next theatrically released Star Wars film come out in December 2021?

BONUS GUESS: What WILL it be?
THE KESSEL RUN: The 12 Worst Places to Be in Star Wars
As kids and even today, we've all imagined being in the galaxy far, far away flying speeders and starships, visiting the cool planets, and interacting with all of our favorite characters and creatures….but….like any galaxy, there are some really bad places and situations to be in. So we are going to give our top 12 WORST places to be in Star Wars!
***Thank you to our old friend Pat Covey for this topic idea***
RESISTANCE TRANSMISSIONS!
We pitch a question to you, and you fire away! Did yours make it on the show?
Listen and find out, and follow us on Twitter @RBatSWNN!
It is time for #ResistanceTransmissions! In the spirit of the holidays, if you could give a gift to 1 of these 7 characters, who would you pick, what would you get them, and why? Best ones make it on the show! #StarWars

Leia
Han Solo
Yoda
Rey
Darth Vader
Obi-Wan Kenobi
Chewie pic.twitter.com/A3r2ftCapz

— The Resistance Broadcast | Star Wars News Net (@RBatSWNN) December 11, 2018
HOW TO SUPPORT THE PODCAST
Our podcast episodes are free as always but if you'd like access to more exclusive content and rewards and support the show and crew you can sign up for our Patreon page!
Starting with tiers as low as just 2 dollars a month, you gain access to all of our additional content, videos, commentaries, giveaways, polls, and a lot of fun daily rewards, perks, and other fun stuff! Simply click HERE and take a look at the options! We appreciate any and all support. Thank you!
BUY YOUR RESISTANCE BROADCAST MERCH!
Pick up some of our awesome designs on a shirt, coffee mug, tank top, sticker, hoodie, pillow, anything! Simply go to our Resistance Broadcast store on TeePublic – check out our 40+ different design and pick what you like, like our brand new aurubesh backed logo below! You can head right to the store by clicking on the image below! Thanks for the support and enjoy the swag!!!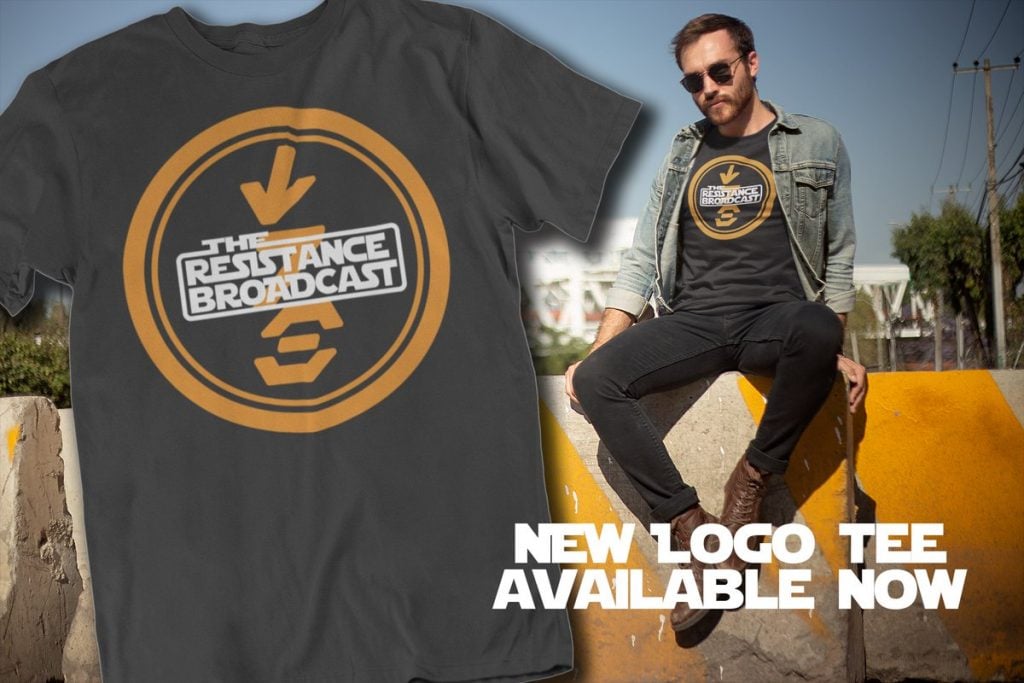 Special thanks to Matt Pasterick for our theme song!
John Hoey is the Lead Editor and Senior Writer for Star Wars News Net and the host of The Resistance Broadcast podcast
"For my ally is the Force, and a powerful ally it is."