Disney Reveals Stunning First Look at Star Wars: Galaxy's Edge Parks!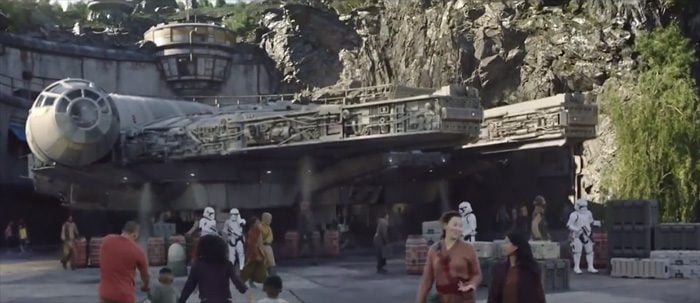 Star Wars: Galaxy's Edge is going to bring fans the most immersive Star Wars experience ever, and with it is going to come lines that will likely border on being unbearable for quite some time (but so, so worth it). So, as a Christmas gift to everyone, Lucasfilm and Disney Parks have revealed a glimpse at the park and two of its big attractions.
Revealed earlier today as part of the annual Disney Parks Magical Christmas Day Parade, ABC revealed a two-minute clip of what the park is going to look like when guests can visit it next year, either in Anaheim, California or Orlando, Florida. Included are close looks at Millennium Falcon: Smuggler's Run and Rise of the Resistance, the park's two big attractions. The first is a simulator where six people in the Millennium Falcon outmaneuver the First Order, and the second is a dark ride where a team of Resistance operatives infiltrate a First Order battleship to weaken it from within). You can view the announcement trailer below:
What's interesting here is that the video discusses how guests will feel very much a part of the Star Wars story that's being told at the park. It will be more than just a lobby for a few rides – it's going to be an experience. Perhaps more exciting than this news is the idea that Disney has plans to periodically update the park to introduce even more content in the years to come. This makes Star Tours look like child's play by comparison, and we can't wait to see where it goes.
Star Wars: Galaxy's Edge will be arriving in two parks in 2019 – opening in Summer at Disneyland and in Autumn at Disney World Hollywood Studios. A scaled-down version of the park will also be added to Disneyland Paris Resort a few years from now as part of that park's ongoing expansion.
Grant has been a fan of Star Wars for as long as he can remember, having seen every movie on the big screen. When he's not hard at work with his college studies, he keeps himself busy by reporting on all kinds of Star Wars news for SWNN and general movie news on the sister site, Movie News Net. He served as a frequent commentator on SWNN's The Resistance Broadcast.