So Long Princess: A Tribute to Carrie Fisher
Carrie Fisher passed away on December 27, 2016. This was my tribute to her.
Over the course of forty years, Carrie Fisher has brought Leia to life in the Star Wars saga. Her final performance will take place in The Last Jedi, book-ending her legacy as the mold-breaking, trend setting, badass Princess and General that stole our hearts, opened our minds, and sassed us with a tack-sharp wit, blending brilliance and candidness unique to Carrie and Carrie alone. There was no one like her, and there will never be another like her. This is my farewell to Carrie Fisher.
"I think I am Princess Leia and Princess Leia is me."
In The Force Awakens, Carrie Fisher returned to the character that had defined her career, and defined her to generations of fans, after thirty-two years. She seemed to have a certain level of peace with that. Instead of running away from it, she embraced it, and cherished it. She knew the responsibility and honor she had but also knew to never take it too seriously, always ready with a self-deprecating line to level out the discomfort of being considered a hero and an icon.
ROYALTY BECOMES ROYALTY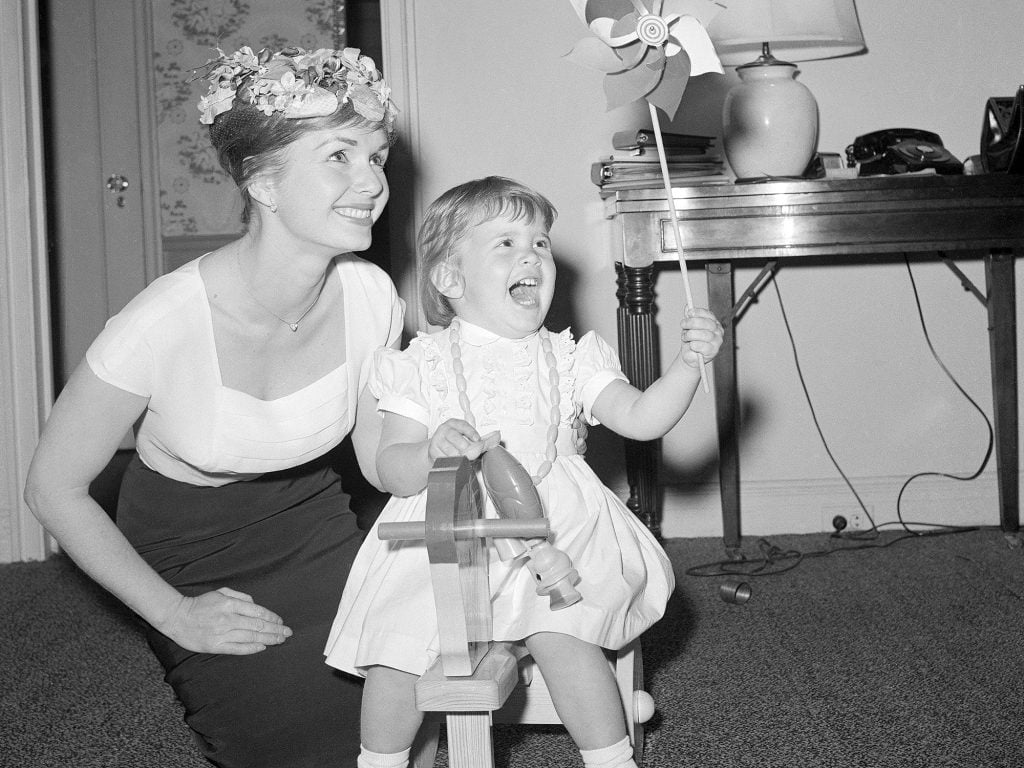 The daughter of actress Debbie Reynolds and singer Eddie Fisher, Carrie Fisher's pathway seemed inevitably paved before she took her first steps. Star Wars would become her first starring role, which she filmed at the age of 19, and little did she know it would stay with her until the end. There was no stepping stone, Carrie was catapulted into mega-stardom as Star Wars became the underdog film that changed movies forever, breaking box office records and instantly making Carrie Fisher a household name. She went on to star in two sequels, The Empire Strikes Back, and 1983's Return of the Jedi, completing George Lucas's trilogy.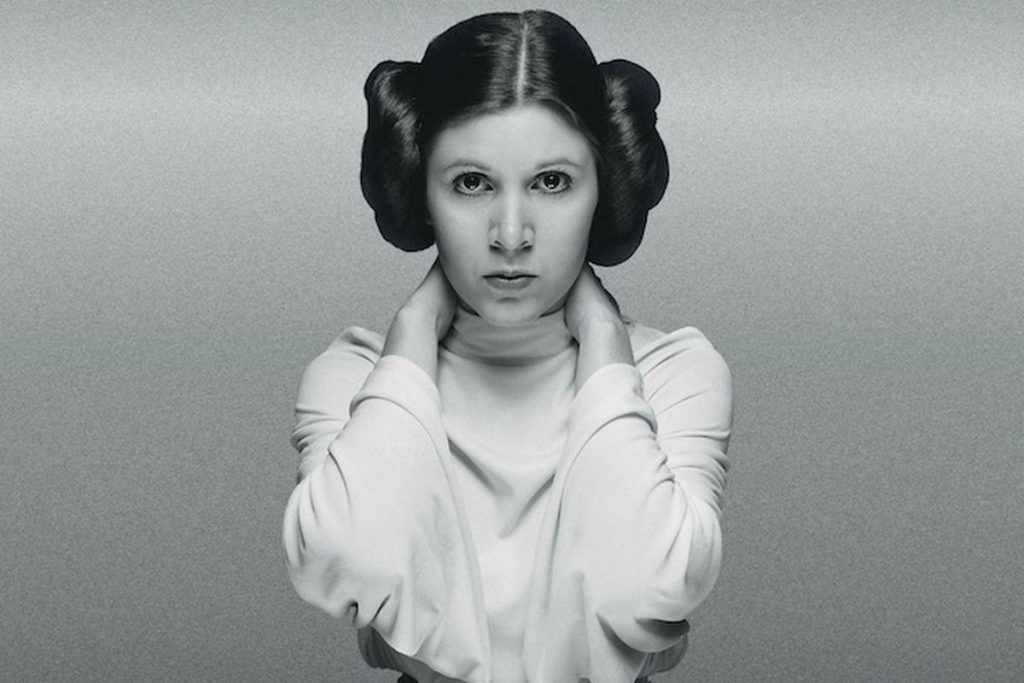 Carrie was only 26 years old, and Star Wars was over. At an age where many of us just start figuring things out, her spotlight was gone, everyone moved on, but Carrie Fisher was still here, whether we cared anymore or not. As her post-Star Wars life began to take shape throughout the 80's, it became clear that Carrie had issues that strayed from her iconic character.
CHAMPION FOR MENTAL HEALTH 
Diagnosed as a manic depressive, Carrie would deal with episodes of mania throughout her life, turning to drugs because they "made me feel normal." I only bring up this part of her life because of how she handled it publicly. Carrie made it okay for those with mental illnesses, like bipolar disorder (formerly known as manic depression), to not feel ashamed for their illnesses, but to speak about them, tackle them publicly, and know that it's not their fault. While this aspect of her life was never front and center due to the shadow cast by Leia, Carrie's approach to addressing her mental illness publicly is the most heroic thing she has ever done, on screen and off.
Carrie had a candid confidence with addressing her flaws, illness, and insecurities. It is an applied trait with so many compartmentalized layers, making her a spokesperson without sounding like a walking advertisement for pills. Her ability to break down such a complex, and for many an impossible to understand illness, gave those without her platform the green light to feel okay about addressing it themselves. If Princess Leia can not be okay and be okay with that, then so can everyone else.
"I am mentally ill. I can say that. I am not ashamed of that. I survived that, I'm still surviving it, but bring it on. Better me than you."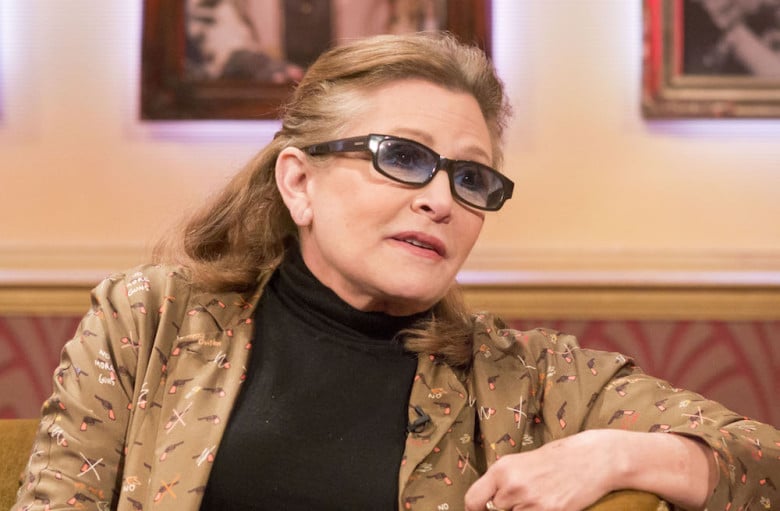 Carrie also realized the importance of not only acknowledging her illness publicly, but she was a champion for seeking professional, clinical, and medicinal help. Most of the time it doesn't have physical symptoms, which is perhaps why it is often so overlooked, and perhaps Carrie knew that and had a fearlessness to tackle it by taking advantage of her public platform.
"Without medication I would not be able to function in this world. Medication has made me a good mother, a good friend, a good daughter."
According to the World Health Organization (WHO), one in four people in the world will be affected by mental or neurological disorders at some point in their lives. Around 450 million people currently suffer from such conditions, placing mental disorders among the leading causes of ill-health and disability worldwide.
As someone who has known family and friends who have struggled with it, I will never forget Carrie's contributions to addressing mental illness, a growing problem in the world today. We all know someone who suffers with some form of mental illness, and Carrie stared it in the face and made it okay for millions to address their own, and for that she'll forever be a hero.
THE FUNNY SIDE OF FISHER
"If my life wasn't funny it would just be true, and that, is unacceptable."
Carrie was also known for her brilliant sense of humor, which she often applied in her writing, but also in now famous (sometimes infamous) off the cuff quotes captured in interviews, panels, or conversations. One of the best examples of this would be when she found out Harrison Ford crash landed his plane a few years ago. She brought back an old ongoing inside joke between them in the most perfect way possible, that only she could pull off.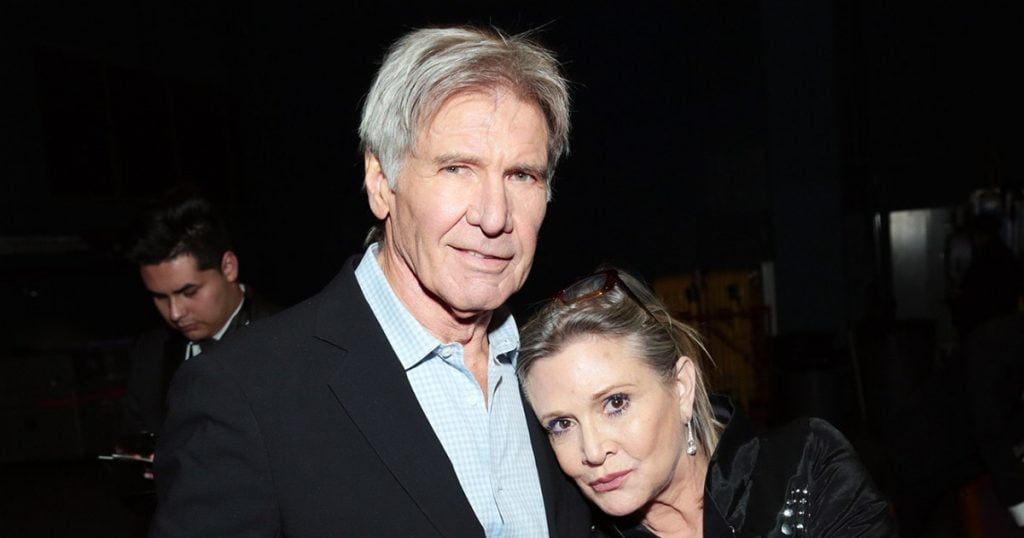 "(One time) he said, 'Look, do you want to fly or can we have a beer?' He wouldn't have a drink if we were going to fly. It became something of a joke between us that I chose to have a beer that time rather than fly. I sent him some beers to the hospital with the message, 'You should have had a beer this time'."
It seems like every person who met and worked with Carrie has a funny anecdote about her. Her funniest moment perhaps being her roast of George Lucas himself for his AFI Lifetime Achievement Award:
Carrie brought the house down with this lighthearted roast of George Lucas. She always seemed to have a way about her, the ability to remove the stuffiness from any situation, and bring people back down to Earth, in endearing fashion. Carrie Fisher, from all of her public appearances alone, seemed really well adapted on how to read a room, and control it, not in a controlling manner, but by bringing people together, most of the time through laughter and vacuuming out the seriousness of it all.
"She was OUR Princess, damn it, and the actress who played her blurred into one gorgeous, fiercely independent and ferociously funny, take-charge woman who took our collective breath away." – Mark Hamill
RETURN TO THE GALAXY FAR, FAR AWAY
In 2012, George Lucas sold Lucasfilm to Disney, and it was announced that the Star Wars saga would continue with Episode VII. Rumors immediately began to swirl that the old gang was getting back together. Carrie who hadn't played Leia in almost thirty years would make her return to the franchise in 2015's The Force Awakens, along with her long time co-stars Mark Hamill and Harrison Ford. The movie garnered excellent reviews and was loved by audiences alike, becoming the highest grossing film ever in North America, and second all-time internationally.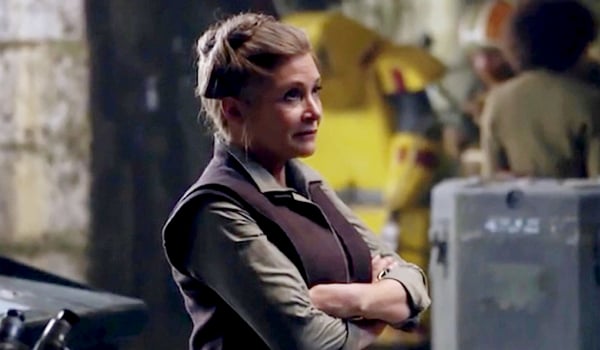 In December of 2016, Carrie would suffer a massive heart attack aboard a flight home from England. She passed away days later. She unknowingly gave her final performance in the upcoming latest entry in the Star Wars saga, The Last Jedi. Her work on the film was completed, and according to the cast and crew, she went out on top, giving what is expected to be an outstanding final farewell as Leia. Carrie didn't leave on her terms, but we also know she never left anything on the table. Being Leia meant a great deal to Carrie, and this was evident through the production of The Last Jedi, as Rian Johnson has stated he would even go to her house to discuss the film's script together. Carrie wasn't mailing in these recent performances for a paycheck, she was fully cognizant of how much it meant to the fans who watched her grow up, and I think coming back meant a lot to her too, after she witnessed the reaction to her work in The Force Awakens and the adoration from fans at Star Wars Celebrations and other events.
One of our writers, Grant Davis, offered his story from when he met Carrie at Star Wars Celebration 2015:
I got to meet Carrie Fisher and Mark Hamill for a photo that I took with my Dad. There's an old quote from Maya Angelou that goes along the lines of "When someone shows you who they are, believe them the first time." Carrie had a special kind of elegance to herself. It almost felt like she was your cool great-Aunt you never knew you had. She was incredibly friendly, and she told me to give her a big fat hug below her chin, so I did, and she reached up to give my arm a hug. She told me how special Gary (her dog) was to her. The experience was not only surreal, but also heartwarming. I feel like, even for those few moments, she showed me who she was – and I still believe her. It's a memory I'll always cherish. Thank you so much, Carrie. You'll always be royalty.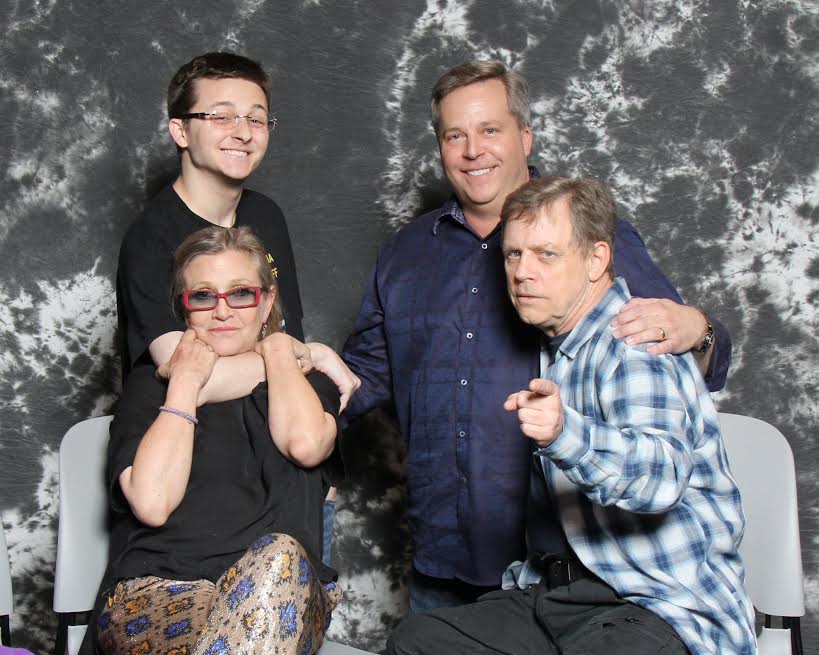 Carrie didn't get a chance to say goodbye, but she certainly got to see how much we all loved her in the end. Her final scene in The Last Jedi will be the last time we ever see her as Princess Leia, and we will all accept that, knowing she did it with nothing less than her full heart.
(Update: Since this tribute was written we learned Carrie would grace us once more in Episode IX using previously unused footage from The Force Awakens and The Last Jedi).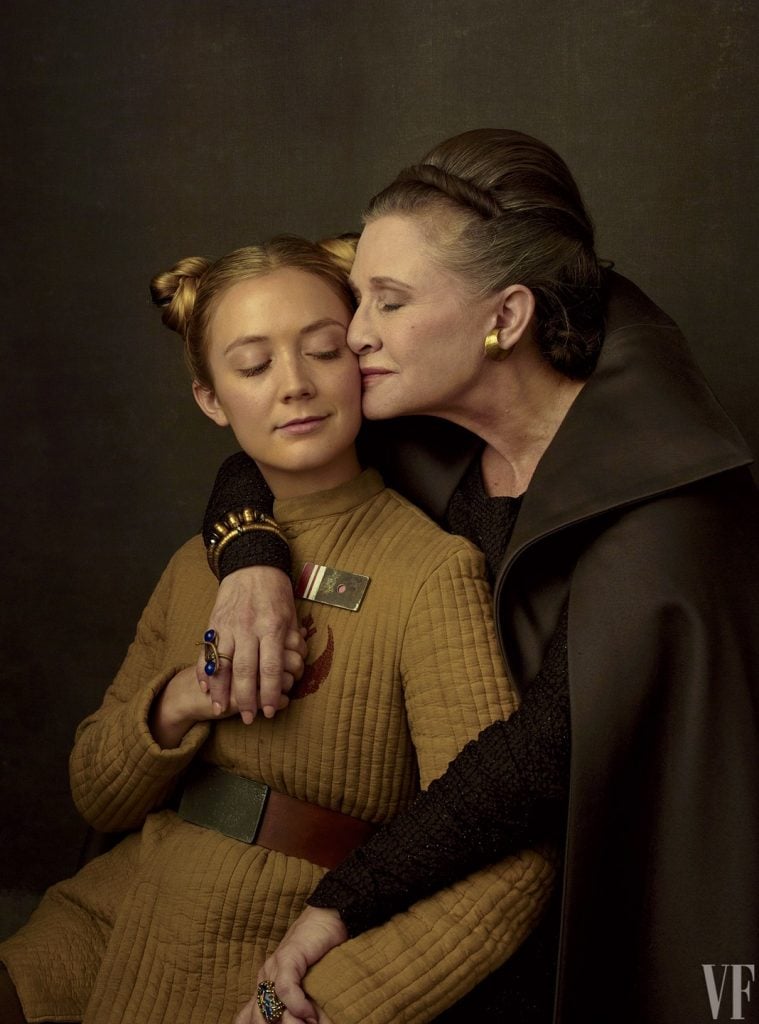 SO LONG, PRINCESS
George Lucas created Princess Leia, a fearless warrior bucking the trends of the damsel in distress, way ahead of its time. Carrie's personality brought that creation to life, injecting her sharp sense of humor and fierceness into every scene from the first movie onward:
"She wore a dress through the whole thing, but she was the toughest one in the group," the creator of the "Star Wars" franchise said. "At the same time she was fun to be with. She'll always be the princess who took command and never backed down, never was in jeopardy. We'll all love her forever and ever."

– George Lucas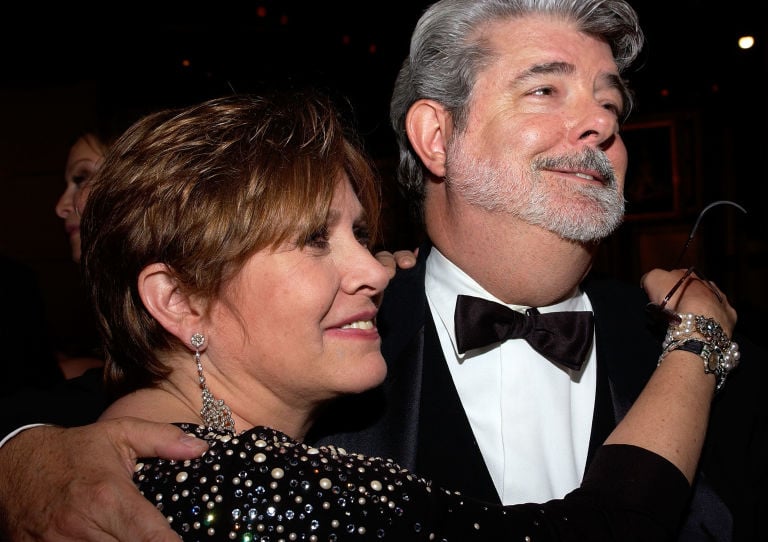 Carrie Fisher was as flawed a person as any, but she put herself out there proudly, making it okay for everyone who wasn't okay to have the confidence and comfort to do the same. She pushed a message to "go for it", and figure out the rest later. Don't let the unknown or the fear of failure stop you.
"Stay afraid, but do it anyway. What's important is the action. You don't to have to wait to be confident. Just do it and eventually the confidence will follow."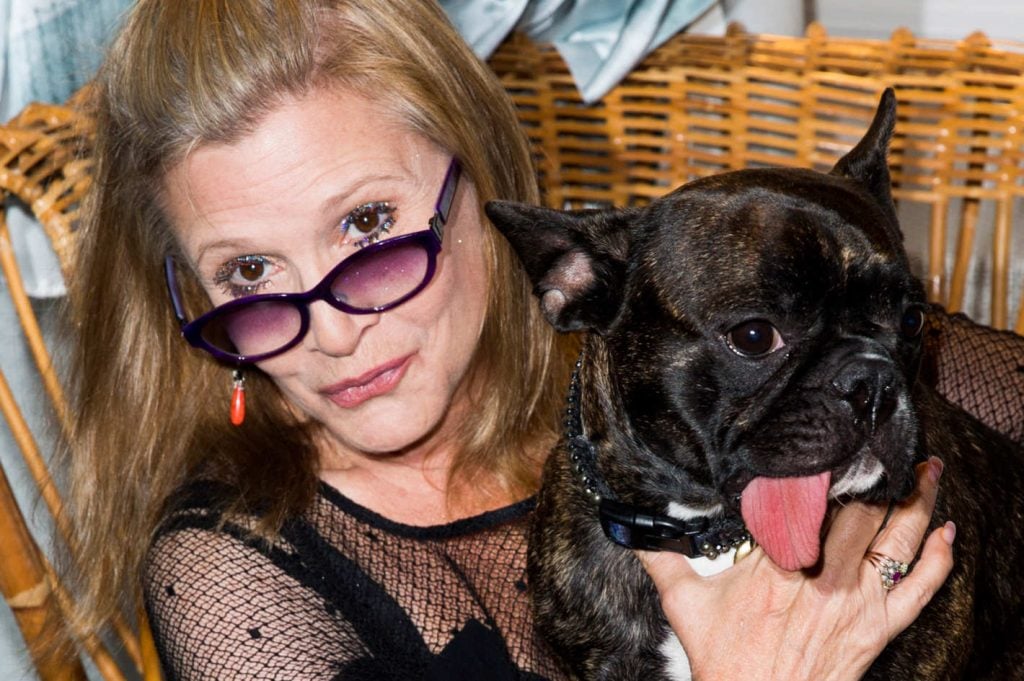 A Rebel, a badass, who did things her way without flinching, who always got up when she got knocked down, wasn't afraid to reveal her flaws and illness if it meant it gave others the confidence to do the same. As we remember her though, we should do it the way that she would want everyone to remember her, as Mark Hamill imagined it:
"We should picture her looking down from the stars…and extending her middle finger."
At least she knew we loved her, thanks for everything your highnessness…so long Princess.
"For my ally is Carrie Fisher, and a powerful ally she is."
John Hoey is the Lead Editor and Senior Writer for Star Wars News Net and the host of The Resistance Broadcast podcast
"For my ally is the Force, and a powerful ally it is."