Review – Star Wars Icons: Han Solo by Gina McIntyre Is One of A Kind
As excited as I get when a new novel or comic series is announced, I get equally excited when a new behind-the-scenes book is announced. When I got wind of Star Wars Icons: Han Solo by Gina McIntyre I was intrigued at the idea of tracing back the legacy of not only the character's experiences but also the work that went into creating that character. From George Lucas first sitting down to write The Star Wars to Lawrence Kasdan and J.J. Abrams penning that fateful moment in The Force Awakens – everything is here in this book. Author Gina McIntyre has given us the story of nearly everyone who had a hand in shaping the Han Solo we know and love. Whether you fancy yourself a steadfast guardian of the Legends material, someone who stood in line in 1977, or have just arrived in Star Wars fandom – this book has something for you and the wealth of material in here is staggering. Insight Editions and Gina McIntyre spared nothing and this is the essential book for Han Solo fans and I imagine you'd be hard pressed to find a Star Wars fan it didn't impress.
The first thing you'll notice about Star Wars Icons: Han Solo is that it's big. At a $50.00 price point, the size and weight of this book will make you optimistic that you got your money's worth as soon as it's in your hands. It is an opulent piece of publishing, with an elegant dust jacket that compliments the collection of film and art cells that decorate the cover, the folks at Inside Editions know that we Star Wars fans like our bookshelves to look good. I guarantee that this is one of the most aesthetically pleasing books you will add to your collection, and that's just the cover. Wait until you turn the first page!
This book is layered with art and photos to compliment McIntyre's comprehensive research of everything that went into the conception of Han Solo. Many of the features in this book either fold-out, peel-back, or supplement what's already on the pages. Not every page has this feature and it's used effectively when done. Sometimes pop-up elements can be distracting or superfluous, but not in Icons. There's even an envelope attached to the back cover in case you find the pop-up materials distracting, you can remove them and place them there for safe keeping. They peel away easily, but I really didn't find them bothersome and often felt they contributed more to the book. It was nice of the publishers to include the envelope, but I don't think you'll need it.
Icons goes all the way back to the beginning, May 1974, when George Lucas penned his first draft of what would eventually become Star Wars. Han Solo, the green-skinned Jedi Master who would assist Kane and Annikin Starkiller in freeing his homeworld of Aquilae. My, how things changed and Pablo Hidalgo speculates that George originally just used the name "Han Solo" as a placeholder of sorts in the first draft. Although the characteristics of the first-draft version compared with the Solo we know today are scarce, the spirit of Han and what will become Star Wars is all found on those pages. Hidalgo even notes that Annikin Starkiller is very similar to the Han we know today, so I wonder if George felt like that dimension of Annikin actually warranted their own manifestation. This first chapter is rich in production art and designs from Ralph McQuarrie and John Barry. It's a great start to Icons, introducing not only the inception of the character but also the universe Han Solo would exist in. I can never get enough of these stories about George piecing together Star Wars from all his various inspirations.
McIntyre also goes into great detail about how Harrison Ford was a longshot to fill the cockpit of the Millennium Falcon. When George started pre-production of Star Wars, he really didn't want to use any actors from his recent success, American Graffiti, so Ford having portrayed drag-racer Bob Falfa in that film actually worked against him. Another thing that I wasn't aware of is that the tension between Han and Leia was added mostly from uncredited rewrites and polishes by the late Gloria Katz and Willard Huyck. There is no skimping on the journey from the massive casting call Harrison Ford participated in as a simple stand-in actor during the audition process (he just happened to be doing carpentry work at the same studio office) to the moment when the camera starts rolling. There are a ton of costume design sketches, prop photos, and other notes that were poured into Han Solo. None of it casts any doubt on the fact that Harrison's performance of Han Solo wouldn't have gone off without the work of many talented people. And, yes, the age-old "Who shot first?" debate is addressed and the actor who portrayed Greedo weighs in on the matter.
After the success of Star Wars, it was clear that fans responded to it as "Luke's story", but Hamill himself even says that when he first read the script he wished he'd been cast as Han. The cool, cocky attitude served as a counterbalance to Luke's farmboy-out-of-Kansas archetype, but also served as someone to challenge a more confident and assured Leia. Han Solo was here to stay, but when George went back to the drawing board for a sequel, he needed something to continually challenge the rogue scoundrel. McIntyre details a few elaborate ideas Lucas had while he plotted out the first script with late screenwriter and author Leigh Brackett. Originally, a great deal of The Empire Strikes Back would have seen Han and Chewie on their own mission to reach out to a father-figure from Han's past who had the power to "halt all commerce in the galaxy" and put a stranglehold on the Empire's resources. Also, they wanted to pile on the love triangle between Han, Luke, and Leia – hence the Hoth sibling mouth kiss that launched a thousand Star Destroyers in fan's minds once the Return of the Jedi revelation played out. Brackett's draft didn't meet George's expectations, but sadly the writer was diagnosed with cancer and passed away before she could revise the draft, so George brought in a screenwriter named who'd caught his eye with a romantic-comedy called Continental Divide, Lawrence Kasdan.
By now, Kasdan has been very vocal about Han being his favorite character, but one thing I enjoyed reading from McIntyre's research was the focus Kasdan had on Han's role in maintaining the bond between Leia, Luke, and Han. At this point, Solo was beginning to realize he was an essential part of something bigger than himself, whether he liked it or not. The Empire Strikes Back director Irvin Kirschner opted to focus on the vulnerabilities of each character, especially Han and Leia, which to me shows the huge difference between the tone of A New Hope and the much darker The Empire Strikes Back. Harrison Ford also brought a lot of improvisation to his performance, with the infamous "I know" response being his conception entirely. Harrison thought any romantic sentiments in his potential last moments would have taken away the element of "badass" from Han, which I'm not sure I agree with, but for an intangible reason, that line works better than anything I could come up with. One thing everyone was nervous about was the end of the film, where Han was frozen and shipped off to Jabba the Hutt, but critics and audiences loved Harrison Ford's portrayal of Han Solo in the second film, and McIntyre establishes that Han Solo was here to stay as far as Star Wars fans were concerned.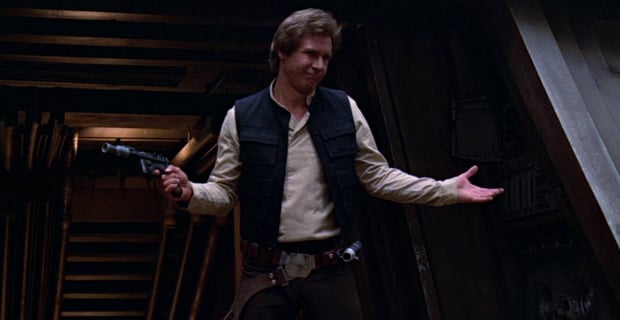 As foregone a conclusion as Harrison Ford's return in the conclusion of the trilogy might have seemed, it was anything but. The choppy waters of navigating contracts, Ford's wishes to end Solo's life in the conclusion, and the resolution of the smuggler to settle down to a life with Leia are all fleshed out by McIntyre. Harrison Ford was very invested in the character and wanted to make sure his story ended on something he felt would be true to Han Solo. The emphasis on collaboration is something McIntyre does a remarkable job detailing. It would be easy to get lost in all of the minutiae of this, but she guides the reader through Return of the Jedi, again assisted by some detailed call sheets, script pages, photos, and sketches.
What is sure to be a very welcome surprise to many fans is the amount of research McIntyre put into the Legends material that featured Han Solo. Twenty-four pages of this book are dedicated strictly to detailing the many adventures Han had off-screen. Whether that's the old Brian Daley novels, the early Marvel issues, the Thrawn trilogy, or the Dark Horse comics…it's all here.  All of it.  This should slam the door pretty hard on anti-Disney fans who often accuse Lucasfilm of trying to torch Legends because McIntyre spends much more time discussing those comics and novels now considered Legends than the rebooted canon. This was my favorite chapter of the book and it was done with so much respect to the older works. There are beautiful Drew Struzan prints from novels like The Courtship of Princess Leia and many others, as well as reprinted strips from the old newspaper comics, and great interviews with many of the authors. This chapter almost felt like a love-letter to Legends fans and I really hope word gets out that this chapter paid Legends it's due respect. McIntyre also devotes many words in this chapter to discuss the impact a certain character's death in the novel Vector Prime and how that affected subsequent novels of the Extended Universe. Again, this chapter was a welcome surprise and brought back many memories of my younger days when fans were in the wilderness between trilogies.
There's also a great chapter titled "The Han Solo Effect" where McIntyre examines the ripples Han Solo's swagger and attitude has made across cinema and television since 1977. From Big Trouble In Little China to Thor: Ragnarok, McIntyre makes some great arguments for Han's charm trickling down through the words and images of creators who no doubt sat in a dark theater in 1977 and cheered on the Millennium Falcon. Some of those connections may surprise you, some you may disagree with, but each one McIntyre takes a deep dive as to why they are featured.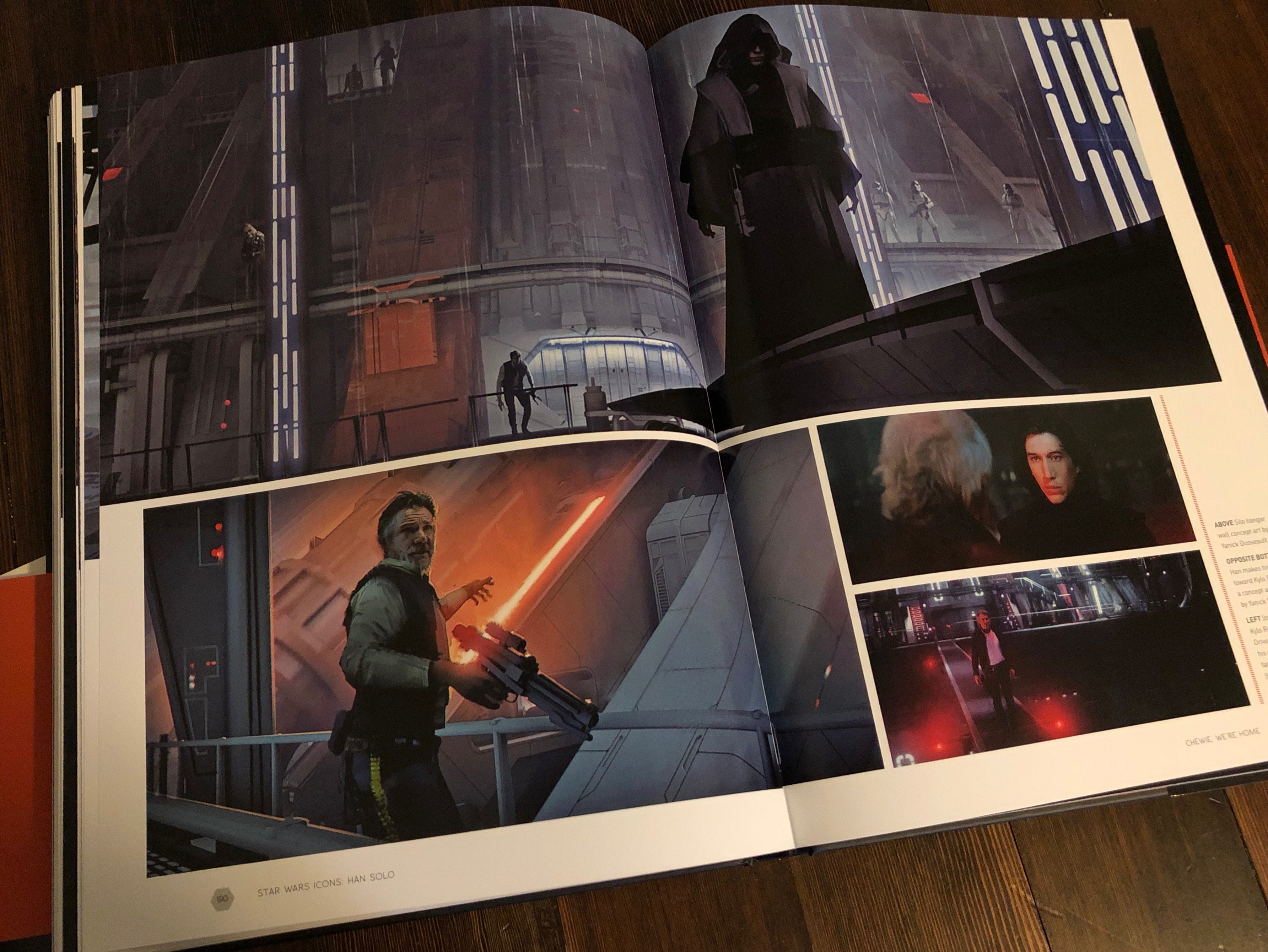 By the time we get to 2013-2015, it seems like it was inevitable for Harrison Ford to take up that blaster and sit in that cockpit, at least one more time. It was never a sure thing, but Lawrence Kasdan and J.J. Abrams were able to present a version of the character that was true to the person Harrison Ford knew. The tragedy and failures that plagued Han between Return of the Jedi and The Force Awakens were easily imagined by Kasdan because the time gap between films was something he'd lived – a thirty-five-year-old grows into a seventy-year-old. Kasdan reflects on how much people change but often still make the same mistakes, and this was his approach to writing a much older Han. Because of The Art of The Force Awakens and Blu-Ray bonus features, there wasn't a ton of new information in this chapter, but one thing I didn't know was that Harrison and Adam Driver had no discussion about how they would approach THAT scene; also, Han touching Kylo Ren's face before he falls was entirely improvised by Harrison, Adam didn't know that was coming, and J.J. initially didn't want it. I can hardly think of a more fitting salute from Ford to both the character, fans of the character, and whatever legacy Han Solo left behind in a galaxy far, far away than that last moment between father and son. Hard to imagine that moment potentially didn't make it into the film.
The last two chapters get into the current state of Han Solo. For us comic fans, we can look forward to a new story featuring Han Solo at least once a month in the titular Star Wars Marvel series (and currently the Solo: A Star Wars Story adaptation and Han Solo – Imperial Cadet). McIntyre doesn't skimp on going over where Han is in the canon and she also devotes a great number of pages to my favorite Han Solo story, Ron Howard's film Solo: A Star Wars Story. Lawrence Kasdan is the star of that chapter and you can tell from the quotes how long he'd been waiting to tell a story about the early days of his favorite character. From quotes by Kasdan and his son (who shared co-writing duties) they took much inspiration from Bruce Springsteen's memoir Born to Run and wanted to tell a story that would make that last moment in front of Kylo Ren "seem inevitable". Alden Ehrenreich talks about the conversation he had with Han Solo and how he'll never reveal what the actor told him but stands by Ford's official declaration that the veteran actor told him nothing. It's a fitting end to the journey a reader takes through Icons but it's bittersweet.
I say bittersweet because after reading Icons I believe firmly there was a plan to continue the Solo: A Star Wars Story Han Solo stories. Actually, there's not a doubt in my mind and I really hope the powers-that-be can look past a pile of box office receipts and accept that this is a character who fans want more of. Take me, for example. Eye-rolling is an expression I'd use lightly when describing my first reaction to hearing the Han Solo film announcement. The eyes rolled, even more, when a Han Solo short-run comic was announced by Marvel. That all changed once I saw Solo, read Mur Lafferty's excellent novelization, and now having read Gina McIntyre's Icons because the character is more than just a blaster, a fast ship, and a cocky swagger. The grin is a facade to a very vulnerable, good-natured, misunderstood person who stands up for what is right and has the strength to sacrifice himself for the greater good. Han's no saint, not even close, but he has never been anything short of a hero. His flaws and imperfections are a mirror to all of us in the world who hope to do better, as well as tell our children that it's not important to be perfect, but it is always important to be – and do – good.
If you can't tell by now, I was very impressed with Star Wars Icons: Han Solo. Gina McIntyre has put something for everyone in this book. There's a lot of stuff I didn't even mention in there about Chewbacca, the conception of the Millennium Falcon, Lando Calrissian, and great set stories about Harrison Ford (he's a joker). Not only is it very satisfying between McIntyre's exhaustive research and thoughtful writing, but the layout of this book is beautiful. I've had it for just over a week and I still pick it up and gush over the pages. I know the $50.00 (UPDATE: It's currently available for $40 at Sideshow Collectibles) price tag is up there and I imagine that will be the only thing making fans hesitant to open their wallets because that's a lot of money for most of us to drop on a book. If you do drop that bill on it, I can almost guarantee that you won't be let down. It's not cheap and it shouldn't be, because there is a ton of content in there that make every penny worth it. Whether or not you want to spend that money should be the only question, because the quality is first-class.
I highly recommend this book to all Star Wars fans. I don't say that there's something for everybody in here lightly. There really is. As far as I can tell, this is Gina McIntyre's first work in the world of Star Wars and I certainly hope it's not her last. This is right up there with the best of Star Wars books that not only share the stories of the universe we love so much, also the hard work and love that went into making them. Star Wars Icons: Han Solo belongs on your shelf and I hope you'll put it there. Fifty-dollars? Never tell me the odds!
RATING: 9/10
Star Wars Icons: Han Solo will be released April 2, 2019, but it is exclusively available NOW at Sideshow Collectibles for $40! Also available for pre-order at Amazon and Barnes & Noble. Special thank you to Insight Editions for the advanced copy used in this review!
Kyle Larson lives in Portland, Oregon. When he's not running trails, he's reading and writing.