Joe Russo: 'The Mandalorian' is Unlike Any TV Show You've Seen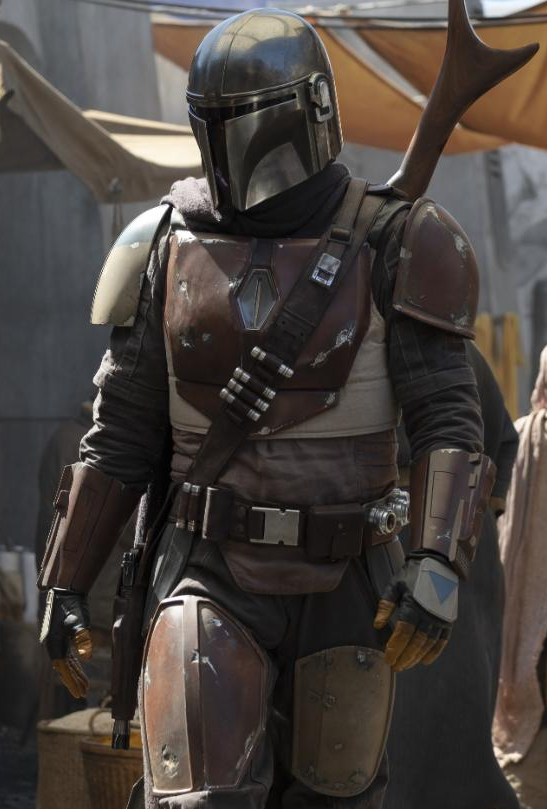 Not that long ago, several Marvel Studios directors had a reunion when Joe Russo visited the set of The Mandalorian alongside his brother Anthony and Peyton Reed, as the three of them met with Marvel alumni and with Mandalorian creative leaders Jon Favreau and Taika Waititi. After seeing how Favreau and his team were approaching the show, Russo explained that he thinks that the Disney+ show is going to blow everyone's mind when it arrives next year and that it's going to be unlike any television series that you've ever seen.
Aside from one glimpse of a striking armored figure, we haven't seen much else of The Mandalorian. The upcoming Disney+ streaming series announced a slew of directors, touted Pedro Pascal (Game of Thrones, Narcos) as a lead and is being helmed by Solo's Rio Durant himself, actor and director Jon Favreau – but what is it about? Don't expect the tight lipped Russo Brothers to answer that question for you. Marvel directors have a thing for knowing how to not spill secrets, even in a little get-together image like the one that they just posted.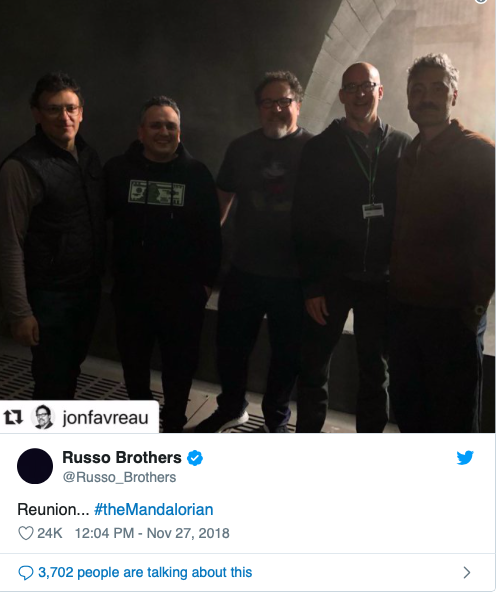 So, naturally, this little image led to a few questions down the line after a recent event. While talking to Collider after a screening of Avengers: Infinity War (rumored to be the last hurrah just before the marketing campaign on Avengers 4 begins next week), the younger Russo brother explained that the approach he saw Favreau take for The Mandalorian was something that left him impressed. Russo explicitly noted that that the technology being used on the show is way more advanced than what was used on the average show:
"It's amazing. We went down there to say hi to Jon. Taika was directing an episode, so we went to hang out with them. Jon is always at the forefront of cutting edge tech, and he is shooting this in a way that no one has ever shot anything ever before. It's pretty astounding."
The writer of the Collider piece also hinted that the cinematographer for the series (who has not yet been revealed) is a big name and someone whose work will help set The Mandalorian apart from other shows on a visual level. Favreau, to his credit, has been blurring the lines between CG and live action with both The Jungle Book and this summer's highly anticipated The Lion King. Could The Mandalorian follow suit with photorealistic settings, characters, and cantina aliens? It certainly sounds as if our first live action Star Wars show could have its own unique look akin to that of Resistance and The Clone Wars.
Naturally, the conversation shifted over to the question if Russo would team up with his older brother to do a Star Wars movie. He said that it wasn't on the cards right now with all the work that still needs to be done on Avengers 4, but he definitely didn't rule it out for a later point in time:
"We grew up on Star Wars like everyone else did. I went to the theater when I was 11 years old to see Empire Strikes Back and sat in the theater from 11:30 in the morning until 10:00 at night and watched it back to back to back. So it was a huge influence on us growing up. Of course we'd love to work, at some point, in the Star Wars universe, but right now our heads are in the middle of another movie."
As of right now, the Russos have their hands full with developing other shows and movies. But the door is open, and the movie series that are being developed aren't going to direct themselves.
The Russos, who cut their teeth on television shows like Community, would be no stranger to working in serialized storytelling if they were to return to their roots. It remains to be seen if they'll wind up playing in the Star Wars sandbox, but Disney seems very pleased with their successes in the MCU. Only time will tell if they decide to trade in shields and Asgardians for lightsabers and rancors.
Under the twin suns of Los Angeles, Chris continues to mourn the loss of Admiral Ackbar while championing the rights of Ewoks everywhere. Follow him on Twitter and Instagram @Chri5Manning for all your pun needs.