The Resistance Broadcast – The 12 Funniest Moments in Star Wars!
Happy Thanksgiving! Watch or listen below! On this episode of The Resistance Broadcast we give you our list of the 12 funniest moments in Star Wars in our segment called THE KESSEL RUN!
We also run through six topics in our segment WILL OF THE FORCE like – Assuming General Hux will die, will it be the Resistance (or someone in the Resistance) or Kylo Ren who kills him?
As always we end the show with your tweets in #ResistanceTransmissions! The Resistance base is now open, so come on in and join us!
THE 12 FUNNIEST MOMENTS IN STAR WARS!
On this transmission of The Resistance Broadcast:
John Hoey , James Baney, and Lacey Gilleran!
The podcast is now watchable on video (CHECK IT OUT BELOW!), and make sure you are subscribed to our YouTube channel which is FREE!
If the audio version is your preferred method nothing has changed so no worries! You can always find us on Soundcloud, iTunes!, and Spotify! Now on to this episode!
THE WILL OF THE FORCE
Will Lando Calrissian pilot the Millennium Falcon at any point in Episode IX?

Assuming General Hux will die, will it be the Resistance (or someone in the Resistance) or Kylo Ren who kills him?

Will

The Mandalorian

incorporate any familiar specific characters into the series? (so not strormtroopers or other generic things)

Depending on how you answered that will dictate this one, Will Gina Carano play Sabine Wren in The Mandalorian?!?!?

Will an Obi-Wan Kenobi series be made instead of a theatrical film?
Deviating here because it's Thanksgiving, so instead of WILL, WHAT are you thankful for in regards to Star Wars?
KESSEL RUN: The 12 Funniest Moments in Star Wars!
It is time for the Kessel Run where we collectively rundown 12 items about a specific topic in Star Wars and this week, we'll be talking about the funniest moments of all time in a galaxy far, far away (in our opinion of course). So we each have brought four moments to put the list together, and then we want to hear from you guys in the comments on what you think of our Kessel Run list and what YOUR funniest moments are!
RESISTANCE TRANSMISSIONS!
We pitch a question to you, and you fire away! Did yours make it on the show?
Listen and find out, and follow us on Twitter @RBatSWNN!
Since they parted at the end of Episode III, Bail Organa and Obi-Wan Kenobi certainly aged…..differently. If Kenobi made it to Alderaan in A New Hope, what would Bail Organa have said when he first saw him? #ResistanceTransmissions

Best tweets get on the show! Make them good! pic.twitter.com/5ICra4PHMd

— The Resistance Broadcast | Star Wars News Net (@RBatSWNN) November 13, 2018
PATREON!
Our podcast is free as always but if you'd like access to more exclusive content and rewards you can sign up for our Patreon page!
Starting with tiers as low as just two dollars a month, you gain access to all of our additional content, videos, commentaries, giveaways, polls, and a lot of fun daily rewards, perks, and other fun stuff! Simply click HERE and take a look at the options! We appreciate any and all support. Thank you!
BUY YOUR RESISTANCE BROADCAST MERCH!
The only way to support our ability to give you two free weekly episodes is by buying some of our awesome designs on a shirt, coffee mug, tank top, sticker, hoodie, pillow, anything! Simply go to our Resistance Broadcast store on TeePublic – check out our 30+ different design and pick what you like.
We created the hashtag #MakeSolo2Happen! Join the campaign! Grab yours on sale HERE – let's make it happen!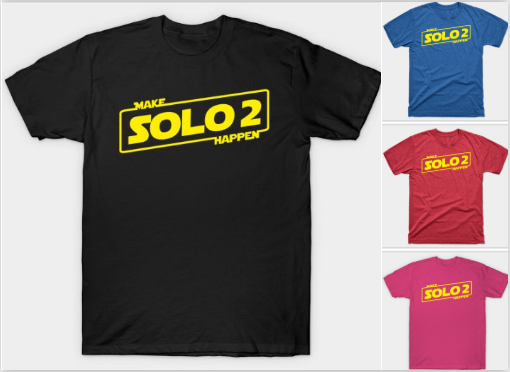 Special thanks to Matt Pasterick for our theme song!
John Hoey is the Lead Editor and Senior Writer for Star Wars News Net and the host of The Resistance Broadcast podcast
"For my ally is the Force, and a powerful ally it is."