The Resistance Broadcast – Star Wars: Episode IX First Teaser Predictions
On this episode of The Resistance Broadcast we give our predictions for the first Star Wars: Episode IX teaser: what we think we'll see, who will appear, who we'll hear, what will happen, all of it!
We also run through five topics in our segment WILL OF THE FORCE like – Will resurrection ever be used in a major future Star Wars release??
As always we end the show with your tweets in #ResistanceTransmissions! The Resistance base is now open, so come on in and join us!
Star Wars: Episode IX First Teaser Predictions!
On this transmission of The Resistance Broadcast:
John Hoey , James Baney, and Lacey Gilleran!
The podcast is now watchable on video (CHECK IT OUT BELOW!), and make sure you are subscribed to our YouTube channel which is FREE!
If the audio version is your preferred method nothing has changed so no worries! You can always find us on Soundcloud, iTunes!, and Spotify! Now on to this episode!
THE WILL OF THE FORCE
Will we ever see Broom Kid again in Star Wars?

We saw it used recently in the Vader comics with Momin, but will resurrection ever be used in a major Star Wars release? (so theatrical film, live action series, or animated series)

Will the continuation of Ezra's story be the next Star Wars animated feature (whether that's a series or movie)?

Will these actors' characters be with the Resistance, First Order, or like DJ, neither in Episode IX?

Naomi Ackie

Richard E. Grant

Matt Smith

Keri Russell

Billy Dee Williams

Will we see Star Wars Episode X within 10 years of Episode IX's release, so before 2030? Aka the year Ted Mosby told his kids about how he met their mother.
DISCUSSION: Episode IX First Teaser Predictions!
Star Wars teasers and trailers have become events in themselves. We were first re-introduced to Star Wars movies with Finn's head popping up over a desert backdrop gasping for air and the speculation began! Since then we have seen many trailers for the four movies released since the franchise's return. So let's have some fun, what do we think we'll see in the first teaser for Episode IX, and that at the very end we will each guess a date when the title of the movie will be revealed and we'll see who ends up being the closest when it happens!
RESISTANCE TRANSMISSIONS!
We pitch a question to you, and you fire away! Did yours make it on the show?
Listen and find out, and follow us on Twitter @RBatSWNN!
It is #ResistanceTransmissions!

Four years ago we got our first glimpse of new #StarWars when Disney released a teaser and title for #TheForceAwakens.

What were your immediate thoughts/reaction to it and early speculation? We'll read a bunch on the show with shoutouts! GO! pic.twitter.com/qvSDQR3UlI

— The Resistance Broadcast (@RBatSWNN) November 21, 2018
PATREON!
Our podcast is free as always but if you'd like access to more exclusive content and rewards you can sign up for our Patreon page! We recently posted our full audio/video commentary for The Phantom Menace!
Starting with tiers as low as just 2 dollars a month, you gain access to all of our additional content, videos, commentaries, giveaways, polls, and a lot of fun daily rewards, perks, and other fun stuff! Simply click HERE and take a look at the options! We appreciate any and all support. Thank you!
BUY YOUR RESISTANCE BROADCAST MERCH!
Pick up some of our awesome designs on a shirt, coffee mug, tank top, sticker, hoodie, pillow, anything! Simply go to our Resistance Broadcast store on TeePublic – check out our 40+ different design and pick what you like, like our brand new aurubesh backed logo below! You can head right to the store by clicking on the image below! Thanks for the support and enjoy the swag!!!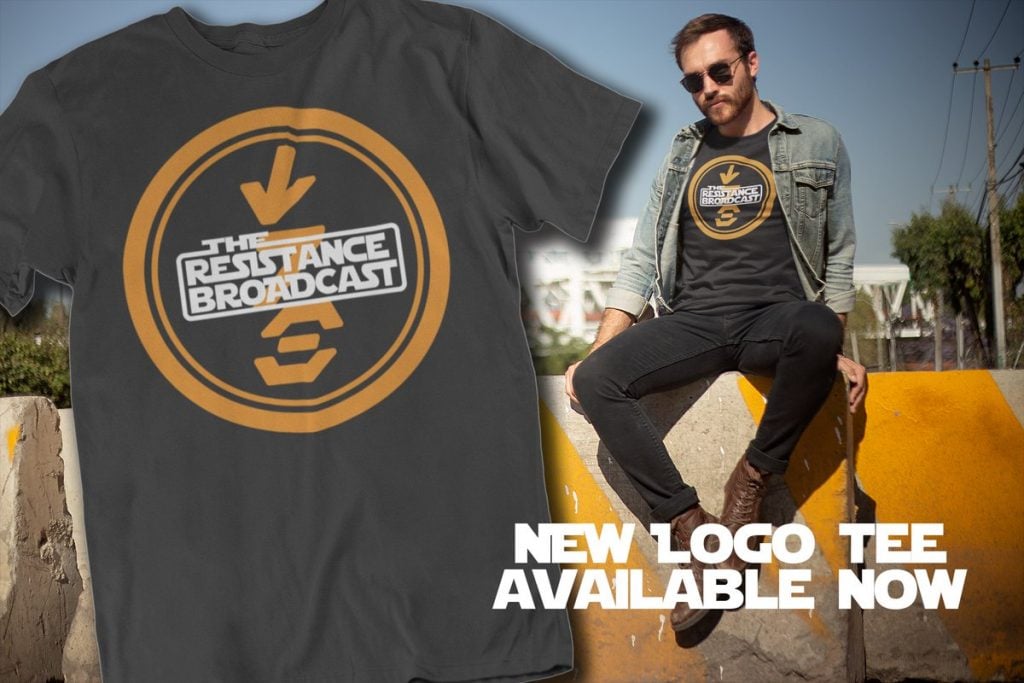 Special thanks to Matt Pasterick for our theme song!