The Resistance Broadcast – Join the Resistance on Patreon!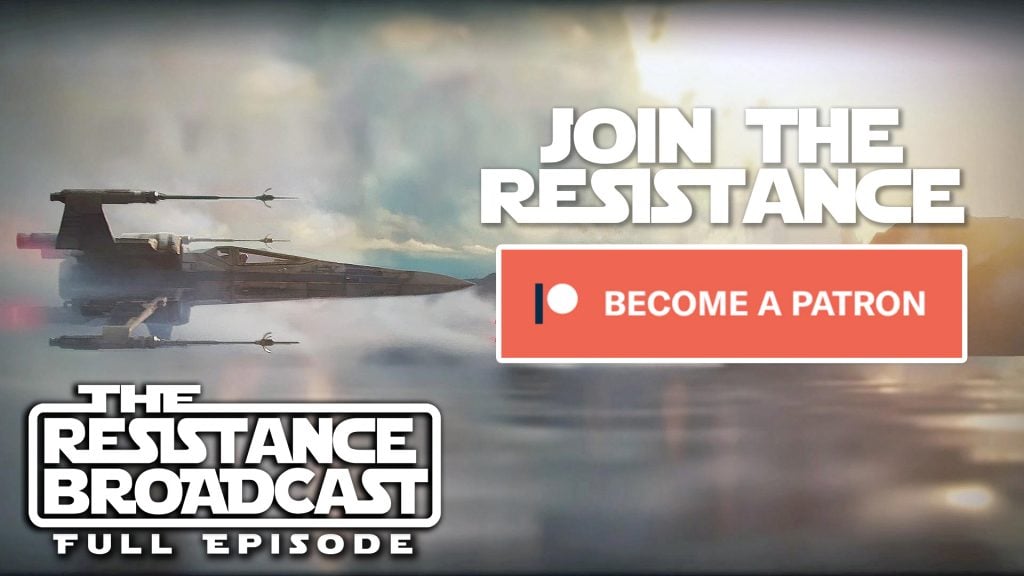 On this episode of The Resistance Broadcast we introduce our new Patreon page – an exclusive page to join at different tier levels for additional content, merchandise, giveaway entries, and more! The page will launch Monday morning! JOIN THE RESISTANCE!
Of course we also talk Star Wars – like whether Boba Fett will still appear in a movie or TV series even though his rumored standalone movie was cancelled.
As always we end the show with your tweets in #ResistanceTransmissions! The Resistance base is now open, so come on in and join us!
JOIN THE RESISTANCE ON PATREON!
On this transmission of The Resistance Broadcast:
John Hoey , James Baney, and Lacey Gilleran!
The podcast is now watchable on video (CHECK IT OUT BELOW!), and make sure you are subscribed to our YouTube channel which is FREE!
If the audio version is your preferred method nothing has changed so no worries! You can always find us on Soundcloud, iTunes!, and Spotify! Now on to this episode!
THE WILL OF THE FORCE
Will Disney put forth any significant incentive for fans to buy The Mandalorian series on Blu-ray or digital if it is a permanent resident on the Disney streaming service?
Now that Star Wars has killed Boba Fett again (in the form of his rumored movie) – Will a movie happen that features Boba Fett instead of a "Boba Fett" movie?
Another week passes, another update on Episode IX filming in Jordan, now we have Oscar Isaac on location. Will the Jordan filming location turn out to be for Jakku?
John Boyega is Star Wars' resident social media darling, and this time a fan said:
"Hopefully my man @JohnBoyega will truly shine in IX as the badass hero I've been waiting for him to be since VII…and hopefully he'll wield a saber again.." to which Boyega
replied "We've got you on this one bro…TRUST me"
So let's have some fun with this, will Finn use a lightsaber again in Episode IX?
Assuming Episode IX is indeed the conclusion of the Skywalker saga, will that be the last time we see C-3PO and R2-D2 together in a live action Star Wars production?
And now a will of the Force question for YOU our listeners, yeah you listening right now, WILL YOU become a patron when our Patreon page launches on Monday?
DISCUSSION: Join the Resistance on Patreon!
We are launching our Patreon page on Monday! So we wanted to take this time to discuss it on this episode so you guys know exactly what to expect when it launches. We talk in detail about each tier, what they'll offer, our goals, and what we have in mind for content and all that awesome fun stuff. And of course we want to then hear from you guys as to what types of content you would like to see! 
Tier 1 – Resistance Pilot Temmin Wexley – $2
Access to the Patreon Page with Exclusive Content
Tier 2 – Lieutenant Kaydel Connix – $5
Same as Tier 1

Voting in polls for podcast topic discussions, etc.
Tier 3 – Commander Poe Dameron – $10
Same as Tier 2 with weighted voting structure

Exclusive Monthly Sticker – a new design every month!

Your submitted questions lightspeed to the front

Access to a private Resistance Broadcast Twitter Chat with John, James & Lacey to talk about the show, the future of the podcast, future events and ideas we have for the podcast – and most importantly Star Wars in general!
Tier 4 – Admiral Ackbar $25
Same as Tier 3

Access to Monthly Q&A Video

(1) Exclusive Resistance Broadcast mug at initial pledge

@RBatswnn will follow you on Twitter

Your name included in the credits and listed in the description

Entry into monthly giveaway once $250 monthly goal is reached
Tier 5 – General Leia Organa – $50
Same as Tier 4

(1) Exclusive Resistance Broadcast T-shirt at initial pledge

(1) shout out on every episode

Personal thank you video from John, James and Lacey.

**For first 2 patrons at this level: We'll give you a 60 second pre-recorded monthly segment on our podcast called "Patreon Podrace".
Those are the tiers, but be sure to listen to the episode for more details. Be sure to also follow us on Twitter @RBatSWNN too!
RESISTANCE TRANSMISSIONS!
We pitch a question to you, and you fire away! Did yours make it on the show? Listen and find out!
It's #ResistanceTransmissions!

A big part of what sets #StarWars apart is it's really, really funny! We want to know who you think is the funniest #StarWars character of all time?

Let us know who and why they're the funniest. The best tweets will be read on the show! #podcast pic.twitter.com/8Rc7GoQaYT

— The Resistance Broadcast | Star Wars News Net (@RBatSWNN) October 30, 2018
BUY YOUR RESISTANCE BROADCAST MERCH!
The only way to support our ability to give you two free weekly episodes is by buying some of our awesome designs on a shirt, coffee mug, tank top, sticker, hoodie, pillow, anything! Simply go to our Resistance Broadcast store on TeePublic – check out our 30+ different design and pick what you like.
We created the hashtag #MakeSolo2Happen! Join the campaign! Grab yours on sale HERE – let's make it happen!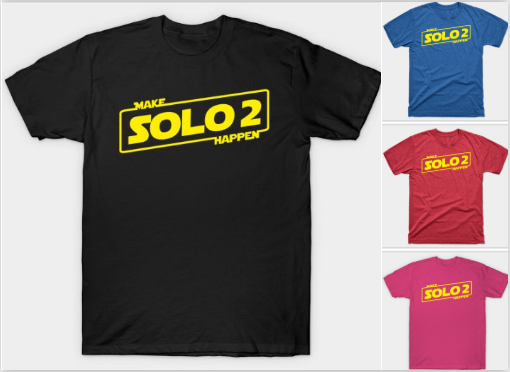 Special thanks to Matt Pasterick for our theme song!
John Hoey is the Lead Editor and Senior Writer for Star Wars News Net and the host of The Resistance Broadcast podcast
"For my ally is the Force, and a powerful ally it is."