The Resistance Broadcast – I'm a Force Ghost and My Name is Anakin!
Watch or listen below! On this episode of The Resistance Broadcast we discuss whether we want to see Anakin Skywalker in Episode IX! It is a hot button topic of late, so we give our take on it from all angles.
We also run through six topics in our segment WILL OF THE FORCE like – Will Rey's recently confirmed broken kyber crystal be reused by her in Episode IX?
As always we end the show with your tweets in #ResistanceTransmissions! The Resistance base is now open, so come on in and join us!
I'M A FORCE GHOST AND MY NAME IS ANAKIN!
On this transmission of The Resistance Broadcast:
John Hoey , James Baney, and Lacey Gilleran!
The podcast is now watchable on video (CHECK IT OUT BELOW!), and make sure you are subscribed to our YouTube channel which is FREE!
If the audio version is your preferred method nothing has changed so no worries! You can always find us on Soundcloud, iTunes!, and Spotify! Now on to this episode!
THE WILL OF THE FORCE
Will the following characters appear in the new Cassian Andor led live action series?
– Saw Gerrera
– Orson Krennic
– K2SO
– Jyn Erso
– Galen Erso
– Sheev Palpatine
Assuming he IS in the show, and though this has been delved into in the comics…will we see how K-2SO was reprogrammed in the new Cassian Andor series?
Not that we know a prequel series to Rogue One is being made, will a sequel SERIES to Solo happen?
Will Rey's recently confirmed BROKEN kyber crystal be reused by her in Episode IX?
Will Kylo Ren have a new mask in Episode IX?
Will Anakin Skywalker appear in Star Wars Episode IX?
DISCUSSION: Do You Want Anakin Skywalker to Appear in Episode IX?
In what appears to be on the wishlist of many, do we want Anakin Skywalker to return for Episode IX? Is this purely fan service? Redemption for Hayden for some? Does this make sense for the story? There are many ways to approach this idea in terms of how or why to support it or not want it. So let's talk about it!
First off do we want to see Anakin in Episode IX? And why do we think there is such a large portion of the fan-base hoping he does appear.
RESISTANCE TRANSMISSIONS!
We pitch a question to you, and you fire away! Did yours make it on the show?
Listen and find out, and follow us on Twitter @RBatSWNN!
Many #StarWars fans want Anakin to appear in #EpisodeIX. Let's pretend Kylo Ren is sitting in his room by himself, and all of a sudden Anakin appears before him. How does Kylo react? The best answers make it on the show in #ResistanceTransmissions!

(image from: @thorpey8) pic.twitter.com/UCYh9p1IPT

— The Resistance Broadcast | Star Wars News Net (@RBatSWNN) November 6, 2018
PATREON!
Our podcast is free as always but if you'd like access to more exclusive content and rewards you can sign up for our Patreon page!
Starting with tiers as low as just two dollars a month, you gain access to all of our additional content, videos, commentaries, giveaways, polls, and a lot of fun daily rewards, perks, and other fun stuff! Simply click HERE and take a look at the options! We appreciate any and all support. Thank you!
BUY YOUR RESISTANCE BROADCAST MERCH!
The only way to support our ability to give you two free weekly episodes is by buying some of our awesome designs on a shirt, coffee mug, tank top, sticker, hoodie, pillow, anything! Simply go to our Resistance Broadcast store on TeePublic – check out our 30+ different design and pick what you like.
We created the hashtag #MakeSolo2Happen! Join the campaign! Grab yours on sale HERE – let's make it happen!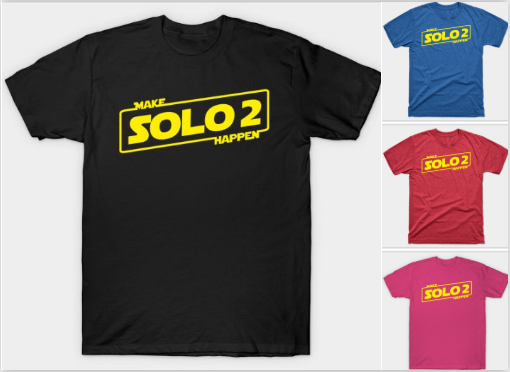 Special thanks to Matt Pasterick for our theme song!
John Hoey is the Lead Editor and Senior Writer for Star Wars News Net and the host of The Resistance Broadcast podcast
"For my ally is the Force, and a powerful ally it is."