Solo: A Star Wars Story Selling Well on Blu-ray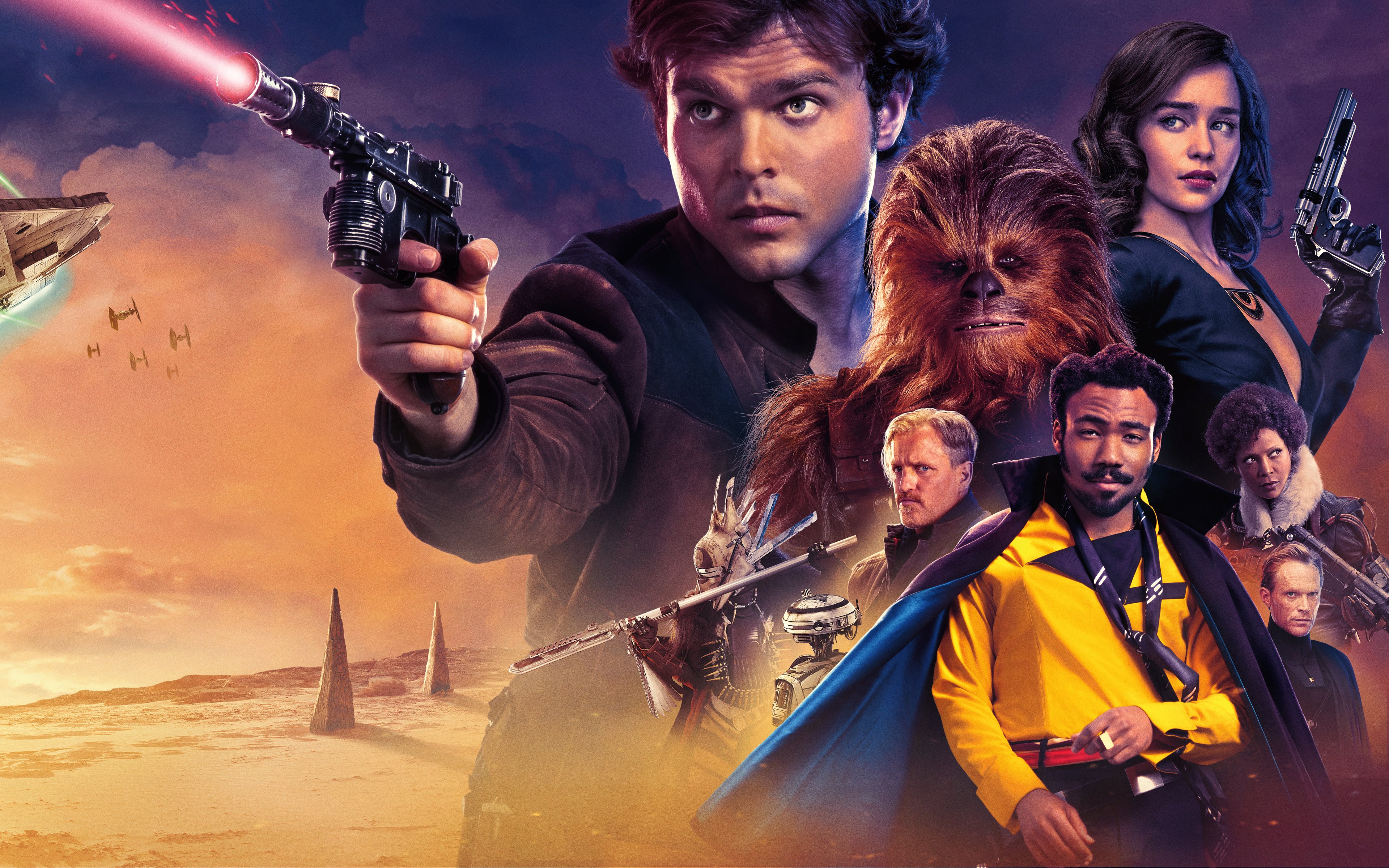 While Solo: A Star Wars Story was sadly the first (and hopefully only) box office disappointment for the Star Wars franchise, early data from its Blu-ray sales indicate the film is getting a cult following, or at least that the people who skipped out on the movie at the theater are giving it a shot from the comfort of their homes.
Aside from an uncharacteristically lackluster marketing campaign from Disney (which had a limited window, undersold the movie serving as the story of Chewie and Han's budding bromance, and didn't put enough of a spotlight on of the movie's lead character or the strengths of the actor playing him), Solo had the disposition of being the first Star Wars movie that couldn't call itself the biggest event in town. That honor went to a different Disney movie – Avengers: Infinity War – and Disney's call to not push Solo back to a more favorable window ultimately did the movie in.
But based on new reports, we have a good feeling about Solo's post-theatrical lifespan. Reports of the movie's Blu-ray sales in its first two weeks all the way back in September have finally come in, and it sold nearly 800,000 Blu-ray discs in the United States at that point. This is more than double what Edge of Tomorrow, a different movie that was liked by critics and audiences but ultimately wasn't successful in theaters, was able to accomplish in the same timespan. Bear in mind that Edge of Tomorrow apparently cleared the break-even point once Blu-ray, DVD, VOD, and Digital sales were all factored in, and the studio behind it (Warner Bros.) is confident enough in the intelluctual property that they're open to doing a sequel whenever director Doug Liman clears his busy schedule for it. With news that Rogue One's Cassian Andor is getting his own show, perhaps this kind of success gives Lucasfilm the kind of leeway they would need from Disney to continue the stories set up in Solo on the Disney+ platform.
#SoloAStarWarsStory sold 789,549 Blu-Ray units in its first week. Comparing to #TheLastJedi which did 1,772,048 in its first week. I've been saying "Solo" would be well off if it did #EdgeOfTomorrow numbers but it actually more than double that movie's 350,019 first week units.

— Magnus Anton: Icelandic/Albanian/American agender (@GeekFurious) November 12, 2018
However, I do want to put this news in perspective: Solo is still the lowest-selling Disney-era Star Wars movie on home video. Looking at TheNumbers.com's first reports on the openings of each movie, we have the following as a frame of reference:
Solo selling fewer Blu-ray discs than any of the other three Disney-era Star Wars films should be of little surprise due to its substantially poorer theatrical box office (all three of the other movies made $500M or more domestically), but even still, these are good numbers for a movie that crawled past the $213M line in the United States. Let's make a frame of comparison between Solo and another movie that performed similarly in the United States: Logan. While the production budgets between Fox's 2017 hit and Disney's 2018 disappointment, and the demographics watching both movies, are as different as night and day, both ended up with similar box office totals – and so far, Solo is exceeding Logan by over $2 million in Blu-ray revenue in spite of trailing it in box office revenue.
That's not even counting domestic and international DVD, Digital, and VOD sales, or, for that matter, the movie's international Blu-ray sales. The fact that Solo's home video run is going right around the cusp of the holidays, when consumer spending is at an annual height, can't be overlooked, either. There's enough going for the movie right now that there's a chance that it could reach a break-even point after all, but that depends upon continued sales being good between Black Friday and Christmas. All things considered, things are looking good right now, and hopefully this should send a signal to Lucasfilm that standalone movies can still absolutely work in the context of the Star Wars movie franchise.
Grant has been a fan of Star Wars for as long as he can remember, having seen every movie on the big screen. When he's not hard at work with his college studies, he keeps himself busy by reporting on all kinds of Star Wars news for SWNN and general movie news on the sister site, Movie News Net. He served as a frequent commentator on SWNN's The Resistance Broadcast.