Review – The Countdown Begins in Marvel's Star Wars: Doctor Aphra #26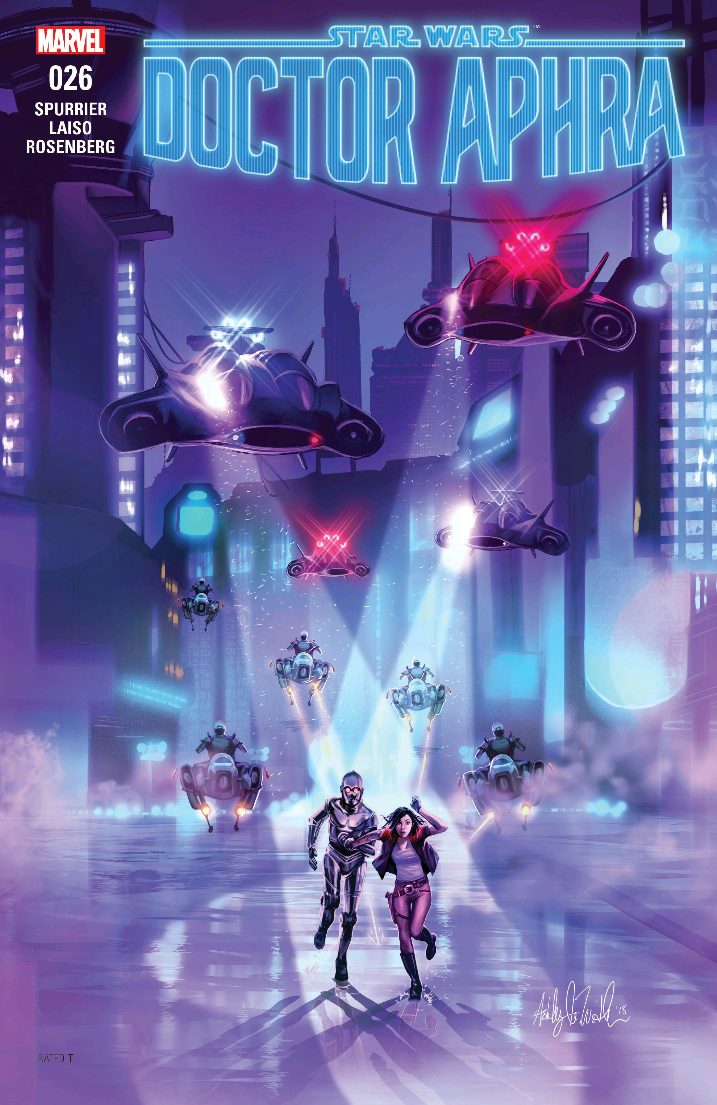 This month's issue of Doctor Aphra finds the rogue archaeologist locked at the hip with the murderous protocol droid and crime lord, Triple-Zero, a machine of her own creation that has become her worst nemesis. In this brand-new story arc, titled "Worst Among Equals", Aphra and Triple-Zero are forced to work together (or die trying) as they frantically try to find a way to remove the proximity bombs that were implanted in their bodies by the crazed Dr. Cornelius Evazan. Spoilers Ahead…
At the end of the previous story arc, writer Simon Spurrier dropped the big revelation that Aphra's prison ally, Lopset, was actually Doctor Evazan in disguise. After witnessing how twisted and dispicable that Aphra was, he decides to have a little fun. Capturing both Aphra and Triple-Zero, the psychotic droid whose life goal seems to be to eradicate his maker (due to obvious flaws in her programming that can only be rectified by ending her life), Evazan implants a device in each of them that will explode in the event that one of them dies or if they get more than twenty meters apart.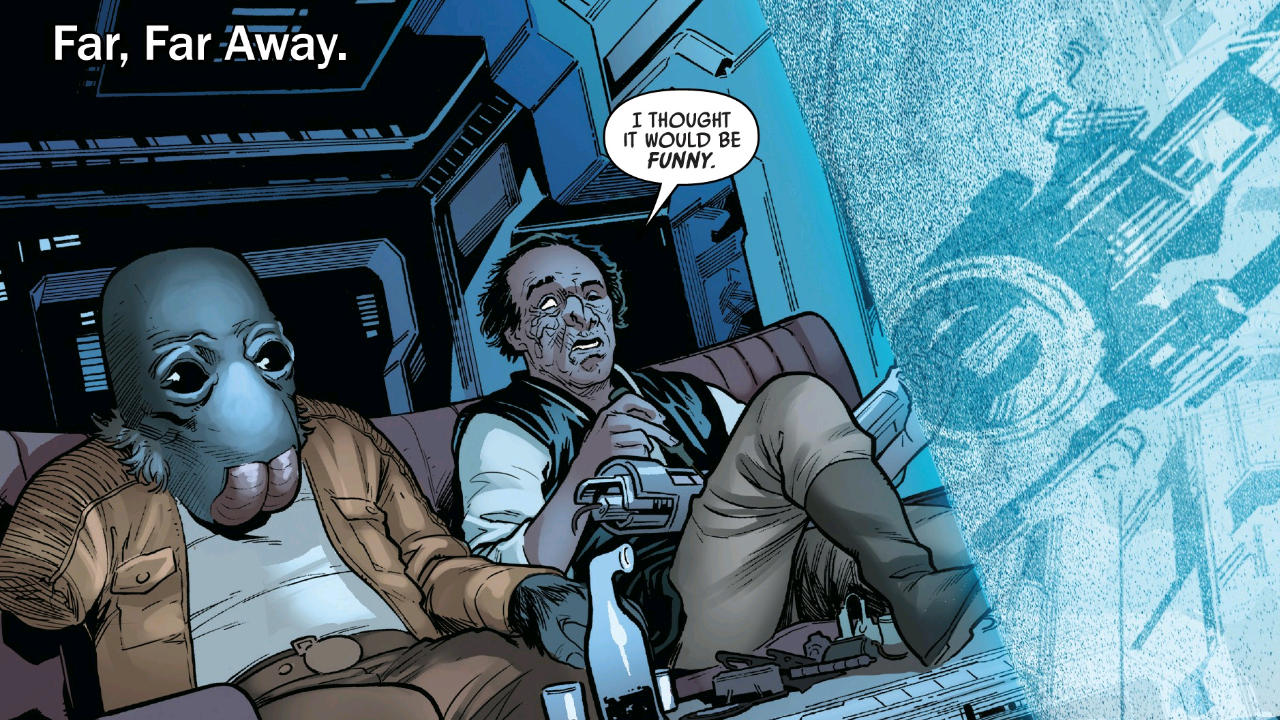 Evazan leaves the two of them to their own devices and reunites with his one-armed pal Ponda Baba for a little viewing party, having also installed a recording device in Triple-Zero so he could watch the scenario play out. The most entertaining aspect of this issue is perhaps the most obvious. When Aphra, who has spent a great deal of time trying to escape the clutches of Triple-Zero, is forced to partner up with her enemy, who wants to kill her more than anything else in the galaxy, a lot of shenanigans are bound to ensue. Aphra can't run away, and Triple-Zero can't kill her, but how long can they really keep this up?
Once Aphra convinces Triple-Zero to not kill her anyway, the pair head to Milvayne, the home planet of the lawman Tam Posla (whom Aphra recently betrayed into the hands of Evazan). Being left by Evazan on board Posla's ship, the two of them search through the lawman's old contacts and find a promising lead – a cyberneticist whom Aphra believes can help them remove the bombs. Aphra is good with droids, but doesn't have any experience with organics, so she can't really operate on herself.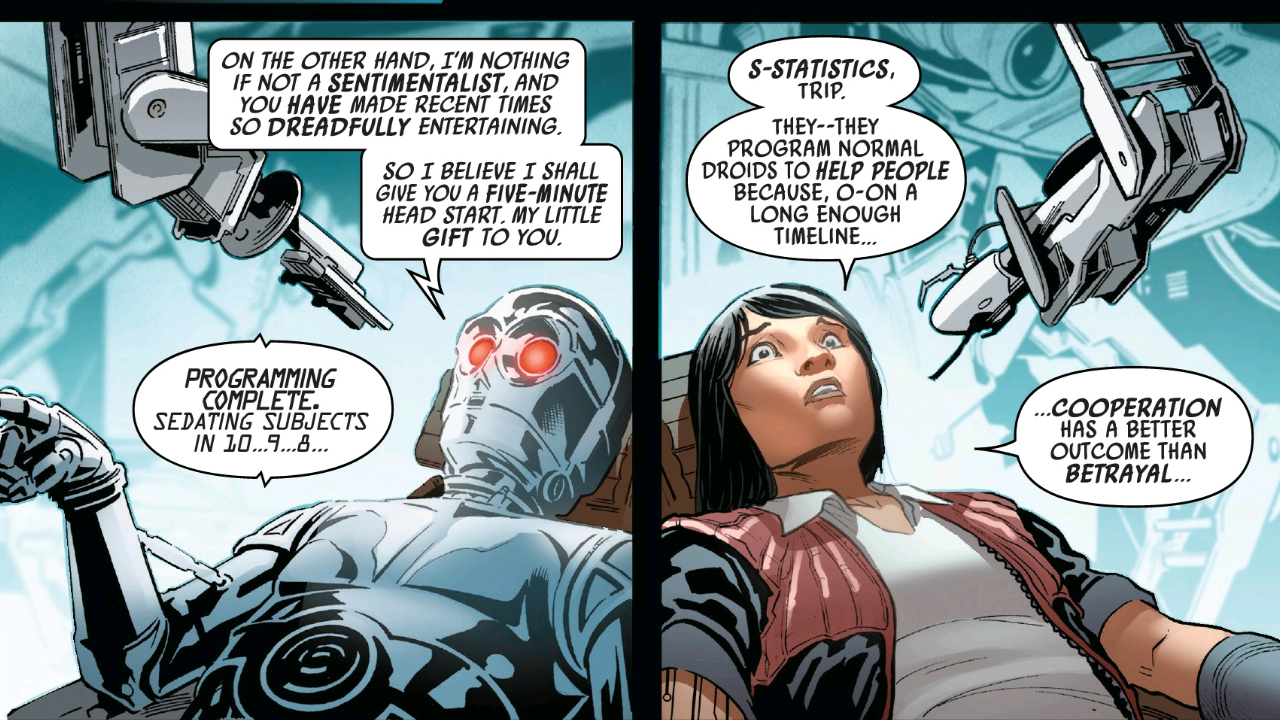 After Triple-Zero murders his way through the streets of Milvayne, Aphra, who believes that a good bribe is always easier than murder, convinces him to let her deal with the doctor her own way. The doctor accepts the payment and before the two go under the knife, Triple-Zero promises to give her a five-minute head start before trying to kill her again as a "sentimental" gift in light of how entertaining she has made his existence of late.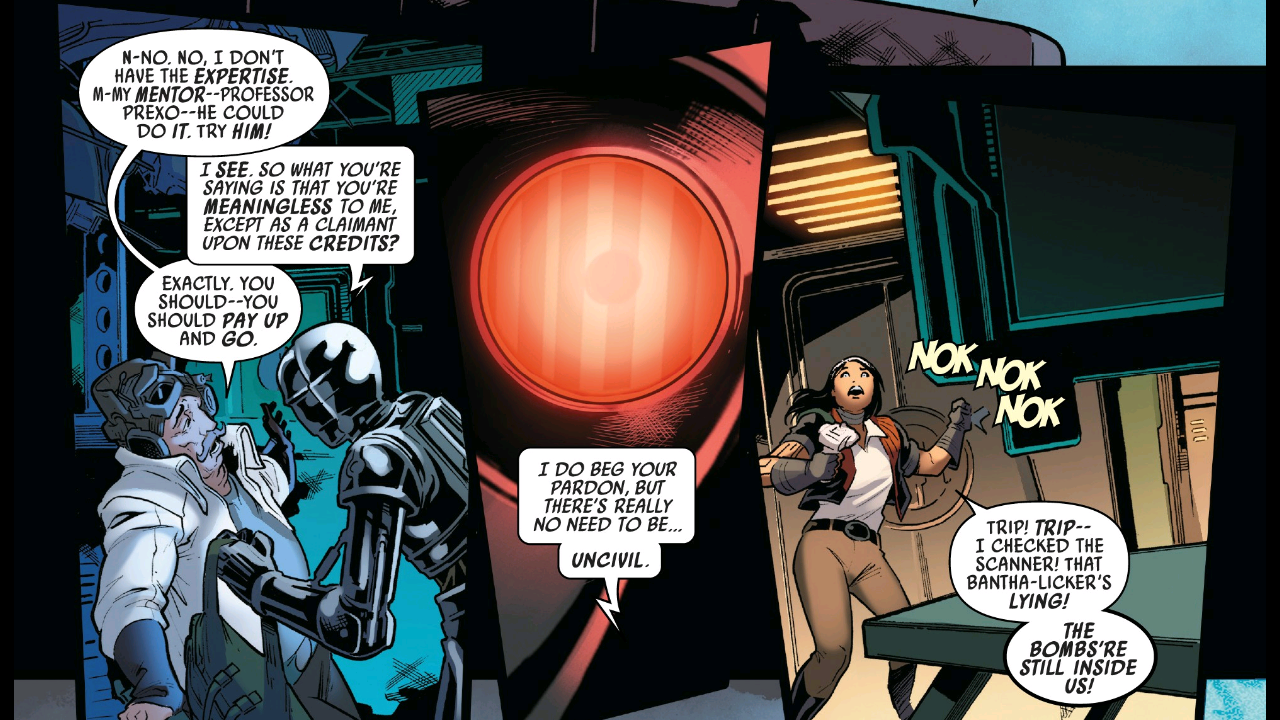 After recovering from the operation, Aphra heads for the door while Triple-Zero hangs back to ask the cyberneticist another favor. He knows Evazan is watching him, and he wants the doctor to trace the signal so he can find the crazed doctor and end him, a chilling request that makes Evazan visibly nervous on the other end. When the man is not so eager to help him do so, Triple-Zero resorts to tactics that are more his style, threatening the doctor with all manner of violence.
As she is on her way out, Aphra decides to scan herself one last time on a hunch. Sure enough, the doctor took their money but never actually removed the bomb. During the operation, he accidentally triggered a fail-safe, starting a countdown on the bombs. Aphra rushes back to Triple-Zero to inform him of the error and that she needs the doctor alive to activate the lab so she can attempt to deactivate the timer. Unfortunately, she was a little too late. As she enters the lab, there is the droid with blood on his hands, only then realizing his mistake.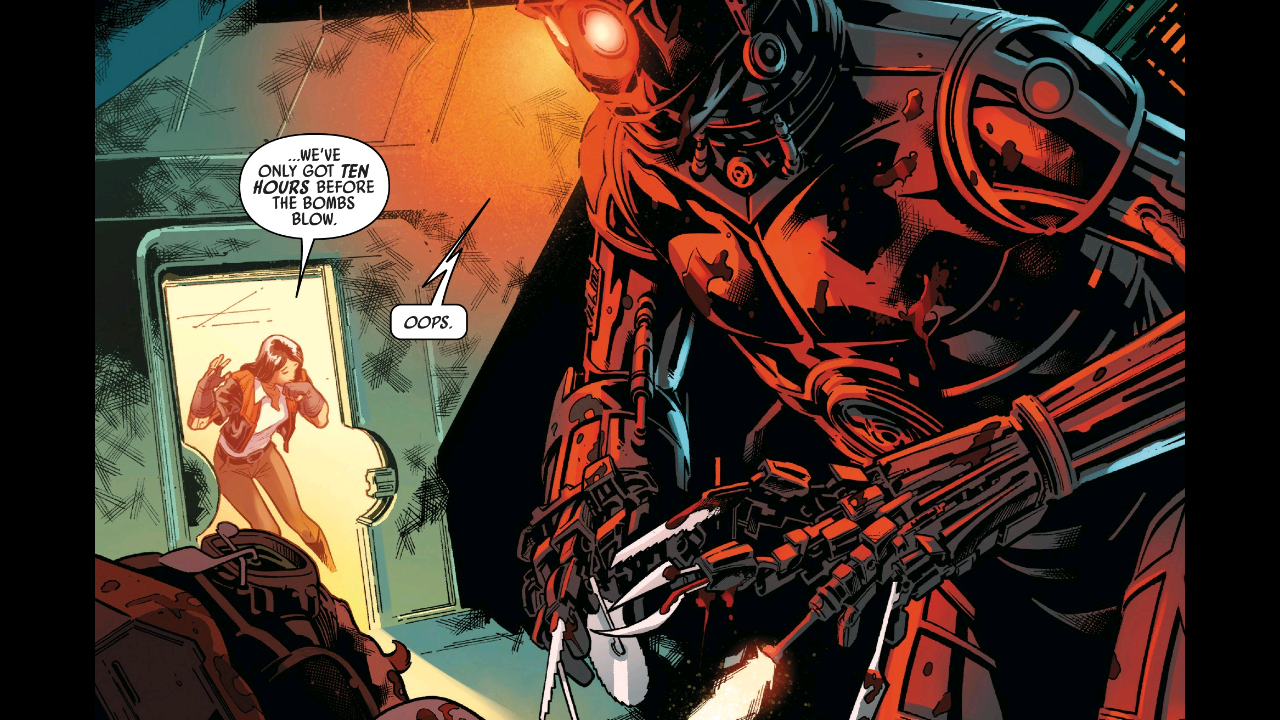 Aphra continues to be a fun read every month, and there's never a dull moment in this series. Even in the wake of Aphra's betrayal of Tolvan and the death of Triple-Zero's counterpart Beetee, there is no time to mourn. Spurrier takes a moment to reflect on the pair's losses, but the pacing of the issue favors a more frantic journey forward, a journey that is now in overdrive thanks to the countdown that has just begun.
Will Aphra and Triple-Zero survive the ordeal? I'm sure they will, but I'm still interested to see how it will play out next issue. I'm also very much looking forward to seeing Evazan get his comeuppance from the murder droid. He doesn't like you, Cornelius, and I don't like you either. You're appearance in Rogue One was contrived (although somewhat justified by this series' explanation of your actions there), and Obi-Wan should have ended you back at Chalmun's place. If I'm being honest though, as much as I want to see the droid get his revenge on the deranged doctor, I'm also ready for Triple-Zero to go. He was a fun character for a while, but I feel like his schtick is played out at this point.
The thing I'm most curious about moving forward is the return of Tam Posla, who was killed by Evazan in the last issue. Readers of the series will remember the Force-sensitive fungus that thought it was a Jedi in the last story arc (it's kind of a long story and kind of weird to be honest, but hey, that's what this series is all about). After being subdued by Vader, the fungus was thought to be destroyed. However, we get a quick glimpse of the fungus attaching itself to the dead body of Posla in this issue. During the merger, the fungus adopts Posla's ideology of justice. No doubt, the lawman will return in future issues to make Aphra's life a little more difficult than it already is.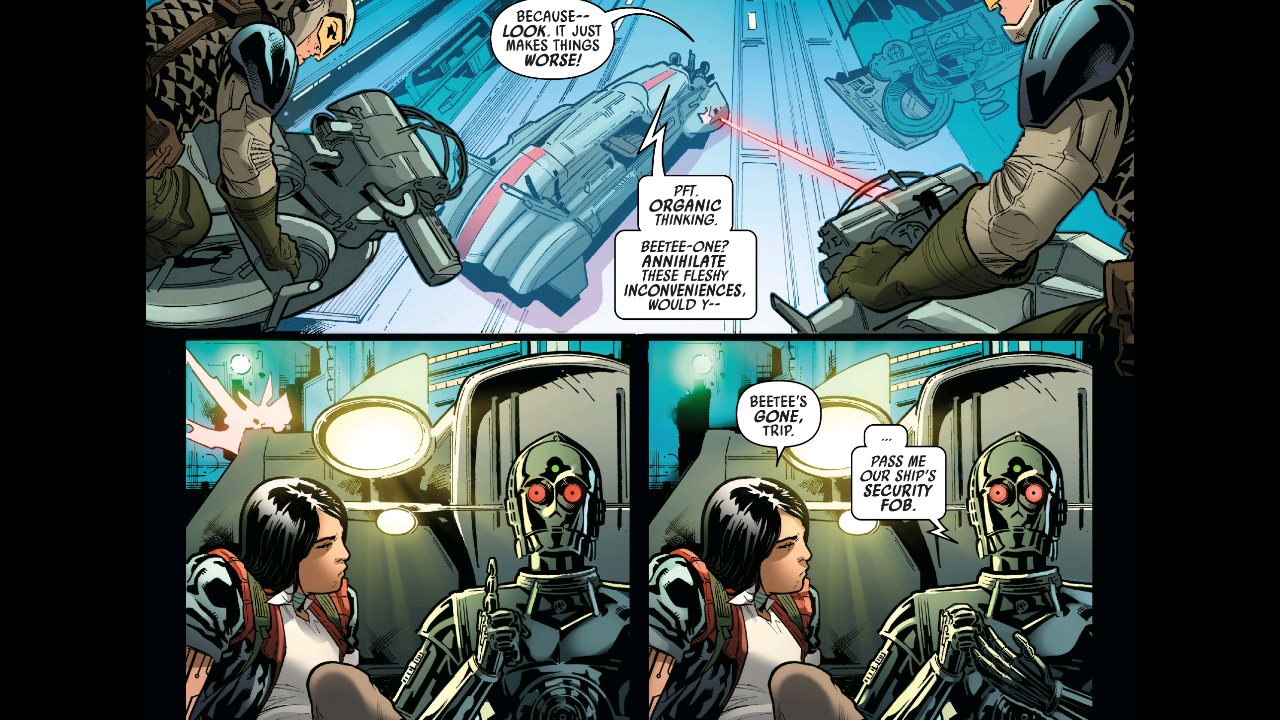 This issue was a good read, and if your looking for a more carefree (and a little bit weird) approach to Star Wars storytelling, then joining Aphra on her romp across the galaxy each month is the way to go, and this comic book is the one for you. I'm ready for a little bit of a change to the status quo in this series, but so far, I'm still having a really good time with it.
Score: 7/10
Doctor Aphra #26 is available now in a comic shop near you or online at Comixology. Until next time, happy reading comic fans!
Jordan Pate is Co-Lead Editor and Senior Writer for Star Wars News Net, of which he is also a member of the book and comic review team. He loves all things Star Wars, but when he's not spending time in the galaxy far far away, he might be found in our own galaxy hanging out in Gotham City or at 1407 Graymalkin Lane, Salem Center, NY.