New John Williams Theme and Ride Details for Star Wars: Galaxy's Edge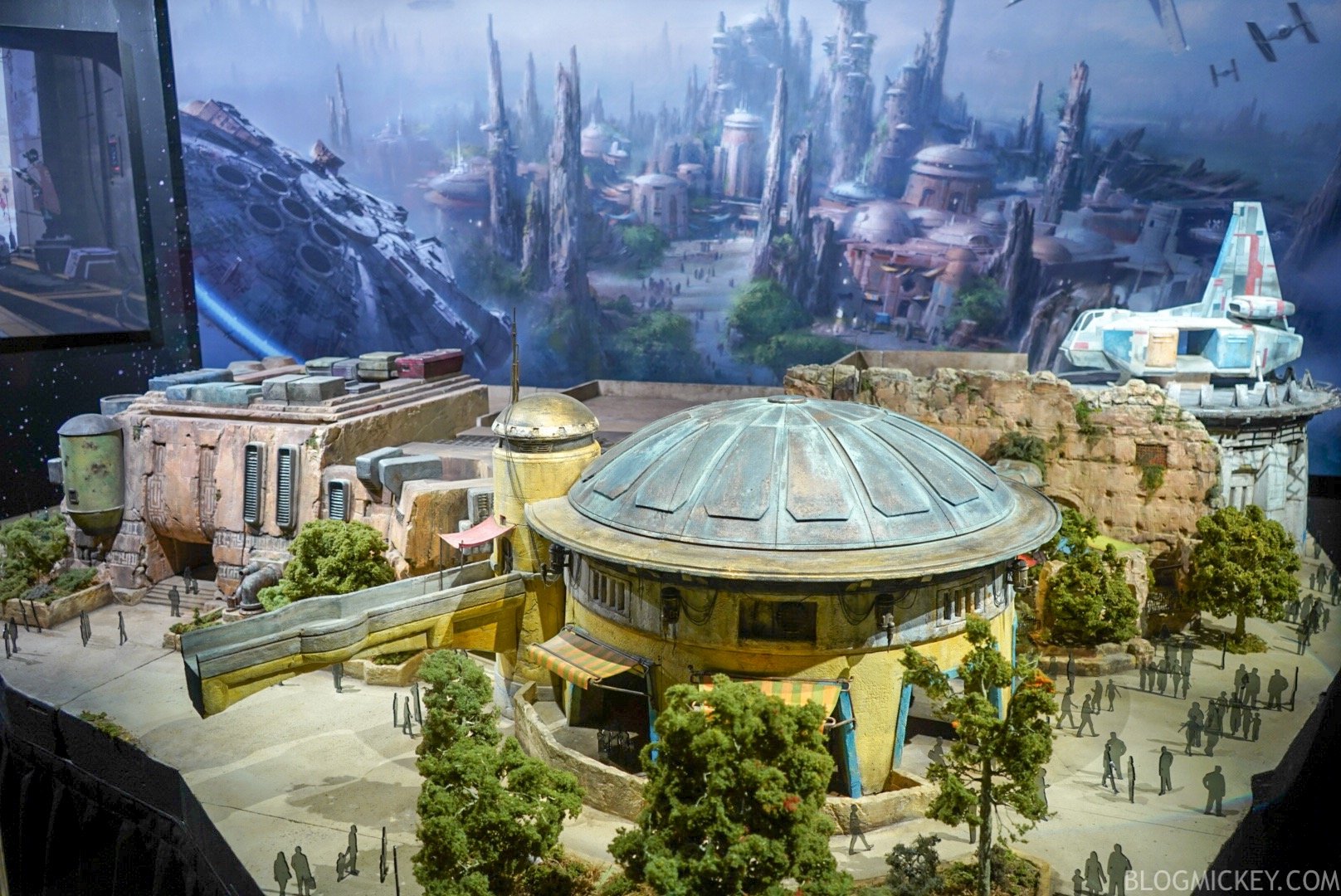 At the Destination D fan event today Disney revealed some details about the new Star Wars additions coming to their US theme parks next year.  EW were kind enough to share all the details and new information that included some details and concept art for the upcoming Star Wars themed resort coming to Orlando, names and footage of the two attractions, and last but certainly not least an entirely new piece of music composed by John Williams for the new land.
First and foremost, check out this great video featuring the newest Williams piece to be added to the Star Wars canon.
The music is new, but it is most definitely Star Wars, featuring those oh so familiar instrumentation and little hints of some of the sequel trilogy films.  Also, not to be lost here is all that new footage of Galaxy's Edge.  While much of it is obviously still under construction, this is one of the best looks we've gotten to date.  The expansive outdoor areas look to be coming along nicely, and that interior of the Falcon (which should be part of the attraction queue for the Falcon ride) looks perfect.
But of course, that wasn't all that was revealed today.  Disney also announced the official names for the two new attractions and released a corresponding video for each.  First up, Millenium Falcon: Smuggler's Run.
Not as much to dive into here as with the Williams video, but we do get a very nice look at the Falcon cockpit which will serve as the ride vehicle. I would assume we get a little preview as well as to how exactly we will interact with the Falcon's controls via that illuminated button.
Disney also released the name for the attraction that has been referred to as the "battle escape" attraction up to this point.  Rise of the Resistance will be an LPS (Local Positioning System) ride which will carry park goers in, around, and reportedly out of a First Order battleship during a battle with Resistance forces.  The video below was filmed inside the ride itself, which leads me to speculate that these are the actual corridors you will travel through on your trackless ride vehicle (note the flat seamless floors and wide hallways which is what is required for this type of ride).  The level of detail looks to be off the charts so just getting to walk through a set like that, let alone ride through it during an adventure story, looks to make what will likely be very lengthy lines worth the wait.
Finally, Disney also released some new details about how exactly guests at the new Star Wars themed resort will interact with a hotel in central Florida that is supposed to make people think they are in space.  It seems the plan will be for guests coming into the hotel to board what will look like a shuttle for a simulated ride to space where they will dock with their resort ship in orbit.  Within the hotel itself all of the windows will display starry exteriors to make the theming completely believable and immersive.
Galaxy's Edge will open in Anaheim next summer, with Orlando's version following in the fall.  No release date has been announced for the Star Wars resort yet, but it is expected to follow sometime after the opening of the two lands.
Source: EW