UPDATE! Diego Luna to Star in Rogue One: A Star Wars Story Prequel Series for Disney+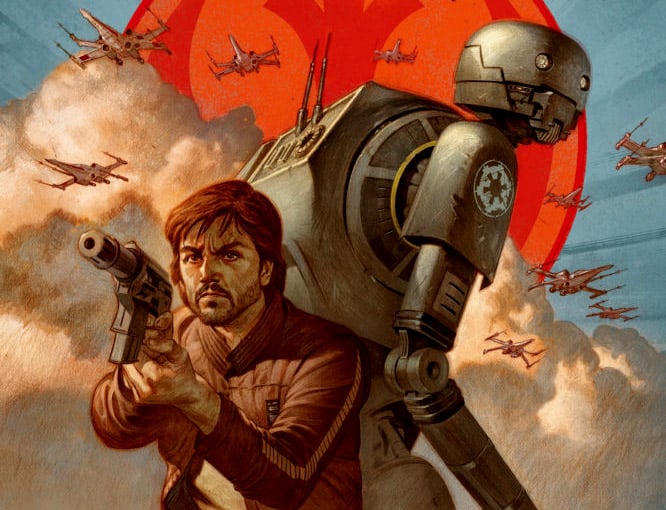 Breaking news! Diego Luna is set to star in Disney's second live-action television series developed exclusively for Disney+, their new streaming service that will launch late next year. The series will see him reprise his role as his Rogue One character, Cassian Andor.
During a conference call, Disney CEO Bob Iger officially revealed that their streaming service is officially called Disney+. While discussing the programming that will be available on the service, Iger highlighted Jon Favreau's The Mandalorian as an incredibly important project to that service, and revealed a new live-action series in development. The new project, currently without a name or release date, will see Diego Luna step back into the role of Cassian Andor in a prequel to the events of Rogue One: A Star Wars Story. The logline for the show is as follows:
"The rousing spy thriller will explore tales filled with espionage and daring missions to restore hope to a galaxy in the grip of a ruthless Empire."
The official Star Wars website embellishes Iger's initial comments, revealing that the show is going to be approached as a "spy thriller" series. Luna himself explains that he's incredibly happy to reprise his role:
"Going back to the Star Wars universe is very special for me. I have so many memories of the great work we did together and the relationships I made throughout the journey. We have a fantastic adventure ahead of us, and this new exciting format will give us the chance to explore this character more deeply."
Production on the series is expected to begin next year, likely after work on The Mandalorian has finished. As of yet, the show does not have an official showrunner or creative team associated with it, nor is there is not confirmation that Alan Tudyk will return as Cassian's quirky droid pal, K-2SO.
UPDATE!
Variety's Justin Kroll very nearly broke this scoop for his trade, but it looks like Bob Iger himself beat him to the punch. In any case, Kroll has a slight update about Luna's schedule, noting that a commitment to Narcos will come first before filming on his new show can begin:
Hate losing a scoop to an earnings call. Little context, Diego has to shoot another season of NARCOS first before CASSIAN, so will be a little bit before we see this series

— Justin Kroll (@krolljvar) November 8, 2018
The approach being taken here seems as though it's going to be similar to the one that Marvel Studios will take with their own shows being developed for the Disney+ platform, such as the Loki series. It's not clear at the present moment if the scope of the live-action series will be limited in nature (as the Marvel shows all will be), or if they will run for multiple seasons. With this in mind, this platform could be an opportunity for a continuation of Solo: A Star Wars Story to happen on a smaller scale, much like how Star Wars: The Clone Wars is finally getting its ending on the service. In any case, it seems as though Disney will spare no expense in hitting the ground running with Disney+ to become a must-have streaming service.
Grant has been a fan of Star Wars for as long as he can remember, having seen every movie on the big screen. When he's not hard at work with his college studies, he keeps himself busy by reporting on all kinds of Star Wars news for SWNN and general movie news on the sister site, Movie News Net. He served as a frequent commentator on SWNN's The Resistance Broadcast.