Update on Hasbro's HasLab Vintage Collection Jabba's Sail Barge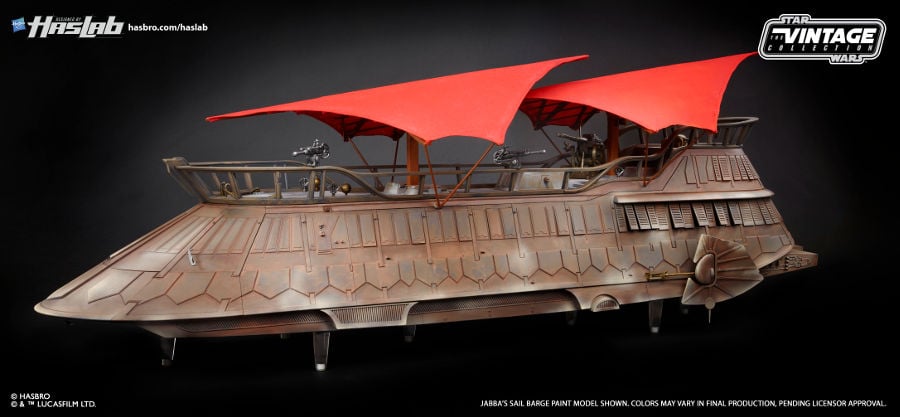 The month of October brings yet another update on Jabba's Sail Barge from HasLab. This month Hasbro has given insiders a behind-the-scenes look at the packaging development for the monster Vintage Collection collectible, including a gigantic diorama set for the barge.
Packaging has always been an integral part of merchandising for Star Wars products and HasLab's Vintage Collection Jabba's Sail Barge is no exception. Initially, the team at HasLab referenced the original Kenner Ewok Village playset box for packaging design. Because the sail barge is the largest Vintage Collection item ever made, some tweaks and concessions were made to accommodate more photography of the barge highlighting its various unique features rather than including additional panels of inset illustrations. Take a look at some of the mood boards for the design inspiration for the front panel, back panel, as well as the top and bottom panels.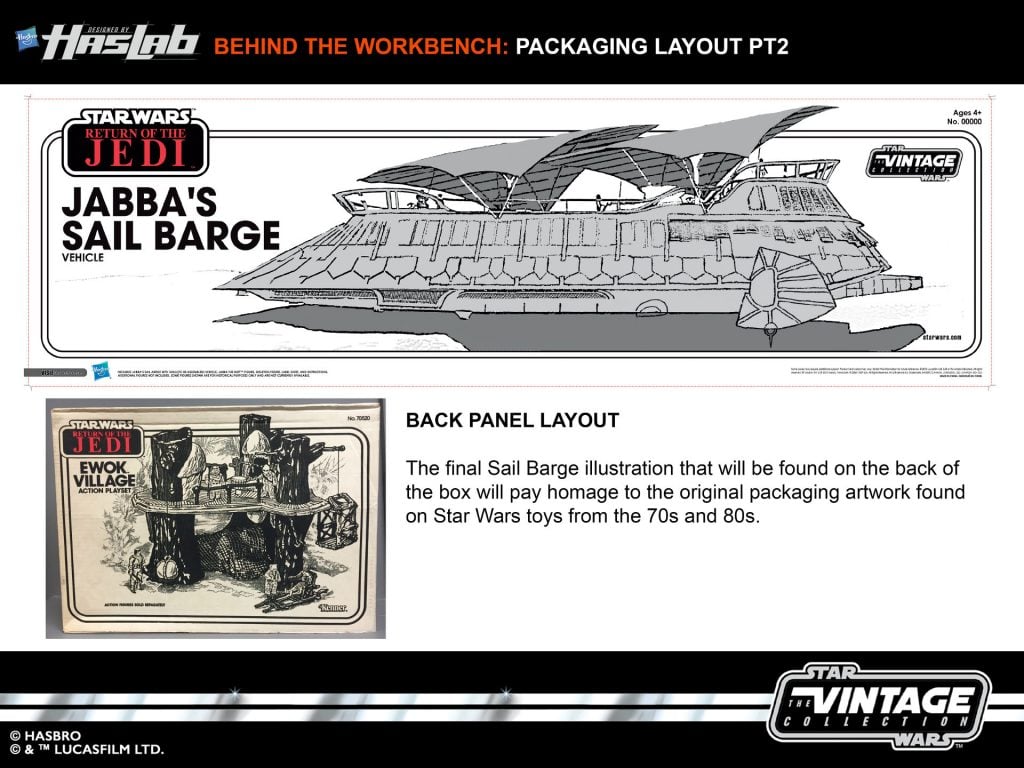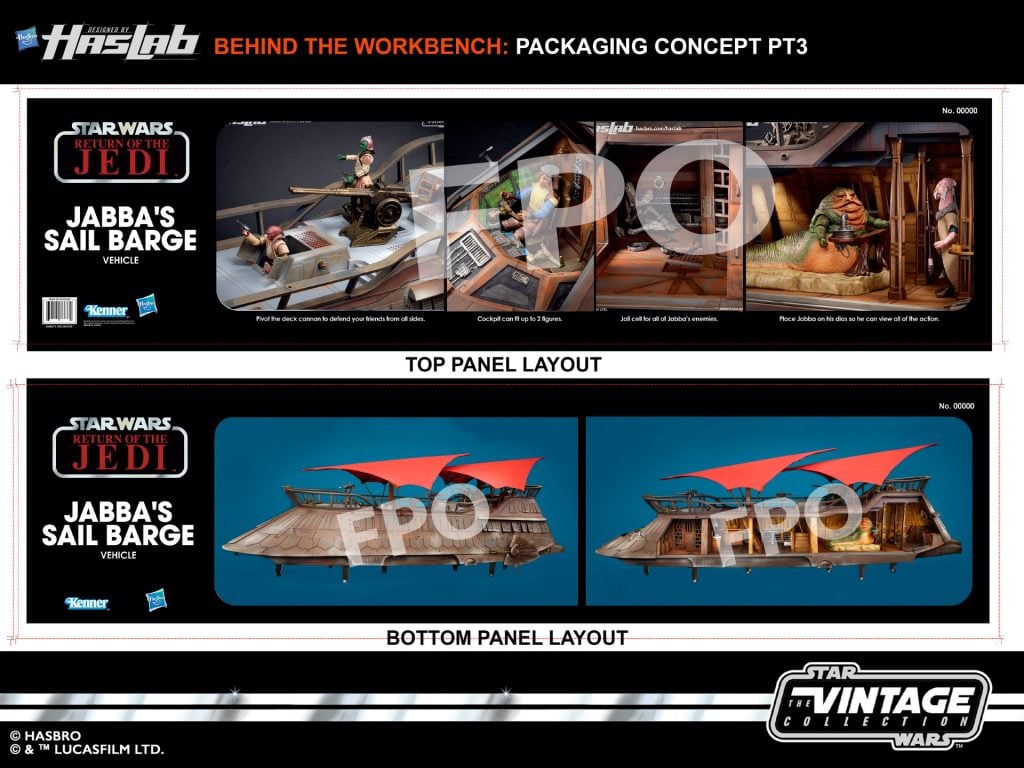 In order to photograph the sail barge for the packaging designs, the team created an enormous Sarlaac diorama photoshoot set for staging. The diorama included three different varieties of sand for coloring effect at over 900 pounds. The team also created a specifically designed tentacled Sarlaac as well. Ultimately they ended up with three different images of the full barge: one with the Sarlaac tentacles, one without the Sarlaac tentacles, and the final image at less of an angle. Hasbro has put together a time lapse video of the barge's journey from the model shop to the photo studio. Check it out HERE.
Hasbro has included some additional photos from the shoot as well. The Sarlaac tentacles were molded individually and contained a wire that allowed the team to bend them into position. Of course Jabba's Sail Barge wouldn't be complete without Jabba's court of denizens. With so many characters to choose from, how did they determine which made the cut?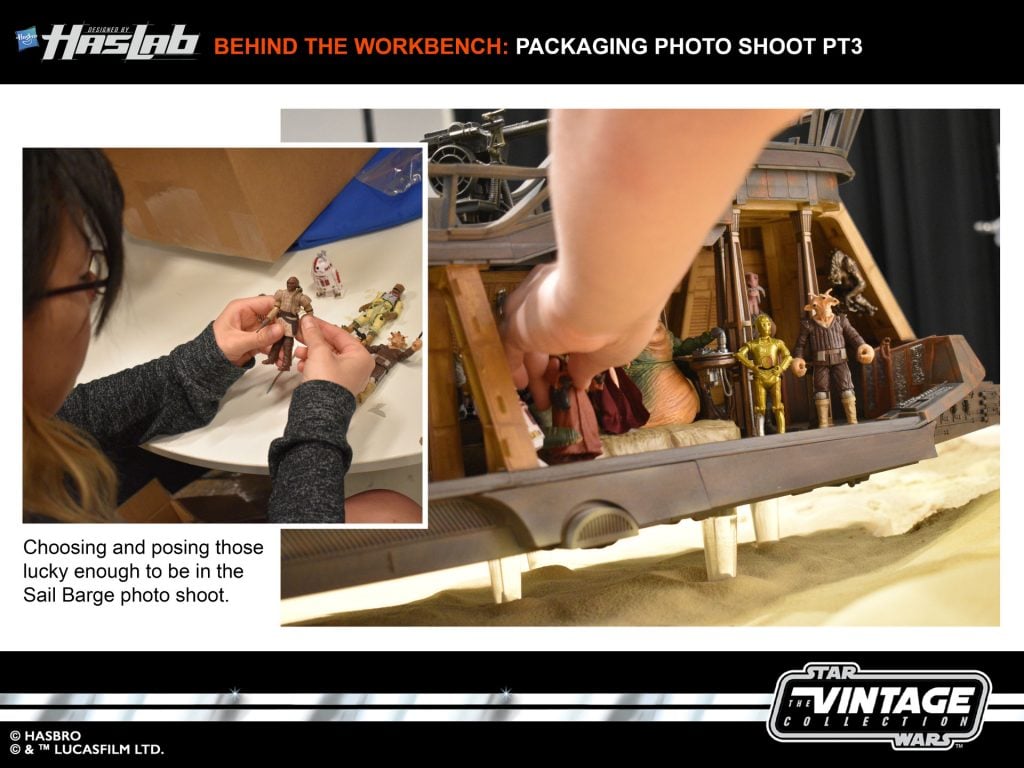 Hasbro unveiled the Vintage Collection Jabba's Sail Barge at NY Toy Fair this year in all of its glory and it is truly insane. With lots of cool features and incredible detail, Jabba's Sail Barge is sure to be a game changer for Hasbro. Are you excited for the release of this mammoth Vintage Collection piece next year?
Writer and Star Wars lover located in Florida, USA.
"I don't like sand. It's coarse and rough and irritating and it gets everywhere."
- Anakin Skywalker