The Resistance Broadcast – J. J. Abrams Has Less to Prove with Star Wars: Episode IX
Listen or watch below! Oscar Isaac spoke briefly about the vibe of the production for Episode IX, saying it is looser and more relaxed than the previous two films. While this isn't a big news story by any stretch, it does allow us to get an idea of how Abrams is approaching the final installment. We give our takes on this as well as Jon Favreau's nostalgia based Easter Egg teasers from the set of The Mandalorian!
Since news was light, to close it all out, we answered more of your questions than usual this week in #AskTheResistance like – Is The Mandalorian being used as a testing ground for new directors?? Did your questions get picked for the show? Join us and find out!
J. J. Abrams Has Less to Prove with Star Wars: Episode IX
On this transmission of The Resistance Broadcast:
John Hoey, James Baney, and Lacey Gilleran!
We are now on SPOTIFY! So if you have that app you can easily search "Resistance Broadcast" and pull up our entire catalog of episodes!
If you aren't a Spotify type of person no worries, nothing else has changed if you're subscribed to our YouTube channel or follow us on Soundcloud and/or are subscribed on iTunes!
ASK THE RESISTANCE!
One of our favorite segments on the podcast is where we hear from you! Send us your questions for our segment Ask the Resistance and get featured on the podcast!
Did your question make it on this episode? If so, great! If not, be sure to ask us your question for next time! If you would like to submit questions for the show you can tweet at us on our Twitter account @RBatSWNN, message us on the Cantina Forum in the questions and comments thread, or send an email to resistancebroadcast@gmail.com. Your support and comments are highly appreciated and you always make the show more fun! If messaging us on Twitter, make sure to include #AskTheResistance so we can access your questions directly every week.
BUY YOUR RESISTANCE BROADCAST MERCH!
The only way to support our ability to give you two free weekly episodes is by buying some of our awesome designs on a shirt, coffee mug, tank top, sticker, hoodie, pillow, anything! Simply go to our Resistance Broadcast store on TeePublic – check out our 30+ different design and pick what you like.
Our latest is our campaign to #MakeSolo2Happen! Grab yours on sale HERE – let's make it happen!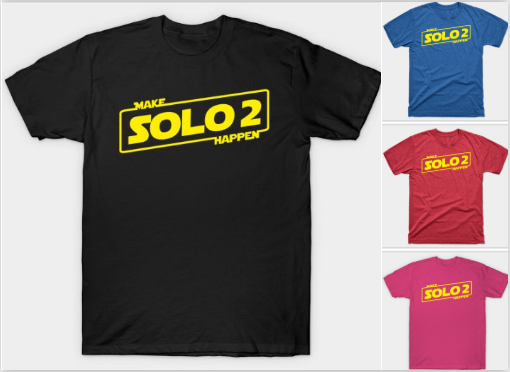 Special thanks to Matt Pasterick for our theme song!
John Hoey is the Lead Editor and Senior Writer for Star Wars News Net and the host of The Resistance Broadcast podcast
"For my ally is the Force, and a powerful ally it is."