Boba Fett Movie Would Have Focused on Bounty Hunters from 'The Empire Strikes Back' – Could Still Be Made Years From Now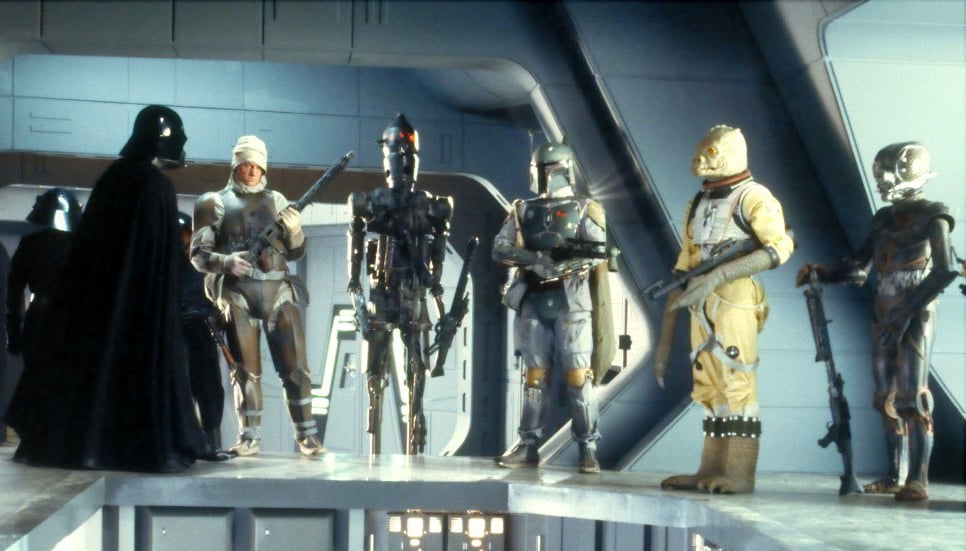 New information from Entertainment Weekly suggests that the Boba Fett film, which is currently not in active development due to The Mandalorian taking priority, reveals that the project would have prominently featured the other bounty hunters from The Empire Strikes Back, including Dengar, Zuckuss, IG-88, 4-LOM, and Bossk. The publication also notes that the possibility of resurrecting the movie is not off-limits years down the road.
As we know, a movie about Boba Fett is not a priority for Lucasfilm at this time, but it could be a while from now:
"Entertainment Weekly sources confirmed that the film about Fett, which has been something Lucasfilm has been exploring since 2013, is now not in active development. However, the possibility of a resurrection remains."
But one detail that's new is that the project would have emphasized not just Boba Fett, but his cadre of Bounty Hunters that he worked alongside in the middle of The Empire Strikes Back:
"The movie would have focused on Fett and the menagerie of bounty hunters who appeared alongside him on the deck of a Star Destroyer in The Empire Strikes Back, and it was originally being developed for director Josh Trank, who left the project amid the turmoil and aftermath of his Fantastic Four reboot."
It's also noted that, for a time, Josh Trank was expected to appear at 2015's Star Wars Celebration Anaheim to present his pitch for the project to attendees at a "Future Filmmakers" panel, along with a short clip hinting at the direction the project would take. However, due to internal friction with the project's then-screenwriter and producer (Simon Kinberg) over the messy production of Fant4stic, Trank was encouraged not to show up at the event and was reportedly fired by Lucasfilm weeks later. Gareth Edwards had to carry the presentation without Trank, which is where a proof-of-concept sizzle reel for Rogue One was shown.
While the news of this project is undoubtedly disappointing for fans of the character, it makes some sense due to Jon Favreau's The Mandalorian taking priority over it. Lucasfilm is currently emphasizing launching creator-driven Star Wars film series from Rian Johnson and Game of Thrones showrunners David Benioff and D. B. Weiss, but just because a movie starring Boba Fett isn't happening anytime soon doesn't mean that other standalone projects have been iced. We'll find out more about the future slate of Star Wars movies starting next year at Star Wars Celebration Chicago, but fans wanting a massive Marvel Studios-like blowout of five years of movies should keep their expectations in check, as that is unlikely to happen after the problems that faced the productions of Rogue One and Solo.
Grant has been a fan of Star Wars for as long as he can remember, having seen every movie on the big screen. When he's not hard at work with his college studies, he keeps himself busy by reporting on all kinds of Star Wars news for SWNN and general movie news on the sister site, Movie News Net. He served as a frequent commentator on SWNN's The Resistance Broadcast.