Star Wars Resistance: Synopses of First Five Episodes Revealed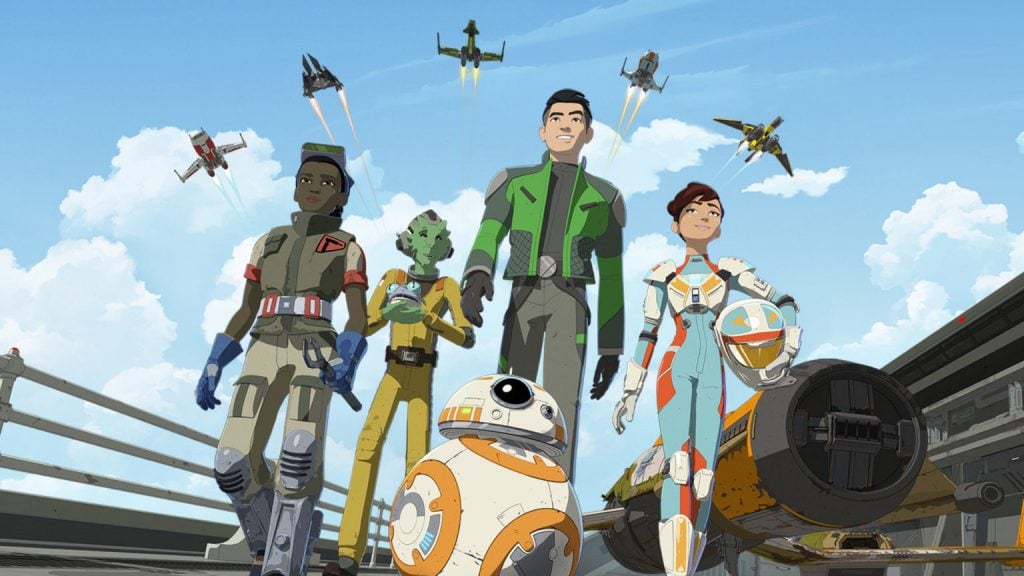 With the premiere of Star Wars Resistance just two weeks away on October 7th, the synopses for the first five episodes have been revealed following the title reveals last week.
According to the Disney Channel, the synopses for the first episodes of Star Wars Resistance are as follows:
The Recruit: Part 1 & 2 (Air Date October 7, 2018)

X-wing pilot Kazuda Xiono is recruited for the Resistance, but finds himself in over his head when Poe Dameron assigns him to a remote fueling station to spy on the First Order. Then, after Kaz boasts about being the best pilot around, he is forced to compete in a dangerous sky race.
* Guest starring is Oscar Isaac ("Star Wars: The Last Jedi") as Poe Dameron, Jim Rash ("Community") and Bobby Moynihan ("DuckTales") as Flix and Orka, respectively.

The Triple Dark (Air Date October 14, 2018)

Kaz and BB-8 uncover information on an imminent pirate attack and must find a way to stop it.
* Gwendoline Christie ("Star Wars: The Last Jedi") guest stars as Captain Phasma.

Fuel For The Fire (Air Date October 21, 2018)

Kaz befriends a sky racer named Rucklin who pressures him to take some rare and dangerous hyperfuel hidden in Yeager's office.
* Elijah Wood ("The Lord of the Rings" trilogy) guest stars as Jace Rucklin.

The High Tower (Air Date October 28, 2018)

The First Order arrives at the platform for mysterious reasons and Kaz and BB-8 are determined to sneak into the tower to find out what they want.
* Donald Faison ("Scrubs") guest stars as Hype Fazon.
It seems the two-part series premiere "The Recruit" will focus primarily around protagonist Kazuda Xiono, providing fans an introduction to a new corner of the Star Wars galaxy. The first episodes will also feature Poe Dameron (voiced by Oscar Isaac), who we previously learned recruits Kaz for a secret mission to spy on the First Order. Star Wars Resistance is also bringing other great guest stars into the fold with Gwendoline Christie returning to voice Captain Phasma as well as Jim Rash, Bobby Moynihan, Donald Faison, Myrna Velasco, Suzie McGrath, Lucasfilm Animation voice legend Stephen Stanton, and even Elijah Wood! Also Rachel Butera is returning to Star Wars animation, providing the voice of Leia Organa!
Are you excited for Star Wars Resistance yet? The series takes to the skies in less than two weeks, so don't miss the series premiere on Sunday October 7th!
Writer and Star Wars lover located in Florida, USA.
"I don't like sand. It's coarse and rough and irritating and it gets everywhere."
- Anakin Skywalker