New 'Star: Wars Resistance' Video Introduces the Aces and Gives Us Another Glimpse of Kylo Ren's Command Shuttle
A new video introduces us to the "Aces", the pilot stars of the new animated series Star Wars: Resistance. USA Today unveiled the exclusive video which not only introduces us to our new characters, but interviews the voices behind them and gives us an extensive look at the animated action fans will see when the show debuts on the Disney Channel on October 7th!
The anime-inspired series, created by Lucasfilm Animation stalwart Dave Filoni, draws inspiration from World War movie fighter planes. But what are cool fighter planes without the characters flying them? Let's meet our new heroes!
Meet the Aces, a "group of five pilots with their own custom outfits and droids who protect the Colossus" (the aircraft refueling station on a yet to be revealed water planet):
Kazuda Xiono

(voiced by Christopher Sean) is a young hotshot recruited by Poe (Oscar Isaac) for an important Resistance mission

Hype Fazon

(Donald Faison) is a cocky Rodian showoff whose heart is in the right place

Griff Halloran

(Stephen Stanton) is a gruff ex-TIE pilot

Freya Fenris

(Mary Elizabeth McGlynn) is a fierce lady who's all business

Bo Keevil

is the mysterious, quiet daredevil of the group.
Check out the video which introduces the characters, including interviews with the cast (via StarWars.com).
From USA Today:
Kazuda Xiono (voiced by Christopher Sean) is a young hotshot recruited by Poe (Oscar Isaac) for an important Resistance mission: go undercover on the Colossus, an aircraft-refueling station on a water planet, and spy on any nefarious First Order shenanigans. Kaz quickly finds a competitive community of others with a need for speed who engage in life-or-death races for fame and fortune. He pilots the Fireball, designed as a cross between an X-wing and a World War II F4U Corsair, but hasn't really been out in the world to test his skills.
Star Wars fans wondering if any universal Star Wars storytelling tropes will be used in this series can fear not, as Kaz's journey has all the makings of a coming-of-age story of a young man trying to find his place during uncertain times, in a galaxy still working to find its post-Empire identity, although the First Order's presence is firmly established. It almost sounds like Kaz himself might be a metaphor for the state of the Galaxy. Dave Filoni on our new main protagonist Kazuda (Kaz) Xiono:
"He is a fish out of water somewhat in this extreme environment of the Colossus where people are trying to figure out what is their life now in the years after the Empire fell."
In addition to the Aces, Kaz will befriend a young girl named Torra Doza (Myrna Velasco), a character that doesn't take things too seriously but is a good pilot in her own right:
"She's actually rather fun and lighthearted. It doesn't mean that she can't be also a fantastic pilot."
Now what would a good Star Wars story be without some bad guys! That brings us to Major Vonreg, (voiced by Lex Lang). Vonreg is a TIE fighter pilot for the First Order, whose "crimson armor and spacecraft come from an old-school inspiration" according to the USA Today report.
We saw this mysterious red character in previously released images, so here is our main villain Major Vonreg in all his crimson glory.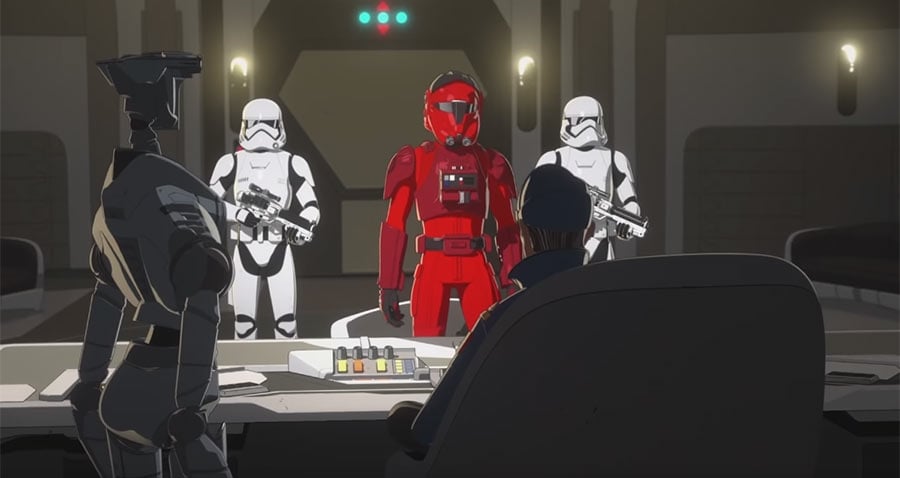 "Every time we have a villain pilot, we would talk about, well, is this our Red Baron? And finally it's like, let's make one red all out. It seems to fit with the First Order, since they seem to really like that as a color. If the good guys have aces, the villains need them, too." -Dave Filoni
The video offers a closer look at the animation style and action of the series, and by the looks of it we are in store for a lot of fun high-octane flying fun.
For anyone wondering about sequel trilogy connections beyond BB-8 and Poe Dameron, as one of our readers @TheScottJayro pointed out in the first teaser a few weeks ago, Kylo Ren's command shuttle makes an appearance! Here is another shot of it from today's video.
Star Wars: Resistance debuts on the Disney Channel on October 7th, so we only have one question: Do you feel the need? The need for speed?
John Hoey is the Lead Editor and Senior Writer for Star Wars News Net and the host of The Resistance Broadcast podcast
"For my ally is the Force, and a powerful ally it is."