'Star Wars Rebels' Season Four Blu-ray Review – Superior Quality and Endless Amounts of Lore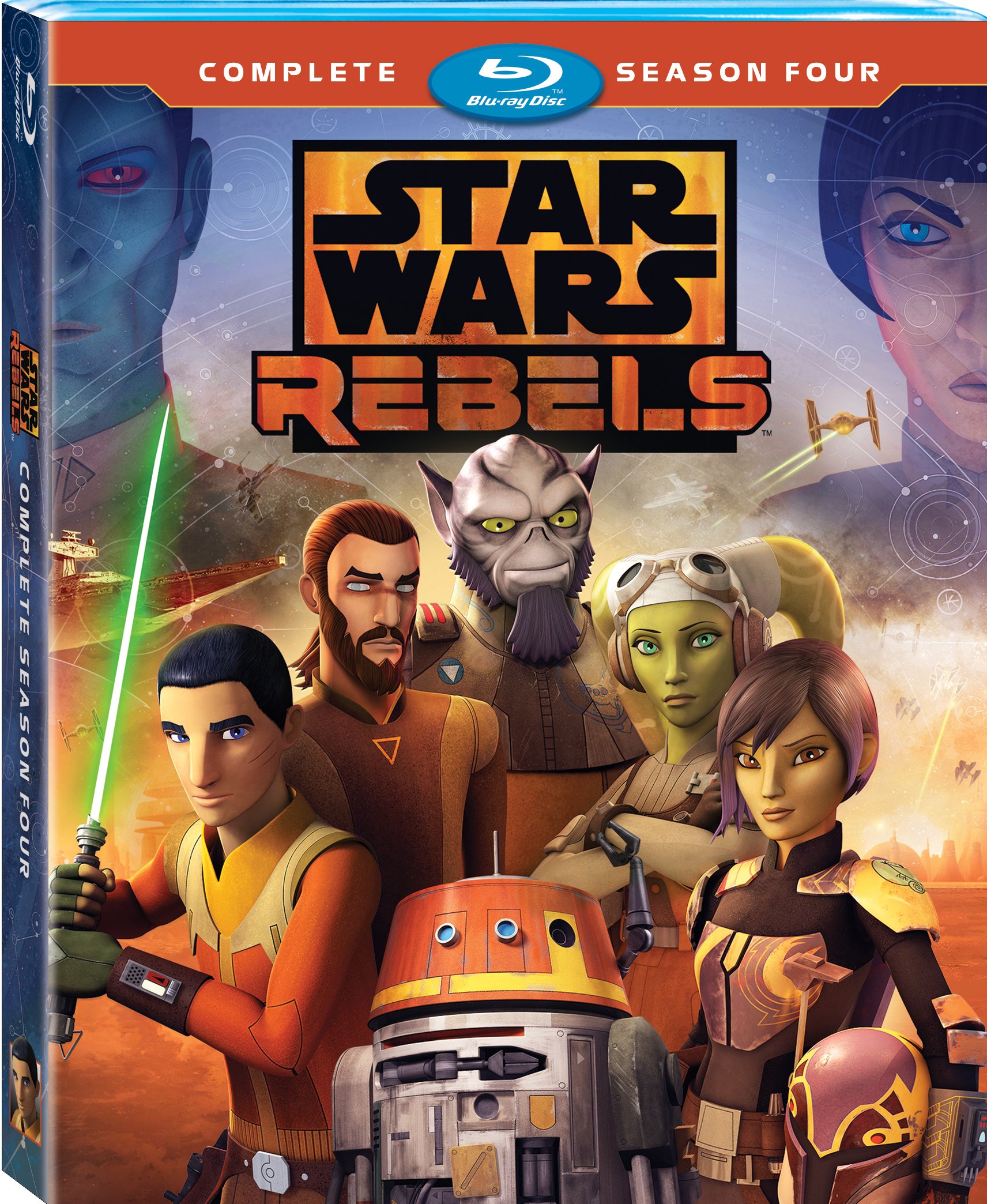 Fourteen years after Revenge of the Sith, the crew of the Ghost are making their last jump into hyperspace together as Star Wars Rebels comes to an end in its fourth and final season.
Premiering in October 2014 on Disney XD, Rebels set the bar for small screen Star Wars entertainment. Not only did it introduce popular characters once thought to be lost to Legends but it also paid off big moments from both the Skywalker saga films and The Clone Wars – Ahsoka vs. Darth Vader, Grand Admiral Thrawn, the return of Rex and Saw Gerrera, Maul's final showdown with Obi-Wan Kenobi, among others. With its 15 episode swan song, Season 4 sets out to give each of the ragtag crew members their own ending – and for some, new beginnings.
As Grand Admiral Thrawn brings the might of the Galactic Empire down upon our heroes, the Ghost returns to Lothal for an all-out fight that will set the stage for the Rebel Alliance. Rife with callbacks to Rogue One, the series has never felt more prominent in canon. In a season that featured deeper insight into the inner workings of the Force and moments of real emotional weight, Rebels has truly taken its place as essential viewing for Star Wars fans both new and old.
Now available on Blu-ray, the season is split across two discs and has never looked or sounded better. Lucasfilm/Disney have littered these discs with hours upon hours of special features and commentaries that will give you more than enough reason to revisit Rebels time and again.
VIDEO
As with previous seasons of Rebels, each episode is presented in the 1.78:1 aspect ratio. The color reproduction truly pops in 1080p high-definition widescreen, giving the episodes a sharp and clean presentation that sets it above its initial television broadcast. For a show set in space, the black levels are strong, presenting a nice firmness for the show's darker moments. But its the crispness of the color palette used in the show that will really wow viewers: lightsabers, blaster bolts, shiny ships, alien skin, and a certain blue hued villain all look incredible in this presentation.
AUDIO
The roar of twin ion engines, the igniting of a lightsaber, the various beeps and boops of an astromech droid all sound especially vibrant on the Blu-ray's Dolby Digital 5.1 soundtrack. Dialogue is clear and at the forefront of the tracks but the various noises that make up the Star Wars universe are present and noticeable throughout. Then there's the music, a quintessential staple in Star Wars, and while there's a special feature devoted to composer Kevin Kiner, there is no limit to the praise deserved of his score and how beautifully it has carved its own niche and personality alongside legend John Williams' established work in this sandbox.
SPECIAL FEATURES
Dave Filoni commentary tracks – Need I continue? By far the best highlight of these discs is Filoni's inside look into six key episodes of the final season. Instead of simply talking about what is happening on screen, the Rebels Executive Producer instead bridges the gap to the production of The Last Jedi and how it impacted and influenced this season in addition to the process behind storylines, character motivations, and the decision to pull Grand Admiral Thrawn from page to screen.
In addition to being joined by several crew members on the commentary tracks, Filoni hosts a 15 minute segment entitled Force of Rebellion which may be enough to justify an immediate purchase in itself. Using footage from the movies, The Clone Wars, and Rebels, he waxes philosophic about the nature of the Force and the intricacies that exist between the light and dark sides. It's fascinating, deep, illuminating, and will no doubt fuel the desires of those who would love to see Filoni direct a live action Star Wars film.
As usual, each episode features the Rebels Recon featurettes that give additional looks behind the curtain through interviews with the cast and crew, as well as and glimpses at production and storyboards.
Besides a bevy of deleted scenes, Season four's Blu-ray features a series of goodbyes to the Jedi, pirates, and droids we've come to know over the last five years. Ghosts of Legend shines a spotlight on our beloved cast of characters, following them from Season one until now, showcasing their biggest moments and some of the show's standout episodes.
Overall this is a tremendous collection for one of the show's finest seasons. The wealth and quality of special content and features makes this a great way to continually revisit Kanan, Hera, Sabine, Ezra, Chopper, and Zeb before their continued adventures are eventually told. A truly great series that arguably improved each season, Star Wars Rebels can live forever through this worthy addition to your Star Wars home video collection.
Under the twin suns of Los Angeles, Chris continues to mourn the loss of Admiral Ackbar while championing the rights of Ewoks everywhere. Follow him on Twitter and Instagram @Chri5Manning for all your pun needs.