Rob Bredow (Head of ILM) Reveals New 'Making of Solo' Book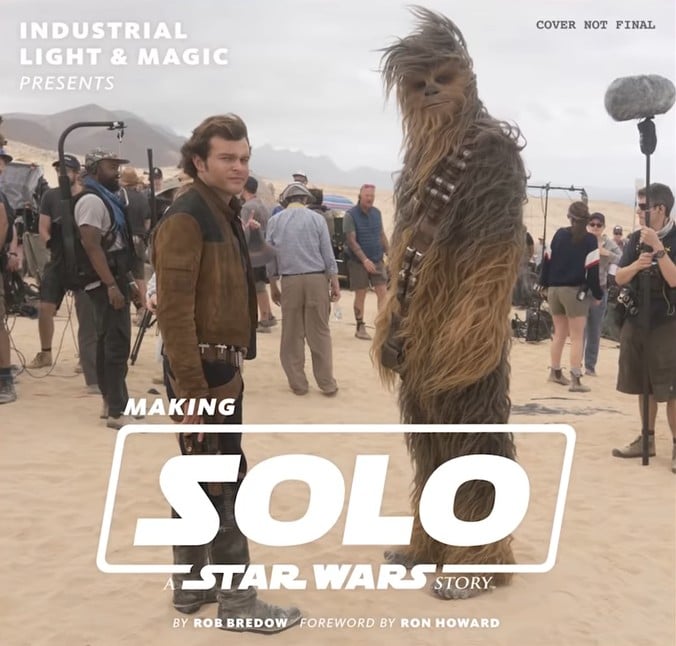 This week on The Star Wars Show, host Andi Gutierrez sat down with Rob Bredow (visual effects supervisor on Solo: A Star Wars Story and head of Industrial Light and Magic) to discuss his upcoming book – Industrial Light & Magic Presents: Making Solo: A Star Wars Story.
A little over two years ago, we  spoke with author and former editor for Lucas Licensing's book division, J.W. Rinzler, who had previously written several books covering the making of the Star Wars saga films. With Rinzler's exit from the company right around the release of The Force Awakens, many fans of the fascinating book series began to wonder if any "Making of" books for the sequel trilogy or the upcoming anthology films would ever be released.
Rinzler revealed that he had indeed been working on a Making of The Force Awakens book but that the book had been delayed. He also made the presumption that when the book would finally be published, he would most likely get the call to help finish it, but that it was ultimately up to Lucasfilm as to how these books would be approached in the future.
Since then, all has been quiet regarding the book series. But now, Rob Bredow has revealed his new book about the making of Solo, showing us that LFL has certainly not abandoned the idea altogether. Maybe one day we'll get those "Making of" books for the sequel trilogy after all.
With the nature of the saga films and the production team's commitment to secrecy during the production, it's understandable that the books haven't been released yet. Any reveals, even about TFA, could potentially spoil something about Episode IX, so I imagine that the books will be released some time after the final installment hits theaters next December.
The unique aspect of the Solo book, is that this marks the first time that a "Making of" book has been written by someone who actually worked on the film. As visual effects supervisor, Bredow would often take a camera on set to snap images for reference for his effects team. When he began to realize later that he was at times the only person with a camera on set and just how amazing some of his candid images were, he knew he had to do something with them.
Originally, he planned to compile the images into a book as a gift for the crew after production, but when someone suggested that he go all out on this book idea, he showed his images to Kathleen Kennedy, and she gave him the green light.
The images are truly captivating, and it will be great to learn more about what took place behind the scenes during the making of the movie, so we can't wait to get our hands on this one. If you're interested in the book, it will be released on April 16th, 2019 and can be pre-ordered now through Abrams Books for $50.00.
For the full interview with Bredow, check out this week's episode of The Star Wars Show:
Jordan Pate is Co-Lead Editor and Senior Writer for Star Wars News Net, of which he is also a member of the book and comic review team. He loves all things Star Wars, but when he's not spending time in the galaxy far far away, he might be found in our own galaxy hanging out in Gotham City or at 1407 Graymalkin Lane, Salem Center, NY.