Review – Snoke's Throne Room In Marvel's Star Wars: The Last Jedi #5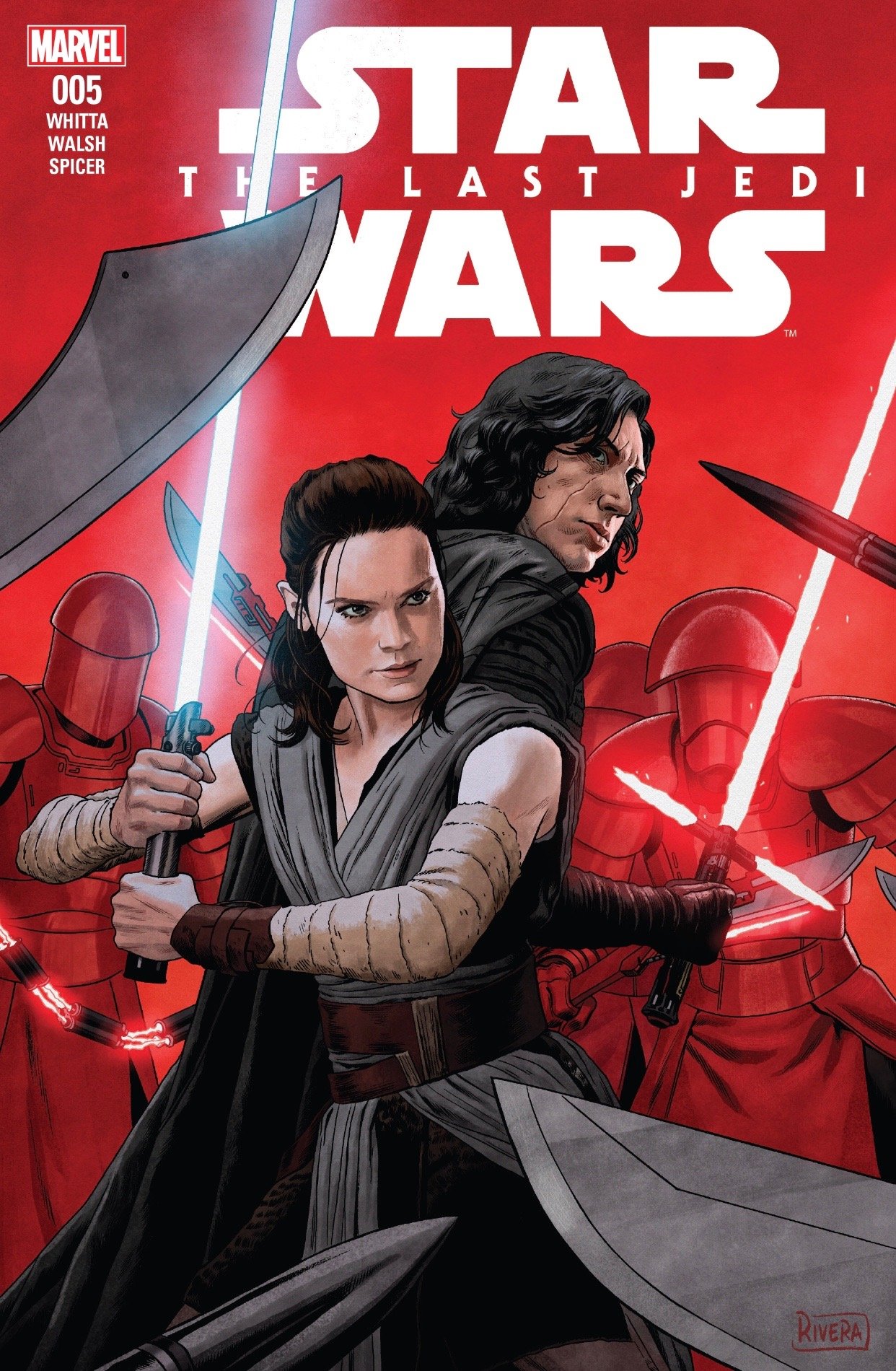 Well, you could keep spending hours obsessing over that intriguing picture Mr. Abrams posted this morning on his newly minted Twitter account – or, you could take a break and revisit The Last Jedi through Marvel's great adaptation. Oh yeah, and we've arrived in Snoke's throne room for that battle. Prime up those retinas because we are coming in hot for the fifth issue, and it's a good one!
The fifth issue primarily focuses on the events of Rey and Kylo Ren's meeting aboard the Supremacy. I must say I was a little disappointed that they didn't take more liberty with Snoke's gruesome appearance. He actually looks a little less than sinister in these frames and in earlier issues artist Michael Walsh really underscored his shadows and gave him a very macabre presence. Not so much here, but other characters get the treatment later on.
I liked the appearance of the Praetorian Guards and this issue does the fight scene justice. It'd be hard to find a Star Wars fan who hasn't seen The Last Jedi, but I wonder how someone would react to this scene if they'd experience it in pure comic book form. I loved it, but I'm a bit predisposed to liking it, since this story is quite high on my list of Star Wars stories.
Depending on your views, this may or may not be a "hot take": Kylo Ren is a villain. He came into this saga as a villain and I believe this saga will end with him being a villain. I hope we get to learn more about Ben Solo someday, and I think the tragedy of the last Skywalker falling from grace is a worthy one. Not everyone can be saved, and referencing the picture above, not everyone wants to be. Kylo's controlling, manipulative actions in the scene above toward Rey's vulnerability about her parents condemned him for me.
This frame was the crown jewel of the issue for me. My complaints about The Last Jedi were few, but this Force tug-of-war scene was something I found a little silly. I love what it represented, but I just wasn't thrilled about the way it concluded that amazing scene. Definitely liked it here, though I'm still a little bummed about that iconic lightsaber getting ripped in two. Colorist Mike Spicer did a great job in this issue. In past issues, I've been surprised that some of the colors were so subdued. The Last Jedi is a vibrant, visually dynamic film. I really felt that feast for the eyes carry over into this issue.
Speaking of visual feast: I have no words. I'd bet most Star Wars fan would jump if a print of this frame was presented to them. So good and a testament to cinematographer Steve Yedlin and Rian Johnson's vision. Bravo to team Walsh and Spicer.
Finn and Rose's fate plays out aboard the Supremacy as well. I loved this frame of Finn. He's in full badass mode in this issue. Another testament to John Boyega's excellent performance in The Last Jedi.
Crait looks gorgeous in this book! Writer Gary Whitta actually previewed a frame from this issue and commented on the deliberate changes they made to the background of this shot.
A little thing I love about next week's issue… we desaturated the color palette on Crait to almost total monochrome so the red salt really pops off the page. The battle looks fantastic. #TheLastJedi pic.twitter.com/rYwV4IoeAm

— Gary Whitta (@garywhitta) July 23, 2018
Good call! The Battle of Crait is just starting to turn on what's left of the Resistance. Just as everything is close to being lost, the Millennium Falcon shows up like a bat out of hell! The stage is set for the climax of The Last Jedi, and a Jedi Master who is about to make an appearance.
There's not a lot of surprises in this issue. It pretty much sticks to the script and I understand why. Gary Whitta's a great writer and he knows when not to change the work of another great writer. I'm just fine with that. I thought the art was a bit choppy in some frames, but when it's on, it looks great. I'm had pressed to find a visual rival for some of the amazing scenes in The Last Jedi. As I've mentioned before, these issues on their own are not 'must-have' material, but I'd suggest the cover of this one is worth adding it to your collection. When the adaptation is released as a complete volume, it will certainly be something to add to your collection.
RATING: 7/10
Kyle Larson lives in Portland, Oregon. When he's not running trails, he's reading and writing.