Review: Black Squadron is On the Ropes in Marvel's Star Wars: Poe Dameron #30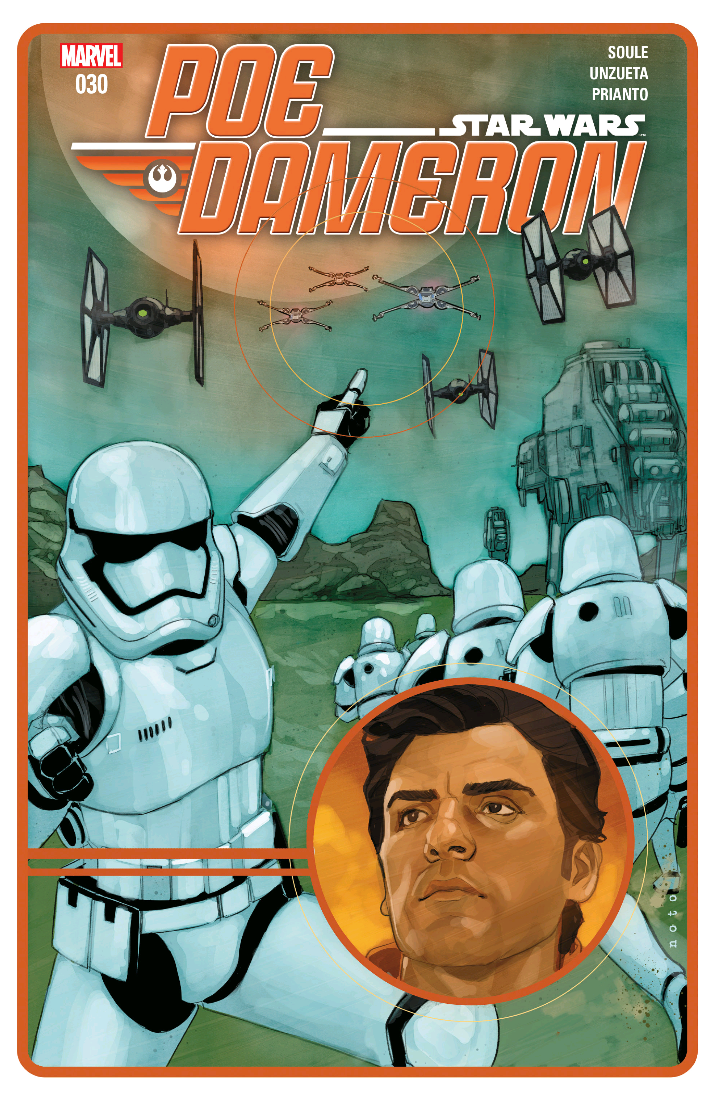 "AWAKENINGS," PART FIVE! BLACK SQUADRON had its own mission during the events of THE LAST JEDI, a desperate trek across the galaxy to find aid for THE RESISTANCE, all without the help of their fearless leader, POE DAMERON. This is the beginning of the end.
Spoilers ahead…
The penultimate issue of Charles Soule's Star Wars: Poe Dameron series has arrived, and with it comes the continued story of what Black Squadron was doing during the events of The Last Jedi. The team, under the temporary command of Snap Wexley has just recently left a disappointing encounter with a potential Resistance sympathizer. Now, the pilots find themselves en route to the planet Ikkrukk.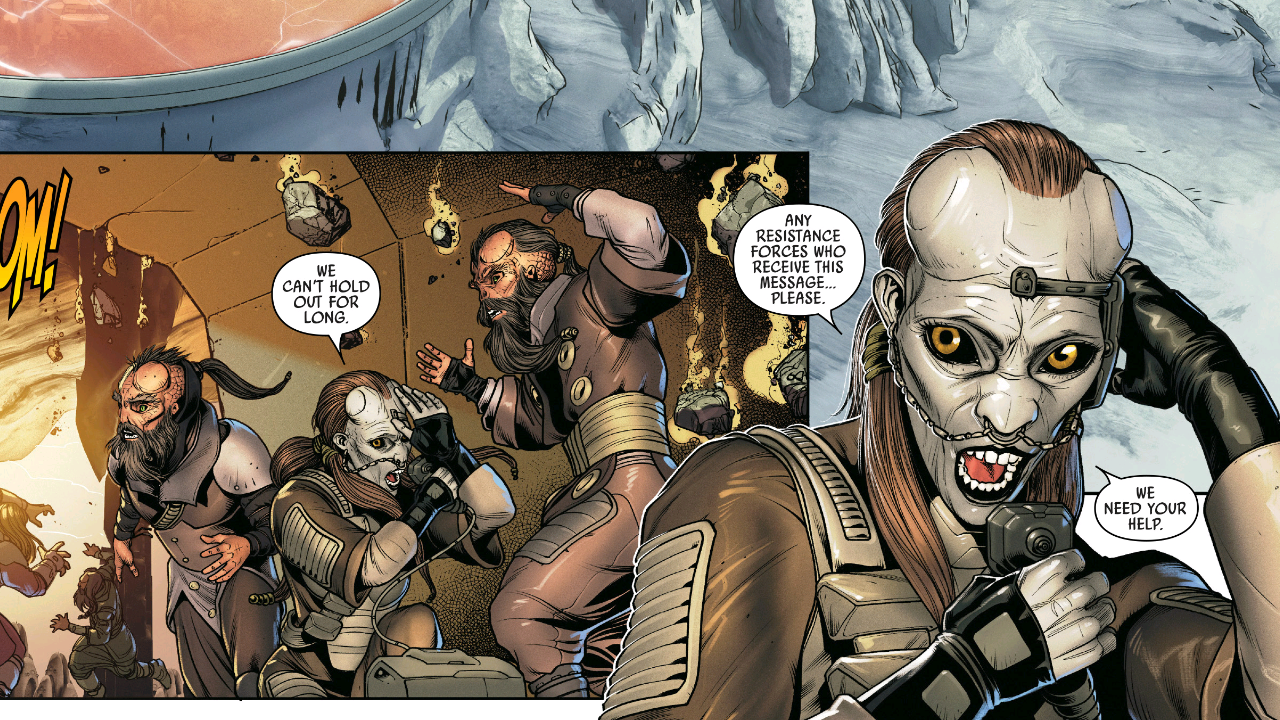 While looking for aid to their cause, Black Squadron had received a distress call from the planet, and now they plan to offer their assistance in hopes that the people of Ikkruuk would offer theirs in turn. Upon their arrival, however, the team discovers the severity of the situation as the planet is being overrun by the First Order, an assault made possible by a local faction of First Order supporters.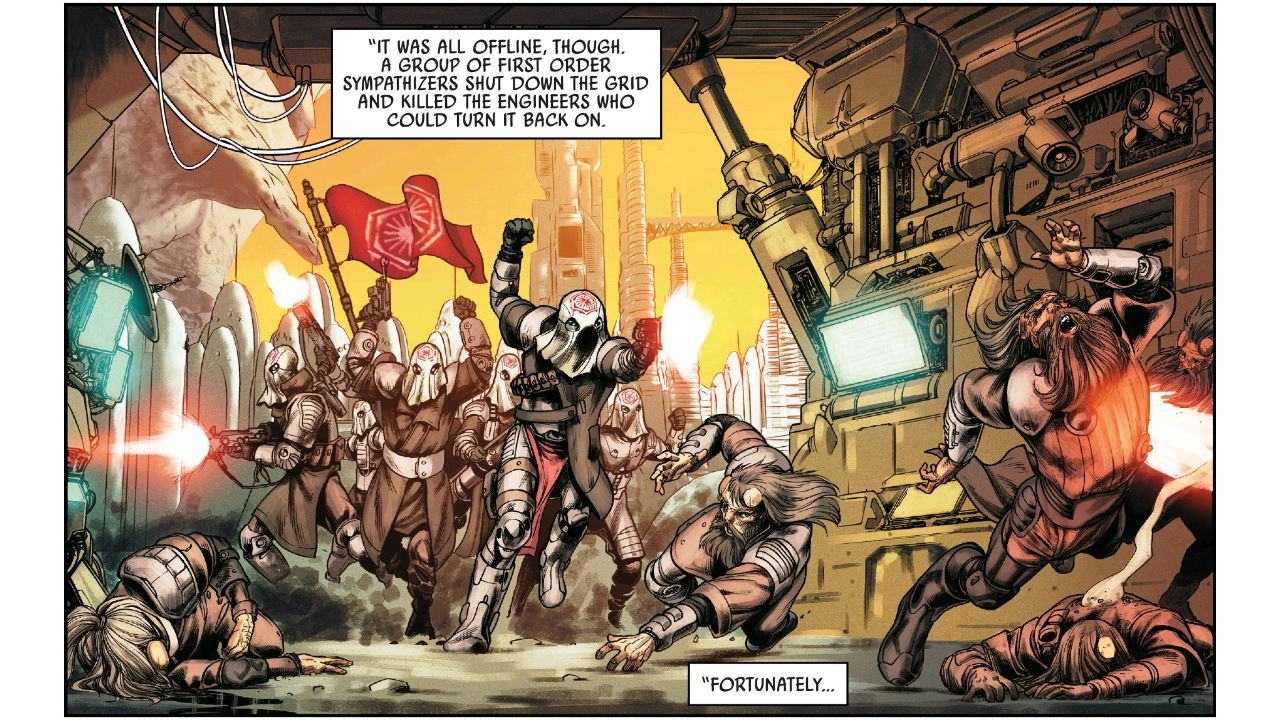 The locals have holed up in their city in attempt to defend against the attack, relying on a deflecter shield to ward off the attackers. Ikkruuk should have been an impenetrable fortess, but the First Order sympathizers had shut down the primary defenses and killed the engineers. Without the system online, it will only be a matter of time before the First Order breaches the shield. Lucky for them, Black Squadron's own Jessika Pava has experience with that particular system and offers to help them get it back up and running.
The only problem is that the only way into the city is through a small shield gate that can only be opened for a brief time or risk letting in enemy TIE fighters. Snap and Karè decide to remain outside the city as a distraction while Jess and Suralinda make their way to the gate. In the faster A-Wing, Sura clears the gate before Jess, and Jess barely squeezes through in her X-Wing, damaging her ship in the process. She doesn't exactly crash, but – as she points out –  she doesn't exactly "land" either. However, she does live to die another day, but if the final moments of the comic are any indication, that day may be sooner rather than later.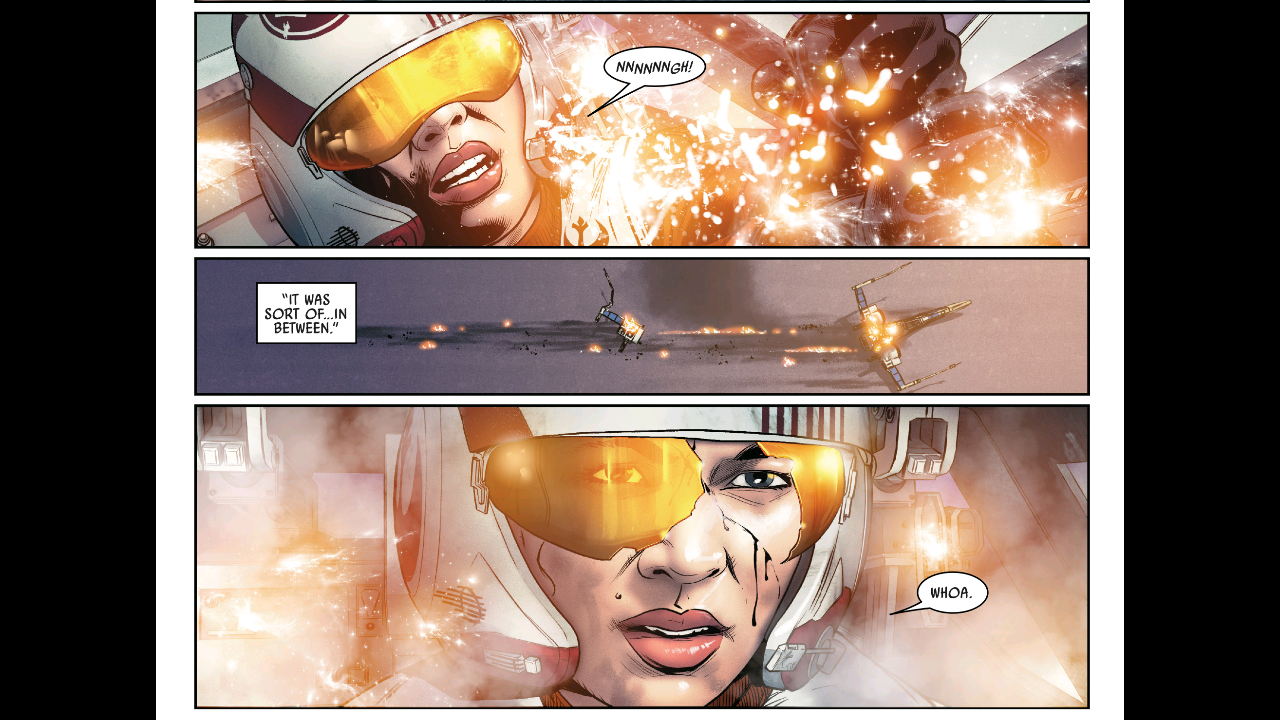 In this and previous issues, Poe had been learning about Black Squadron's recent exploits thanks to a recent transmission from Jess. Just before he finished watching the end of the transmission, C-3PO had informed Poe that he had received another, more recent message, which he immediately began decrypting. After the transmission is decrypted, Poe plays the message, hoping for some good news, but to his surprise, something has gone terribly, terribly wrong. The last panel of the issue leaves us on a pretty big cliffhanger as we see a bruised and bloodied Jessika Pava huddled up with her pistol next to an unconscious (and possibly dead) Suralinda with a smoking hole in her chest.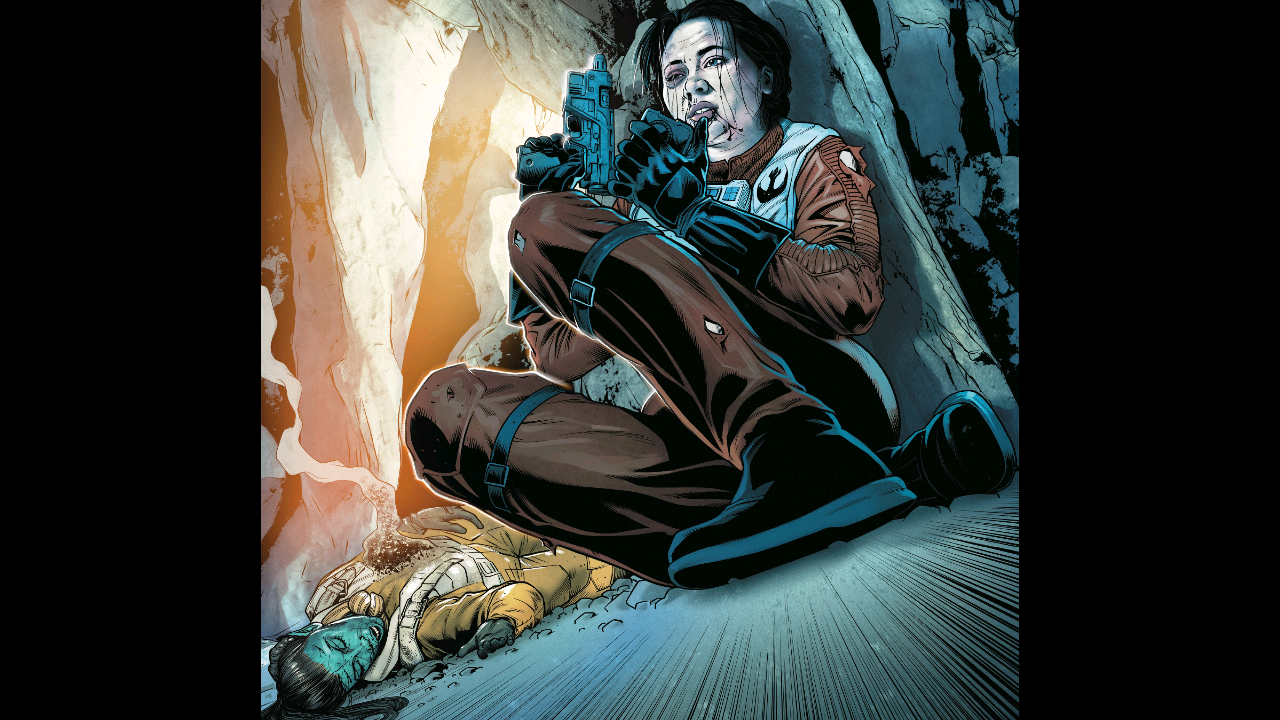 As I've mentioned before, this has been a consistently well-written and superbly-illustrated comic series from the beginning, and this issue continues to unravel an interesting story that keeps me looking forward to its upcoming conclusion. I am a little torn about my feelings regarding the final issue of the series. On one hand, it has been set up perfectly in this issue, and I can't wait to see what happens. On the other hand, I'll be truly sad to see this one go.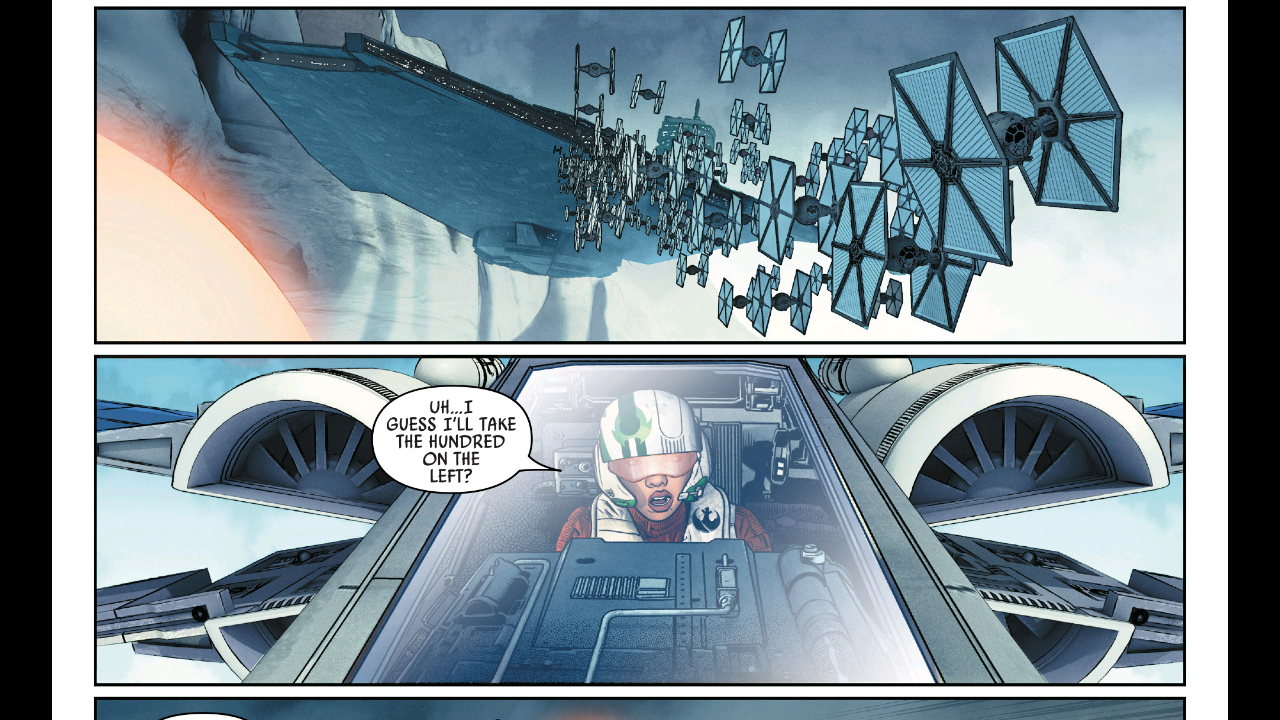 I continue to wonder about the fate of Black Squadron moving toward the series finale – who will survive? I'm pretty sure Snap and Jess will make it into Episode IX next year (at least Snap as Grunberg has pretty much confirmed his involvement), but Karè and Sura have me a little worried. Both of them are in some pretty tight spots at the end of the issue. When we last left Karè, she and Snap were fending off dozens of TIEs outside of the city. And as for Sura, well, that last panel speaks for itself.
What's been interesting about this series, is that even though it's titled Poe Dameron, it has ended up becoming more of a team book focusing on Poe's elite X-Wing squadron. I'm not complaining, but I think Black Squadron could have been a more apt title given the book's cast of characters and the time spent with them. That being said, how will Poe factor in to the final issue? Will he be able to help his team? Or will he reunite with the survivors after the fallout?
Score: 7/10
Star Wars: Poe Dameron #30 is available now in a comic shop near you or online at Comixology. Happy reading comic fans!
Jordan Pate is Co-Lead Editor and Senior Writer for Star Wars News Net, of which he is also a member of the book and comic review team. He loves all things Star Wars, but when he's not spending time in the galaxy far far away, he might be found in our own galaxy hanging out in Gotham City or at 1407 Graymalkin Lane, Salem Center, NY.