The Star Wars Premium Silver Foils are Back!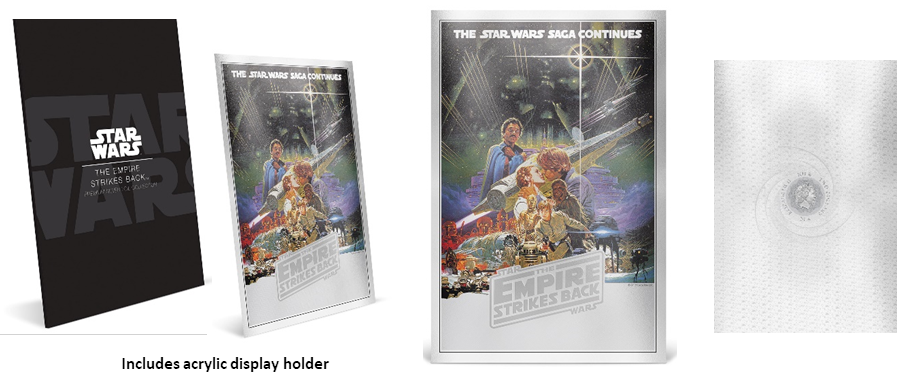 SECOND RELEASE: STAR WARS: THE EMPIRE STRIKES BACK
LIMITED EDITION– DON'T MISS OUT!
The Star Wars Premium Silver Foils are back with Star Wars: The Empire Strikes Back!
Following on from the first release for the original 1977 Star Wars movie poster New Zealand Mint have announced that the second foil features the second instalment in the trilogy! This is what one happy customer had to say about the first foil:
THOMAS, USA: This foil coin is truly a masterpiece! The engravers at NZ MINT really took it to the next level with such an exquisite design! I would seriously recommend buying this item before they sell out! Who knows, this maybe a one of a kind! Glad I bought mine. 5 STARS ALL THE WAY!!!!!
Released in May 1980 this second film was more than just an action movie — it allowed us to delve deeper into the depths of the key characters. Naturally Darth Vader features prominently on this striking precious metal poster. The use of both colour and engraving brings the poster to life with glimpses of the 35g of fine silver it is printed on. The foil is presented in a clever acrylic holder, which frames it and makes for easy display. It arrives packaged inside a Star Wars themed carrier, with the Certificate of Authenticity printed on the outside.
With limited availability, the mintage is set at just 10,000, hurry to order your precious metal poster today. And watch this space for further news, as you know what they say — everything comes in threes…
If you are keen to be one of the first to hear about Star Wars coins from New Zealand Mint, you can find them on Facebook, Twitter or sign up here to get Star Wars product news emailed directly to your inbox!