'Star Wars Rebels' Final Season Released on Blu-ray But the Future is Bright at Lucasfilm Animation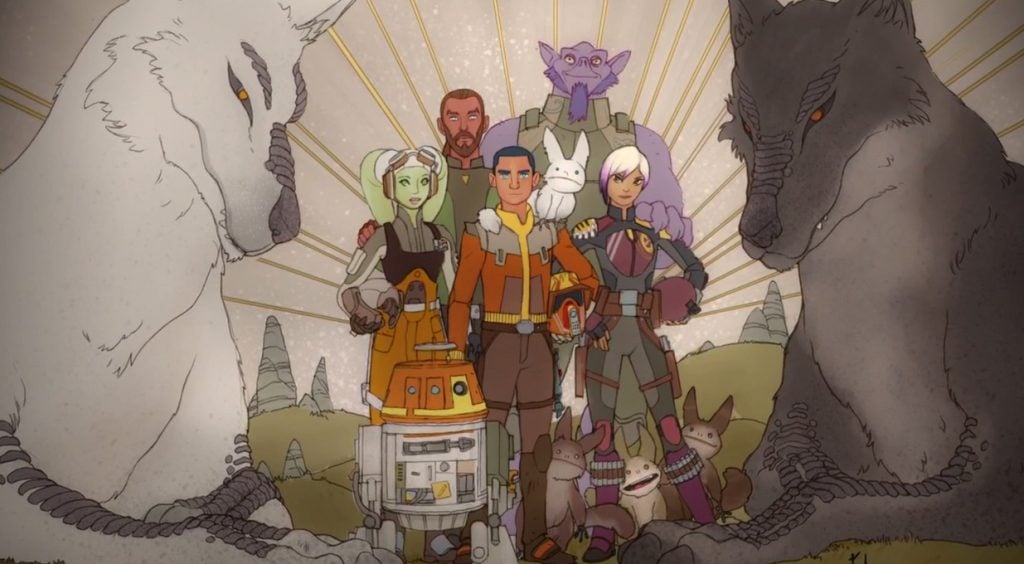 You can now watch Ezra, Kanan, and the rest of the Ghost Crew ignite the Rebellion on Lothal in a galaxy far, far away with the release of  the fourth and final season of Star Wars Rebels on Blu-ray or DVD today, July 31st. Join them as they bring their fight to the Empire one last time. While this is bittersweet, there is a lot to look forward to from Lucasfilm Animation!
Star Wars Rebels: The Complete Fourth Season is now available and comes complete with all 15 episodes from the final season, as well as never before seen extras.
Listen as Executive Producer Dave Filoni shares his wisdom on six audio commentaries, and go inside the show as the series' creators explore what brought Ezra, Kanan, Hera, Sabine, Zeb, and Chopper to the end of their journey in the extra "Ghosts of Legend."

Learn about the nature of the Force as Filoni shares insights into the power that binds the galaxy together in Rebels and across the Star Wars saga with the special, "Forces of Rebellion."

Meet the mastermind behind the score from the series in a special behind-the-scenes feature on the composer, "Kevin Kiner: The Rebel Symphony," and discover what inspired the show's most enduring musical themes.

And, of course, both the DVD (also arriving July 31) and Blu-ray sets come complete with the final season of Rebels Recon, StarWars.com's own entertaining and informative recap that dives into the themes and making of each episode — and uncovers some special Easter eggs.
Disc Specifications:
Release Date: July 31, 2018
Format:   Blu-ray (2-Disc) & DVD (3-Disc)
Rating: US: TV-Y7, CE: PG, CF: G (Bonus Material Not Rated)
Run Time: Approximately 353 minutes
Closed Captioned: Yes
Aspect Ratio: 1:78:1 (Widescreen)
Audio: English & French 5.1 Dolby Digital, Spanish 2.0 Dolby Digital
Languages/ Subtitles: English, French, & Spanish
Having the Filoni featurettes and commentaries alone is likely worth the purchase!
The Future of Lucasfilm Animation 
While it's sad that Rebels is over, we can now turn our attention to Star Wars: Resistance which makes its debut this October! Lucasfilm publicist Tracy Cannobbio just tweeted this in regards to the animation style of Resistance:
Hi! #StarWarsResistance is a CG animated show, with an anime inspired design. Hope that helps! We'll be sharing more news very soon. Have a great weekend too! 🙂

— Tracy Cannobbio (@Tcann13) July 28, 2018

Oh yeah, and some show called The Clone Wars is making its return next year too! While the sun (or suns depending on what planet in the galaxy you're on) may have set on one of our favorite animated series, the future is bright at Lucasfilm animation!
Writer and Star Wars lover located in Florida, USA.
"I don't like sand. It's coarse and rough and irritating and it gets everywhere."
- Anakin Skywalker