Review – Into The Mind Of Aphra In Marvel's Star Wars: Doctor Aphra #22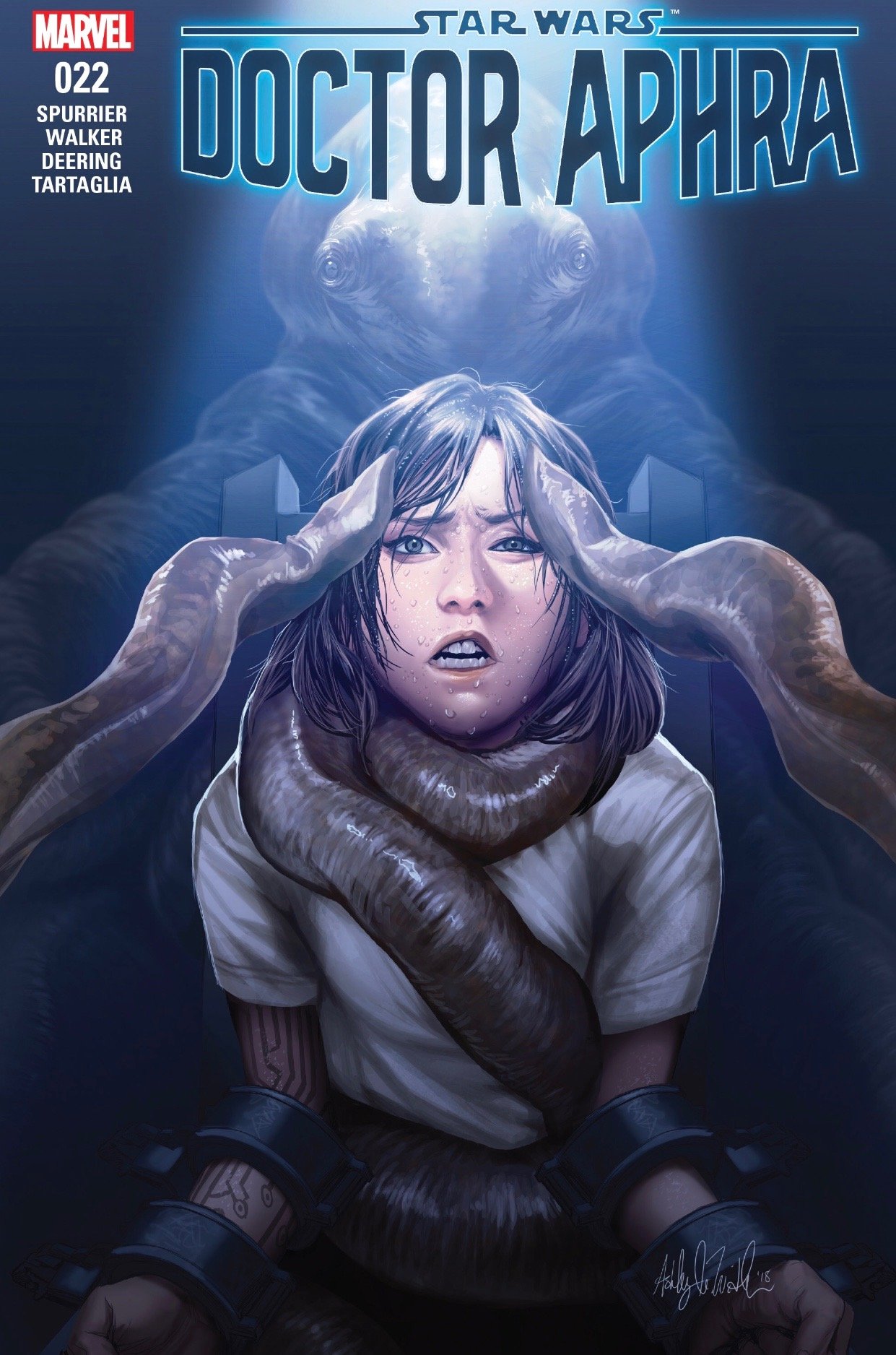 I was wondering when the bor gullet would appear again, after their Rogue One debut. This cover is certainly an honest one, as Aphra comes mind-to-mind with one and her enemies get one step closer in their search for her. Aphra is in the midst of her fair share of problems, while trying to juggle her romance with Imperial captain Tolvan, as well as deal with Sana Starros trying to grab her for the Rebel Alliance. If that weren't enough, she's also dealing with a mysterious Force presence that haunts the Imperial prison she's in. Get ready to dive in.
SPOILERS AHEAD….
Tam Posla lives, which is unfortunate for Aphra. She left him behind after the untimely death of his partner in the previous arc. They had both been part of Aphra's team, but somehow, Tam survived. He's still obsessed with avenging his partner's mutilation by Doctor Cornelius Evazan, and now he's added Aphra to his list of targets. Between the Rebel Alliance, two psychotic droids, and Tam; Aphra has a lot more to be worried about. I'm surprised Jabba the Hutt isn't in the mix somehow and I still feel like I'm forgetting someone else who might be after Aphra. If Vader knew she was alive, he'd be on that list too, and I don't imagine that's too far away. The galaxy is a big place, but it seems very small for Aphra right now.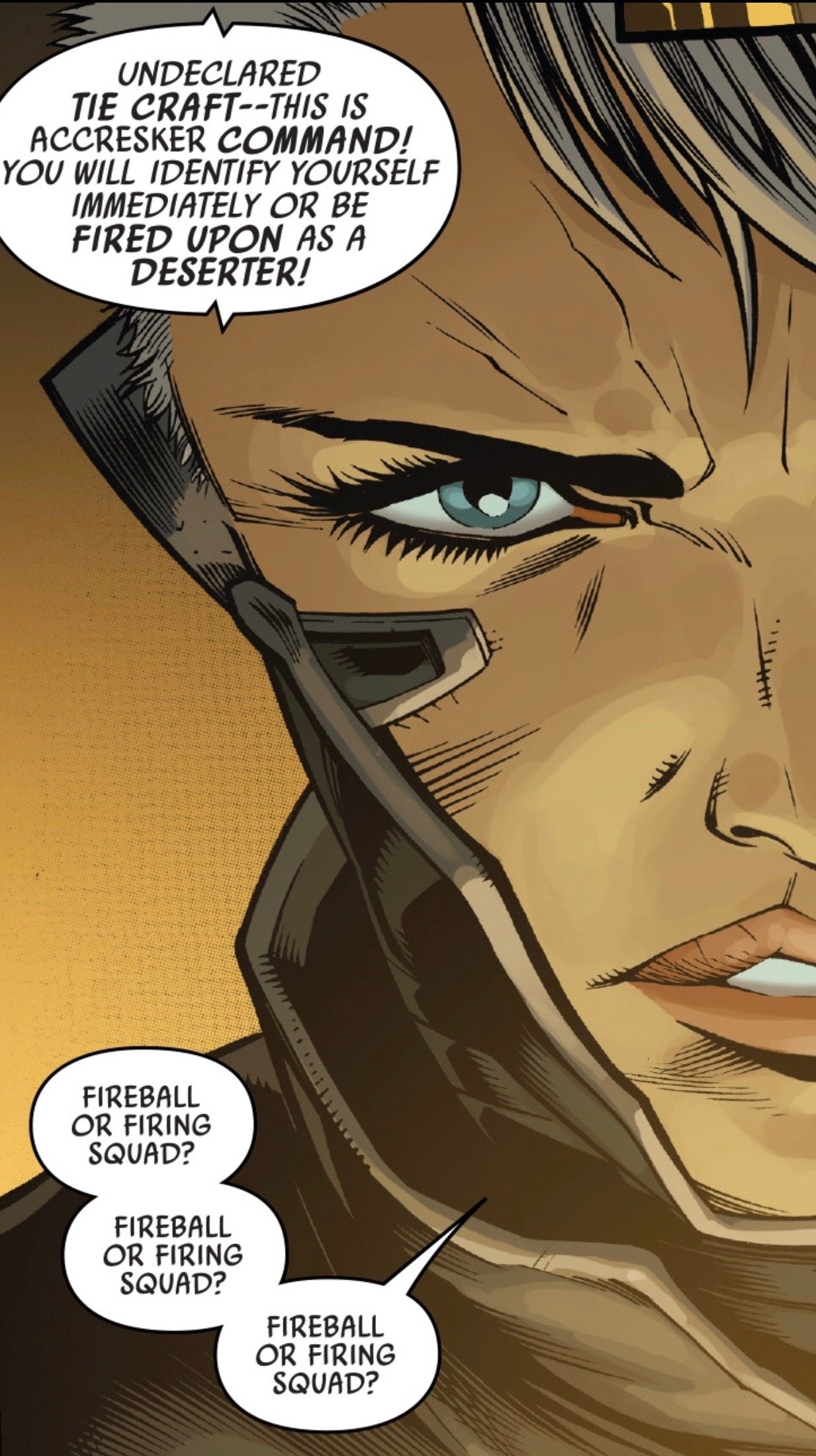 Magna Tolvan has really taken her feelings for Aphra to the next level. She's taken a TIE Fighter to break Aphra out of prison and the Empire is on to her. Here, Tolvan decides what her fate is. The plot to get Aphra out was close to success, but Aphra turned away from Tolvan to follow the mysterious Force entity she's encountered in previous issues. Tolvan put it on the line to come get her and I wonder how far she's going to follow this infatuation with the doctor. As Tolvan laments her predicament, her TIE Fighter comes under fire. Thinking to herself and wondering what her mentor – Inspector Thanoth – would have done, she grabs some sort of rocket launcher and ejects from the TIE Fighter.
I don't know if I'd rather have Sana Starros or the Empire shooting at me, but Tolvan doesn't care, because she's got firepower of her own. I've been interested to see how Tolvan and Starros would get along. Now, here we are. This should be good. Blasting each other out of the sky is not the best first impression. Sure is cool, though.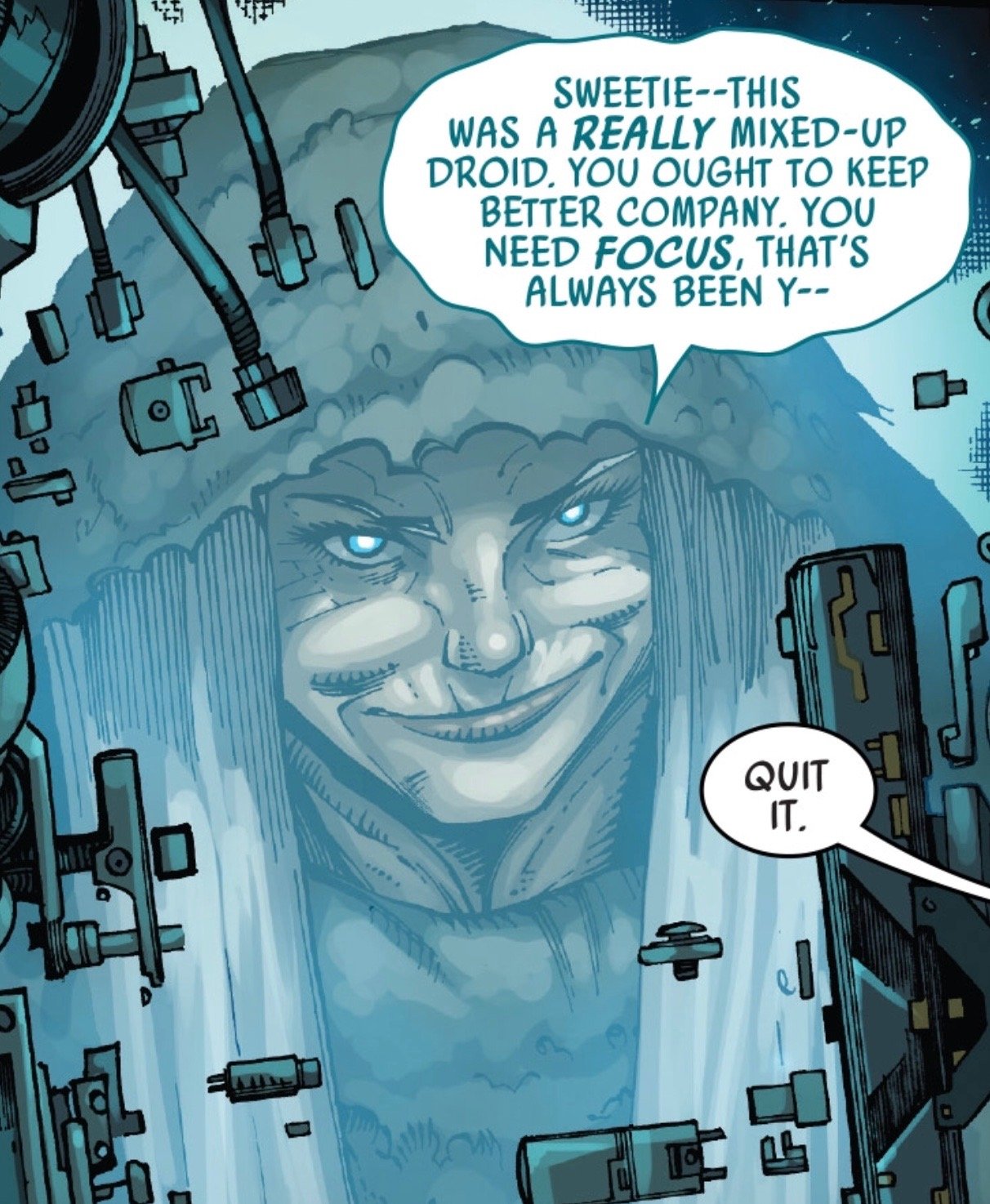 The Force entity has taken the face of Aphra's mom, who we don't know a lot about, but we know Aphra lost her. Her father's still out in the galaxy, but Aphra still has grief over the fate of her mom. She calls on the Force entity to stop messing with her. She fires a few blasts and the entity seems to go away. After a few moments, a deadly swarm of spores emerge from the old Jedi ship. The Gundarvian Hookspores and Aphra references it almost as if it's some kind of biological weapon. Once the spores approach her, she's certain that she's dead, but the swarm suddenly retreats.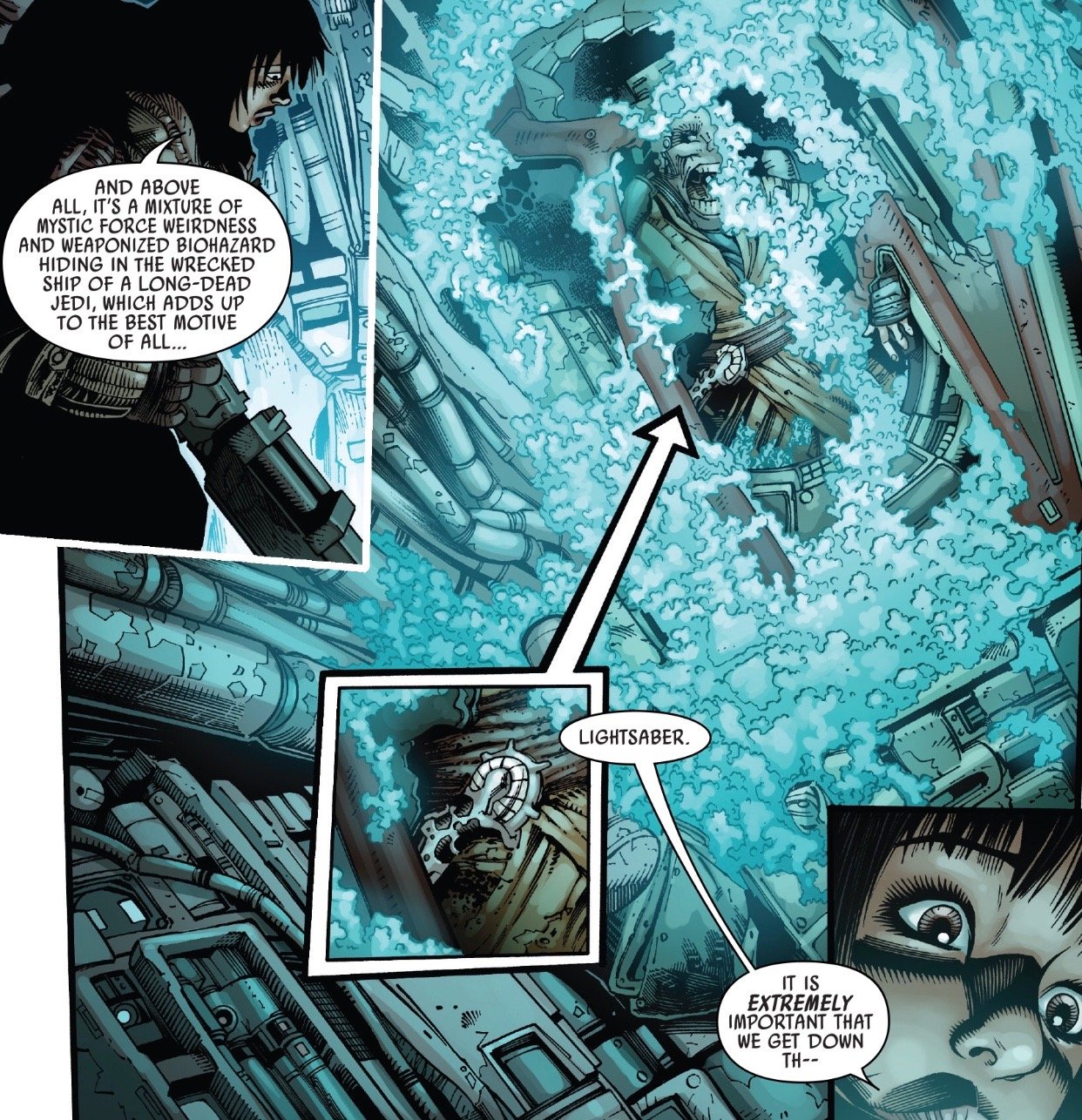 The spores seem to be drawn to the corpse of the Jedi. I really want Doctor Aphra to get a better look at that Jedi so we can determine how old this ship is and what era they may be from. We know from past issues of Doctor Aprha and other Marvel Star Wars titles that lightsabers and Jedi relics in general are worth a lot of money. Aphra sees that there are not only archaeological opportunities, there are profitable ones as well. As she's about to descend, the noise from Tolvan and Sana's blaster fight above draws her attention.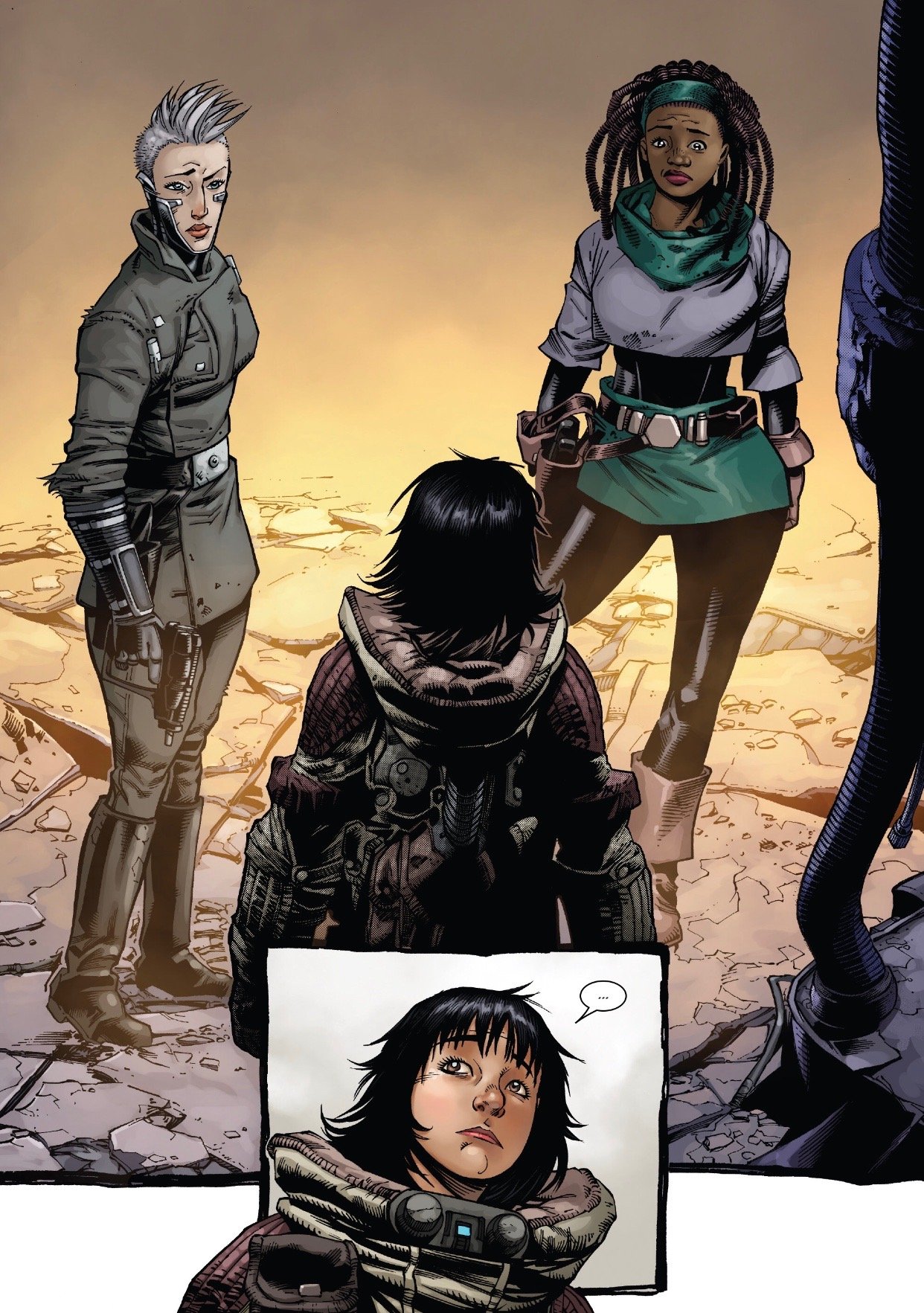 Aphra shows up just in time to get them to stop. Something I never caught before…Aphra refers to Sana as he ex. I only remember them meeting during the Rebel Jail arc of the titular Star Wars series. I guess it might just be a lie, or there could be a great story there. Either way, it adds an interesting dynamic to the trio. Tolvan and Sana watch as an Imperial prison droid comes to fetch Aphra for a scheduled interrogation session, as she's still a prisoner of Accresker Jail and subject to Imperial discipline. Just a reminder, Accresker is a floating jail that routinely uses it's prisoners as cannon fodder when overtaking other ships. The Imperials running the jail must have noticed Aphra was away from the battle. They intend to find out what she's been up to, and they aren't kidding around.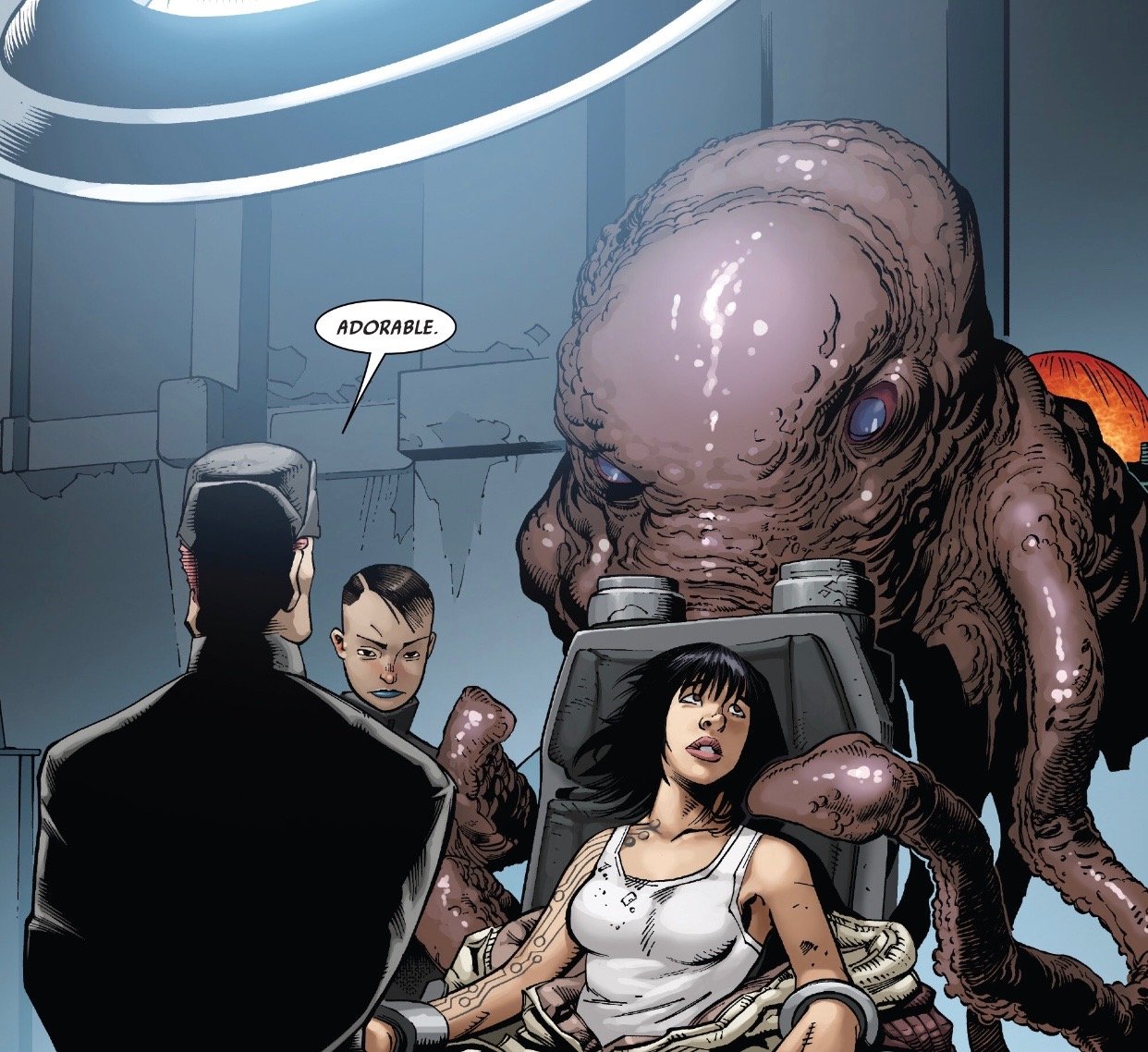 Meet Bor Ifriem, a bor gullet octopod who is determined to get the truth for Aphra's Imperial interrogators. It's interesting these strange creatures have identities of their own, and this is a much different animal than the bor gullet of Rogue One. I'm assuming that each bor gullet has it's own method of extracting information from its subject's minds. This bor gullet not only has the ability to extract, it also has the ability to implant.
The Imperials sure have some nasty interrogation techniques. You can see the hellish depiction of what happens when the Imperials threaten to overwrite Aphra's memories of her mother and her childhood. The interrogator notes that this is what breaks most subjects – the possibility that their memories will be lost and replaced with something terrible. Really cool art by Kev Walker, Marc Deering and Java Tartaglia. It definitely got my attention. Aphra comes clean, but not about everything, only about the deadly spores that can potentially infect the prison. The Imperials believe her and start making plans to save themselves. I don't think this is going to end well for the prisoners, though.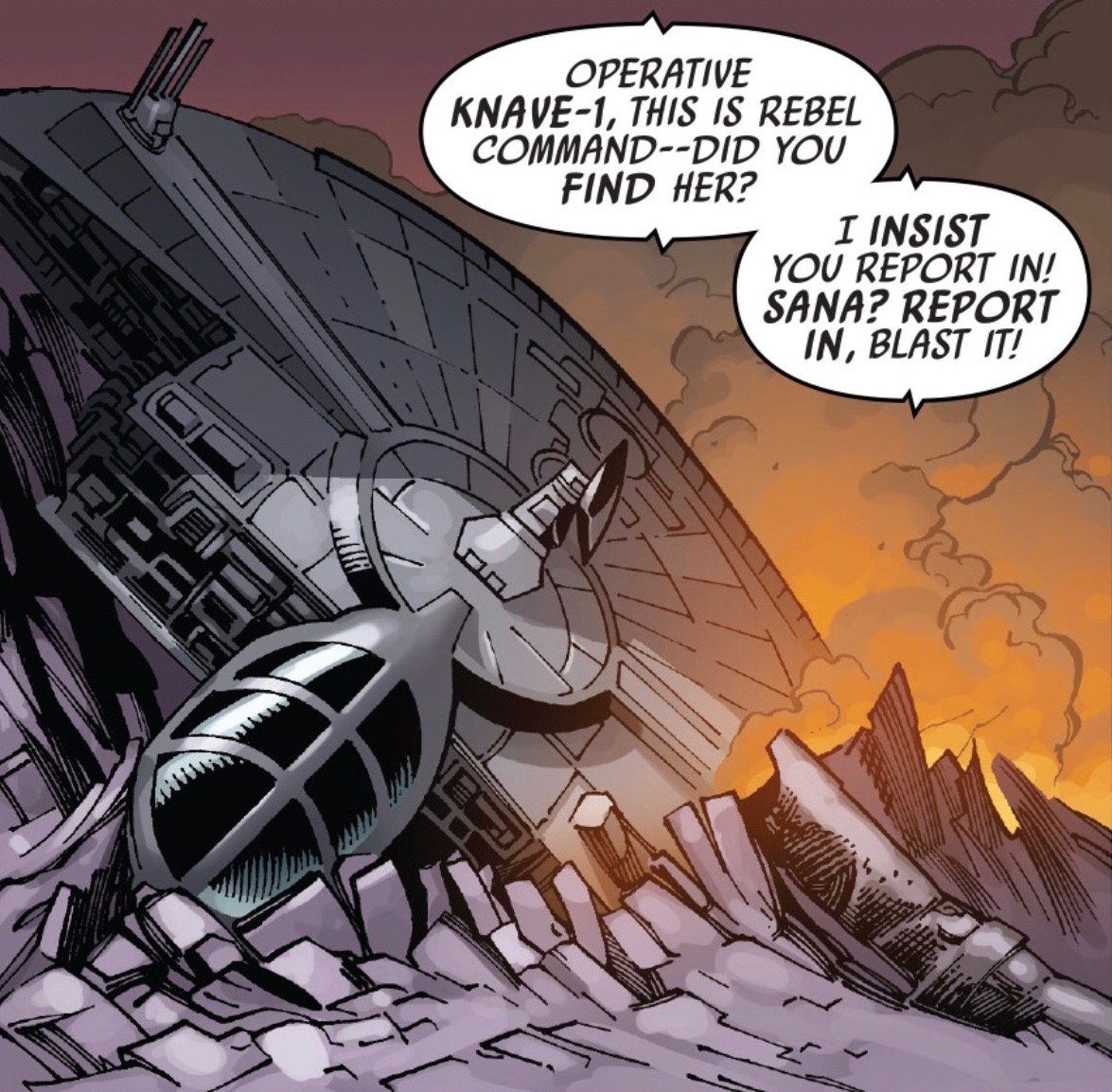 Meanwhile, in another part of the galaxy, Hera Syndulla is trying to get in touch with Sana Starros, and she's not being very discreet. This surprised me a little bit, especially what I know about Hera. I doubt we ever would have seen this on Rebels, but no one's perfect. Unfortunately for Aphra, a pair of psychotic droids and Tam Posla intercept the transmission. It doesn't take much from Hera's description of Sana's bounty to figure she's talking about Aphra. Once again, all enemies are on a collision course for Aphra. The good thing is that she now has Tolvan and Sana (maybe?) in her corner, as well as the other prisoners. The bad news is, time about to start running out for the prisoners of Acrresker Jail.

The Empire is cutting ties with Accresker Jail – by hurling it, it's prisoners, and the deadly spores into an enemy planet. For as efficient as they usually are, these Imperials sure know how to play dirty. Looks like things are going to get pretty desperate for Aphra and company in the next issue.
As always, Doctor Aphra continues to be a lot of fun and energy, while still adding great stories to the Star Wars Universe. I'm excited to see what the story is behind the Jedi and the ship – and what exactly this mysterious Force entity is. I like the theory that Aphra throws out in the book: a combination of the Force and these deadly spores. Writer Si Spurrier is doing a nice job of keeping this arc moving along. It's his first solo arc and I'm very impressed. He seems to have a great handle on Kieron Gillen's character. The supporting cast of Tolvan and Sana help out as well. I'm sure Aphra is going to land on her feet someday, and probably end up with the Rebel Alliance, but until then, I'm enjoying the ride!
RATING: 7.5/10
Kyle Larson lives in Portland, Oregon. When he's not running trails, he's reading and writing.